Get Pricing & Availability for Assisted Living in Whittier, CA
Call (855) 481-6777 for immediate assistance and get more details
Page Reviewed / Updated – May 29, 2020
The 10 Best Assisted Living Facilities in Whittier, CA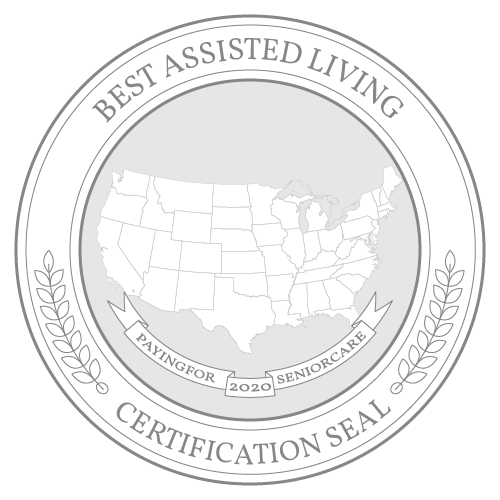 Located just 30 minutes from downtown Los Angeles, Whittier offers retirees all the charm of a small town, while remaining close to big-city amenities. The city is central to all of Southern California and there are a host of entertainment options nearby for when family come to visit.
Whittier's weather is perfect for people looking for a warm retirement location. There are around 278 sunny days annually, and the temperature stays comfortable year-round. This may tempt seniors to explore parks like the award-winning Greenway Trail. Arts enthusiasts are also catered to, with art galleries and festivals just some of the cultural experiences in the area.
The city is home to excellent hospitals, including Whittier Hospital Medical Center. Health care costs in Whittier are more than 10% lower than the national average, which seniors may appreciate.
Note: Information for Whittier was not available, so data from the nearest city, Los Angeles, was used.
Check out our list of Whittier's top 10 assisted living facilities to find the right community for you.

The Cost of Senior Living and Care in Whittier
The cost of senior living in Whittier is close to or somewhat below the average cost of care in California, according to the 2018 Genworth Cost of Care Survey. Assisted living in Whittier, for example, costs an average of $4,500, which is the exact amount seniors pay across California, on average. Seniors in Whittier pay significantly less for other levels of care, such as adult day care and nursing home care.
Note: Senior care cost data wasn't available for Whittier, so the data for the closest city, Los Angeles, was used.
How much does Assisted Living Cost in Whittier?
Assisted living costs Whittier seniors $4,500 a month, on average. This is the same price seniors pay on average in the rest of California. Seniors in San Diego also pay this amount, while seniors in Sacramento pay $4,473 a month for assisted living.
Some communities in California are outliers for assisted living prices. San Francisco, for example, reports average monthly costs of $5,500 for assisted living, while the same level of care in Bakersfield costs seniors just $3,150 a month, or $1,350 less than in Whittier.
How much does Home Care Cost in Whittier?
Home care in Whittier costs an average of $4,767 a month. This is nearly $200 a month less than the $4,957 average cost seniors pay in California. Sacramento and San Diego seniors also pay $4,767 a month, while seniors in Bakersfield pay just $4,385, the lowest reported cost among surveyed cities and nearly $400 less per month than in Whittier.
The state's highest cost for home care is in San Francisco, where seniors pay an average of $5,625 a month for care or $858 a month more than the typical cost in Whittier.
How much does Adult Day Care Cost in Whittier?
Adult day care in Whittier is low, compared with other surveyed areas in the state. Monthly costs to seniors in Whittier are just $1,565 a month for adult day care, which is significantly less than the California average price of $1,679 for similar care. Among surveyed cities, only Vallejo has monthly costs lower than Whittier, at $1,354, while the highest reported cost in the state is $2,134 in Chico.
How much does Nursing Home Costs in Whittier?
Nursing home care in Whittier costs seniors an average of $7,604 a month. This is well below the average for the rest of the state of California, at $8,365 for a semi-private room. San Francisco again has the highest monthly rates for nursing home care among surveyed cities, at $9,148 a month for a semi-private room. Among California cities, only Bakersfield reports lower rates for care than Whittier, at just $7,513 a month for similar nursing home care.
Financial Assistance Programs in Whittier
Medicaid Program in Whittier
Seniors in Whittier can get help paying for their medical and residential care costs through Medicaid, which in California is known as Medi-Cal. Medi-Cal pays for basic and emergency care, some prescriptions and much of the cost of residential senior living. The program also picks up many of the expenses seniors face when getting durable and disposable medical equipment and various assistive devices, such as walkers.
The program is structured as an entitlement, which means all eligible seniors may sign up to receive care without any waiting periods or enrollment caps. Medi-Cal delivers its coverage through a network of private sector providers located in the state who offer Medi-Cal compatible HMO and PPO options. Interested seniors can choose a plan at the time they sign up, or by browsing the Covered California website during the annual open enrollment period at the end of the year.
To qualify for Medi-Cal benefits, seniors in Whittier must be citizens or legal residents of the United States and residents of the state of California. Applicants' income from all sources combined is capped at 138% of the federal poverty line, which in 2019 put a maximum income threshold at $16,395 a year for single adults applying for themselves. Married couples may earn up to $22,108 without penalty, and each additional adult in the household raises the permitted income cap by an extra $5,741 a year. These limits apply whether the other adults in the household apply for benefits or not. Seniors who earn more than 138% of the poverty rate, but who still make less than 300% from all income combined, can still qualify for Medi-Cal, though they may be required to pay an annual share of the cost before accessing benefits.
Some seniors are able to fast-track their acceptance into Medi-Cal by showing an intake worker evidence of their previous acceptance into a parallel low-income entitlement program. These programs use the same or similar income standards, and so participation in any of them is taken as evidence of Medi-Cal eligibility. Eligible programs Medi-Cal accepts include:
TANF, which is often called cash aid or welfare
CalFresh, the state's SNAP or food stamp program
WIC
Section 8 Housing Choice Voucher Program
Residence in public housing or a homeless shelter
SSI/SSDI
Medicaid Waivers in Whittier
Assisted Living Waiver Program (ALWP)
Seniors in Whittier can get help paying for the monthly cost of residence in an assisted living community through the Assisted Living Waiver Program (ALWP). This program offers a payment voucher to participating assisted living facilities in 15 California counties to accept seniors who meet the program requirements.
To qualify, seniors in Whittier must receive Medi-Cal benefits and have a medical authorization for placement in a nursing care home. Recipients must waive placement in a nursing home and opt instead for the less expensive care provided at a local assisted living facility.
Seniors can apply for an ALWP voucher directly, through their Medi-Cal caseworker, or they can authorize the assisted living facility to apply on their behalf through the benefits coordinator's office.
Multipurpose Senior Services Waiver
The Multipurpose Senior Services Program (MSSP) pays for many of the services seniors could get in assisted living, or in another residential care arrangement, such as memory care or a nursing home, but for seniors who wish to remain at home in their own community. MSSP is approved through Medi-Cal, and applications can go through the senior, their family or the discharge planner at their last residential care facility. Benefits offered by the MSSP waiver include:
Benefits information and help applying for programs from an experienced caseworker
Expert financial advice from a certified senior financial adviser
Certified translation and interpreter services
Some pre-approved home repairs and mobility-oriented upgrades, such as the installation of ramps and rails, or weatherization of the home
Caregiver assistance that can be delivered in the home or at a facility in Whittier
Household chore assistance
In-home protective supervision for seniors with dementia
Adult day care at home or in a facility
Respite care in the home or at a facility
Meal service that can be delivered to the senior's door or served in a community setting
Vouchers for public transportation and scheduling assistance for non-emergency medical transportation within a reasonable radius of the senior's home
Personal Emergency Response System (PERS) equipment that can rapidly summon help in an emergency
PAS is an entitlement program, and any eligible senior may receive services through this program. Part of the program is the ability to self-direct care. This means that seniors may choose a primary caregiver and pay them using PAS funds for the service. Even some family members may qualify as a paid assistant. Seniors must choose a family member who is not their legal guardian and who is not a minor.
Home and Community-Based Alternatives (HCBA) Waiver
Seniors who discharge from residential care to home, or to the home of relatives or other loved ones, may be able to get help paying many of the costs through California's Home and Community-Based Alternatives (HCBA) waiver program. Seniors in Whittier can ask for information and an application to the HCBA program from a Medi-Cal caseworker or through the discharge planning desk at their residential care facility.
Community-Based Adult Services (CBAS)
Seniors in Whittier can get help paying some of the miscellaneous costs of independent living by applying for the Community Based Adult Services (CBAS) waiver program through their caseworker. This program offers some cash aid for seniors living on their own in Whittier, though it also provides structured events and services to help seniors stay independent. Program services include:
Meal service to the home or in a community setting
Social events provided at no cost to participating seniors are open to all local CBAS recipients
Adult day care
Physical therapy
Mental health services, including therapy, for seniors with cognitive health needs
Other Financial Assistance Programs in Whittier
In-Home Support Services (IHSS)
Seniors who live in Whittier can stay independent in their own homes with help from the In-Home Support Services (IHSS) program. IHSS pays caregivers to help seniors with normal activities and some reasonable chores outside of the home. After applying for IHSS through the local program office, or in advance of discharge from a residential care facility, seniors receive a home visit from an IHSS worker to evaluate their health needs. IHSS assigns seniors a set number of hours per month that the program can pay for a caregiver, with hiring and management decisions left to the senior's discretion.
Caregivers can be anyone the senior designates, including a spouse, family member or friend of the senior enrolled in the program. Prospective caregivers must have a valid CPR certification and pass a background check. They must also attend a one-day training and orientation session at the IHSS office. To get paid, caregivers must have their worked hours signed off on by the senior they're helping, which are then deducted from the senior's monthly allowance of hours. Payment is sent through the mail every two weeks.
Paid Family Leave
Seniors in Whittier can get in-home assistance during transitional periods, or during a serious illness, from relatives under California's Paid Family Leave Act (PFLA). PFLA makes it possible for the immediate family members of seniors to take up to six weeks off from their work with pay to care for a medically needy relative. This is especially helpful for seniors who are transitioning out of residential care or who have recently had surgery and need temporary assistance in their homes.
PFLA benefits are deducted over time from workers' paychecks, with funds deposited in a benefits account they can access when necessary. Bi-monthly benefit amounts are calculated from the worker's average pay over the preceding three years, though benefits are capped at a certain amount that changes from year to year.
Workers can apply for PFLA up to one month before the leave is needed by calling the state's Employment Development Department (EDD). EDD may conduct a telephone interview and request proof of both medical need and family relationship before approving the claim. Funds arrive by mail and can be spent like any other paycheck, without restriction. Employers are required by law to hold open the vacant position for up to six weeks until the employee returns to work.
More Senior Living Resources in Whittier
Resource

Phone Number

Description

(855) 892-6095

The Los Angeles County Development Authority (LACDA) administers both the federal Section 8 Housing Choice Voucher program and the local public housing units seniors in Whittier can choose for affordable independent living.

Both programs are separate from each other, though seniors can apply for either online or by phone. Section 8 often has a waiting list, so seniors may only qualify as slots become available.

(323) 420-2918

Los Angeles County operates the Emergency Assistance to Prevent Eviction (EAPE) program for low-income seniors facing a loss of housing. EAPE can help Whittier seniors pay up to $3,000 in a lifetime toward rent, mortgage and utilities to avoid eviction or disconnect. Seniors can apply for EAPE on an emergency basis through CalWORKS.

(916) 576-7110

Seniors in Whittier who are aged 60 and over, or who have a disability, may be able to get up to $6,500 in home weatherization done to make their homes more energy efficient through the California Weatherization Assistance Program (CWAP).

Applications and an appointment for a home inspection can be made by phone through the California Department of Community Services and Development in Sacramento.

(562) 908-4800

The Los Angeles Department of Public Social Services helps Whittier seniors sign up for the Low Income Home Energy Assistance Program (LIHEAP). This program reduces the cost of home utilities by up to 30%. Applications can be requested by phone.
For additional information and planning, please read our comprehensive guide to paying for senior care in California.