Get Pricing & Availability for Assisted Living in Irvine, CA
Call (855) 481-6777 for immediate assistance and get more details
Page Reviewed / Updated – October 26, 2020
The 10 Best Assisted Living Facilities in Irvine, CA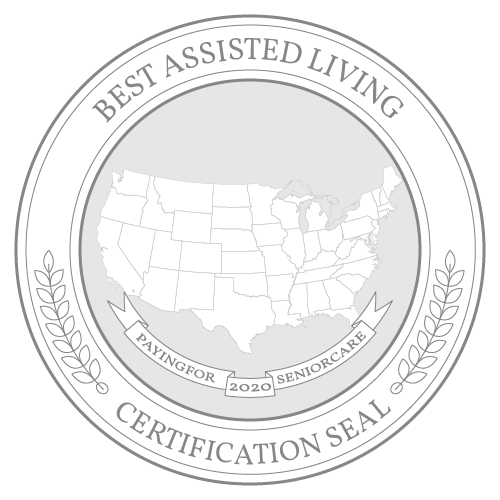 Irvine, California is a master-planned community that offers residents access to over 16,500 acres of parks, open space and sports fields. It's home to a multicultural community that houses over 100 global corporations. Named "America's Safest Big City" for the past 15 years by the FBI, Irvine offers seniors something exciting to do every day of the week. They can visit the Spectrum Center's iconic Giant Wheel, view great works of Impressionism at the Irvine Museum and celebrate the diversity of the area at the Irvine Global Village Festival.
The city is home to over 287,000 residents, 9.9% of whom are aged 65 and older. Seniors enjoy calling Irvine home because of the extensive parks system and scenic coastline combined with the mild climate. Rated 9.3 out of 10 on the climate index, Irvine offers 281 days of sunshine per year and high temperatures of around 82 degrees.
Note: Information for Irvine wasn't available, so data for the nearest city, Riverside, was used.
Take a closer look at our list of the top 10 assisted living facilities in Irvine to determine if one is the right fit for you. Additionally, find out more about the cost of assisted living in Irvine and what financial assistance programs are available.
The Cost of Senior Living and Care in Irvine
Senior living in Irvine is generally less expensive than the average cost in California. This holds true in most categories, and the difference can be significant. Assisted living costs in Irvine, for example, are $1,000 less per month, than the California state average, which runs about $4,500, according to the 2018 Genworth Cost of Care survey. Averaging $4,481 per month, Irvine's home care costs are also much less expensive than the state average of $4,957 per month.
Average monthly adult day care costs in Irvine are closer to the state median. Seniors in Irvine pay an average of $1,668 per month for this level of care, which is only $11 a month more than California's average monthly cost of $1,679. Nursing home care for seniors in Irvine averages $7,559 per month for a semi-private room. The average cost for this level of care in the rest of the state averages $8,365 per month.
Note: Senior care cost data wasn't available for Irvine, so the data for the closest city, Riverside, was used.

How much does Assisted Living Cost in Irvine?
Assisted living in California averages $4,500 a month, which is $1,000 more per month than Irvine's $3,500 per month average. Costs in Stockton also average $3,500 a month, while the lowest costs in the state are in Bakersfield, which averages $3,150 per month. Los Angeles and San Diego both report average costs for assisted living of $4,500 per month, putting them exactly in line with the California state average. Chico's average assisted living costs sit between Irvine's and the state's average at $4,000 per month.
Assisted living costs are significantly higher in the Bay Area and Silicon Valley. Both San Francisco and San Jose lead California cities with average monthly assisted living costs at $5,500 per month.

How much does Home Care Cost in Irvine?
Seniors in Irvine who wish to remain in their own homes may find home care costs affordable This service costs an average of $4,481 per month in Irvine, which is less expensive than the California state average cost of $4,957 per month. Irvine's cost is comparable to several other cities, such as Bakersfield, where the monthly average is $4,385, and Chico, where costs average $4,433 per month.
Los Angeles and San Diego both report average home care costs of $4,767 per month, which is nearly $300 per month more than those in Irvine, while the average monthly cost in Stockton, which is $4,957, is close to $500 more per month than the Irvine average. As with other levels of care, the more upscale cities of the Bay Area register the highest costs for home care, with San Francisco averaging $5,625 per month and San Jose topping the list at $5,720.

How much does Adult Day Care Cost in Irvine?
The average cost of adult day care in California is $1,679 a month, which puts the state just a few dollars over Irvine's average cost of $1,668 a month. Stockton is exactly in line with the state average, also costing $1,679 a month, while Bakersfield's average monthly adult day care cost slightly less expensive than Irvine, at $1,653.
Many other California cities have average monthly adult day care costs that are more expensive than both Irvine and the state average cost. San Jose is close to the top of the list, with an average monthly cost of $1,993. Among surveyed cities, only Chico reports a higher average cost, at $2,134. San Francisco and San Diego both average $1,733 a month, while some of the state's lowest costs can be found in Los Angeles, where adult day care averages $1,565 a month.

How much does Nursing Home Costs in Irvine?
Nursing home care in California can be fairly affordable for seniors in Irvine. The state average cost for a semi-private room in a nursing care facility is $8,365, which is significantly higher than the average cost of care in Irvine, which comes in at $7,559 per month. Bakersfield and Los Angeles are both close to Irvine's average cost. Expenses in these cities average $7,513 and $7,604, respectively.
California is home to many cities with far higher nursing home costs than Irvine. San Francisco leads the list, with an average monthly cost of $9,148, followed closely by San Jose, where costs average $9,125 per month. San Diego averages $8,517 per month for residential nursing care, which is $958 more than average costs in Irvine and about $75 per month over Chico's average monthly cost of $8,456. Rounding out the list is Stockton, where costs for skilled nursing average $8,173.

Financial Assistance Programs in Irvine
Medicaid Program in Irvine
The federal government operates a low-income health insurance program known as Medicaid. This program exists as a joint venture with each of the 50 state governments, each of which receives matching funds and is free to operate its own health insurance program for seniors, adults with disabilities and low-income families.
California's Medicaid program is known as Medi-Cal, and enrollment is open to all California residents who meet program criteria. To be eligible for coverage, Medi-Cal applicants must be citizens or legal residents of the United States and have some documentation of their current residence in the state. For homeless applicants, or for those with less than secure housing, the proof of residency requirement may be waived during the intake process, when intake workers assess applicants' other qualifying criteria, such as income levels.
Medi-Cal uses the federal poverty rate as a benchmark for establishing need. Because Medi-Cal is an entitlement program, it is open to all applicants who qualify, without enrollment caps or waiting periods to receive care. Financial limits start at 138 % of the poverty line, which in 2018 put the maximum allowable income at $16,395 for single applicants who live alone. The maximum allowable income for married couples is $22,108. For each additional member of the household, whether they are also applying for benefits or not, the income cap rises by an extra $5,741.
Medi-Cal applicants who earn more than this amount may still be eligible for coverage under some plan provisions, though they may be asked to pay a share of the cost before receiving care. This amount is usually assigned as a fraction of the total cost of care, and it varies with the specific income and liabilities of the applicant. Medi-Cal intake workers generally have definitive information about the share of cost levels, but in general, the provision covers applicants who earn between 138 and 300 % of the federal poverty line. Some additional provisions may be made to accommodate special circumstances, such as mental disability or blindness.
Medi-Cal benefits are provided through a large network of private sector health insurance carriers, such as Blue Cross and Kaiser Permanente. Plan details are different from one carrier to the next, and from one applicant to the next, but all provide a general level of medical coverage that includes costs for most forms of senior residential care. Common levels of care plans help pay for include nursing care, memory care and post-acute rehabilitation. Some plans also help pay the costs associated with assisted living, caregiver support, adult day care and in-home assistance.
In-home caregiver support can be paid for through Medi-Cal's In-Home Support Services (IHSS) program for seniors. This program pays a bi-weekly voucher to caregivers who assist enrolled seniors in their own homes. Seniors are at liberty to hire, dismiss and schedule the working hours of their caregivers, who can be personal friends, spouses and other people close to the senior. IHSS benefits are intended exclusively to support seniors in their own homes or the private homes of family and friends, and so are suspended when the senior moves into a residential care facility. Applications for the IHSS program can be made directly, through a Medi-Cal worker, or via the administration of a residential care facility the senior is leaving after a stay, such as a post-op rehab center.
Seniors in Irvine who wish to apply for Medi-Cal benefits can do so in person, at the Orange County Department of Health and Human Services office, or online, through the Covered California website.

Medicaid Waivers in Irvine
Assisted Living Waiver Program (ALWP)
Seniors in Irvine who meet the intake requirements for Medi-Cal, and who have been medically cleared to live in a nursing care facility may be able to remain in their familiar assisted living community with help from the Assisted Living Waiver Program (ALWP). This waiver is intended to help steer seniors who need daily assistance away from costly residential care by paying the generally lower cost of assisted living, though the plan does not pay for a caregiver or physical therapist. Applications for the waiver can be made by the benefit recipient, though it is also common for assisted living facility administrators to apply on the senior's behalf, if asked. ALWP waivers are restricted to participating facilities in one of California's 15 participating counties, which includes Orange County and the city of Irvine.
Multipurpose Senior Services Waiver
Seniors who qualify for the ALWP, but who would prefer to remain in their own homes with assistance, may qualify for Medi-Cal's Multipurpose Senior Services Program (MSSP) waiver. This waiver program can be applied for through a Medi-Cal worker and helps stay-at-home seniors by paying some or all of the cost of several benefits, including:
Case workers to coordinate benefits and care for the senior
Personal care from an approved caregiver, who can be a personal friend or family member
In-home respite care and access to respite care facilities
Home accessibility improvements, such as ramps over stairs and guardrails in common slip-and-fall locations
Minor home repairs
Disabled ride, public transportation and on-demand ride services
Household chores assistance
Personal Emergency Response System (PERS) devices
Adult day care, both in home and facility-based
Supervision for seniors with dementia
In-home and community-served meals
Advice and education on senior money management
Translation and interpretation services
Home and Community-Based Alternatives (HCBA) Waiver
Seniors in Irvine who are leaving some form of residential care and going home may incur some expenses in the transition. To help them cover the cost, Medi-Cal recipients may apply for a Home and Community-Based Alternatives (HCBA) waiver. This waiver replaces several older waiver programs and is available to seniors leaving nursing care, post-acute rehabilitation and assisted living for their own homes. Residential care facility staff can apply on behalf of the recipient.
Community-Based Adult Services (CBAS)
Seniors who wish to remain active in their community may apply for a Community Based Adult Services (CBAS) waiver. This waiver is approved through Medi-Cal to help cover the cost of adult day care for seniors in Irvine. Other benefits of the program include in-home supervision, meal delivery service, physical and mental therapy and coordination of social activities with other seniors enrolled in the program.
Other Financial Assistance Programs in Irvine
Paid Family Leave
The Paid Family Leave Act is for family members who need financial support to temporarily leave work and look after their senior loved one. The program is administered through California's Employment Development Department (EDD). This department also issues Californian's unemployment benefits and student aid stipends. All three benefits have a similar application process, which may be done online or by calling EDD and speaking to a worker.
Benefits paid under the Paid Family Leave program are based on benefits accrued through work history, and they do not have a maximum qualifying income the way means-tested benefits programs do. There is a payment cap to benefits, however, which is adjusted upward from time to time. EDD workers generally have definitive information about income and eligibility standards. Benefits for family care last six weeks, though extensions may be granted in rare cases. Payments made through this program arrive as bi-weekly checks that may be cashed and spent as if they are a personal paycheck, without any restrictions.

More Senior Living Resources in Irvine
| | | |
| --- | --- | --- |
| Resource | Phone Number | Description |
| City of Irvine Community Development Department | (949) 724-6470 | The City of Irvine Community Development Department offers affordable senior housing through low-cost public properties. Several projects are underway at any given time, and there is generally a waiting list for units to come available. Applications for a low-cost private apartment can be made by phone or online, through the Department's website. |
| Orange County Community Services | (855) 886-5400 | Orange County Community Services maintains a current list of available low-income housing options in Irvine, Anaheim and other cities in the county. OC Services also offer direct referrals and veteran-specific housing programs throughout the county. Applications may be made directly at the listed properties' offices, through a county social worker or with OC Services by phone. |
| Community Action Partnership of Orange County | (714) 839-6199 | Community Action Partnership of Orange County administers the local low-income home energy program (LIHEAP) for Irvine seniors who need assistance paying their utility bills. The program offers one-time emergency payments of overdue bills, plus long-term reduced rates and weatherization assistance. Applications may be made by phone or in person at the program office in Garden Grove. |
| ReadyOC | (714) 663-8188 | ReadyOC helps seniors in Irvine prepare their homes for disasters such as earthquakes, floods and fire. Minor safety modifications are also provided at low or no cost that can help seniors with disabilities move more safely though their homes. Applications may be made over the phone at the office's main phone number. |
For additional information and planning, please read our comprehensive guide to paying for senior care in California.