Get Pricing & Availability for Assisted Living in Fresno, CA
Call (855) 481-6777 for immediate assistance and get more details
Page Reviewed / Updated – July 18, 2022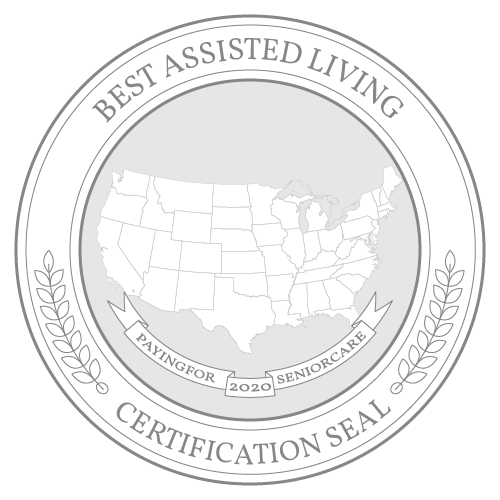 Fresno is among the most affordable places to live in California, with an overall cost of living that's nearly 50% below the state median. Health care is also affordable in this city, with rates for services such as hospitalization and doctor's office visits coming in about 15% below the national average, making it a good option for older adults managing ongoing conditions. It also has some of the lowest assisted living rates in the state, with local fees coming in well below the California median at $3,900 per month.
This introductory guide to assisted living in Fresno has more information on long-term care costs in the area and the most common ways older adults pay for services. It also outlines some of the resources that help older adults navigate the system and lists some of the top assisted living facilities in the Fresno area.
The Cost of Assisted Living in Fresno, CA
The 2021 Genworth Cost of Care Survey shows that seniors in Fresno pay $3,900 per month for assisted living, making this a relatively affordable place to obtain residential care.
Assisted living rates in Fresno are over $1,300 cheaper than the statewide median of $5,250 and several hundred dollars lower than the national average of $4,500. Even so, several surveyed cities have even lower rates, including Madera, where facilities charge $3,828. In Vallejo, care costs are about $1,000 higher than in Fresno at $4,950, and in San Jose, seniors pay $6,000. Santa Rosa is the costliest surveyed city in the state to obtain care, with seniors paying $7,048 per month for services.
Fresno: $3,900
California: $5,250
United States: $4,500
Madera: $3,828
San Jose: $6,000
Santa Rosa: $7,048
Vallejo: $4,950
The Cost of Other Types of Care in Fresno, CA
With monthly fees coming in at $3,900 per month, assisted living is one of the cheapest long-term care options available to seniors in Fresno. The only long-term care option that's cheaper is adult day health care, which includes personal care and recreational activities in a daytime community environment and costs $1,652 per month. Those who arrange in-home care or home health care pay $5,529 per month, and nursing home rates are considerably higher at $8,638 for shared accommodations and $10,038 for private rooms.
In-Home Care: $5,529
Home Health Care: $5,529
Adult Day Health Care: $1,652
Assisted Living Facility: $3,900
Nursing Home Facility (semiprivate room): $8,638
Nursing Home Facility (private room): $10,038
Financial Assistance for Assisted Living in Fresno, CA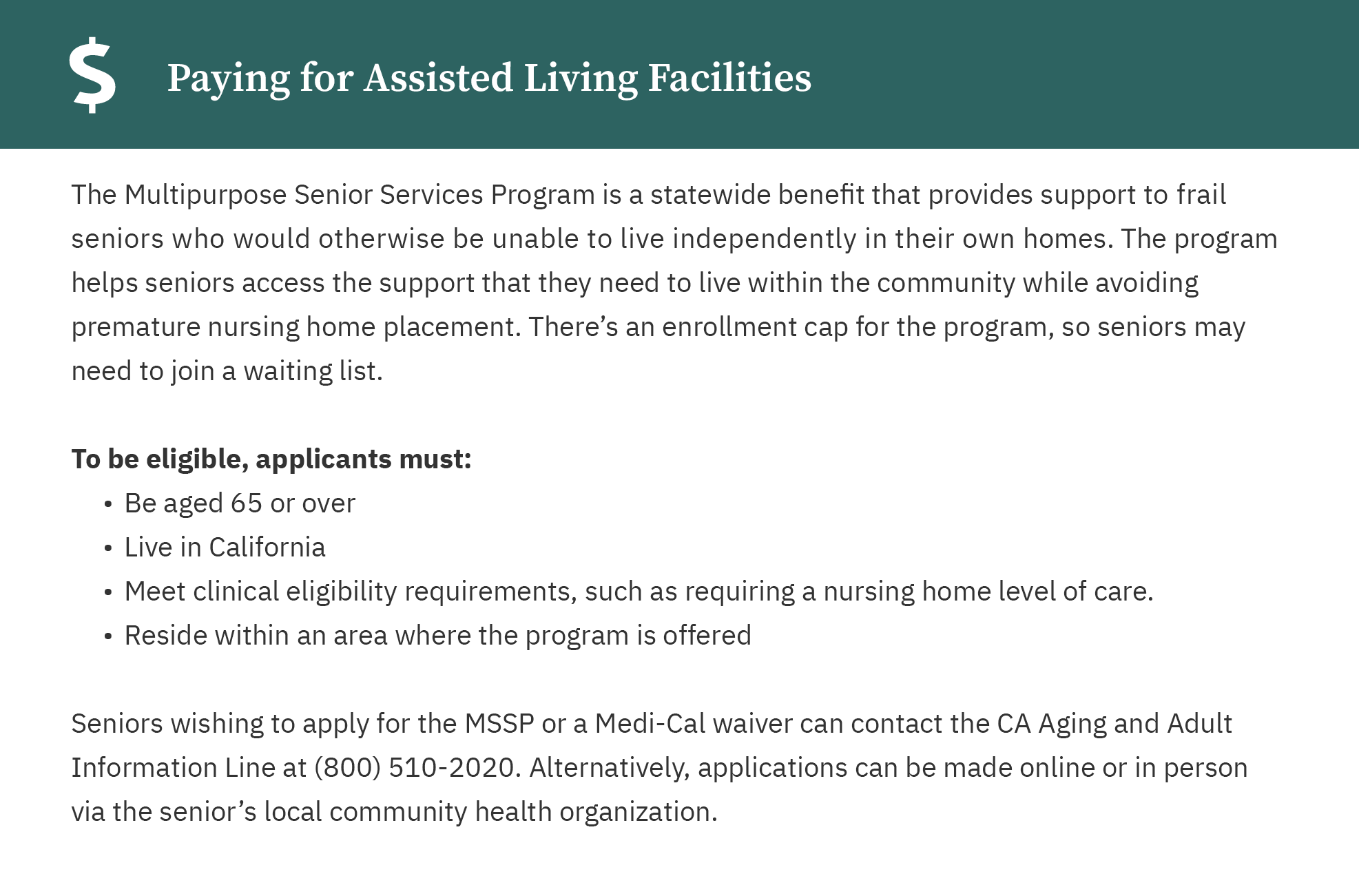 Other Ways To Pay for Assisted Living in Fresno, CA
Since not everyone can afford to pay for assisted living out-of-pocket, it's important to find alternative methods to help make assisted living more affordable. Some of these options include:
Veterans Benefits
Life Insurance Policy
Long-Term Care Insurance
Reverse Mortgage
For additional information and planning, read our comprehensive guide to paying for senior care in California.
Free Resources for Seniors in Fresno, CA
Several nonprofit agencies and programs provide free assistance to seniors, helping them connect with affordable long-term care. This table outlines options counselors, legal advisers and information specialists who provide one-on-one help for older adults researching local assisted living services.
| | | |
| --- | --- | --- |
| Resource | Contact | Service |
| Fresno-Madera Area Agency on Aging | (559) 214-2099 | The Fresno-Madera Area Agency on Aging has information and referral specialists who listen to seniors' needs and help them obtain community-based services, such as transportation, durable medical equipment loans and prescription drug assistance. The agency also houses the region's long-term care ombudsman program, which seniors can contact for information on residents' rights, for options for paying for assisted living and to report substandard care. |
| Fresno County Veteran Service Office | (559) 600-5436 | The Fresno County Veteran Service Office is run by the California Department of Veterans Affairs and provides free information and assistance to older veterans in Fresno, helping them access local, state and federal benefits. These include Aid and Attendance and veterans' and survivors' pensions. The office can also help individuals connect with services in the community. |
| Agewell Fresno | (559) 676-6570 | Agewell Fresno is an online senior resource center that provides older adults with up-to-date information on community resources. Through this website, seniors can learn about local events, educational workshops, the annual Caregivers Count! Conference and social and recreational activities. It's also involved in local advocacy to improve the quality of life for area seniors. |
| Valley Caregiver Resource Center | (800) 541-8614 | The Valley Caregivers Resource Center is a local nonprofit organization that provides information to older adults to help them make informed decisions regarding their long-term care options. It has HICAP counselors who provide Medicare options counseling to those aged 65 and over. Through this program, older adults can get answers to questions about Medicare coverage and obtain Medicaid screening. The organization also has an ombudsman program that advocates for those in long-term care. |
| Central California Legal Services | (800) 675-8001 | Central California Legal Services provides free civil legal services for those aged 60 and over. This private not-for-profit organization has an office in Fresno, where licensed legal professionals help older adults by providing referrals to community programs. These professionals can also help them assign financial and medical powers of attorney and apply for public and veterans benefits. It has a Legal Advice and Referral Line seniors can call on weekdays from 9 a.m. to 12 p.m. and 1 p.m. to 2:30 p.m. |
Rules and Regulations for Assisted Living Facilities in Fresno, CA
Assisted Living Communities in Fresno are required to follow a set of rules and regulations that are determined by the state. For an overview of those rules and regulations, see the information below. For more specific information, talk with your local community or Area Agency on Aging.
The 10 Best Assisted Living Facilities in Fresno, CA