Get Pricing & Availability for Assisted Living in Placentia, CA
Call (855) 481-6777 for immediate assistance and get more details
Page Reviewed / Updated – August 27, 2020
The 10 Best Assisted Living Facilities in Placentia, CA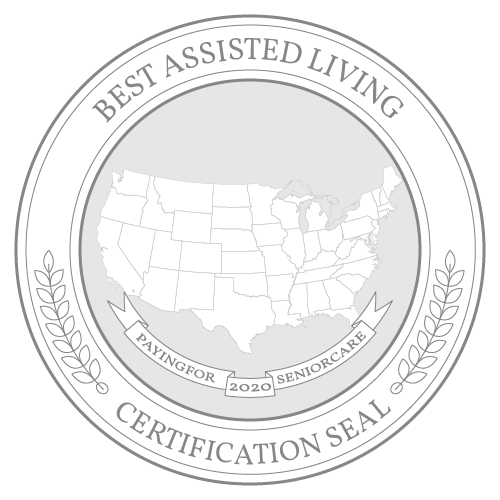 Located in northern Orange County, Placentia is a quiet, compact city that's ideal for seniors seeking a quiet retirement lifestyle in a comfortable year-round climate. Approximately 51,000 people live in Placentia, about 14.5% of whom are aged 65 and older. Summers are short, hot and dry, and the winters are cool and free of snow. Temperatures rarely rise above 96 degrees or fall below 38, and the city receives very little precipitation.
The city is close to a number of well-known attractions, including the Richard Nixon Presidential Library and Museum in neighboring Yorba Linda. The 26-acre Fullerton Arboretum is a popular destination for area seniors, and the iconic Disneyland Park and Resort is a favorite among Disney fans of all ages.
According to Genworth Financial's 2019 Cost of Care Survey, the average monthly cost of assisted living care in Placentia is $3,525, which is well below the state average of $4,500 and the national average of $4,051.
Note: Assisted living cost data wasn't available for Placentia, so data from the closest city, Riverside, was used.
This guide highlights the top 10 assisted living communities in Placentia. Additionally, find out more about the cost of assisted living in Placentia and what financial assistance programs are available.
The Cost of Senior Living and Care in Placentia
Placentia offers some of the most affordable senior care in California, second only to Bakersfield and Visalia, depending on the type of care. According to the Genworth 2018 Cost of Care Survey, assisted living, home care, adult day care and nursing home care in Placentia are below the state average — and most city averages — in all categories. Compared to national averages, Placentia is fairly standard, with only home care coming in high at $477 more.
How much does Assisted Living Cost in Placentia?
Placentia is one of the most affordable regions for assisted living at $3,500 per month. Only Bakersfield is more affordable, and Visalia is $175 more per month. Placentia averages $1,000 less than the state median, making it substantially less expensive compared to high-cost cities.
In Santa Cruz, the average cost of assisted living is $5,595 per month, nearly $2,100 more than in Placentia. Santa Rosa and Napa are similarly priced at $5,500 and $5,425, respectively.
How much does Home Care Cost in Placentia?
The average cost of home care in California is $4,957. In Placentia, it is substantially lower at $4,481. A few areas — Visalia and Bakersfield — are even lower, but within $200 of Placentia.
Napa, the most expensive area for home health services, averages $5,911, which is $1,430 more that Placentia. Santa Cruz and Santa Rosa are similarly high at $5,529 and $5,625, respectively. Placentia is very affordable for home health compared to other cities in the state.
How much does Adult Day Care Cost in Placentia?
The average cost of adult day care in Placentia is $1,668. That is just $11 lower than the state average and right in line with areas like Bakersfield at $1,653 or Santa Cruz at $1,809. Placentia is fairly near the middle of the range, with areas like Hanford taking the least expensive spot at just $867.
The most expensive areas for adult day care include Santa Rosa, Napa and Santa Maria. All are at least $390 more per month than Placentia.
How much does Nursing Home Costs in Placentia?
Placentia is one of the most affordable cities for nursing homes. The average monthly cost is $7,559, which is $806 less than the state median. Visalia is the absolute lowest in price at $6,540, and Bakersfield isn't far behind at $7,513. Compared to the $10,646 average in Santa Maria, Placentia seniors can expect to save nearly $3,100 per month.
Financial Assistance Programs in Placentia
Medicaid Program in Placentia
Placentia Medicaid is also known as Medi-Cal, a public health insurance program designed for low-income seniors. It is an entitlement jointly funded by state and federal governments. Participants in Medi-Cal gain access to a variety of services including coverage for:
Doctors visits
Emergency care
Prescriptions
Medical transportation
Physical/occupational/speech therapies
Mental health services
Long-term care solutions including nursing homes or home health
Any medically necessary service is covered under Medi-Cal, but there may be restrictions based on the type of enrollment.
Medi-Cal has the basic entitlement program that offers health care services to all qualified applicants, and it also has waiver programs that offer an extended range of services based on program availability. Waivers often have enrollment caps and waiting lists, so not all applicants may receive services.
To qualify for Medi-Cal, seniors must meet these guidelines:
Be at least 65 years old, blind or disabled
Be a legal resident of California
Earn no more than $1,242 for individuals or $1,682 per month for a married couple
Have no more than $2,000 ($3,000 for a married couple) in near cash assets
Some assets are excluded from eligibility calculations. For example, seniors can ignore the value of their home, one vehicle, personal belongings and home furnishings when totaling up assets. For those who earn slightly more than the maximum for Medi-Cal, there may be an option to enroll in a share of the cost (SOC) Medi-Cal program where seniors pay a portion for the services they receive. To enroll, contact an Orange County Medi-Cal enrollment center. Applications are available online or over the phone during normal business hours by calling (800) 281-9799.
Medicaid Waivers in Placentia
Assisted Living Waiver Program
In Placentia, seniors may be eligible for the Assisted Living Waiver (ALW) program. This Medicaid waiver offers financial assistance to low-income seniors living in assisted living facilities. Under this program, seniors may get help with:
Activities of daily living (ADLs) like bathing, grooming, dressing, eating
Instrumental activities of daily living (IADLs) like transportation and housekeeping
Health services, including skilled nursing care
Meal preparation
Laundry services
This program specifically excludes room and board, so participants will need to pay either $1,039 per month or $1,059 per month for these expenses.
To qualify, a senior must be Medi-Cal eligible. Those only eligible for Medi-Cal with a share of the cost don't qualify for the ALW program. To learn more about this waiver, click here.
Multi-Purpose Senior Services Program Waiver
Orange County is one of the 48 California counties that offer the Multi-Purpose Senior Services Program Waiver (MPSS). This waiver is designed to assist seniors who might otherwise need nursing home placement. By offering a broad range of services that include transportation, medication management, personal care assistance, adult day care and home modifications, this waiver lets seniors return to their homes or the community.
The MPSS waiver is not an entitlement program and is set up to allow 12,000 participants statewide. To qualify, seniors must be Medi-Cal eligible and meet the functional requirements of the program. SOC Medi-Cal participants may still be eligible after spending down excess income. For more information about the program and eligibility requirements, click here.
Home and Community-Based Alternatives Waiver
Placentia seniors who wish to live at home or with friends or family may be eligible for the Home and Community-Based Alternatives waiver (HCBA). This waiver is designed to help seniors after a hospitalization or rehab stay in a nursing facility. Some covered services include home modifications, maintenance of medical equipment, personal care and other in-home supports.
Qualified applicants meet the financial limits for Medi-Cal eligibility and have a functional need for continued assistance after leaving a nursing home. While those living at home and in danger of a nursing home transfer may qualify, priority placement is given to seniors already in an institutional setting who are ready to move out. This is not an entitlement program and only serves 4,000 seniors at a time, so there may be a waiting list.
In Placentia, applicants may receive coverage through AccessTLC or Libertana Home Health depending on their zip code.
Community-Based Adult Services Waiver (CBAS)
The Community Based Adult Services waiver offers seniors living independently assistance with ADLs. Seniors must be able to care for themselves at home with limited assistance. The waiver seeks to prevent early nursing home transfers for seniors that only need personal assistance to continue living in the community. Under CBAS, seniors receive all assistance at a central location — typically an adult day care center.To qualify, applicants must earn no more than $1,235 per month and qualify for Medi-Cal. Even those with SOC may qualify. For more information about eligibility and benefits, click here.
Other Financial Assistance Programs in Placentia
In-Home Supportive Services Program (IHSS)
Placentia seniors may also opt for non-Medicaid assistance programs like In-Home Supportive Services. This program helps seniors avoid early institutionalization so they can continue to live at home. Benefits include protective supervision, personal care, domestic help and transportation. IHSS is an entitlement program, so all qualified applicants will receive benefits. To qualify, seniors must have a determination of eligibility from Medi-Cal, though they do not need to be enrolled to participate. To apply, call the Orange County IHSS office at (714)-825-3000. For more information about the program, click here.
Program for All-Inclusive Care for the Elderly (PACE)
PACE is a holistic approach to providing care for the elderly. Seniors who need institutional level care but who might remain at home with the right combination of supports may be eligible. Placentia seniors living in zip code 92870 may receive supportive services through CalOptima. CalOptima will coordinate all care needed including adult day care, prescription medications and any health services. Seniors enrolled in Medi-Cal qualify for PACE as long as they meet the disability requirement. Those who do not qualify for Medi-Cal may still qualify with additional out-of-pocket expenses. For more information about the program call (855) 785-2584 or visit online.
California Paid Family Leave Act
The California Paid Family Leave Act lets family members take up to 6 weeks of paid time off annually to care for an ill or injured family member. This program is available to anyone who works for an employer that pays unemployment insurance in California. While caregivers may opt to take the paid time to assist a family member, employers are not required to hold their jobs. For more information about the California Paid Family Leave Act, click here.
More Senior Living Resources in Placentia
| | | |
| --- | --- | --- |
| Resource | Phone Number | Description |
| Orange County Housing Authority | (714) 480-2700 | Placentia seniors can find lists of available public housing and low-income housing maintained the the OC Housing Authority. Typically, rent for these units is capped at 30% of household income for an applicant. |
| Arbor Lane East Placentia | (866) 239-5176 | This apartment complex maintains two deed-restricted units solely for low and very low-income applicants. While these units are not specifically for seniors, they can also apply. |
| Low Income Home Energy Assistance Program (LIHEAP) | (866) 675-6623 | Placentia seniors may qualify for financial assistance paid directly to utility companies for electricity. To qualify, single applicants can earn no more than $26,049 per year. Seniors receiving SSI automatically qualify. |
For additional information and planning, please read our comprehensive guide to paying for senior care in California.