Get Pricing & Availability for Assisted Living in San Francisco, CA
Call (855) 481-6777 for immediate assistance and get more details
Page Reviewed / Updated – September 13, 2023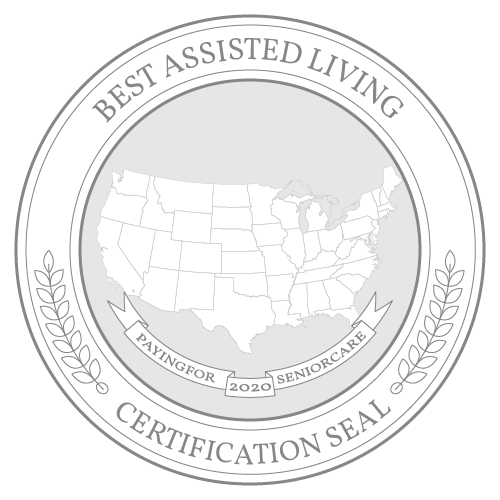 San Francisco is known as the cultural hub of California and offers many benefits to seniors, such as access to excellent public services and top-rated medical facilities. The overall cost of living in San Francisco is very high, with an index score of 244 compared to the national average of 100.
This high score is primarily due to housing costs, and seniors may find that residing in an assisted living community is an affordable alternative to living in the city. While monthly care costs around $7,777, which is considerably higher than the national median, the Medi-Cal Assisted Living Waiver can help seniors manage expenses.
This guide explores assisted living costs in San Francisco and provides information on financial assistance programs.
The Cost of Assisted Living in San Francisco, CA
When determining how to finance Assisted Living, it's essential to first know the expense involved for your loved one to join a reputable community. With the ongoing increase in costs, having current information is crucial when budgeting for senior care. To help highlight the influence of inflation on senior living expenses, PayingForSeniorCare.com has collected cost data from its extensive network of over 75,000 senior living communities. This data represents the average cost of Assisted Living in San Francisco and in 200 other cities in California.
Inflation & the Cost of Assisted Living in San Francisco, CA
The cost of assisted living increased between 2022 and 2023 due to inflation. In San Francisco, monthly expenses rose 10% and reached $7,777. Across the United States, prices also grew by 10%, culminating in an average cost of $4,459 in 2023. Statewide, California's median cost increased by 7% and now stands at $4,946 per month.
In 2024, assisted living costs in San Francisco are projected to reach $8,375, about $3,500 more than the 2024 estimate for the nation ($4,802). Nearby cities of Vista and Glendale also saw increases of around 10% in 2023. These trends show the importance of financial planning.
| | | | |
| --- | --- | --- | --- |
| Location | 2022 Cost (Historical) | 2023 Cost (Current) | 2024 Cost (Estimated) |
| San Francisco | $7,099 | $7,777 | $8,375 |
| U.S. Average | $4,070 | $4,459 | $4,802 |
| California | $4,625 | $4,946 | $5,221 |
| Vista | $3,330 | $3,648 | $3,929 |
| Los Angeles | $5,621 | $6,158 | $6,632 |
| Glendale | $5,969 | $6,539 | $7,042 |
The Cost of Other Types of Care in San Francisco, CA
In San Francisco, the cost of care varies depending on the location and services offered. Assisted living costs an average of $7,777 per month, while those requiring the additional services provided in memory care will pay an average monthly fee of $8,547. Independent living is the most affordable option at $6,110 and is best suited for those who can still live alone. Older adults should consider budget and care requirements when exploring possible long-term options.
| | |
| --- | --- |
| Care Type | Cost |
| Assisted Living | $7,777 |
| Memory Care | $8,547 |
| Independent Living | $6,110 |
Financial Assistance for Assisted Living in San Francisco, CA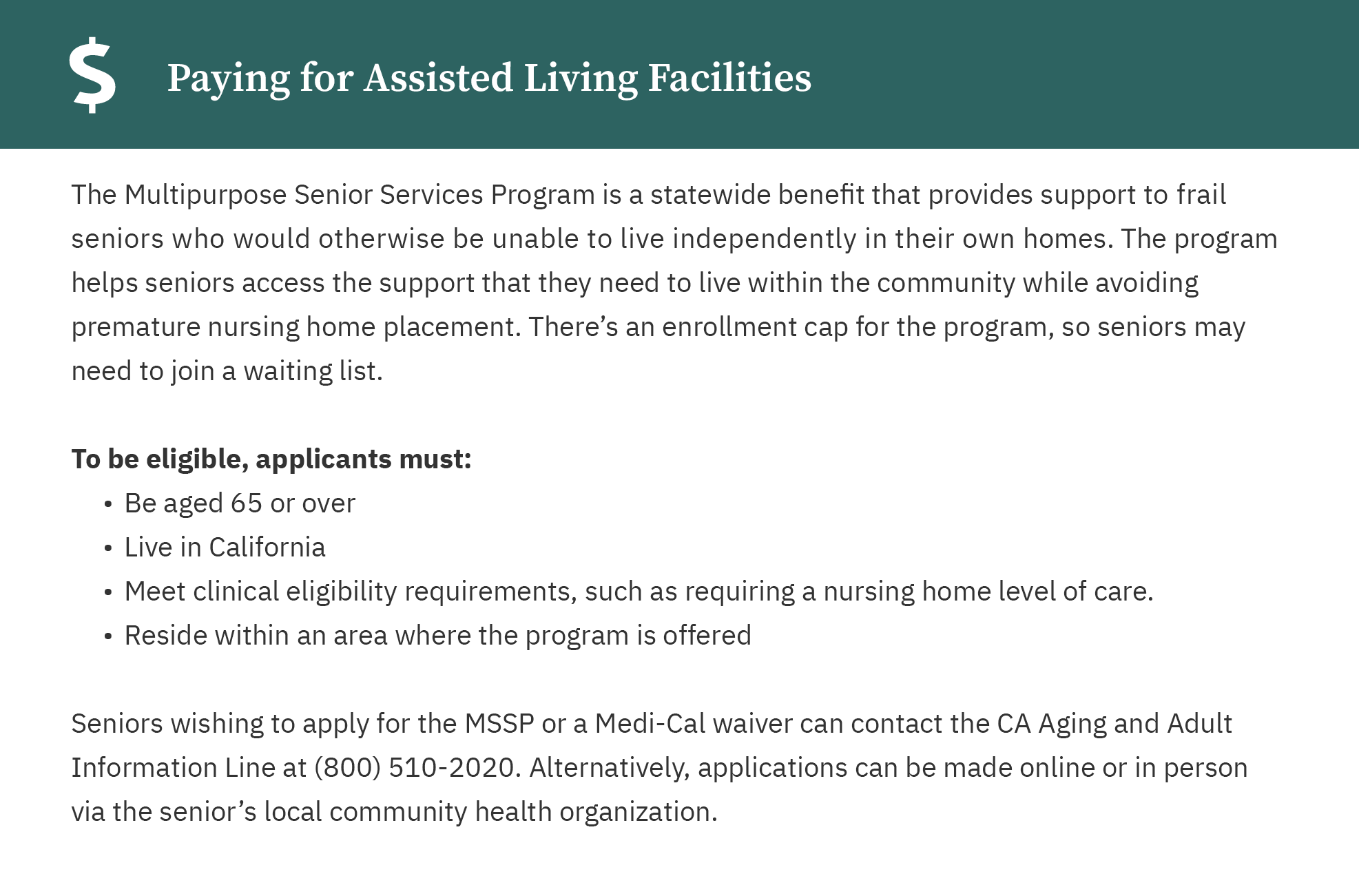 Other Ways To Pay for Assisted Living in San Francisco, CA
Since not everyone can afford to pay for assisted living out-of-pocket, it's important to find alternative methods to help make assisted living more affordable. Some of these options include:
Veterans Benefits
Life Insurance Policy
Long-Term Care Insurance
Reverse Mortgage
For additional information and planning, read our comprehensive guide to paying for senior care in California.
Free Resources for Seniors in San Francisco, CA
Seniors in San Francisco obtain information and referrals from several local agencies, which can help them make important decisions regarding current and future care needs. The following table provides contact information on top resources for seniors in the San Francisco area.
| | | |
| --- | --- | --- |
| Resource | Contact | Service |
| Roberta Cerri Teglia Center | (650) 829-3820 | The Roberta Cerri Teglia Center provides programs and services to those aged 50 and over in the San Francisco area. At this location, older adults access AARP tax preparation assistance and participate in music and fitness classes, knitting and crocheting groups and games. The center is open weekdays from 9 a.m. to 3 p.m. |
| San Mateo Health | (800) 675-8437 | San Mateo Health is the Area Agency on Aging for San Francisco and the surrounding region, meaning it uses federal funds to provide free and low-cost services to those aged 60 and over. It administers nearly a dozen programs including ombudsman services, transportation, legal assistance and information and referrals for community-based services. |
| Ombudsman Services of San Mateo County, Inc. | (650) 780-5707 | Ombudsman Services of San Mateo County, Inc., provides free advocacy and information to assisted living residents in the San Francisco region. The ombudsman helps seniors research local assisted living facilities and identify options for paying for care. They can also advocate on seniors' behalf with issues regarding substandard care and insufficient or excessive services. |
| Legal Aid Society of San Mateo County | (650) 558-0915 | The Legal Aid Society of San Mateo County provides free civil legal advice and assistance to those aged 60 and over. Through this nonprofit organization, seniors can get one-on-one help with applying for public benefits that may help them cover senior care expenses. The office can also help seniors resolve issues such as denied health insurance claims or benefit overpayment. |
| Bay Area Older Adults | (650) 696-7660 | Bay Area Older Adults operates the region's Retired and Senior Volunteer Program, which provides volunteer opportunities to retirees. To serve through this agency, applicants must be at least 55 years old and live within San Mateo or Northern Santa Clara Counties. They obtain free placement assistance, which matches them to the opportunities that fit their schedules and interests, as well as free training and benefits, such as supplemental insurance and mileage reimbursement. |
Rules and Regulations for Assisted Living Facilities in San Francisco, CA
Assisted Living Communities in San Francisco are required to follow a set of rules and regulations that are determined by the state. For an overview of those rules and regulations, see the information below. For more specific information, talk with your local community or Area Agency on Aging.
The 10 Best Assisted Living Facilities in San Francisco, CA