Get Pricing & Availability for Assisted Living in San Francisco, CA
Call (855) 481-6777 for immediate assistance and get more details
Page Reviewed / Updated – July 18, 2022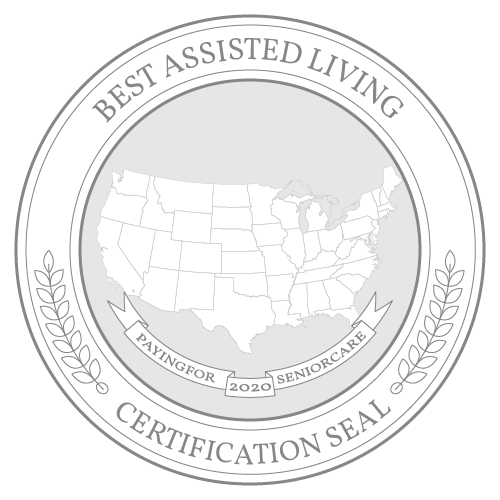 San Francisco is a cultural hub in California and offers a range of benefits to retirees, including access to senior services and high-performing health care facilities. Its overall cost of living is very high, scoring 269 on a cost-of-living index compared to the national score of 100 and the state score of 150. However, this is primarily due to expensive housing prices. For older adults with restrictive retirement incomes, assisted living may be an affordable alternative to living alone. While rates are considerably higher than state and national medians at $6,319, there are various programs and public benefits to help older adults reduce out-of-pocket expenses. California doesn't tax Social Security income, which may leave more money in the bank for care expenses.
This guide provides more information on assisted living costs and options for paying for services in San Francisco. It also highlights free and low-cost local resources and some of the most highly rated assisted living facilities in the city.
ut the cost of assisted living in San Francisco and what financial assistance programs are available.
The Cost of Assisted Living in San Francisco, CA
The 2021 Genworth Cost of Care Survey indicates that assisted living services in San Francisco are fairly pricey compared to the rest of the state, with residents paying approximately $6,319 per month for care. This is considerably higher than the state median of $5,250 and the national rate of $4,500.
Assisted living fees vary throughout California, depending on factors such as local living costs. In Madera and Riverside, rates are among the lowest in the state at $3,828 and $4,000, respectively. Care costs in San Luis Obispo are higher but still $1,000 less than in San Francisco at $5,300 per month. In Santa Rosa, local rates exceed San Francisco's average at $7,048.
San Francisco: $6,319
California: $5,250
United States: $4,500
San Luis Obispo: $5,300
Riverside: $4,000
Madera: $3,828
Santa Rosa: $7,048
The Cost of Other Types of Care in San Francisco, CA
San Francisco seniors seeking the most affordable long-term care option may consider adult day health care, which costs $1,950 monthly. Assisted living is considerably higher at $6,319 but includes living expenses. Home-based care is several hundred dollars more, with seniors paying $6,864 for in-home care and $7,150 for home health care. Nursing home rates are roughly double the cost of assisted living, with seniors in semiprivate rooms paying $11,566 per month and those in private rooms paying $14,068.
In-Home Care: $6,864
Home Health Care: $7,150
Adult Day Health Care: $1,950
Assisted Living Facility: $6,319
Nursing Home Facility (semiprivate room): $11,566
Nursing Home Facility (private room): $14,068
Financial Assistance for Assisted Living in San Francisco, CA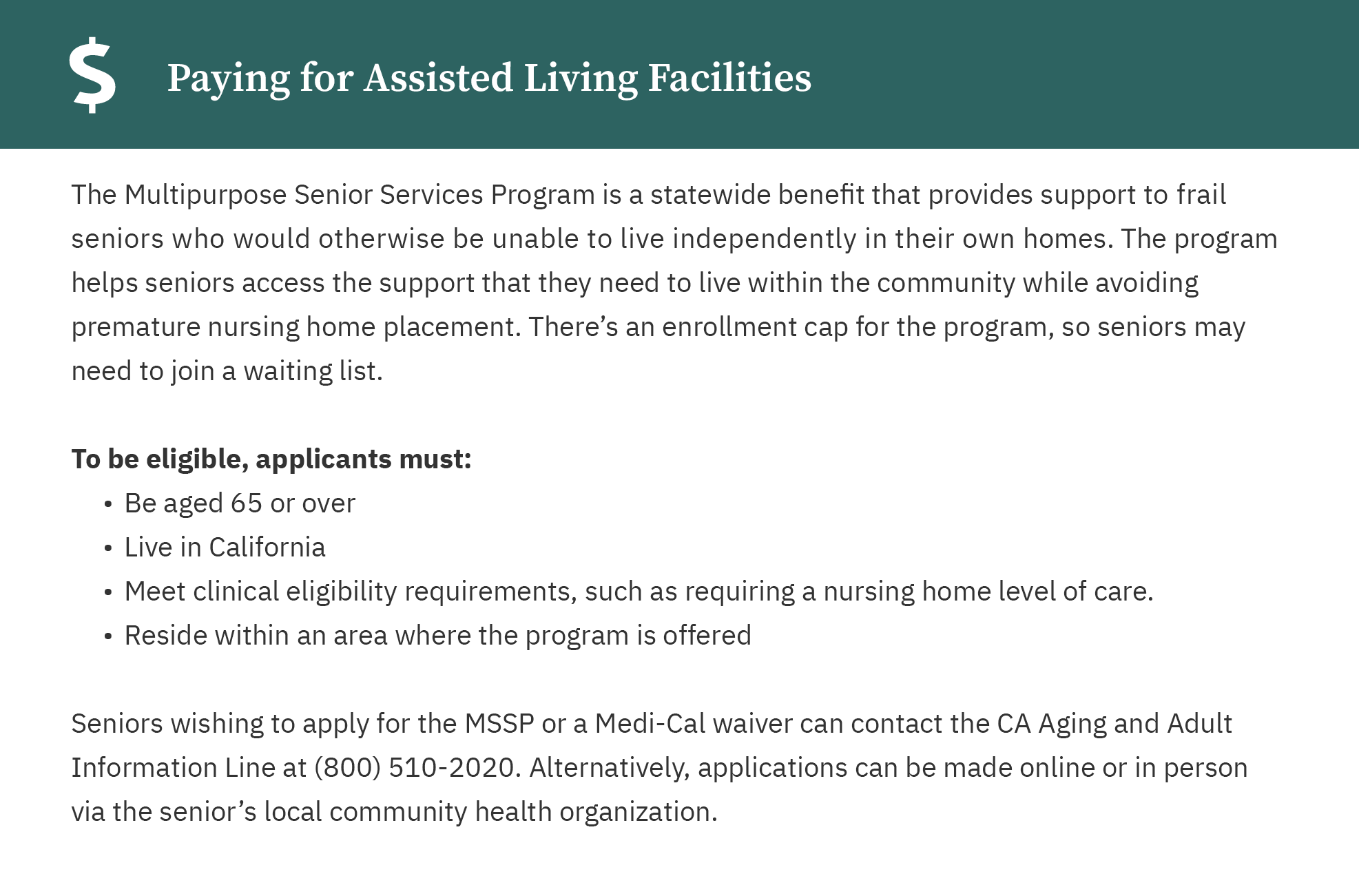 Other Ways To Pay for Assisted Living in San Francisco, CA
Since not everyone can afford to pay for assisted living out-of-pocket, it's important to find alternative methods to help make assisted living more affordable. Some of these options include:
Veterans Benefits
Life Insurance Policy
Long-Term Care Insurance
Reverse Mortgage
For additional information and planning, read our comprehensive guide to paying for senior care in California.
Free Resources for Seniors in San Francisco, CA
Seniors in San Francisco obtain information and referrals from several local agencies, which can help them make important decisions regarding current and future care needs. The following table provides contact information on top resources for seniors in the San Francisco area.
| | | |
| --- | --- | --- |
| Resource | Contact | Service |
| Roberta Cerri Teglia Center | (650) 829-3820 | The Roberta Cerri Teglia Center provides programs and services to those aged 50 and over in the San Francisco area. At this location, older adults access AARP tax preparation assistance and participate in music and fitness classes, knitting and crocheting groups and games. The center is open weekdays from 9 a.m. to 3 p.m. |
| San Mateo Health | (800) 675-8437 | San Mateo Health is the Area Agency on Aging for San Francisco and the surrounding region, meaning it uses federal funds to provide free and low-cost services to those aged 60 and over. It administers nearly a dozen programs including ombudsman services, transportation, legal assistance and information and referrals for community-based services. |
| Ombudsman Services of San Mateo County, Inc. | (650) 780-5707 | Ombudsman Services of San Mateo County, Inc., provides free advocacy and information to assisted living residents in the San Francisco region. The ombudsman helps seniors research local assisted living facilities and identify options for paying for care. They can also advocate on seniors' behalf with issues regarding substandard care and insufficient or excessive services. |
| Legal Aid Society of San Mateo County | (650) 558-0915 | The Legal Aid Society of San Mateo County provides free civil legal advice and assistance to those aged 60 and over. Through this nonprofit organization, seniors can get one-on-one help with applying for public benefits that may help them cover senior care expenses. The office can also help seniors resolve issues such as denied health insurance claims or benefit overpayment. |
| Bay Area Older Adults | (650) 696-7660 | Bay Area Older Adults operates the region's Retired and Senior Volunteer Program, which provides volunteer opportunities to retirees. To serve through this agency, applicants must be at least 55 years old and live within San Mateo or Northern Santa Clara Counties. They obtain free placement assistance, which matches them to the opportunities that fit their schedules and interests, as well as free training and benefits, such as supplemental insurance and mileage reimbursement. |
Rules and Regulations for Assisted Living Facilities in San Francisco, CA
Assisted Living Communities in San Francisco are required to follow a set of rules and regulations that are determined by the state. For an overview of those rules and regulations, see the information below. For more specific information, talk with your local community or Area Agency on Aging.
The 10 Best Assisted Living Facilities in San Francisco, CA