Get Pricing & Availability for Assisted Living in Burlingame, CA
Call (855) 481-6777 for immediate assistance and get more details
Page Reviewed / Updated – August 18, 2020
The 10 Best Assisted Living Facilities in Burlingame, CA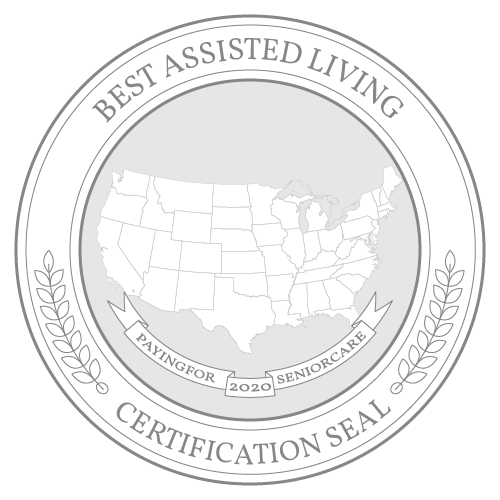 Sitting on the San Francisco Bay Peninsula, Burlingame is recognized as one of America's 50 best cities. Not only are its attractive scenery and sunny year-round climate a draw for retirees, but its proximity to the San Francisco Airport also makes it convenient for family members to visit.
The charming city has a walkable downtown area where seniors can explore a variety of quaint shops, local restaurants, cafes and entertainment venues. Crime is low so seniors can feel safe exploring on their own, and there are a number of top medical facilities in the area. Those who enjoy spending time outdoors will enjoy the city's expansive shoreline and abundance of outdoor recreational opportunities.
Note: Information for Burlingame was not available, so data from the nearest city, San Francisco, was used.
Take a look at this list of the top 10 assisted living facilities in Burlingame. Additionally, find out more about the cost of assisted living in Burlingame and what financial assistance programs are available.
The Cost of Senior Living and Care in Burlingame
Senior living options in Burlingame are relatively expensive at every level of care. According to the Genworth 2018 Cost of Care Survey, Burlingame has substantially higher costs in assisted living, in-home and nursing care when compared to the state and national averages, while adult day care is just slightly higher.
Note: Data on the average cost of senior care wasn't available for Burlingame, so the data for the wider San Francisco area was used.
How much does Assisted Living Cost in Burlingame?
Assisted living in Burlingame costs an average of $5,500 per month, which puts it on the high end of the price scale in California, where the overall average is $4,500. San Jose is also at $5,500, and Santa Cruz is slightly more expensive, with the highest cost in the state at $5,595 per month.
Vallejo is the closest area with relatively affordable assisted living, coming in just below the state average with a monthly cost of $4,350. Bakersfield has the lowest cost in the state for this level of care at $3,150 per month.
How much does Home Care Cost in Burlingame?
Burlingame has a relatively high cost for home care at $5,625 per month. The average for California is roughly $670 cheaper at $4,957, and it's lower still in Vallejo where the average is $4,576. Visalia is the most affordable area for in-home care overall with an average cost of $4,290 per month.
Napa has the highest prices in California for home care – almost $1,000 higher than average at $5,911 per month – while Sacramento and Los Angeles sit just below average at $4,767.
How much does Adult Day Care Cost in Burlingame?
The cost of adult day care is much more consistent compared to other levels of care, although Burlingame is still more expensive than the state average at $1,733 per month. California's average is roughly $50 lower at $1,679, while Vallejo is $380 cheaper than Burlingame.
San Jose is approximately $300 higher than California's average monthly cost for adult day care, and Napa has the state's top monthly average at $2,167. Hanford is the most affordable area, with adult day care costs roughly half of the state average at $867.
How much does Nursing Home Costs in Burlingame?
Burlingame nursing care facilities cost an average of $9,148 per month, which is roughly $800 more than California's average of $8,365. San Jose has similar costs at $9,125, while Vallejo is relatively affordable and below the state average with a cost of $8,167.
Napa has the highest price tag for nursing care in California at an average of $9,962 per month, and Visalia is the most affordable at $6,540. Los Angeles is the cheapest major city at $7,604.
Financial Assistance Programs in Burlingame
Medicaid Program in Burlingame
Burlingame seniors who don't earn much money may qualify for Medi-Cal health coverage, which is California's Medicaid program. At the basic level, Medi-Cal covers nursing facilities and in-home care; it may also help cover the cost of assisted living.
Aside from long-term care, Medi-Cal also covers health benefits, such as emergency and hospitalization, prescriptions, habilitation, dental, vision and preventive services.
Medi-Cal health benefits, as well as nursing facility care and limited in-home care services, are available as part of an entitlement program, so there is no delay in service for qualified individuals. Medi-Cal may also help pay for assisted living, or provide enhanced in-home support at no cost, but these aren't entitlements and are offered separately through other programs.
The simplest Medi-Cal eligibility check for seniors and people with disabilities is whether they receive Supplemental Security Income payments. If the individual receives or is qualified to receive SSI, they qualify for full-scope coverage.
Californians who don't financially qualify for SSI must be at least 65 years old or have a disability as recognized by the Social Security Administration, in order to qualify for Aged & Disabled Medi-Cal. They must also own less than $2,000 of assets and have a monthly income no higher than $1,271.
Married couples are permitted to have $3,000 of assets and up to $1,720 of monthly income. Read more about the different requirements for couples, and which assets are counted toward eligibility in the DHCS property limitations guide.Apply for health benefits and long-term care through Medi-Cal at Covered California using the online forms, or call (800) 300-1506 to apply for coverage by phone. Burlingame residents can contact San Mateo County Human Services on (800) 223-8383 with any questions.
Other Financial Assistance Programs in Burlingame
Assisted Living Waiver
Assisted living may be covered by Medi-Cal if the applicant qualifies for the Assisted Living Waiver. It's currently available in San Mateo County and most nearby counties. The ALW is one of the most popular Medi-Cal HCBS waivers, but it's not an entitlement program, which generally causes a delay in coverage.
Applicants for the ALW must be eligible for Medi-Cal without paying a share of cost; the Aged & Disabled coverage detailed in this guide satisfies this requirement. The applicant must also need the level of care normally provided in a nursing home and be willing and able to live at a lower level of care, such as assisted living.
Burlingame seniors can contact Institute on Aging on (650) 424-1411 to begin the application process. IOA is the Care Coordination Agency responsible for San Mateo County.
Read our California ALW guide for more details on this waiver.
Medi-Cal HCBS Waivers
Aside from the Assisted Living Waiver, the state of California offers several other alternatives designed to lessen the demand for costly nursing home care. These alternatives are available through Home and Community-Based Services waivers.
HCBS services include case management and enhanced in-home care services, such as private nursing and health aides. Respite and training for family and caregivers are also available.
Applicants for waiver services must be eligible for full-scope Medi-Cal, such as Aged & Disabled, and they must be evaluated by a nurse to determine the level of care required. All services are available at no cost to qualified individuals, but there is a statewide limit on the number of recipients for each service, and they're not entitlements.
Applications for HCBS waiver services are managed by In-Home Operations. Call the Northern California division of IHO on (916) 552-9105 to arrange an in-home visit so that staff can explain the services and begin determining eligibility.
In-Home Supportive Services
Seniors and people with disabilities in Burlingame can receive home care support services through San Mateo County Health and the In-Home Supportive Services program. These services are provided to qualified residents who wish to remain at home, instead of being placed in a long-term care facility.
IHSS provides services such as transportation, shopping and meal assistance, hygiene, laundry and some paramedical care. Protective supervision may also be provided.
Applicants for IHSS must be eligible for Medi-Cal and at least 65 years old, or disabled and living in their own home. They must also be assessed as requiring help with activities of daily living, and at risk of institutionalization if services aren't provided at home.
Call the IHSS information line on (800) 675-8437 to ask any questions or make an application. A social worker will be sent to the home of the applicant to assess their needs.
Community-Based Adult Services
CBAS is a managed care program under Medi-Cal; it provides adult day health care for seniors and people with functional impairments. The goal of this program is similar to that of the IHSS and many of the HCBS waivers, which is to prevent at-risk Californians from being institutionalized prematurely.
Services are generally provided in the home of the individual and at adult day health care centers, and recipients with greater needs are treated in the appropriate facilities.
Community-Based Adult Services may provide nursing care in day health centers, various therapies, personal assistance in the home, meals and nutrition support, transportation and social services. Applicants are assessed to determine their eligibility for each service.
Individuals must be eligible for a full-scope category of Medi-Cal coverage with no share of cost, and assessed as requiring CBAS in order to prevent institutionalization. Aged & Disabled Medi-Cal, as detailed previously, is appropriate for this program.
Burlingame residents can apply for Community-Based Adult Services by contacting Mills-Peninsula Senior Focus on (650) 696-3660. This adult day health center is partnered with the state to assess applicants and provide services.Read our California CBAS guide for detailed eligibility guidelines and more information.
More Senior Living Resources in Burlingame
| | | |
| --- | --- | --- |
| Resource | Phone Number | Description |
| San Mateo County Department of Housing | (650) 363-4000 | The DOH funds various affordable housing programs in San Mateo County, with additional money provided by the state and federal governments. These programs help low-income residents find subsidized apartments or pay for their rent in private housing. |
| Dolores Lia Apartments | (650) 589-1247 | This community in neighboring Millbrae has one and two-bedroom units for low-income individuals and families. It is an LIHTC property, which means the rent is scaled to the resident's income. |
| Rotary Plaza Apartments | (650) 871-5323 | This apartment community in South San Francisco has 179 one-bedroom apartments designated for low-income seniors aged 62 and above. All apartments are rent-controlled and some are accessible for people with disabilities. |
| Rotary Terrace Apartments | (650) 763-1333 | This apartment community near downtown South San Francisco is currently accepting applications from low-income seniors 62+. |
| Emergency Rent and Utility Assistance | (650) 347-3648 | Samaritan House of San Mateo County partners with the county's Human Services department to provide core services to at-risk residents in Burlingame. These services include emergency rent assistance to avoid eviction and help paying utility bills. |
For additional information and planning, please read our comprehensive guide to paying for senior care in California.
https://www.payingforseniorcare.com/california/medicaid-waivers/medi-cal-cbas