Get Pricing & Availability for Assisted Living in Pasadena, CA
Call (855) 481-6777 for immediate assistance and get more details
Page Reviewed / Updated – July 18, 2022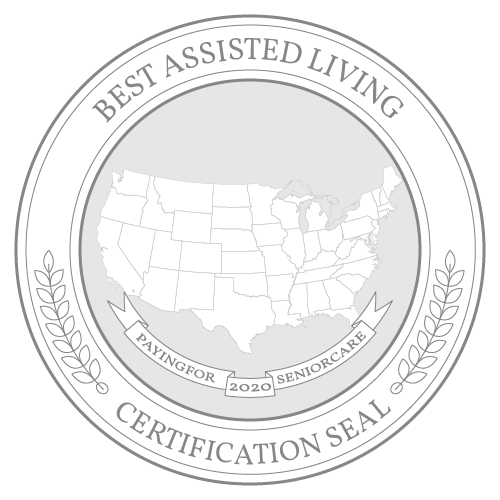 Pasadena is a comparatively expensive place to live, with an overall cost of living that exceeds the national average by 89% and the state median by nearly 40%, but older adults have access to a range of programs and public benefits that help them afford living and long-term care costs. While living costs are high, health care in this region is generally affordable, with costs for services coming in about 15% below the national median, and local assisted living rates are consistent with California as a whole at $5,250 per month.
This guide to assisted living in Pasadena provides information on how older adults pay for assisted living when retirement income isn't enough to cover care. It also includes an overview of free resources that help older adults get the support and assistance they need and a list of the top assisted living facilities in the Pasadena region.
The Cost of Assisted Living in Pasadena, CA
The 2021 Genworth Cost of Care Survey reports that assisted living residents in Pasadena pay $5,250 per month for care.
Assisted living rates in Pasadena are consistent with the state average of $5,250, but costs exceed the national median of $4,500 by several hundred dollars. Those seeking more affordable care in California may consider researching facilities in Visalia, which has one of the lowest surveyed rates in the state at $3,450. In Hanford, care costs are closer to the national average but $900 less than Pasadena at $4,350. Pasadena is affordable compared to El Centro, where facilities charge $6,150 per month, and Santa Rosa, where residents pay $7,048.
Pasadena: $5,250
California: $5,250
United States: $4,500
El Centro: $6,150
Visalia: $3,450
Hanford: $4,350
Santa Rosa: $7,048
The Cost of Other Types of Care in Pasadena, CA
Seniors seeking the most affordable long-term care option in Pasadena may consider adult day health care, which costs $1,652 per month for daytime services. Assisted living is costlier at $5,250 but includes most living expenses, helping older adults budget their retirement income. In-home care and specialized home health care each cost $5,911 per month, and nursing homes charge $9,125 per month for semiprivate rooms and $11,269 for private rooms.
In-Home Care: $5,911
Home Health Care: $5,911
Adult Day Health Care: $1,652
Assisted Living Facility: $5,250
Nursing Home Facility (semiprivate room): $9,125
Nursing Home Facility (private room): $11,269
Note: Data for Pasadena was unavailable, so data for the nearest city, Los Angeles, was used instead.
Financial Assistance for Assisted Living in Pasadena, CA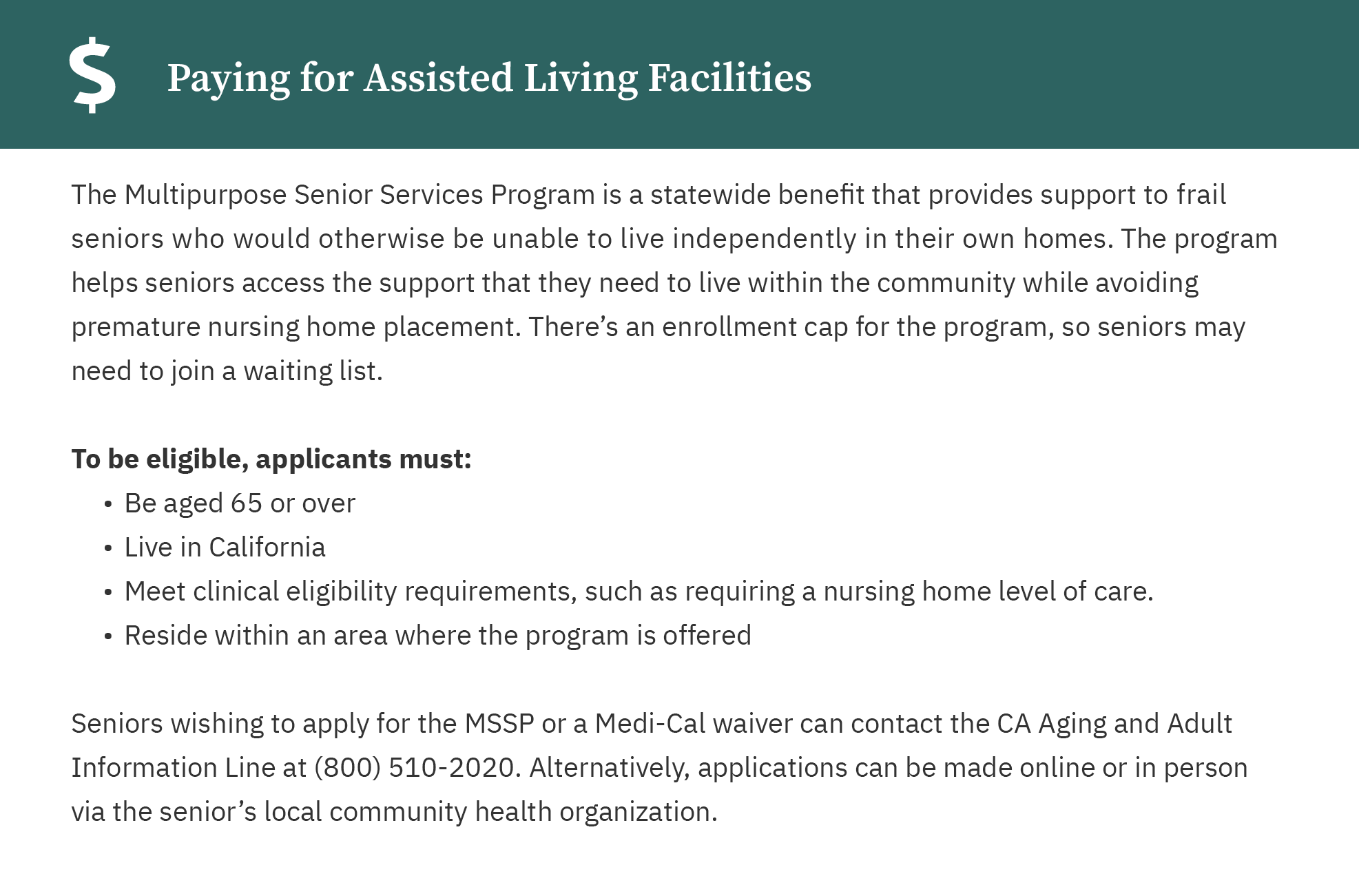 Other Ways To Pay for Assisted Living in Pasadena, CA
Since not everyone can afford to pay for assisted living out-of-pocket, it's important to find alternative methods to help make assisted living more affordable. Some of these options include:
Veterans Benefits
Life Insurance Policy
Long-Term Care Insurance
Reverse Mortgage
For additional information and planning, read our comprehensive guide to paying for senior care in California.
Free Resources for Seniors in Pasadena, CA
The Pasadena region is home to nonprofit agencies that provide services such as options counseling, Medicare assistance and legal advice, helping older adults make important decisions regarding their care. This table highlights the top resources for seniors in Pasadena.
| | | |
| --- | --- | --- |
| Resource | Contact | Service |
| County of Los Angeles Workforce Development, Aging and Community Services | (888) 211-0644 | WDACS is the Area Agency on Aging for Pasadena and the surrounding region, meaning it has programs and services to promote healthy aging for those aged 60 and over. Some services this agency provides include congregate meals, volunteer-based transportation services, information and referrals to support resources in the community and health insurance options counseling. It also has a long-term care ombudsman seniors can contact for help navigating issues related to assisted living. |
| Pasadena Senior Center | (626) 795-4331 | The Pasadena Senior Center is a nonprofit activity center where older adults participate in recreational activities, educational classes and special events throughout the year. The center provides prerecorded programs such as technology courses, exercise classes and meditation, along with in-person activities such as movie afternoons, club meetings and games. Members may also participate in Masters Series Lifelong Learning classes, cultural events and Cosmic Cocktail Hour. |
| WISE & Healthy Aging | (310) 394-9871 | WISE & Healthy Aging is a nonprofit social services organization nationally recognized for its programs and services for seniors. It houses the region's long-term care ombudsman, who can help seniors in assisted living understand their rights and resolve issues regarding the quality of care they receive. The organization also provides peer counseling and low-cost transportation services. |
| Center For Health Care Rights | (800) 824-0780 | The Center for Health Care Rights is a nonprofit health advocacy organization that provides information and assistance with obtaining health insurance. Through this organization, seniors get one-on-one Medicare options counseling with advisers who help them understand their Original Medicare benefits and compare Medigap and Medicare Advantage Plans available in the Pasadena region. The organization can also screen for Medicaid eligibility. |
| South Central Los Angeles Emerging Aging Disability Resource Connection | (213) 627-0477 | The ADRC offers a single entry point into the services and programs available to seniors in Pasadena. Through this organization, older adults can connect with long-term care options counseling services, transportation, congregate meals and assistance with applying for public and veterans' benefits. |
Rules and Regulations for Assisted Living Facilities in Pasadena, CA
Assisted Living Communities in Pasadena are required to follow a set of rules and regulations that are determined by the state. For an overview of those rules and regulations, see the information below. For more specific information, talk with your local community or Area Agency on Aging.
The 10 Best Assisted Living Facilities in Pasadena, CA