Get Pricing & Availability for Assisted Living in Tustin, CA
Call (855) 481-6777 for immediate assistance and get more details
Page Reviewed / Updated – June 04, 2020
The 10 Best Assisted Living Facilities in Tustin, CA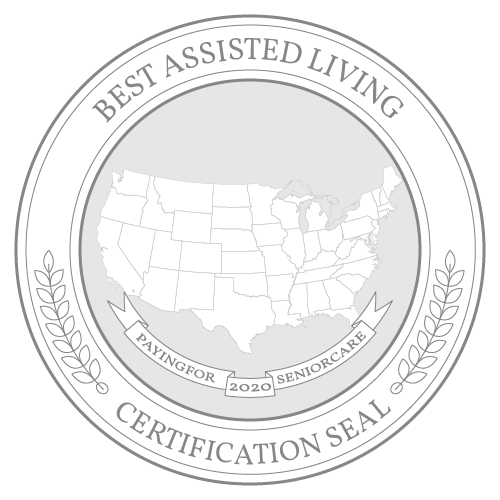 Tustin is located in the foothills of the San Bernardino Mountain range in Orange County, CA. This community has the comforts of a midsized city, while its location within the Los Angeles metro area gives seniors access to the amenities of a major city.
Warm and sunny weather year-round may bring relief for seniors sensitive to colder temperatures. This, and a crime rate lower than the national average contributes to Tustin's attractiveness for retirees. Old Town Tustin embodies the town's history with a walkable area centered around buildings from the 1880s and plenty of local shopping and dining venues. Seniors who derive most of their income from Social Security will not be subject to state income tax on these monies, although those who draw income from retirement accounts will be taxed.
Note: The figures for Tustin were not available, so costs for the nearest metro area, Riverside, were used.
Read our list of the top 10 assisted living facilities in Tustin to find the right fit for you or a loved one.
Additionally, find out more about the cost of assisted living in Tustin and what financial assistance programs are available.
The Cost of Senior Living and Care in Tustin
Senior care costs in Tustin tend to be somewhat lower than the average costs seniors pay for similar levels of care in the rest of California, according to the 2018 Genworth Cost of Care Survey. Assisted living costs are the same in the city and the state, but seniors in Tustin may save up to several hundred dollars on nursing home care. Home care and adult day care are also cheaper in Tustin.
Note: Senior care cost data wasn't available for Tustin, so the data for the closest city, Los Angeles, was used.
How much does Assisted Living Cost in Tustin?
Assisted living in Tustin costs an average of $4,500 a month for many seniors. This is the same average price seniors pay in the rest of California, though it's significantly less expensive than San Francisco, where assisted living costs can rise to an average of $5,500 a month — $1,000 a month more than Tustin. Costs are $1,000 below the average for Tustin in Stockton, where assisted living averages $3,500 a month. The least expensive surveyed city, Bakersfield, reports monthly average costs of just $3,150 for assisted living.
How much does Home Care Cost in Tustin?
Home care in Tustin costs an average of $4,767 a month, which is the same average price seniors pay in San Diego and Sacramento, the state capital. Prices for home care in the rest of California average $4,957, which is the same price seniors pay in Stockton. Prices for home care in San Francisco are among the highest in the state at $5,625 a month, while the least expensive care in the state can be found in Chico and Bakersfield, where average costs are $4,433 and $4,385 per month, respectively.
How much does Adult Day Care Cost in Tustin?
At $1,565 a month, adult day care costs Tustin seniors less than most surveyed California cities and is $111 below the state average cost of $1,679. Sacramento, San Diego and San Francisco occupy the middle range of prices in the state at $1,733. Chico reports some of the highest costs for adult day care in the state, at an average of $2,134 a month. Among surveyed California cities, Hanford reports the lowest monthly average prices at $1,354.
How much does Nursing Home Costs in Tustin?
Nursing home care costs an average of $7,604 a month in Tustin. This places Tustin second among surveyed cities for affordable nursing care. The only surveyed city to report lower average costs than Tustin is Bakersfield, at $7,513 a month for a semi-private room in a nursing care facility.
The average price seniors pay in the rest of California is $8,365 a month, while some outlier cities report significantly higher prices. San Francisco, for example, averages $9,148 a month for nursing care, putting it $1,544 a month above the average seniors pay in Tustin.
Financial Assistance Programs in Tustin
Medicaid Program in Tustin
Seniors in Tustin can apply for help with their medical bills through the Medicaid low-income insurance program, which in California is known as Medi-Cal. Medi-Cal delivers affordable healthcare through a network of providers, such as Blue Cross/Blue Shield, which offer both HMO and PPO plan options. These plans vary in their details, but nearly all offer basic and urgent care coverage, some prescription benefits and help paying the cost of some residential care.
Seniors can apply for Medi-Cal coverage at an Orange County Human Services office, or by going online to the Covered California website and browsing through the various plan options there. Seniors can choose a plan when they sign up, and they can switch plans without penalties during the annual open enrollment period.
To qualify for Medi-Cal, seniors in Tustin must be citizens or legal residents of the United States and live permanently in California. Applicants' income must not exceed 138% of the Federal Benefits Rate, or $16,395 a year for adults applying for themselves. Married seniors can earn up to $22,108 a year from all sources combined, and each additional adult in the household raises the income cap by $5,741 a year, whether the extra adults apply for Medi-Cal benefits or not.
Medi-Cal is an entitlement program, which means all eligible seniors can sign up and get coverage as soon as they are approved, with no waiting period or annual cap on enrollment. In some cases, Medi-Cal will pay some bills already incurred, though it's best to ask an intake worker or qualified Medicaid planner about this prior to receiving care.

Medicaid Waivers in Tustin
Assisted Living Waiver Program (ALWP)
Seniors in Tustin can get help paying the monthly cost of assisted living with an Assisted Living Waiver Program (ALWP) voucher. This program pays for assisted living for seniors who meet Medi-Cal eligibility guidelines and have a referral for residential care in a nursing care home. Seniors who opt out of nursing care and choose assisted living instead can apply for the waiver through their Medi-Cal caseworker or through the benefits planner at a participating assisted living facility. Orange County is one of only 15 counties in the state to participate in the ALWP waiver plan, and seniors should check to make sure a prospective assisted living facility is enrolled prior to moving in.
Multipurpose Senior Services Waiver
Seniors who qualify for some level of residential care under Medi-Cal rules can choose instead to live in their own homes with help from the Multipurpose Senior Services Program (MSSP). The MSSP waiver pays the direct costs associated with many of the services seniors can use to remain independent in the community. Applications typically go through the discharge planner at a residential care facility, or they can be submitted through a caseworker at the Human Services office in Orange County. Benefits covered by the MSSP include:
Assigned caseworker support to help seniors understand and apply for programs
Expert financial advice from certified senior advisers
Caregiver help in the home, plus homemaker services and assistance with household chores and errands outside the home
Adult day care, respite care and protective supervision
Meals delivered to the home or served in a community facility
Vouchers for public transportation and call center assistance booking non-emergency medical transportation within a specified radius of Tustin
Translation and interpreter services
Approved home repairs such as the installation of a ramp or guard rails
Personal Emergency Response System (PERS) equipment installation and service
Home and Community-Based Alternatives (HCBA) Waiver
The Home and Community-Based Alternatives (HCBA) waiver program pays many of the costs associated with transitioning out of residential care to live in the community. It replaces several older programs for different types of residential care and may be used by seniors discharged from any residential care type in Tustin. Applications for the voucher are usually submitted by the facility discharge planner in advance of the senior's move.
Community-Based Adult Services (CBAS)
Seniors who live at home in Tustin can stay active in the community with the help of a Community Based Adult Services (CBAS) waiver. Seniors enrolled in the CBAS program can get help paying the cost of adult day care, physical therapy and mental health services. Program staff also organize monthly get-togethers for participating seniors enrolled in the program, free of charge.
Other Financial Assistance Programs in Tustin
In-Home Support Services (IHSS)
Seniors in Tustin who meet participation standards for Medi-Cal can get help in their own homes through California's In-Home Support Services (IHSS) program. This program pays caregivers to assist medically needy seniors in Tustin with regular activities of daily living, such as cleaning and personal care chores. The program is recipient-directed, which means seniors can designate their own caregiver, who may be a friend, spouse or another family member.
Seniors interested in hiring a caregiver through IHSS can apply through the Orange County IHSS office. Once eligibility is established, an IHSS worker can visit the senior's home and assign a set number of hours per month the program will pay for. Prospective caregivers must pass a background check and attend a one-day training session held at the IHSS office. Every two weeks, seniors sign off on the hours a caregiver has worked on a time sheet, which can then be mailed in for reimbursement.
Paid Family Leave
Close family members of medically needy seniors in California can take up to six weeks off from work with pay through the state's Paid Family Leave Act (PFLA) program. PFLA is funded through payroll deductions and is only available to currently employed workers in the state who are paid up in the plan. Bi-monthly benefits are mailed out as a check, with amount totals averaged over a three-year look-back period. Benefits can be spent like any other pay.To apply, workers can call the state Employment Development Department (EDD), the same agency that processes unemployment claims. The department typically schedules a phone interview with the applicant, and it commonly requests documentation of both the medical need for leave and the closeness of the relationship between the applicant and the senior. Only immediate family members may take PFLA in California.
More Senior Living Resources in Tustin
Resource

Phone Number

Description

Tustin Housing Authority
(714) 573-3000
The Tustin Housing Authority helps private sector property operators build and maintain low-and-moderate-income housing in the city. Seniors who meet income guidelines can apply for affordable housing through the city office, or they can browse the Authority's online directory of local low-income housing units and apply directly to property management.
Orange County Housing Authority (OCHA)
(855) 886.5400
Seniors in Tustin can apply to the Orange County Housing Authority (OCHA) for help signing up for the federal Housing Choice Voucher program, formerly known as Section 8.
This program pays a fraction of the monthly cost of rent, and for qualified individuals, it may help with home ownership. Applications to join the waitlist can be submitted by mail.
Community Action Partnership of Orange County
(714) 897-6670
Seniors who need emergency assistance with home energy bills can reach out to the Community Action Partnership of Orange County for immediate one-time help.
The Partnership offers disconnect service and limited assistance paying overdue bills for seniors who meet income and asset guidelines. Seniors in Tustin may call for information and apply 24 to 48 hours prior to a disconnect.
Low-Income Home Energy Assistance Program (LIHEAP)
(800) 427-2200
Seniors in Tustin can get up to 30% off the cost of their home gas and electric bills through the federal Low-Income Home Energy Assistance Program, which in Tustin is administered by SoCalGas. Applications can be requested by phone and submitted by mail.
For additional information and planning, please read our comprehensive guide to paying for senior care in California.