Get Pricing & Availability for Assisted Living in Clovis, CA
Call (855) 481-6777 for immediate assistance and get more details
Page Reviewed / Updated – October 26, 2020
The 10 Best Assisted Living Facilities in Clovis, CA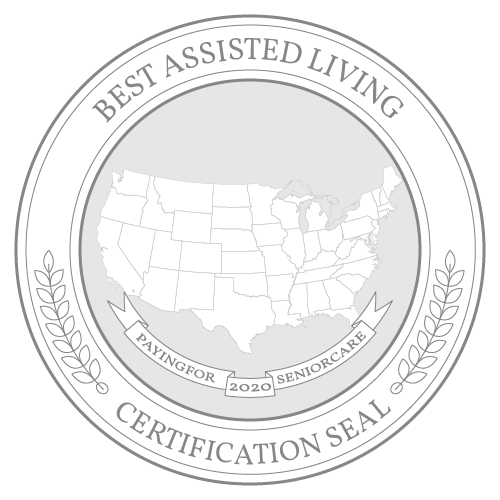 Clovis, CA, offers plentiful opportunities for seniors and their families to explore unique shops, and enjoy fine cuisine and exciting entertainment. Dubbed the Gateway to the Sierras, the city's close proximity to Yosemite and other national parks gives individuals numerous chances to get up-close and personal with nature and pursue outdoor activities, such as fishing, boating, bird-watching and hiking.
Mild winters, hot summers and sunshine mark the area's pleasant climate, making it easy to plan activities and attend area events. Violent crime rates in Clovis are considerably lower than the national average, which offers peace of mind for seniors as they travel about the city.
Note: Information for Clovis wasn't available, so data for the nearest city, Fresno, was used instead.
Learn more about local communities with our list of the top 10 assisted living facilities in Clovis. Additionally, find out more about the cost of assisted living in Clovis and what financial assistance programs are available.
The Cost of Senior Living and Care in Clovis
Senior living costs in Clovis are consistently lower than the average cost for similar levels of care in the state of California. Assisted living, for example, costs an average of $3,500 per month in Clovis, while the state average is a full $1,000 more, at $4,500. Differences are less dramatic in other areas, such as home care, where the average monthly cost in Clovis is $4,528 and the monthly average across the state of California is $4,957, according to the 2018 Genworth Cost of Care Survey.
Adult day care costs in Clovis are very close to the state average. Seniors in Clovis can expect to pay an average of $1,653 per month for adult day care, while the average monthly cost across the state is $1,679. Clovis is actually more expensive than the rest of California for nursing home care. Average costs for a semi-private room in a Clovis nursing care facility run to $8,638 per month, while the average monthly cost for the rest of California is $8,365.

How much does Assisted Living Cost in Clovis?
The average cost of assisted living in California is $4,500 a month. This is significantly higher than the cost of similar accommodations in Clovis, where costs average $3,500 a month. Clovis reports the same average prices as Stockton, where monthly costs also run to $3,500. Among surveyed California cities, only Bakersfield is less expensive, with an average monthly cost of $3,150.
Several California cities report significantly higher rates for assisted living. San Jose and San Francisco top the list, with each reporting an average monthly cost of $5,500. Los Angeles and San Diego also share a price point, albeit well below many other cities, at $4,500. Chico averages $4,000 per month for assisted living costs, $500 more per month than Clovis.

How much does Home Care Cost in Clovis?
The average cost for home care in California is $4,957 per month. This is somewhat above the average Clovis seniors pay, which is $4,528 per month. Several California cities cluster close to Clovis in cost for in-home care. Bakersfield, for example, costs an average of $4,385 per month, while Chico reports monthly costs of $4,433. Los Angeles and San Diego report identical prices, both averaging $4,767 per month.
San Jose and San Francisco top the list of California cities for home care costs. The former averages $5,720 per month for these services, while the latter has a monthly average of $5,625. With an average of $4,957, Stockton is on par with Clovis for monthly home care costs.

How much does Adult Day Care Cost in Clovis?
Adult day care averages $1,679 a month across the state of California. This is not only close to the average price Clovis seniors pay, $1,653, but also in line with most other surveyed cities around the state. Bakersfield and Stockton are very close in costs here, at $1,653 and $1,679 per month, respectively, while San Francisco and San Diego both average $1,733 per month. San Jose comes in at $1,993 per month, $340 per month more than the Clovis average.
As close as most California cities are to each other in price, some outliers do exist. Chico is at the high end of the state's cities, costing an average of $2,134 per month, $455 more than Clovis's average, while Los Angeles holds at the low end at $1,565.

How much does Nursing Home Costs in Clovis?
Nursing home care costs an average of $8,365 across all California communities combined, though the monthly cost of a semi-private room in Clovis is $8,638. These prices fall close to the middle of the spectrum for California cities. Also in this middle range are Chico, where the average cost of care is $8,456, Stockton, at $8,173 and San Diego, which averages $8,517 per month.
San Jose and San Francisco are outliers on the high end of costs, reporting average monthly rates of $9,125 and $9,148, respectively — both more than $400 per month higher than Clovis's average. Bakersfield and Los Angeles are similarly far toward the low end of the cost spectrum, at $7,513 and $7,604, in turn.

Financial Assistance Programs in Clovis
Medicaid Program in Clovis
Medi-Cal is an entitlement program, which means that all qualified applicants may apply and receive care as soon as they are approved, without any waiting periods or enrollment caps for membership. California provides health benefits through a network of plan providers across the state, which generally operate as private HMOs to administer care.
California's Medi-Cal benefits cover much of the spectrum of healthcare needs for California's disabled, low-income and senior population. Preventive care is generally covered, as are emergency and urgent needs. The program also picks up some or all of the cost of residential care for Clovis seniors, though details of each plan vary and only a Medi-Cal intake worker can provide definitive specifics.
Medi-Cal maintains a set of eligibility criteria for applicants that is based on the federal poverty guidelines that guide all of the state's means-tested programs. Additional requirements apply for Clovis seniors wishing to receive Medi-Cal benefits. To qualify, an applicant to Medi-Cal must be a citizen or legal resident of the United States, reside permanently in the state of California, have a valid medical need for coverage and meet the income restrictions set by the program.
Financial requirements for participation in Medi-Cal allow personal income up to 138 % of the federal poverty line, which in 2018 meant applicants could earn up to $16,395 a year if single and applying alone. Married couples are permitted up to $22,108 a year before eligibility is limited. Additional adults in a qualifying household raise the income limit further, by $5,741 a year per person, regardless of whether the household member is applying for Medi-Cal or not.
Seniors in Clovis who earn more than the program cap may still qualify for benefits, though they may be asked to pick up some of the expense themselves as a share of cost or co-pay. Seniors may qualify for a share-of-cost Medi-Cal plan if they earn up to 300 % of the federal poverty line.Clovis seniors can apply for Medi-Cal in several ways. Local DHSS offices generally have Medi-Cal intake workers on staff who can answer questions and assist seniors with the application process. Seniors can also apply online, through the Covered California website.
Medicaid Waivers in Clovis
Assisted Living Waiver Program (ALWP)
The Assisted Living Waiver Program (ALWP) is available for Medi-Cal eligible seniors in California who need help paying the cost of assisted living. Seniors in Clovis can access the program if they meet the requirements for Medi-Cal, have a diagnosis that would permit them to receive care in a skilled nursing facility and who are willing to move into assisted living as an alternative to the more expensive level of care nursing homes provide. Fresno County, where Clovis is located, is one of the 15 counties in the state to participate in the ALWP waiver plan.
Seniors in Clovis can apply for ALWP benefits through a Medi-Cal worker in person, or they can request help applying for the program from a benefits worker at the ALWP-enrolled assisted living community they are moving into. This waiver program covers the monthly cost of assisted living, but personal caregiver care and physical or mental therapy is not covered.
Multipurpose Senior Services Waiver
Clovis seniors can apply for coverage through the Multipurpose Senior Services Program (MSSP) waiver. The MSSP operates statewide, and it provides support for seniors who waive their assisted living benefits to remain in their own homes. Unlike the ALWP, MSSP benefits are available in every community in the state. Seniors can apply for an MSSP waiver before they leave assisted living through their Medi-Cal worker. Program benefits cover:
Access to case managers who can answer questions and help find benefits seniors are entitled to
Caregiver assistance delivered in the home
In-home and facility respite care services
Installation of mobility-related home improvements, such as wheelchair ramps and guard rails
Some home repairs with prior approval from plan administrators
Transportation vouchers and scheduling of disabled ride services
Help with routine household chores
Personal Emergency Response System (PERS) devices
Access to adult day care
Attendant service provided inside the home for seniors who need supervision due to dementia or other mental health issues
In-home and community meal services


Money management advice and classes
Translation and interpreter service, including ASL for the hearing-impaired
Home and Community-Based Alternatives (HCBA) Waiver
The Home and Community-Based Alternatives (HCBA) waiver helps cover some of the costs Clovis seniors may incur while moving out of residential care and back into their own homes. Medi-Cal created this program to unify benefits that used to be delivered under multiple different waiver programs. Seniors in Clovis have the option to apply for an HCBA waiver through staff at a qualifying residential care facility or through their Medi-Cal worker.
Community-Based Adult Services (CBAS)
The Community Based Adult Services (CBAS) waiver program helps seniors who remain in their community, whether they live in their own homes or with relatives. The main expense this program covers is the cost of adult day care, though several other benefits are also covered, including:
Daytime care
Meal service
Social activities with other seniors
Physical and mental therapy
Seniors who are interested in the program can apply for a CBAS waiver through their Medi-Cal worker by phone or in person at a Fresno County DHSS office.

Other Financial Assistance Programs in Clovis
California helps the loved ones of seniors with serious health needs through the Paid Family Leave Act. PFLA benefits are available to the loved ones of seniors who need personal care for temporary health conditions, or during transitional periods when long-term care arrangements are being made. Benefits take the form of a bi-weekly payment that's based on the recipient's previous pay rate, though there is a hard cap on amounts paid per check. Recipients are under no restrictions concerning the funds, which may be spent as if they are a personal paycheck. Benefits are generally limited to a single six-week period per application, with extensions possible under some exceptional circumstances. Applications are handled by the California Employment Development Department, which also pays student aid and unemployment benefits. Family members who wish to apply can start the process by registering online, though it is also possible for employees of some companies to apply through their workplace HR department.

More Senior Living Resources in Clovis
| | | |
| --- | --- | --- |
| Resource | Phone Number | Description |
| Fresno Housing Authority | (559) 443-8400 | The Fresno Housing Authority provides and regulates low-income housing options for residents of Fresno County. Clovis seniors can apply for admission to local affordable housing units by phone or the Authority's online application. |
| City of Clovis Economic Development Office | (559) 324-2094 | The city of Clovis offers seniors assistance with finding and keeping affordable housing, both to rent and to own. The city's Economic Development office maintains an active registry of affordable rental units, and it administers housing vouchers for low-income residents. Applications can go through a city office or by phone. |
| Central California Legal Services | (800) 675-8001 | Central California Legal Services provides low-cost and pro bono legal aid to Clovis seniors who are facing eviction. CCLS also offers free legal advice over the phone for seniors who need help understanding housing and tenancy rules in Clovis and the surrounding areas of Fresno County. Consultations and applications to retain counsel may be made by phone, or in person at CCLS' Fresno office. |
| Fresno County Community Action Agency | (559) 263-1135 | The Fresno County Community Action Agency helps Clovis seniors get emergency help paying overdue utility bills. The agency also processes applications for the California Low-Income Home Energy Assistance Program (LIHEAP), which offers a subsidy that keeps monthly charges affordable for seniors on a fixed income. Interested seniors in Clovis may apply through the agency office in person, or by phone. |
For additional information and planning, please read our comprehensive guide to paying for senior care in California.