Get Pricing & Availability for Assisted Living in Pleasanton, CA
Call (855) 481-6777 for immediate assistance and get more details
Page Reviewed / Updated – November 18, 2020
The 10 Best Assisted Living Facilities in Pleasanton, CA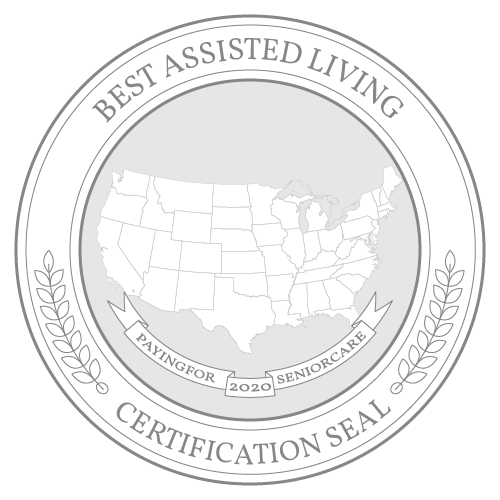 In 2018 Pleasanton, CA was named a Top 10 Place to Visit in the U.S. by Livability, and for good reason. The sunny California town lives up to its name in pretty much any way possible. Located about an hour to the east of San Francisco, Pleasanton has an excellent year-round climate, plenty of regular community events and festivals, an active downtown, world-class restaurants, and over 900 acres of natural parkland. Seniors looking for a place in the golden state to retire won't find a much better spot.
The town takes care of its senior population by offering meals, classes and transportation options to seniors in need all run out of the Pleasanton Senior Center. In addition, seniors over the age of 70 can take advantage of the Paratransit Service which offers grocery and medical transportation. In their free time, active seniors can head over to the Callippe Preserve Golf Course or meander through one of 44 parks. Averaging 264 sunny days per year, in Pleasanton every day is a good day to be outside.
Note: Information for Pleasanton was not available, so data from the nearest city, San Jose, was used.
If you are searching for an assisted living facility in Pleasanton, check out our list of the top 10 assisted living facilities in Pleasanton, CA. Additionally, find out more about the cost of assisted living in Pleasanton and what financial assistance programs are available.
The Cost of Senior Living and Care in Pleasanton
The cost of senior care in Pleasanton tends to be more expensive than the general costs in California. For example, assisted living averages $5,500 per month, according to the 2018 Genworth Cost of Care Survey, while the state average is only $4,500 per month — $1,000 less. This pattern is repeated for all types of senior care including adult day care, skilled nursing facilities and home health services.
Note: Senior care cost data wasn't available for Pleasanton, so the data for the closest city, San Jose, was used.
How much does Assisted Living Cost in Pleasanton?
Pleasanton ties with Santa Rosa as the second most expensive area for assisted living, with monthly costs averaging $5,500. Only Santa Cruz costs more at $5,595. Napa isn't far behind Pleasanton with an average of $5,425.
There are many areas in California where assisted living is significantly less expensive than in Pleasanton. For example, Visalia averages $3,675 per month, while Santa Maria hits near the midpoint at $4,825. Bakersfield is the least expensive with an average cost of $3,150, which is $2,350 less than seniors can expect to pay in Pleasanton for assisted living.
How much does Home Care Cost in Pleasanton?
Pleasanton home health services are among the most expensive in the state at $5,720, $763 more than the state average. Only Napa exceeds the cost in Pleasanton with an average monthly cost of $5,911. Santa Rosa, Santa Maria and Santa Cruz all come close with averages that range between $5,400 – $5,700.
The most affordable areas for home care – Bakersfield and Visalia – cost between $4,200 – $4,400, at least $1,300 less than in Pleasanton.
How much does Adult Day Care Cost in Pleasanton?
The cost for adult day care in Pleasanton averages $1,993 a month. Compared to low-cost areas like Visalia, where adult day care averages $1,040 a month, Pleasanton is quite expensive. However, these services only cost about $300 more than the state average, with the highest cost in California coming from Napa and Santa Rosa posting dramatically higher numbers like $2,167 and $2,362, respectively.
Hanford is the most affordable area for adult day care services with an average cost more than $1,000 less than in Pleasanton.
How much does Nursing Home Costs in Pleasanton?
Seniors in Pleasanton can expect to pay an average of $9,125 a month for nursing home stays in a semi-private room. This is near the upper edge for nursing home care in the state, though Santa Maria is approximately $1,500 more expensive at $10,646. Napa is not far behind the top at $9,962, making it $837 more than Pleasanton per month.
Visalia is the most affordable option for nursing home care with an average cost of $6,540, which is $2,585 less than Pleasanton. Most California cities fall between $7,500 – $9,000.
Financial Assistance Programs in Pleasanton
Medicaid Program in Pleasanton
In Pleasanton, Medi-Cal is a joint federal and state entitlement program that offers free or low-cost health insurance to seniors. Known nationwide as Medicaid, this program includes nursing home costs along with check-ups and prescription drug coverage. There are no enrollment caps or waiting periods, but seniors who earn more than the cap under the Federal Benefit Guidelines may have a share of the cost (SOC).
Eligibility for Medi-Cal is complex, and applicants must meet all criteria for benefit coverage. Pleasanton seniors interested in Medi-Cal are encouraged to discuss the eligibility criteria with a specialist to determine their specific requirements. However, most seniors qualify if they are:
U.S. citizens or legal residents of California
At least 65 years old or legally considered disabled
Low-income earners
Federal guidelines set Medi-Cal eligibility at 138 percent of the current Federal Poverty Level the number. Income limits change from year to year, but in 2019, the maximum income for an individual senior is $17,236 per year. Income limits increase based on household size, so a two-person household may earn an additional $6,100 per year.
Seniors whose income exceeds these limits may still qualify for Medi-Cal, but they may be expected to pay a percentage of the costs of covered services. The amount each senior is asked to pay varies based on income.
Those with high medical expenses may also qualify as medically needy. For seniors whose medical bills exceed their income, Medi-Cal offers a spend down option where seniors pay for costs directly until their income meets the guidelines, and Medi-Cal covers the remaining costs.
Medi-Cal uses the same guidelines as some other public assistance programs, so applicants that already receive benefits through CalFresh, CalWorks or Supplemental Security Income (SSI) may automatically qualify for full Medi-Cal.
To apply for Medi-Cal, the Covered California website is always available. For in-person applications, visit the Alameda County Social Services Agency or call 510-263-2420.
Medicaid Waivers in Pleasanton
Assisted Living Waiver Program (ALWP)
The Assisted Living Waiver Program (ALWP) is designed to offer seniors an alternative to nursing home placement. For seniors living in one of the 15 counties that offer the ALW program, there may be a local assisted living facility that can meet the same care needs. Alameda County participates in the ALW program, making it available to Pleasanton residents. To participate, seniors must meet Medi-Cal eligibility requirements for full benefits with no SOC and have a demonstrated need for the level of care typically offered in a nursing home or memory care facility.
Pleasanton seniors can apply for the ALWP through their Medi-Cal caseworker or by contacting an ALWP-enrolled facility. Through this program, some or all of the costs associated with assisted living may be covered, specifically excluding room and board. For more information about the program, check out our in-depth guide.
Multipurpose Senior Services Waiver (MSSP)
The Multipurpose Senior Services Program (MSSP) waiver operates similarly to the ALWP, but services are provided to seniors in their own homes. Some of the benefits available under the MSSP include:
Case management to answer benefit questions and coordinate care
Personal care using a caregiver chosen by the senior
In-home or offsite respite care
Accessibility home modifications, like wheelchair ramps or guardrails
Minor home repairs
Both medical and non-medical transportation assistance
Help around the house with chores
Personal Emergency Response System (PERS) installation and recurring costs
Adult day care
Monitoring for seniors who need supervision
Home-delivered meal services
Money management assistance
Translation and interpretation services
While MSSP is available to all eligible California residents, it's not an entitlement program, and a waiting period may apply. In addition, services are only available in 48 counties of which Alameda is one. To qualify, seniors must meet Medi-Cal eligibility requirements with no SOC. For more information about the program, click here.
Home and Community-Based Alternatives (HCBA) Waiver
The Home and Community-Based Alternatives (HCBA) waiver is designed to help seniors currently in a nursing home facility transition back into the community. It's available both to those in a short-term rehab program or those facing a permanent placement. Under the HCBA, seniors can get financial help paying for the in-home services that allow them to remain at home safely. Eligible seniors meet the same financial guidelines required for full Medi-Cal eligibility and have a demonstrated need for the level of care provided in a nursing home. HCBA will only fund in-home services as long as the cost of the services doesn't exceed the cost to provide the same level of service in a nursing home. To apply, seniors can contact a county social worker or ask at the front desk of their nursing home.
Community-Based Adult Services (CBAS)
The Community Based Adult Services (CBAS) waiver program uses the same income and eligibility criteria as Medi-Cal. The application process is similar to other waiver programs, and seniors can apply through a county social worker or through their current nursing home facility. Seniors currently in a nursing home setting receive first consideration for CBAS services. This isn't an entitlement program, and waiting lists may apply.
CBAS waivers help cover the cost of adult day care for Pleasanton seniors who have significant cognitive impairment. Available benefits include:
Daytime care
Meal and feeding service
Social activities
Physical and/or mental therapy
Other Financial Assistance Programs in Pleasanton
In-Home Support Services (IHSS) Program
In addition to the comprehensive medical coverage offered by Medi-Cal, the IHSS program offers non-medical and in-home service options. Seniors who wish to age in place may receive help with some or all of the costs associated with hiring a home health worker or private caregiver.
IHSS makes a benefit determination that is usually paid out as a cash grant that seniors can use to hire a caregiver. Under IHSS program rules, seniors can hire a friend, family member or a trusted third-party to help with chores or personal care. This program is specifically designed to help delay nursing home placements and extend homestays, so benefits are not available to those living in an assisted living or residential care facility.
To qualify, seniors must be Medi-Cal eligible and live in their own home. Applicants must submit a Health Care Certification form and schedule an in-home interview with an assigned social worker. The social worker assesses the level of need and the number of hours required for assistance. Seniors with an SOC may be eligible for assistance with additional out-of-pocket costs. For more information about IHSS, check out our guide.
California Paid Family Leave Act
Family members faced with the task of becoming a temporary full-time caregiver may be eligible for up to six weeks of paid time off. The California Paid Family Leave act offers benefits through the state Employment Development Department and usually requires medical documentation of the illness or injury. Benefits to cap at $1,252 per week or 70% of your income, whichever is lower. It is important to note that those who take time off under the California Paid Family Leave Act may not have a guaranteed job to return to. For more information or to apply, visit the Employment Development Department website.
More Senior Living Resources in Pleasanton
Resource

Phone Number

Description

Section 8 Housing Choice Voucher Program
(510) 538-8876
Managed by the Housing Authority of Alameda County, this federally funded program provides rental assistance to low-income seniors. Waiting lists may apply.
Low Income Home Energy Assistance Program (LIHEAP)
(866) 675-6623
For seniors struggling to pay utility bills, LIHEAP offers grants that apply directly to the bill. Weatherization services may also be available. Income restrictions apply.
Parkview Assisted Living
(925) 461-3042
The Parkview Assisted Living facility offers 31 units at below market rates for low-income seniors. It also has 19 units suitable for memory care available to seniors with dementia or other cognitive disorders.
Ridge View Commons
(925) 484-5131
This low-income senior housing complex has 200 units with variable rent levels based on income. Waiting lists apply, and current wait times can extend from several months to several years depending on rent level.
Renew AC
(510) 803-3388
Administered by Habitat for Humanity East Bay/Silicon Valley, the Renew AC program offers low interest – currently 1% – loans of up to $150,000 to fund home repairs. Income restrictions apply.
For additional information and planning, please read our comprehensive guide to paying for senior care in California.