Get Pricing & Availability for Assisted Living in Fremont, CA
Call (855) 481-6777 for immediate assistance and get more details
Page Reviewed / Updated – November 05, 2020
The 10 Best Assisted Living Facilities in Fremont, CA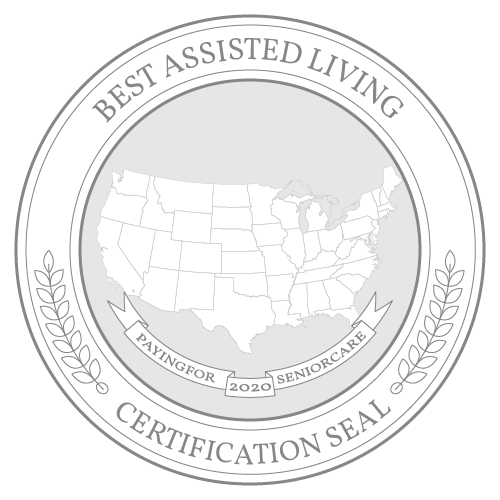 Tucked into the southeast corner of the San Francisco Bay, Fremont is the most populous Bay Area city with a population of over 241,000 stretched out across approximately 90 square miles of land. The area features a moderate climate and close proximity to many large natural attractions including Mission Peak Regional Preserve and Coyote Hills Regional Park. In addition, the bay provides plenty of boating and fishing opportunities for active seniors.
About 13% of people in Fremont are over the age of 60, which means there are activities and programs in existence to help seniors thrive. In fact, the Fremont Senior Center offers classes, meals, rentals and activities to seniors. The BART above-ground rail system offers discounts to seniors who can easily use public transit to navigate Fremont and the low crime rate in the city makes it safe for them to do so.
Note: Information for Fremont was not available, so data from the San Jose Area was used.
If you are considering assisted living in Fremont, then take a minute to look at our top 10 list of assisted living facilities in Fremont. Additionally, find out more about the cost of assisted living in Fremont and what financial assistance programs are available.
The Cost of Senior Living and Care in Fremont
Senior living in Fremont is consistently more expensive than similar levels of care across the rest of the state. Assisted living, for example, is $1,000 more expensive each month in Fremont than in California. Other types of senior care generally run from a few hundred to over a thousand dollars a month higher in Fremont than in the rest of California's surveyed cities, according to the 2018 Genworth Cost of Care Survey.
Note: Senior care cost data wasn't available for Fremont, so the data for the closest city, San Jose, was used.
How much does Assisted Living Cost in Fremont?
Fremont is at the high end of costs for assisted living in California. Costs here run to $5,500 a month for assisted living, while the state average is $4,500. Only San Francisco matches Fremont for assisted living costs.
Other big cities in California are closer to the state average. San Diego and Los Angeles, for example, report monthly costs of $4,500 for assisted living, which keeps them exactly in line with the state average. At the other end of the continuum, the southern Central Valley city of Bakersfield averages just $3,150 a month for assisted living.
How much does Home Care Cost in Fremont?
Home care in Fremont costs $5,720 a month, which puts the city nearly $800 a month above the $4,957 average seniors pay across the rest of California. San Francisco comes close to matching Fremont's relatively high cost, at $5,625 a month for home care, while most other surveyed cities distribute closer to the state median.
Some of the most affordable home care in California can be found in Bakersfield, where seniors pay an average of just $4,385 a month for their home care. This low cost is closely followed by Chico, which reports an average monthly cost of $4,433.
How much does Adult Day Care Cost in Fremont?
Seniors in Fremont pay an average of $1,993 a month for adult day care. This is more than $300 a month higher than the $1,679 seniors across California pay in general. Among surveyed California cities, only Chico reports higher costs than Fremont, at $2,134 a month for adult day care, while the lowest costs in the state are to be found in Los Angeles, where seniors pay $1,565 a month for care. Bakersfield and Stockton are not far above this rate, with average monthly costs of care of $1,653 and $1,679, respectively.
How much does Nursing Home Costs in Fremont?
Nursing home care in Fremont runs to an average monthly cost of $9,125 for a semi-private room. This is well above the $8,365 average cost in California, and it's only slightly under San Francisco's highest-in-state costs of $9,148 a month for similar levels of care. Los Angeles and Bakersfield report some of the lowest costs in California for skilled nursing care in a residential setting. In the former city, costs average just $7,604 a month, while seniors in the latter city pay an average of $7,513.

Financial Assistance Programs in Fremont
Medicaid Program in Fremont
Seniors in Fremont who need help with some of the costs of their senior living arrangements may be eligible to take part in California's Medicaid health insurance program for low-income individuals, which is known locally as Medi-Cal. Medi-Cal pays some or all of seniors' costs for basic preventative care, urgent and emergency care, some prescription drugs and some specialist care. The program can also pay the monthly cost of residential care for seniors who have a medical need for placement in a long-term care facility. The program does this by providing funds through a network of private health insurers, such as Blue Cross/Blue Shield and Kaiser Permanente, which both offer multiple Medi-Cal compliant HMO and PPO healthcare plans. Seniors in Fremont who are looking for affordable healthcare can browse through these plans, as well as sign up for free or low-cost insurance, through the state-run Covered California website.
Medi-Cal is an entitlement program that accepts all qualified applicants without waiting periods or enrollment caps. Seniors who meet the intake requirements cannot only receive services right away, the program can sometimes retroactively pay for healthcare expenses already incurred.
To be eligible for Medi-Cal, seniors in Fremont must legally reside in both the United States and in the state of California. Proof of citizenship and residency may be requested during a normal intake process, but both requirements can sometimes be temporarily waived in emergency situations or when a senior's housing is not secure. Income requirements for participation are based on the federal poverty line, which helps establish eligibility for means-tested programs in all 50 states.
In California, no-cost Medi-Cal coverage is available to seniors who earn less than 138% of the federal poverty line, or $16,395 a year for single adults applying alone. Married couples can earn up to $22,108 without incurring a penalty. Each additional adult who lives in the applicant's household adds an extra $5,741 per year to the allowable income limit, regardless of whether the individual needs Medi-Cal coverage or not. Seniors who earn more than these limits from all sources combined, but who still earn less than 300% of the federal benefit rate, can still sign up for Medi-Cal coverage, though they may be asked to pay an annual share of the cost before receiving benefits.
Medi-Cal uses much the same financial criteria for eligibility as a number of other state and federal entitlement programs, and many of these even use the same sign-up form for applications. As a result, the program is able to fast-track the approval process for seniors who have already been accepted into one or more of the other compatible state benefits programs. Seniors who are already approved for these programs need only show their approval letters to provisionally qualify for Medi-Cal. Some of the accepted programs include:
Cal-Fresh, the state's EBT or SNAP food stamp program
WIC
Section 8 federal housing support vouchers
Low-Income Home Energy Assistance Program (LIHEAP)
TANF, also called cash aid or welfare
Medicaid Waivers in Fremont
Assisted Living Waiver Program (ALWP)
California's Assisted Living Waiver Program (ALWP) helps many seniors in Fremont pay the cost of living in an assisted living facility. This program is intended for seniors whose health condition makes them eligible for placement in a nursing home and whose financial status entitles them to Medi-Cal coverage for it. Seniors who waive their right to nursing home care can have some or all of their assisted living costs covered through the ALWP waiver.
This program is only available at participating assisted living facilities in 15 counties across the state, including many in Alameda County, where Fremont is located. Interested seniors can apply directly through Medi-Cal case workers, or through the benefits coordinator at a participating facility.
Multipurpose Senior Services Waiver
Seniors who remain in their own homes in Fremont may qualify for financial help paying some of the costs of independent living through the state's Multipurpose Senior Services Program (MSSP) waiver. Intended to cover many of the gaps left unfilled in seniors' home budgets, the MSSP waiver pays for many miscellaneous costs seniors at home may incur, including:
Professional advice from a program caseworker, who can find and recommend entitlement programs and benefits seniors are eligible for
Support in the home from professional caregivers
In-home or facility respite care, as well as adult day care in the home or at a nearby facility
Some home improvements centered on seniors' mobility and safety, such as wheelchair ramps and guard rail installation
Weatherization of the home to minimize energy losses in summer and winter
Vouchers for bus and rail rides on BART and various local public transportation providers, as well as help scheduling and booking private disabled ride services from assisted taxi providers
Installation of a free Personal Emergency Response System (PERS) alert network in the home
Meal service at home and in communal dining facilities
Protective supervision in the home for seniors with dementia
Expert advice for senior money management and other financial affairs, such as estate planning, from certified professionals
Translation and interpreter services provided at no cost to the senior
Click here for an application.
Home and Community-Based Alternatives (HCBA) Waiver
The Home and Community-Based Alternatives (HCBA) waiver helps seniors who are being discharged from some type of residential senior care facility pay for the cost of moving back home. This waiver pays for most reasonable move-related expenses and can be applied for at the time of discharge by the benefits specialist at a qualifying assisted living, post-acute rehab or nursing care home.
Community-Based Adult Services (CBAS)
Seniors can live on their own in Fremont with the help of a Community Based Adult Services (CBAS) waiver. This program provides many miscellaneous services that can help pick up seniors' unmet financial needs if they have chosen to remain in their own homes. Benefits of the CBAS program include:
Adult day care as needed
Meal services
Therapy for physical or mental health issues
Social events with other enrolled seniors at no cost
Other Financial Assistance Programs in Fremont
Paid Family Leave Act (PFLA)
Working-age family members of Fremont's seniors may be able to take up to six weeks off from their jobs with pay to care for their loved one at home. This is possible through California's Paid Family Leave Act (PFLA), which establishes a payroll withholding deduction to pay for temporary medical leave from work. Payment is distributed bi-weekly, and amounts vary with several factors, but they are generally a fixed percentage of the recipient's wages over a three-year look-back period. Funds must be replenished before this benefit can be claimed a second time.
Workers can apply for PFLA benefits by calling the state Employment Development Department. By law, employers in California are required to hold open the worker's vacant position during the statutory absence period and to not discriminate or retaliate against employees who take PFLA leave.
In-Home Support Services (IHSS)
Seniors who qualify for Medi-Cal and have a documented medical need for residential care may be able to remain in their own homes with the assistance of a caregiver. The In-Home Support Services (IHSS) program pays the caregiver of a senior's choice to look after their needs inside their own home, or in the private home of a relative or friend. These caregivers can be a spouse, family member or friend of the senior, though they are required to obtain CPR certification and pass a short training course before the program can accept them.
Seniors can apply for IHSS support directly through the California Department of Developmental Services website, or they can ask a Medi-Cal caseworker about their eligibility for the program.
More Senior Living Resources in Fremont
Resource

Phone Number

Description

Fremont Housing Division
(510) 494-4500


The city of Fremont's Housing Division maintains an online list of local affordable rental housing units, as well as provides help locating and signing up for the city's affordable housing waitlist. This department also administers the federal Section 8 housing voucher program to Fremont seniors. Applications may be made online or by phone.
Season Of Sharing
(510) 881-5743
Season Of Sharing is supported by the San Francisco Chronicle and private donations, and it helps seniors who've resided in Alameda County for at least six months with emergency rent assistance on a one-time basis. Applications can be made online or by phone.
Echo Housing
(510) 581-9380
Echo Housing helps Alameda County seniors with a variety of housing issues, including dispute mediation and one-time grants to help cover rental deposit expenses. Seniors in Fremont can apply for help from Echo Housing through the group's website or by phone.
EL CONCILIO
(650) 330-7432
EL CONCILIO is a Palo Alto-based non-profit organization that provides seniors and low-income residents with a variety of assistance programs, including automotive repair, emergency shelter, rental assistance, help signing up for Section 8 vouchers, deposit assistance and help with utility bills. Seniors can apply online or by phone, or by visiting a program branch office in Alameda County.
For additional information and planning, please read our comprehensive guide to paying for senior care in California.