Get Pricing & Availability for Assisted Living in Vallejo, CA
Call (855) 481-6777 for immediate assistance and get more details
Page Reviewed / Updated – August 08, 2020
The 10 Best Assisted Living Facilities in Vallejo, CA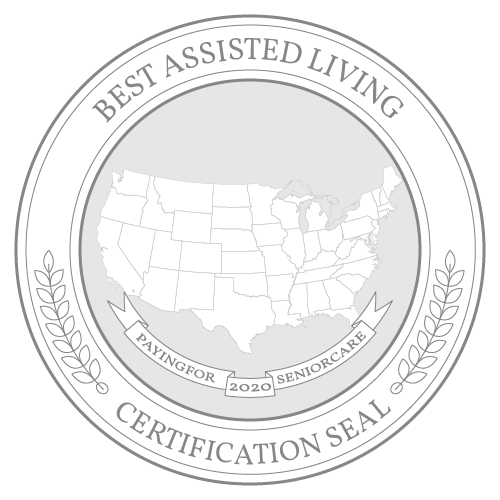 Tucked on the south shore of the Napa River, Vallejo is an affordable waterfront city ranked as one of the best places to retire in Solano County. It's located 30 miles northeast of San Francisco and close to the Napa and Sonoma wine regions. Vallejo is the 11th largest city in the Bay area, with a population of 121,913.
The city's pleasant climate boasts hot, dry summers and mild winters, which is ideal for enjoying the outdoors. Seniors can stroll along the Mare Island peninsula or hike, boat and fish in San Pablo Bay National Wildlife Refuge. The local arts community and historic Empress Theatre offer plenty of opportunities for cultural experiences. Vallejo is home to Six Flags Discovery Kingdom, which is perfect for an outing when the grandchildren visit.
It's expensive to live in California compared to the rest of the country, but Vallejo is one of the state's more affordable cities. The cost of living is slightly lower than the state average and significantly cheaper than San Francisco.
Browse our list of the top 10 assisted living facilities in Vallejo to find one that meets your needs. Additionally, find out more about the cost of assisted living in Vallejo and what financial assistance programs are available.
The Cost of Senior Living and Care in Vallejo
Senior living costs in Vallejo are consistently slightly lower than the average cost for similar care across the state of California, according to the 2018 Genworth Cost of Care Survey. Assisted living, for example, costs $4,350 a month in Vallejo, while the state average is $4,500, or just $150 more a month. A similar gap exists for nursing home care, which costs an average of $8,167 a month in Vallejo, while substantially the same service statewide costs $8,365, a gap of nearly $200.
How much does Assisted Living Cost in Vallejo?
Assisted living in Vallejo costs seniors an average of $4,350 a month. This is $150 a month less than the $4,500 seniors pay across California generally. Los Angeles and San Diego are also in this range, with both cities reporting an average monthly cost of $4,500, and Sacramento averages $4,473. San Francisco is significantly more expensive than Vallejo and the other mid-range California cities, with prices there averaging $5,500 a month for assisted living.
Stockton and Bakersfield are two of the least expensive cities surveyed. Monthly costs in Stockton average $3,500, while seniors in Bakersfield pay an average of $3,150 a month for assisted living, which is $1,200 less per month than in Vallejo.
How much does Home Care Cost in Vallejo?
Home care in Vallejo costs local seniors an average of $4,576 a month. This is almost $400 a month less than the California state average cost of $4,957. The city of Stockton exactly matches the state average, at $4,957 a month for home care, while Sacramento, Los Angeles and San Diego all average $4,767 a month for care, putting them nearly $200 a month higher than the average cost in Vallejo.
San Francisco reports some of the highest home care costs in the state, at an average of $5,625 a month, or nearly $1,100 more than seniors pay in Vallejo, while Bakersfield seniors pay one of the lowest rates in the state, at $4,385. This is nearly $200 less than the average price Vallejo seniors pay.
How much does Adult Day Care Cost in Vallejo?
Adult day care in Vallejo costs very little, compared with other California cities. Costs here run to just $1,354 a month for adult day care, which is more than $300 a month less than the average both for California and for the city of Stockton, both of which report costs of $1,679 a month. Sacramento, San Francisco and San Diego all report average monthly costs of care of $1,733, while the highest reported cost is in Chico.
Chico seniors pay an average of $2,134 a month for adult day care, or $780 a month more than the average cost in Vallejo. Vallejo's closest competitor in price is Los Angeles, which still comes in at $1,565 a month for adult day care, or roughly $200 a month higher than the average Vallejo seniors pay.
How much does Nursing Home Costs in Vallejo?
Nursing home costs in Vallejo average $8,167 a month. This is $198 lower than the $8,365 average monthly cost seniors pay in the rest of the state. Among surveyed California cities, Stockton most closely matches Vallejo in price. A semi-private room in a Stockton nursing home costs an average of $8,173 a month, just $6 more than in Vallejo. Seniors in San Francisco pay significantly more than this, with an average monthly cost of $9,148 for nursing home care, which is nearly $1,000 a month more than the average for Vallejo seniors.
Los Angeles and Bakersfield are the only two surveyed cities to report lower costs for nursing home care than Vallejo. In the former, costs run to $7,604 a month, while seniors in the latter pay an average of $7,513, or $654 a month less than the Vallejo average.
Financial Assistance Programs in Vallejo
Medicaid Program in Vallejo
Seniors in Vallejo who need help paying the costs of residential senior care may be eligible for the state's Medicaid program, which provides low-income health insurance under the name Medi-Cal. Working through an in-state network of private insurance carriers, which offer both HMO and PPO options for care, Medi-Cal covers much of the cost of hospitalization, basic and urgent care and many prescription drugs. Another benefit of the program is limited aid for residential senior living, which can help cover many of the unavoidable costs seniors in Vallejo pay for nursing home services and other forms of senior care.
Since Medi-Cal is an entitlement program, all seniors who meet the intake criteria can sign up and begin receiving care at once, without waiting periods or enrollment caps of any kind.
To qualify for Medi-Cal, seniors in Vallejo must be citizens or legal residents of the United States and residents of the state of California. Applicants must also earn less than 300% of the federal poverty line from all sources of income combined. Seniors who earn less than 138% of this threshold may be able to get Medi-Cal benefits without a share of cost. Federal guidelines are updated every two years, but in 2019 the maximum amount allowed for no-cost Medi-Cal coverage is $16,395 for seniors applying alone and up to $22,108 for married couples applying together. Each additional adult in the household raises the allowable income limit by $5,741 a year, whether or not the extra household members apply for benefits.
Some seniors can streamline the application process by showing they have already been approved for a compatible low-income program. Many of these programs use the same income thresholds as Medi-Cal, and so participation in one of these programs may serve as a preliminary approval for a Medi-Cal plan. Compatible programs in California include:
CalFresh, the state's SNAP or food stamp program
Section 8 housing choice voucher support
Residence in public housing
WIC
TANF, which is sometimes called cash aid or welfare
SSI/SSDI
Seniors in Vallejo can apply for Medi-Cal in person at a Solano County Health and Human Services office. Applications can also be requested by phone at the HHS mainline. Seniors can browse Medi-Cal requirements and available plans online at the Covered California website, where applications can also be submitted.
Medicaid Waivers in Vallejo
Assisted Living Waiver Program (ALWP)
The Assisted Living Waiver Program (ALWP) helps seniors in Vallejo pay the monthly cost of placement in an assisted living community. To qualify for an ALWP voucher, seniors must be enrolled in Medi-Cal or a compatible health insurance plan and have medical clearance to receive residential care in a skilled nursing home. For seniors who waive placement in a nursing home, the ALWP voucher can pick up most or all of the cost of assisted living. Seniors can apply for an ALWP waiver directly, through their Medi-Cal case worker, or through the benefits specialist at a participating assisted living facility.
Multipurpose Senior Services Waiver
The Multipurpose Senior Services Program (MSSP) pays many costs seniors face when they waive placement in an assisted living facility and choose to remain at home. Most of the covered benefits under the MSSP are senior-directed and designed to cover assisted living costs. Seniors in Vallejo can apply for an MSSP voucher through their Medi-Cal case worker or through the discharge planner at the assisted living or nursing home they're transferring out of. Benefits covered by the MSSP include:
Case manager support in identifying programs and benefits the senior may qualify for
Financial advice directed toward senior-specific needs from a certified senior financial adviser
Caregiver assistance, which may be delivered at home or at a local facility
Adult day care
Respite care
In-home protective supervision for seniors with safety issues or dementia
Meal service at the senior's home or at a local senior center
Public transportation discounts and vouchers, including regional transportation on BART and scheduling services for the disabled ride and medical transportation within a reasonable distance
Some home repairs and minor upgrades, such as the installation of ramps and guard rails
Personal Emergency Response System (PERS) equipment that can rapidly summon help in an emergency
Certified translation and interpreter services
Home and Community-Based Alternatives (HCBA) Waiver
The Home and Community-Based Alternatives (HCBA) waiver helps pay for some of the costs seniors face when moving out of residential care and back into the community. HCBA waivers are available to seniors who remain in their own homes in Vallejo, or who choose to live with family or friends. Vouchers cover many of the reasonable costs of moving, as well as many expenses related to post-acute care. Applications may be made through a Medi-Cal case worker or via the discharge desk at a residential care facility.
Community-Based Adult Services (CBAS)
The Community Based Adult Services (CBAS) waiver program covers many of the miscellaneous costs seniors incur by living on their own at home. CBAS benefits are directed toward covering most reasonable costs associated with independent senior living, plus some program-directed benefits available to recipients. Applications for CBAS go through a Medi-Cal caseworker, and benefits provided include, among others:
Meal service at home or in a community dining center
Adult day care
Physical and mental health therapy
Community events put on at no cost for other CBAS recipients in the area
Other Financial Assistance Programs in Vallejo
In-Home Support Services (IHSS)
Seniors in Vallejo who need help to remain safely at home can get caregiver assistance through California's In-Home Support Services (IHSS) program. IHSS pays caregivers, who may be spouses, friends or family members of the seniors, to perform routine chores and provide personal assistance to seniors in their own homes. Benefits are directed by the senior, who has control over hours authorized per bi-weekly pay period. Seniors who qualify for the program are visited by a caseworker who assesses their needs and assigns a set number of hours per month seniors can authorize for payment.
Seniors can apply for IHSS benefits through their Medi-Cal caseworker. Prospective caregivers can apply through IHSS directly. On approval, caregivers must pass a background check and obtain CPR certification. IHSS conducts a one-day orientation at a local office caregivers must attend. Pay is disbursed every two weeks by mail after authentication of hours worked.
Paid Family Leave
Seniors who need in-home assistance from an immediate family member may be able to get the help they need through the Paid Family Leave Act (PFLA). PFLA allows the immediate family members of medically needy seniors to take up to six weeks off from work with pay. State law requires employers to keep the vacant job available during this period, and benefits are paid from a fund employees pay into through payroll withholding.
Family members can apply for leave up to a month in advance by calling the Employment Development Department (EDD). EDD usually conducts a telephone interview prior to authorization and requests proof of family relationship and medical need. Benefit amounts vary according to the employee's average pay over a three-year look-back period and with eligible funds in the employee's benefit account. Pay is issued every two weeks and may be spent without restriction.
More Senior Living Resources in Vallejo
| | | |
| --- | --- | --- |
| Resource | Phone Number | Description |
| | (707) 649-7714 | The Vallejo Housing Authority (VHA) administers the federal Section 8 housing choice voucher for low-income seniors in Vallejo. The program generally has a waiting list for new applications, which may be submitted by mail, or seniors can ask for an information packet by phone. |
| | (707) 648-4359 | The city of Vallejo participates in the federal HOME Program, which helps develop and build low-income housing in Solano County. The program also provides a direct rental assistance subsidy for eligible seniors. Seniors in Vallejo can request information about the HOME Program through the city Housing Authority. |
| | (877) 424-3838 | Veteran's Affairs Supportive Housing (VASH) is a joint federal-local program that helps homeless veterans and seniors with vulnerable housing situations pay for the cost of independent living. Veterans who are interested in the program can inquire by phone or visit a Vallejo VA office. |
| | (707) 422-3200 | The Low Income Home Energy Assistance Program (LIHEAP) helps Vallejo seniors cover the cost of home energy and utility bills. This program can reduce the cost of seniors' utility bills by up to 30%. Income restrictions similar to Medi-Cal apply for eligibility. Seniors in Vallejo can apply for LIHEAP, or for emergency disconnect assistance, by phone through North Coast Energy Services. |
For additional information and planning, please read our comprehensive guide to paying for senior care in California.