Get Pricing & Availability for Assisted Living in Fair Oaks, CA
Call (855) 481-6777 for immediate assistance and get more details
Page Reviewed / Updated – November 02, 2020
The 10 Best Assisted Living Facilities in Fair Oaks, CA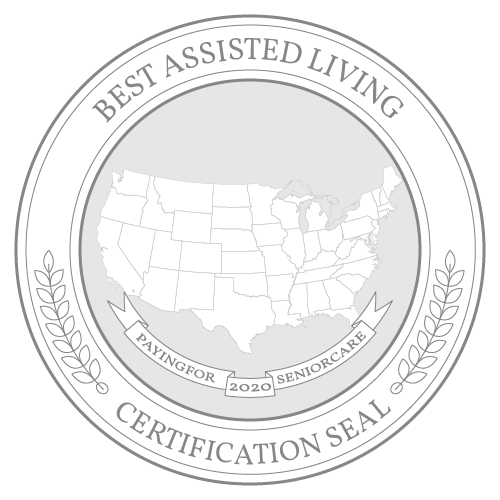 Less than half an hour to the east of downtown Sacramento, CA, is the charming city of Fair Oaks. This community of 30,912 inhabitants with its quaint, established neighborhoods surrounded by leafy oak trees has a friendly, small-town vibe. With 21.3% of the population being over 65, Fair Oaks is a popular destination for seniors looking to spend their retirement within a close-knit community.
The historic downtown area of Fair Oaks is home to intimate cafes, boutiques and cozy restaurants for residents to explore. With its location along the American River, the city offers plenty of outdoor activities for seniors wanting to enjoy the fresh air and the area's 264 days of annual sunshine. Scenic community parks, with areas for recreation and picnics, are ideal for spending time with visiting family. The city also hosts outdoor concerts, summer movie nights and special events throughout the year, including the annual Fair Oaks Chicken Festival.
Note: Information for Fair Oaks wasn't available, so data for the nearest city, Sacramento, was used.
Check out our list of the top 10 assisted living facilities in Fair Oaks, CA. Additionally, find out more about the cost of assisted living in Fair Oaks and what financial assistance programs are available.
The Cost of Senior Living and Care in Fair Oaks
In two areas, assisted living and home care, senior living is less expensive in Fair Oaks than the average for the rest of California, according to the 2018 Genworth Cost of Care Survey. Both adult day care and nursing home care cost more in Fair Oaks versus the state average. Even so, the differences for all four types of care are within $30 – $200 of the state average, indicating that fees in the city are comparable to state averages.
Note: Senior care cost data wasn't available for Fair Oaks, so the data for the closest city, Sacramento, was used.
How much does Assisted Living Cost in Fair Oaks?
Assisted living in Fair Oaks costs an average of $4,473 a month, which is just $27 a month less than the state average of $4,500. Most surveyed cities in the state are close to the California average, such as Los Angeles and San Diego, which both report an average monthly cost in line with the state, at $4,500.
San Francisco is a major outlier on the high end of costs, at $5,500 a month, while Bakersfield reports some of the lowest costs in the state, at $3,150 a month.
How much does Home Care Cost in Fair Oaks?
Home care in Fair Oaks costs seniors an average of $4,767 a month. Costs inLos Angeles and San Diego exactly match Fair Oaks. Seniors in these cities pay almost $200 a month less than the California state average, which runs to $4,957, which is also the price Stockton, CA, reports.
San Francisco is one of the most expensive cities in the state for home care, with average monthly costs of $5,625. Chico and Bakersfield have home care costs close to the low end of the spectrum, with monthly costs of $4,433 and $4,385, respectively.
How much does Adult Day Care Cost in Fair Oaks?
Adult day care in Fair Oaks averages $1,733 a month, a price point shared by San Francisco and San Diego. This is slightly more than the California average monthly cost of $1,679, which is also the cost in the city of Stockton. Chico reports some of the most expensive adult day care in the state, at $2,134, while costs are at their lowest in Los Angeles, at $1,565 a month.
How much does Nursing Home Costs in Fair Oaks?
Nursing home care in Fair Oaks costs an average of $8,517 a month, which is somewhat more expensive than the state average cost of $8,365. These prices are close to the median for most of the state's major cities, though some communities show significant deviation from the average. San Francisco, for example, reports average monthly costs of $9,148 for seniors in residential nursing care, while some of the lowest costs in the state are in Bakersfield, where seniors pay $7,513.
Financial Assistance Programs in Fair Oaks
Medicaid Program in Fair Oaks
Seniors in Fair Oaks can get low-cost or free health insurance through the state Medicaid program, known locally as Medi-Cal. All Medi-Cal plans in California cover preventive and emergency care, specialist visits and monthly costs related to residential care in a facility. Medi-Cal operates as an entitlement program that admits all qualified applicants who meet intake criteria, with no waiting periods or annual enrollment caps.
Medi-Cal requires applicants to meet certain eligibility requirements before approving coverage. To qualify, seniors in Fair Oaks must be citizens of the United States and residents of the state of California, though proof of residence may be temporarily waived in some cases.
Income requirements for the program are based on federal poverty guidelines, which are adjusted upward every two years. Medi-Cal imposes an income limit of 138% of the federal poverty line for seniors applying alone, which in 2018 limits single applicants to $16,395 a year from all income sources combined. Married couples may earn more, up to $22,108 a year. Having additional adults in the home raises the allowable maximum income by $5,741 a year per adult, whether the additional household members apply for Medi-Cal or not.
Many seniors are able to fast-track the Medi-Cal application process by showing prior acceptance into one of California's other low-income programs. These programs use many of the same eligibility criteria as Medi-Cal, and so participation in any of these programs is accepted as proof of eligibility for healthcare coverage. Compatible programs include:
CalFresh, the state's SNAP or food stamp program
WIC
TANF, also known as cash aid or welfare
SSI/SSDI
Section 8 housing vouchers
Seniors who need health insurance can apply for Medi-Cal coverage in person or by mail through a Sacramento County Human Services office, such as the office on Arden Way, not far from Fair Oaks. Seniors can also apply for Medi-Cal coverage online through the Covered California website.
Medicaid Waivers in Fair Oaks
Assisted Living Waiver Program (ALWP)
Seniors in Fair Oaks can pay for many of the costs associated with assisted living through the state's Assisted Living Waiver Program (ALWP). This waiver encourages seniors who have Medi-Cal coverage and medical clearance to move into nursing home care opt into assisted living instead. This waiver is only available to participating assisted living communities in 15 California counties, including Sacramento County. Interested seniors can apply for the ALWP waiver through the admissions or benefits coordinator at a participating assisted living facility.
Multipurpose Senior Services Waiver
Seniors who prefer to remain at home can opt out of residential care and pay many of the costs of aging in place through the Multipurpose Senior Services Program (MSSP) waiver. This waiver helps seniors access several benefits, which cover many of the unmet needs seniors who live at home may struggle with. Benefits the MSSP waiver covers include:
Case manager support for seniors who need guidance to find and apply for benefits they may qualify for
Caregiver support and in-home help with routine household chores and personal care
Respite care at a local facility or in the senior's own home
Mobility-based home improvements, including the installation of wheelchair ramps and guard rails for mobility-impaired seniors
Minor home repairs, such as weatherization
Public transportation vouchers for Regional Transit and Paratransit, as well as assistance booking mobility van service for ambulatory, wheelchair and gurney transportation
Personal Emergency Response System (PERS) hardware
Adult day care
Meal service to the senior's door
Protective supervision and other dementia services
Money management and financial planning from senior finance specialists
No-cost interpreter and translation services
Home and Community-Based Alternatives (HCBA) Waiver
Seniors in Fair Oaks can use the Home and Community-Based Alternatives (HCBA) waiver to pick up some of the likely costs of moving out of residential care and back into their own homes, or into the home of loved ones. This waiver replaces several older waiver programs that focused on specific types of residential care, and it may be used to pay almost any reasonable move-related expense. Participation is approved by a Medi-Cal caseworker assigned to the senior.
Community-Based Adult Services (CBAS)
Fair Oaks seniors who live on their own, or who live with relatives or other loved ones, may struggle with various miscellaneous costs and some unmet needs other waiver programs don't cover. The Community Based Adult Services (CBAS) waiver program addresses many of these needs with a comprehensive set of benefits for program participants, including:
Adult day care in the home or at a local facility
Meal service at home or in a nearby dining hall
Physical therapy after falls, injuries or surgery
Mental health therapy for seniors with some form of dementia
Regular public events for seniors enrolled in the program
Other Financial Assistance Programs in Fair Oaks
Paid Family Leave
Immediate family members may be able to take up to six weeks off from their regular employment to care for a senior loved one through California's Paid Family Leave Act. This law provides funding for workers whose family members develop a pressing medical need for temporary in-home care, such as after a fall or a stay in the hospital.
To qualify, workers must be continuously employed over a three-year look-back period and have sufficient funds accrued from payroll withholding deductions to the program. Proof of both medical need and the closeness of their relationship to the senior may be required before approval is granted.
Applications may be made online or by phone to the state Employment Development Department, which may also conduct a telephone interview. Funds are paid out every two weeks and may be spent like any other pay, without restriction.
More Senior Living Resources in Fair Oaks
Resource

Phone Number

Description

Housing Choice Voucher Program
(916) 440-1390
Seniors in Fair Oaks can use the Housing Choice Voucher Program to help cover some of the high cost of rent in the Sacramento area. Admission is based on need, though seniors get priority status, and there is a waiting list that opens up based on program funding levels. Seniors can apply to join the waitlist online or by phone.
RAD
(916) 449-6302
Sacramento's Rental Assistance Demonstration & Asset Repositioning Strategy (RAD) program administers thousands of low-income rental properties in the region, including several hundred in Fair Oaks. Seniors can apply for help finding low-income housing directly through the state's Housing and Urban Development website.
Low-Income Home Energy Assistance Program (LIHEAP)
(916) 784-3382
Seniors in Fair Oaks can get help paying some of the cost of their home energy bills through the Low-Income Home Energy Assistance Program. Both local utilities, SMUD and PG&E, can mail application packets out to seniors, who if approved may see a 50% reduction in their monthly gas and electric bills. Emergency applications can be handled by any area Salvation Army depot.
For additional information and planning, please read our comprehensive guide to paying for senior care in California.