Get Pricing & Availability for Assisted Living in Temecula, CA
Call (855) 481-6777 for immediate assistance and get more details
Page Reviewed / Updated – July 21, 2020
The 10 Best Assisted Living Facilities in Temecula, CA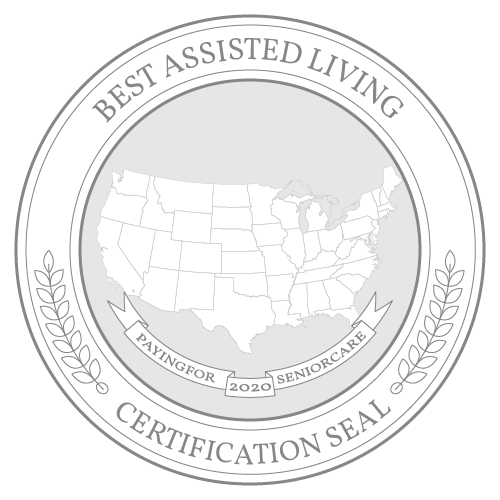 Temecula, California is a city in southwestern Riverside County that is home to approximately 115,000 residents, including nearly 12,000 seniors aged 65 and older. Bordered by numerous world-class vineyards, golf courses, resorts and recreation areas, Temecula is a popular tourist destination filled with plenty of restaurants, craft breweries and historic attractions.
Seniors seeking a fair-weather retirement destination that offers plenty of activities and access to health care should take a look at Temecula. With an average year-round temperature of 64.7 degrees, summertime highs in the low 90s and winter lows of 47, residents never have to worry about ice or snow.
Old Town Temecula is a popular place to enjoy lunch, window shop or listen to live music, while gamblers can try their luck at the sprawling Pechanga Resort Casino, the largest resort/casino on the West Coast. Temecula is home to a number of health care facilities including the Temecula Valley Hospital.
Note: Information for Temecula was not available, so data from the Riverside Area was used.
In this guide you'll find our picks for the top 10 assisted living facilities in Temecula. Additionally, find out more about the cost of assisted living in Temecula and what financial assistance programs are available.
The Cost of Senior Living and Care in Temecula
Senior care is generally less expensive in Temecula than in the rest of the state of California, according to the 2018 Genworth Cost of Care Survey. Assisted living costs are the same as the state average, but most levels of care are less expensive in Temecula. For some levels of care, such as adult day care, Temecula is one of the least expensive cities in the state.
Note: Senior care cost data wasn't available for Temecula, so the data for the closest city, Los Angeles, was used.
How much does Assisted Living Cost in Temecula?
Assisted living in Temecula costs seniors an average of $4,500 a month. This matches the state average and the average cost of care in San Diego. Sacramento is just slightly less expensive than Temecula, at $4,473 a month for care. Among surveyed California cities, Stockton and Bakersfield report some of the lowest costs for assisted living, at $3,500 and $3,150 a month. At the other end of the spectrum, San Francisco averages $5,500 a month, or $1,000 more than seniors in Temecula pay.
How much does Home Care Cost in Temecula?
Home care in Temecula costs local seniors an average of $4,767 a month, which is somewhat below the state's average monthly cost of $4,957. Sacramento and San Diego report monthly costs in line with Temecula, at $4,767 per month, while San Francisco is the most expensive surveyed city at $5,625 for home care. Chico and Bakersfield report the lowest costs among surveyed cities, at $4,433 and $4,385 a month, respectively.
How much does Adult Day Care Cost in Temecula?
Adult day care costs just $1,565 a month in Temecula. This is significantly below the California state average cost of $1,679. Stockton matches the state average, while Sacramento, San Francisco and San Diego average $1,733 a month for this type of care. Chico leads the state for adult day care expenses, at $2,134 a month, while Vallejo is the only surveyed California city with lower costs than Temecula, at $1,354 a month.
How much does Nursing Home Costs in Temecula?
Nursing home care in Temecula costs an average of $7,604 a month. This is $761 a month less than the state average cost of a semi-private room, which is $8,365. Temecula is the second-least expensive city surveyed, after only Bakersfield, where the average cost of care is $7,513. San Francisco is the most expensive of surveyed California cities, with average monthly costs of $9,148, or $1,544 a month more nursing care in Temecula.
Financial Assistance Programs in Temecula
Medicaid Program in Temecula
The federal Medicaid program offers low-and-no-cost health insurance for seniors in the Temecula area. In California, the program is known as Medi-Cal, and it delivers coverage through a network of private sector insurance companies. These carriers offer HMO and PPO options seniors can browse online at the Covered California website, where they can also submit applications. Provider plans may be chosen at the time seniors sign up to Medi-Cal, and changes can be made during the annual open enrollment period at the end of the year.
Medi-Cal plans offer basic and urgent care for seniors who meet eligibility guidelines, as well as prescription drug coverage and some support for necessary residential care. Because Medi-Cal is an entitlement program, seniors who meet the residency and income guidelines may sign up and receive coverage right away, with no annual enrollment caps or waiting periods.
Seniors living in Temecula who qualify for Medi-Cal coverage must be citizens or legal residents of the United States. The program also requires permanent residency in the state of California, though proof of residency may be temporarily waived during the application process if the senior's housing situation is precarious or there is a pressing medical need.
Single adults who apply for no-cost coverage through Medi-Cal are allowed to earn up to 138% of the Federal Benefits Rate, or $16,395 a year from all income sources combined. Married couples may earn up to $22,108. Households with additional adults in them may increase the annual income maximum by up to $5,741 for each adult. Seniors whose income falls above the cap may still qualify for Medi-Cal coverage. Seniors who earn up to 300% of the Federal Benefits Rate can often apply for Medi-Cal but may be asked to pay a share of the cost.

Medicaid Waivers in Temecula
Assisted Living Waiver Program (ALWP)
Temecula seniors who receive Medi-Cal benefits may be able to opt out of nursing home care and get help paying the monthly cost of assisted living through the state's Assisted Living Waiver Program (ALWP). To qualify for the ALWP voucher, seniors on Medi-Cal must have medical clearance for care at a nursing home but choose instead to live at a lower level of residential care. The ALWP waiver is only available to seniors in 15 counties, Riverside County included, who choose to live in a participating assisted living facility. Applications for the voucher can be made through a Medi-Cal case worker or via the admissions or benefits desk at the assisted living community the senior is moving into.
Multipurpose Senior Services Waiver
Seniors who qualify for state funds to live in an assisted living facility can opt out of any residential care and choose instead to live at home or with a loved one. To help them remain safe and comfortable on their own, the state offers the Multipurpose Senior Services Program (MSSP). Seniors in Temecula who sign up for the MSSP waiver can access several services that make independent senior living less expensive and difficult. Applications can be sent directly through a caseworker, or they may be submitted at the time of release by the residential care facility. Benefits of the MSSP include:
Contact with a program caseworker who can identify and help apply for other entitlement programs
Caregiver, household chores, and home care services from professional caregivers
Respite care and adult day care delivered in the home or at a local facility
Protective supervision for seniors who require constant attendance
Meal service and nutritional counseling for seniors who prepare their own meals
Advice on managing money from certified senior financial advisers
Installation and maintenance of Personal Emergency Response System equipment, such as ramps and rails
Transportation vouchers, good throughout the Los Angeles and San Fernando Valley areas, as well as help booking and paying for medical transportation within a specified radius
Interpreter and translator services
Home and Community-Based Alternatives (HCBA) Waiver
The Home and Community-Based Alternatives (HCBA) waiver program helps Temecula seniors manage the cost of moving out of residential care and back to a home of their own. This waiver program replaces several other waivers the state has discontinued, and it may be used by seniors coming home from any level of residential care, such as assisted living and nursing care. It reimburses seniors for many reasonable expenses related to moving, and applications can go through the discharge planner at a participating care facility.
Community-Based Adult Services (CBAS)
Seniors who live on their own in Temecula can stay connected with each other and get the help they need through the Community Based Adult Services waiver program. CBAS pays for several necessary services, such as adult day care and both physical and mental health therapy. Once a month, the CBAS program schedules a free community event, such as a dance or movie event, for local seniors enrolled in the program.
Other Financial Assistance Programs in Temecula
In-Home Support Services (IHSS)
Seniors in Temecula who live on their own can get in-home support from the caregiver of their choice by enrolling in the In-Home Support Services (IHSS) program. This program pays a caregiver, who may be a spouse, family member or friend of the senior's choice, to provide necessary services in the home, as well as helping out with some errands outside the home. Seniors can apply for the program through a Medi-Cal caseworker, and potential caregivers can apply by mail or in person at the Riverside County IHSS office. Seniors must have a medical need for in-home caregiver assistance and meet the financial limits of the Medi-Cal program, After approval, they're assigned a set number of hours per month their caregiver can be paid. Caregivers must pass a background check and attend one training event at the IHSS office.
Paid Family Leave (PFL)
Workers with a senior loved one can take up to six weeks off from work with pay, thanks to California's Paid Family Leave Act (PFL). This program helps many adult children of seniors stay home with them during transitional periods or during illness and recovery from injuries or surgery. The program draws funds from a payroll withholding account all California workers contribute to, with the assigned bi-weekly payment amount determined by the employee's average wage over the three-year period. Program funds are treated like any other pay, and they can be spent in any way the recipient wishes. To apply for PFL benefits, workers can call the state Employment Development Department (EDD) office up to a month in advance. After the initial application, the department often asks for documentation of the medical issue and the closeness of the family relationship. A telephone interview may also be scheduled. Employers in California are required to hold open any position vacated by a worker on PFLA for up to six weeks.
More Senior Living Resources in Temecula
Resource

Phone Number

Description

Temecula Community Development Department
(951) 694-6400
The Temecula city Community Development Department maintains a registry of low-income and affordable housing units in the city. All affordable housing in the city is privately owned, but the city offers some assistance to seniors who are looking for a place or who wish to apply for a waiting list for a local rental unit.
Seniors can download the online brochure or contact the department by phone for assistance and homeless outreach.
Riverside County Housing Authority
(951) 351-0700
The Housing Authority of Riverside County takes applications for the federal Housing Choice Voucher program, which is also sometimes called Section 8. This program has a waiting list, but applications may be submitted by mail or in person at the Authority office on Arlington Ave. in Riverside.
Community Action Partnership (CAP)
(951) 955-4900
The county Community Action Partnership (CAP) helps seniors in Temecula pay overdue bills and prevent disconnection of their utility services. CAP provides funds on an emergency basis for gas and electric bills that are within 24 to 48 hours of being disconnected. Seniors in Temecula may apply for aid on an emergency basis by phone or in person.
Low-Income Home Energy Assistance Program (LIHEAP)
(800) 427-2200
Seniors can apply for up to a 30% reduction in their home heating, cooling and natural gas costs through the federally funded Low-Income Home Energy Assistance Program (LIHEAP).
SoCalGas takes inquiries by phone and mail application packets to eligible seniors in the coverage area, including Temecula.
For additional information and planning, please read our comprehensive guide to paying for senior care in California.