Get Pricing & Availability for Assisted Living in Oakland, CA
Call (855) 481-6777 for immediate assistance and get more details
Page Reviewed / Updated – September 11, 2023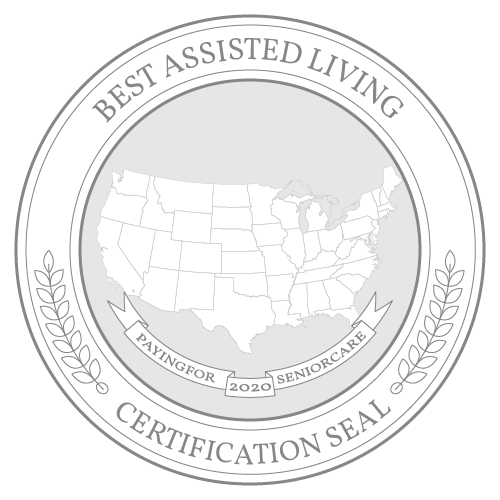 Although the overall cost of living in Oakland is higher than the U.S. and California averages, many seniors may find that the advantages outweigh the disadvantages. Local retirees can access a variety of social services, as well as enjoy a high quality of life and mild weather all year round.
Another upside of living in Oakland is its assisted living fees. Residents can expect to pay about $4,300 per month, less than the $4,459 rate charged to the average U.S. senior, and well below the California average of $4,946. However, final prices will depend on the community's services, amenities and exact location.
This guide details the average costs of assisted living services in Oakland and the helpful resources it offers.
The Cost of Assisted Living in Oakland, CA
When determining how to finance Assisted Living, it's essential to first know the expense involved for your loved one to join a reputable community. With the ongoing increase in costs, having current information is crucial when budgeting for senior care. To help highlight the influence of inflation on senior living expenses, PayingForSeniorCare.com has collected cost data from its extensive network of over 75,000 senior living communities. This data represents the average cost of Assisted Living in Oakland and in 200 other cities in California.
Inflation & the Cost of Assisted Living in Oakland, CA
Oakland residents saw their assisted living fees increase from $3,925 in 2022 to $4,300 a year later, a change of 10%. This is about the same rate at which U.S. costs grew, and slightly higher than California's 7% average increase. Nearby cities within a 30-mile radius, including San Francisco and Fremont, are significantly more expensive than Oakland, at $7,777 and $5,213, respectively.
According to projections, costs could increase by 8% between 2023 and 2024 in both Oakland and Sacramento. To stay ahead of inflation-driven price hikes, seniors are advised to consider these estimates before choosing an assisted living provider.
| | | | |
| --- | --- | --- | --- |
| Location | 2022 Cost (Historical) | 2023 Cost (Current) | 2024 Cost (Estimated) |
| Oakland | $3.925 | $4,300 | $4,631 |
| U.S. Average | $4,070 | $4,459 | $4,802 |
| California | $4,625 | $4,946 | $5,221 |
| San Francisco | $7,099 | $7,777 | $7,375 |
| Fremont | $4,758 | $5,213 | $5,614 |
| Sacramento | $4,995 | $5,472 | $5,893 |
The Cost of Other Types of Care in Oakland, CA
In Oakland, various types of care are available to address the needs of residents in different stages of independence and health. For $2,601, independent living provides a self-sufficient environment, generally with a focus on recreational options. Assisted living adds personalized assistance with daily activities, such as eating and grooming, leading to a higher cost of $4,300. Memory care, at $5,667, is better suited to those with dementia who require specialized services to manage their condition.
| | |
| --- | --- |
| Care Type | Cost |
| Assisted Living | $4,300 |
| Memory Care | $5,667 |
| Independent Living | $2,601 |
Financial Assistance for Assisted Living in Oakland, CA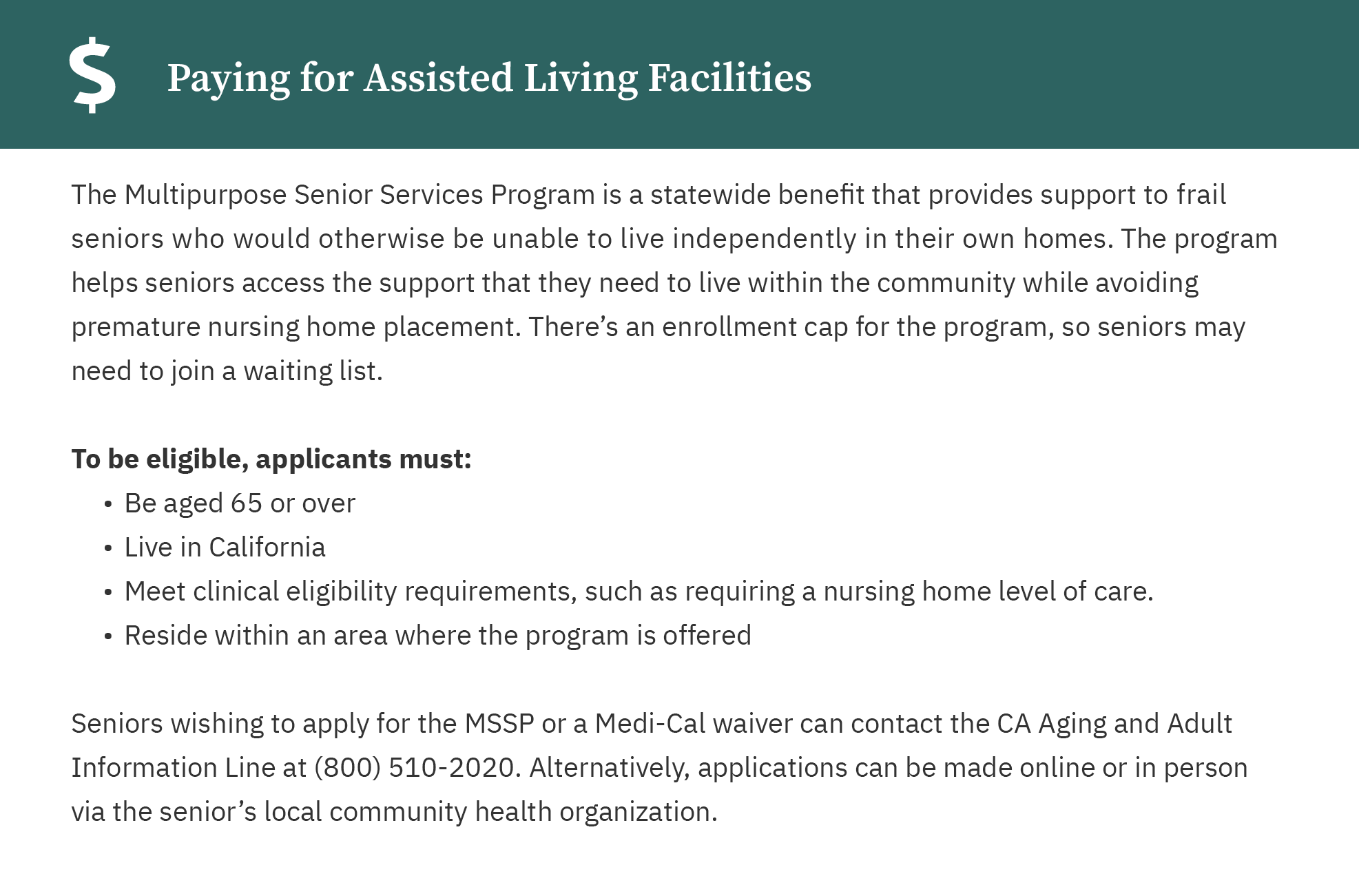 Other Ways to Pay for Assisted Living in Oakland, CA
Since not everyone can afford to pay for assisted living out-of-pocket, it's important to find alternative methods to help make assisted living more affordable. Some of these options include:
Veterans Benefits
Life Insurance Policy
Long-Term Care Insurance
Reverse Mortgage
For additional information and planning, read our comprehensive guide to paying for senior care in California.
Rules and Regulations for Assisted Living Facilities in Oakland, CA
Assisted Living Communities in Oakland are required to follow a set of rules and regulations that are determined by the state. For an overview of those rules and regulations, see the information below. For more specific information, talk with your local community or Area Agency on Aging.
The 10 Best Assisted Living Facilities in Oakland, CA