Get Pricing & Availability for Assisted Living in Rocklin, CA
Call (855) 481-6777 for immediate assistance and get more details
Page Reviewed / Updated – November 04, 2020
The 10 Best Assisted Living Facilities in Rocklin, CA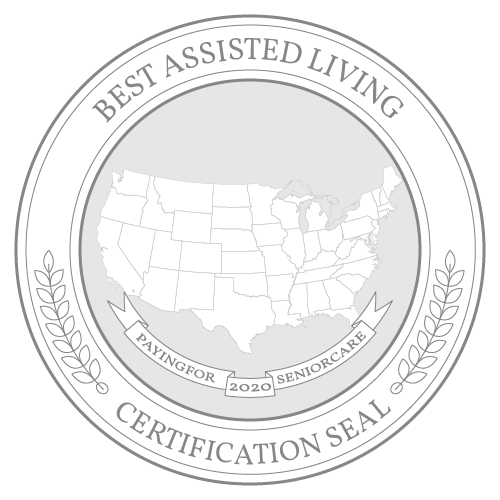 Tucked in between the Sierra Nevada mountain range and the Sutter-Butte Mountain range, Rocklin is known for its rolling hills and scenic views from every angle. Located at the intersection of State Highway 65 and Interstate 80, Rocklin is convenient for commuters of all directions and a great place for seniors looking for a quiet place in the area to call home. Once a railway city, the city has preserved many of its granite bridges and incorporated them into its stunning park system, which spans hundreds of acres and includes numerous trails and entertainment venues.
The Rocklin Parks and Recreation department offers an array of senior activities, and the city offers utility discounts. Seniors flock to the region because of its mild temperatures which usually land in the '70s with slight variations during the summer and winter months. Crime rates are low in the city weighing in at 10.5 compared to the US average of 22.7, which offers seniors one more reason to settle down in the residential community.
Note: Information for Rocklin was not available, so data from the nearest city, Sacramento, was used.
Take a look at our list of the top 10 assisted living facilities in Rocklin to see if any fit your specific needs. Additionally, find out more about the cost of assisted living in Rocklin and what financial assistance programs are available.
The Cost of Senior Living and Care in Rocklin
Prices for assisted living and home care are lower in Rocklin than they are in the rest of California, according to the 2018 Genworth Cost of Care Survey. Adult day care and nursing home care are higher than the state average, however. While the former is within $54 of the state average, the latter is about three times that at $154 more per month than the California average.
Note: Senior care cost data wasn't available for Rocklin, so the data for the closest city, Sacramento, was used.
How much does Assisted Living Cost in Rocklin?
Assisted living in Rocklin costs just slightly less than the state average for the same level of care. Rocklin seniors pay an average of $4,473 a month for assisted living, while the state average is $4,500. These prices are close to the middle of costs for most surveyed California cities.
San Francisco and Bakersfield are outliers for the cost of assisted living. In San Francisco, monthly rates run as high as $5,500 for assisted living, $1,027 a month more than in Rocklin, while Bakersfield seniors pay just $3,150, or $1,223 less per month for similar care.
How much does Home Care Cost in Rocklin?
Home care in Rocklin costs an average of $4,767 a month. This is exactly the price reported by Los Angeles and San Diego for the same care, and it's nearly $200 a month less than the average California cost of $4,957 a month. San Francisco is again the highest-priced market in the state for home care, with an average monthly cost of $5,625, while Bakersfield again has one of the lowest rates among surveyed cities, at just $4,385 a month.
How much does Adult Day Care Cost in Rocklin?
Adult day care in Rocklin costs an average of $1,733 a month. The cities of San Francisco and San Diego also average $1,733 for adult day care, which puts them all slightly ahead of the state average cost of $1,679 a month. Across the state, the highest cost of care is in Chico, where adult day care averages $2,134 a month, while the least expensive city surveyed in Los Angeles, at $1,565 a month.
How much does Nursing Home Costs in Rocklin?
Rocklin seniors pay an average of $8,517 a month for a semi-private room in a nursing care home. This is somewhat more than the California average of $8,365, though both are significantly less than San Francisco, where nursing care costs an average of $9,148. This is the highest in the state, among surveyed cities, while the lowest costs surveyed are in Bakersfield, where residential nursing care averages $7,513 a month.
Financial Assistance Programs in Rocklin
Medicaid Program in Rocklin
Medicaid helps Rocklin seniors pay some of the cost for residential care. In California, the Medicaid program is known as Medi-Cal, and it operates as an entitlement program. This means that all eligible seniors in Rocklin may sign up for benefits without enrollment caps or waiting periods. To be eligible, a senior in Rocklin must be either a citizen or legal resident of the United States and a resident of the state of California. Proof of residency and citizenship status may be required during intake into the program, though this may be waived for seniors with irregular or temporary housing or a pressing medical need for coverage.
Proof of income may also be required during the approval process. Medi-Cal is a low-income health insurance program that uses the federal poverty rate to calculate financial need. Seniors in Rocklin may qualify for no-cost coverage through Medi-Cal if they earn less than 138% of the federal threshold for means-tested programs. This rate is adjusted upward every two years, but in 2018 seniors who live alone and apply for themselves must earn less than $16,395 a year from all income sources combined.
The maximum allowable income for married couples is $22,108. Each additional adult who lives in the household raises the income limit, regardless of whether they are also applying for benefits. For each additional adult in the household, an additional $5,741 is added to the maximum total allowed. Seniors who earn more than these levels, up to 300% of the federal poverty line, may still qualify for Medi-Cal, though they may be required to pay an annual share of the cost when seeking care.
Seniors who apply for Medi-Cal may be able to fast-track their acceptance into the program by showing that they have already been accepted into another low-income entitlement program in California. These other benefit programs use nearly identical criteria for eligibility, and so acceptance by any of them is accepted by Medi-Cal intake rules as evidence of eligibility for health insurance. Some of the compatible programs accepted by Medi-Cal are:
CalFresh, the state SNAP or food stamp program
Section 8 federal housing vouchers
WIC
TANF, also known as cash aid or welfare
SSI/SSDI
Once approved for Medi-Cal, seniors in Rocklin have a short window to choose a specific health plan. Medi-Cal delivers care through a network of in-state private insurers, such as Kaiser Permanente and Blue Cross/Blue Shield. These companies offer both HMO and PPO options for Rocklin seniors, though a default option may be assigned if no choice is made during signup. Seniors can later switch plans during the annual end-of-year open enrollment period.Applications for Medi-Cal, and for most of the other entitlement programs administered by the state, may be submitted in person at a Placer County benefits office, or by mail. Seniors can also learn more about their coverage options, pick a plan and apply for Medi-Cal online at the Covered California website.
Medicaid Waivers in Rocklin
Multipurpose Senior Services Waiver
The Multipurpose Senior Services Program (MSSP) waiver helps seniors remain in their own homes, or in the homes of loved ones, by covering many of the costs associated with independent living. To apply, seniors must be approved for Medi-Cal, demonstrate a medical justification for placement in residential care that would usually be paid for by their insurance and opt to remain at home. Applications may be filed by seniors seeking coverage, or by benefits specialists at participating residential care facilities at the time of discharge. Benefits provided by the MSSP waiver include:
Case manager support to guide seniors in finding programs they qualify for
In-home assistance from a caregiver the senior hires, who can be a spouse, family member or friend
Respite care in the home or at a nearby facility
Minor home improvements for greater safety and mobility, such as new wheelchair ramps and guard rails
Minor home repairs, such as winterization
Transportation assistance, including public transportation vouchers and scheduling of disabled ride service
Personal Emergency Response System (PERS) call buttons
Adult day care delivered at home or at a facility
Dementia care, including protective supervision
At-home meal delivery
Advice and no-cost document preparation for senior money matters, including estate planning and receivership matters
Interpreter and translation services
Home and Community-Based Alternatives (HCBA) Waiver
The Home and Community-Based Alternatives (HCBA) waiver replaces several older state waivers and compensates seniors for many of the costs associated with leaving residential care and returning home. Details of coverage vary on an almost case-by-case basis, though applications can go through a Medi-Cal case worker who can answer questions about what's covered and how to claim specific benefits.
Community-Based Adult Services (CBAS)
The Community Based Adult Services (CBAS) waiver program helps plug gaps in seniors' finances while they live at home alone or with a spouse. This program, which must be approved by a Placer County benefits worker, provides Rocklin seniors with no-cost access to:
Adult day care in their home or at a local facility
Meals delivered to the home or served at a local dining facility
Opportunities to meet other seniors enrolled in the program at regular social events
Rehab services, including both physical and mental health therapy, which may be done at home or at a post-acute facility nearby
Other Financial Assistance Programs in Rocklin
Paid Family Leave
Family members in California can take up to six weeks paid time off from work to look after a senior loved one through the state's Paid Family Leave Act. This is not an entitlement program, and it is only open to workers who have accrued a positive benefit balance through payroll withholding taxes. Once enough of a reserve has been met, usually over a three-year period, seniors' immediate family members can apply for bi-weekly pay from the state of California's Employment Development Department. Employees may only access this benefit to care for an immediate family member, and proof of both relationship and medical necessity may be required for approval. Funds arrive by check and can be spent without restrictions.

More Senior Living Resources in Rocklin
Resource

Phone Number

Description

Placer County Housing Authority


(530) 889-7676
The Placer County Housing Authority helps seniors in Rocklin find safe, clean and affordable housing in the local community. The authority administers the federal Section 8 housing grant, which usually has a waiting list for new applicants. Seniors can apply for rent or mortgage assistance through the county's Housing Choice Voucher Program online or by phone.
Sacramento Regional Housing Authority (SHRA)
(916) 440-1390
SHRA operates a number of public housing units in and around the Sacramento area, including many of the communities of Placer County, except for Roseville. Veterans and local seniors are given preference for finding affordable open rental units in the area, though properties are available as funds allow. Applications may be submitted online or by phone.
Low-Income Home Energy Assistance Program (LIHEAP)
(916) 784-3382
LIHEAP helps Rocklin seniors lower the cost of their monthly home utility bills by up to half, as well as providing one-time emergency support for overdue or disconnected service. Seniors who foresee needing help in several months can apply by mail through local utility providers SMUD and PG&E, or they can apply for immediate assistance through a local Salvation Army outpost.
For additional information and planning, please read our comprehensive guide to paying for senior care in California.