Get Pricing & Availability for Assisted Living in Orangevale, CA
Call (855) 481-6777 for immediate assistance and get more details
Page Reviewed / Updated – October 31, 2020
The 10 Best Assisted Living Facilities in Orangevale, CA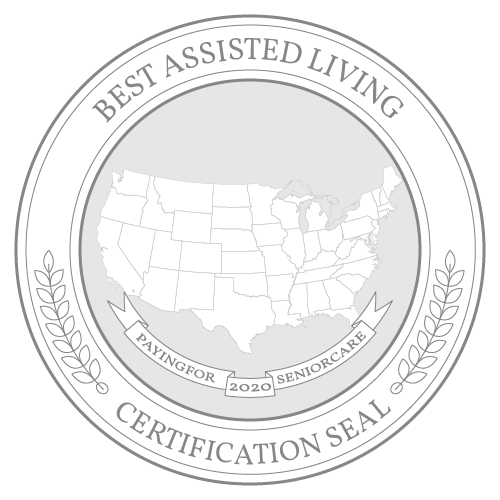 Part of the greater Sacramento metro, Orangevale is a small mostly residential community that offers seniors an appealing combination of quiet neighborhoods and a pleasant climate without sacrificing quick access to big-city amenities.
Nearby state-of-the-art medical facilities ensure seniors receive prompt care in the event of a sudden medical issue, and the numerous recreational attractions in the surrounding area make it easy to plan fun outings with family and friends.
Though the cost of living is sharply higher in Orangevale than the national average, the highest costs tend to be within the area of housing, which has little effect on seniors living in an assisted living facility.
Note: Information for Orangevale was not available, so data from the nearest city, Sacramento, was used.
Get started exploring local communities with our list of the top ten assisted living facilities in Orangevale. Additionally, find out more about the cost of assisted living in Orangevale and what financial assistance programs are available.
The Cost of Senior Living and Care in Orangevale
Costs for senior living in Orangevale tend to stay close to the average cost of the same care elsewhere in the state of California, according to the 2018 Genworth Cost of Care Survey. For some care types, Orangevale is less expensive than the California average, such as assisted living and home care. Otherwise, adult day care and nursing home care costs in Orangevale will cost seniors a premium.
Note: Senior care cost data wasn't available for Orangevale, so the data for the closest city, Sacramento, was used.
How much does Assisted Living Cost in Orangevale?
Orangevale is close to the average cost in California for assisted living, with typical monthly costs of $4,473, while California averages $4,500 statewide. Los Angeles and San Diego match the state at $4,500. Chico is somewhat less expensive than both Orangevale and the state average, at $4,000 a month. Redding only slightly trails Chico, at a monthly cost for assisted living of $3,900.
San Francisco leads the state in assisted living costs, at a monthly average of $5,500. At the low end of assisted living costs, Stockton averages $3,500 a month, while the lowest reported costs among surveyed cities is in Bakersfield, at $3,150.
How much does Home Care Cost in Orangevale?
Home care costs in Orangevale average $4,767 a month. This is a couple of hundred dollars less per month than the California average, which is $4,957. Los Angeles and San Diego both match Orangevale for costs, with monthly averages of $4,767, while Stockton matches California at $4,957. Redding trails these prices only slightly, at $4,862 a month.
San Francisco leads the state for home care expenses, with an average monthly cost of $5,625. Other cities in California are far less expensive than this. Chico, for example, averages $4,433 a month, while the least expensive home care reported in the state can be found in Bakersfield, at $4,385.
How much does Adult Day Care Cost in Orangevale?
Orangevale seniors pay an average of $1,733 a month for adult day care, which may be delivered in the home or at a facility in the community. This price is exactly in line with San Francisco and San Diego, which also report $1,733 for the same level of care. California's average price for adult day care is $1,679 a month, a price that is shared by Stockton, in the central part of the state.
Adult day care in Redding costs an average of $1,788 a month, while costs in Bakersfield average $1,653. Chico is the most expensive city surveyed, with average monthly costs of $2,134. Los Angeles reports the lowest costs for adult day care in California, at $1,565 a month.
How much does Nursing Home Costs in Orangevale?
Orangevale is in the middle range of costs for nursing home care in California, at $8,517 a month for a semi-private room. Elsewhere in the state, the average cost for nursing care is $8,365. Several California cities report costs in this range, including San Diego, which matches Orangevale exactly at $8,517. The most expensive California city surveyed is San Francisco, where nursing home care costs $9,148 a month.
Financial Assistance Programs in Orangevale
Medicaid Program in Orangevale
Medicaid can help seniors in Orangevale pay some or all of the cost of residential care. The program provides health insurance through several in-state private carriers which administer recipients' benefits through either an HMO or PPO backed by state funds. Details of coverage vary between plans, but all Medicaid-backed health plans in California offer regular preventive and emergency care, as well as specialist care and coverage for some medications.
California's Medicaid program, which is known in the state as Medi-Cal, also pays some of the cost of long-term residential senior care, especially for medically necessary treatment in a nursing home, memory care facility and hospice facilities.
Seniors in Orangevale can apply for Medi-Cal benefits in person, at the Sacramento County Health and Human Services offices on Arden or North Watt Ave., or they can apply through the Covered California website, which also lists several non-Medicaid health plans for low-income seniors. Income and other eligibility criteria apply to all applicants, though Medicaid is an entitlement program that accepts all qualified applicants, with no waiting lists or enrollment caps.
To be eligible for Medi-Cal, seniors in Orangevale must be citizens or legal residents of the United States and residents of California. Proof of citizenship and residency may be required prior to approval. Seniors who live alone and apply for themselves must earn less than 138% of the federal poverty line, which in 2018 puts the limit for income from all sources at $16,395 a year. Married couples are allowed to earn up to $22,108. For each additional adult living in the applicant's household, the income limit goes up by $5,741 a year whether the other adult applies for Medi-Cal or not.
Seniors can often fast-track their Medi-Cal application by submitting their paperwork through a benefits specialist at a residential care facility, such as a skilled nursing residence, or by asking for application assistance from a certified senior adviser. Many of California's low-income aid programs have the same enrollment requirements as Medi-Cal, and prior approval by any of these can automatically authorize approval by Medi-Cal. Some of the compatible programs Medi-Cal considers as proof of eligibility include:
CalFresh, the state's SNAP program
WIC
Section 8 housing support
TANF, sometimes called cash aid or simply "welfare"
SSI
Medicaid Waivers in Orangevale
Assisted Living Waiver Program (ALWP)
California's Assisted Living Waiver Program (ALWP) pays the cost of admission for seniors in Orangevale who have medical clearance for care in a nursing home, but who opt for a less expensive level of care in an assisted living facility instead. Seniors can apply for the ALWP through a Medi-Cal worker or through the benefits coordinator at a participating facility. Only 15 counties in California participate in the ALWP waiver, including Sacramento County, which includes Orangevale.
Multipurpose Senior Services Waiver
The Multipurpose Senior Services Program (MSSP) waiver pays many of the costs seniors in Orangevale have to pay when they choose to remain in their own homes, rather than accept placement in a residential care facility. Applications can go through a Medi-Cal case worker, or seniors can apply through the benefits specialist at their care facility prior to discharge. Benefits covered by the MSSP waiver include:
Case manager access for advice regarding benefits and other resources seniors may be entitled to
Caregiver services delivered in the home environment
Respite care that may be delivered in the home or at a local facility
Home improvements for better access and safety, such as guard rails and wheelchair access ramps
Minor home repairs with prior approval
Transportation vouchers for Sacramento Regional Transit, Paratransit and mobility van service
Household chore assistance
Personal Emergency Response System (PERS) equipment
Adult day care
Dementia services, including protective supervision
At-home meal delivery
Money management advice from experts in senior finances
Translator and interpreter services
Home and Community-Based Alternatives (HCBA) Waiver
The Home and Community-Based Alternatives (HCBA) waiver replaces several older waiver programs and covers many of the costs seniors face when transitioning out of residential care and back to the home environment. This waiver applies to seniors leaving nursing care, post-acute rehab and assisted living. Applications can go through the staff at a participating residential care facility or through a Medi-Cal case worker.
Community-Based Adult Services (CBAS)
The Community Based Adult Services (CBAS) waiver program picks up several miscellaneous costs seniors in Orangevale may need help to pay for, and which help seniors live as independently as possible at home. Covered services include:
In-home or facility adult day care
Meal service delivered at home
Social events with other seniors, scheduled and paid for by the program, and open to program participants in Orangevale and the surrounding communities
Physical therapy and mental health services delivered on an outpatient or in-home basis
Other Financial Assistance Programs in Orangevale
In-Home Support Services
Seniors in Orangevale who have Medi-Cal and a doctor's recommendation for residential care may be able to remain at home with caregiver assistance through Medi-Cal's In-Home Support Services (IHSS) program. This program pays caregivers for their services delivered in the senior's own home or the home of a relative or other loved one. Seniors approved for the IHSS benefit are allocated a specific number of hours each month, for which they can authorize payments to their caregivers, who may be friends, spouses or family members who have passed the brief IHSS caregiver training.
Paid Family Leave
California's Paid Family Leave Act allows some workers in the state to take up to six weeks off from work to care for immediate family members, including seniors with a sudden medical need or who have transitioned out of care and back home. Applicants must have been employed long enough to have built up a benefit surplus, and bi-weekly pay is calculated using a three-year look-back period. Funds may be spent without restriction, exactly like a paycheck.Applications for Family Leave benefits are processed by the California Employment Development Department and may include a phone interview, proof of medical need and evidence of the applicant's relationship to the senior.
More Senior Living Resources in Orangevale
Resource

Phone Number

Description

Housing Choice Voucher Program
(916) 440-1390
The Housing Choice Voucher Program helps Orangevale seniors and some low-income residents pay the relatively high cost of rent in the Sacramento area. Applicants must sign up for a waitlist, and will be contacted as vacancies arise.
RAD
(916) 449-6302
The Rental Assistance Demonstration & Asset Repositioning Strategy (RAD) manages over 2,700 rental units in and around Orangevale for seniors and some low-income residents. Applications are handled as funds are available through the Housing and Urban Development website.
Low-Income Home Energy Assistance Program (LIHEAP)
(916) 784-3382
LIHEAP helps seniors in Orangevale who need assistance paying down their home utility bills. Both PG&E and SMUD participate in LIHEAP, and both can mail application packets. Seniors in Orangevale can also apply through any Sacramento-area Salvation Army.
For additional information and planning, please read our comprehensive guide to paying for senior care in California.