Get Pricing & Availability for Assisted Living in Los Angeles, CA
Call (855) 481-6777 for immediate assistance and get more details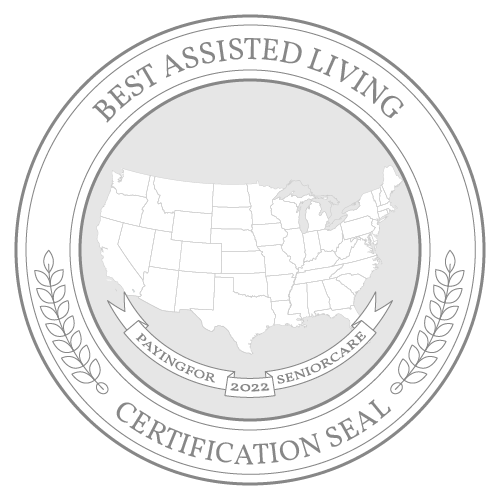 Los Angeles is situated in the southern region of California and is the most populous city in the state with nearly 4 million residents, 13% of whom are aged 65 and over. It's among the more expensive places to live in California, with an overall cost of living that exceeds the national average by 73% and the state median by about 25%. Despite this, local assisted living rates are consistent with the state average at $5,250 per month. Older adults with limited incomes may have access to several programs to help cover their care costs, including the Medi-Cal Assisted Living Waiver, which pays for residential services in some regions of the state, including Los Angeles County.
This guide provides an overview of what Los Angeles residents pay for assisted living, along with options for paying for services. It also lists free resources for older adults and highlights top assisted living facilities in the region.
The Cost of Assisted Living in Los Angeles, CA
In Los Angeles, assisted living rates average $5,250 per month. While this is several hundred dollars higher than the national median rate of $4,500, it's equal to the state average.
While assisted living rates tend to be costlier in California, older adults with budgetary considerations have several affordable options within the state. In Bakersfield, fees are among the lowest in the state and nation at $3,750. In the Hanford area, care costs are $900 less than in Los Angeles at $4,350 per month, and in San Diego, assisted living residents pay approximately $5,475. Obtaining care in Los Angeles is an affordable alternative to services in Santa Rosa, where assisted living facilities charge approximately $7,048 monthly.
Los Angeles: $5,250
California: $5,250
United States: $4,500
San Diego: $5,475
Bakersfield: $3,750
Hanford Area: $4,350
Santa Rosa: $7,048
The Cost of Other Types of Care in Los Angeles, CA
The most cost-effective long-term care option in Los Angeles is adult day health care, which costs $1,652 per month. Assisted living is considerably costlier at $5,250, but because it includes living expenses, such as housing and meals, it's an affordable option for many seniors. Home-based care is several hundred dollars more, with both in-home care and home health care coming in at $5,911 per month. Nursing homes charge $9,125 for semiprivate rooms and $11,269 for private accommodations.
In-Home Care: $5,911
Home Health Care: $5,911
Adult Day Health Care: $1,652
Assisted Living Facility: $5,250
Nursing Home Facility (semiprivate room): $9,125
Nursing Home Facility (private room): $11,269
Financial Assistance for Assisted Living in Los Angeles, CA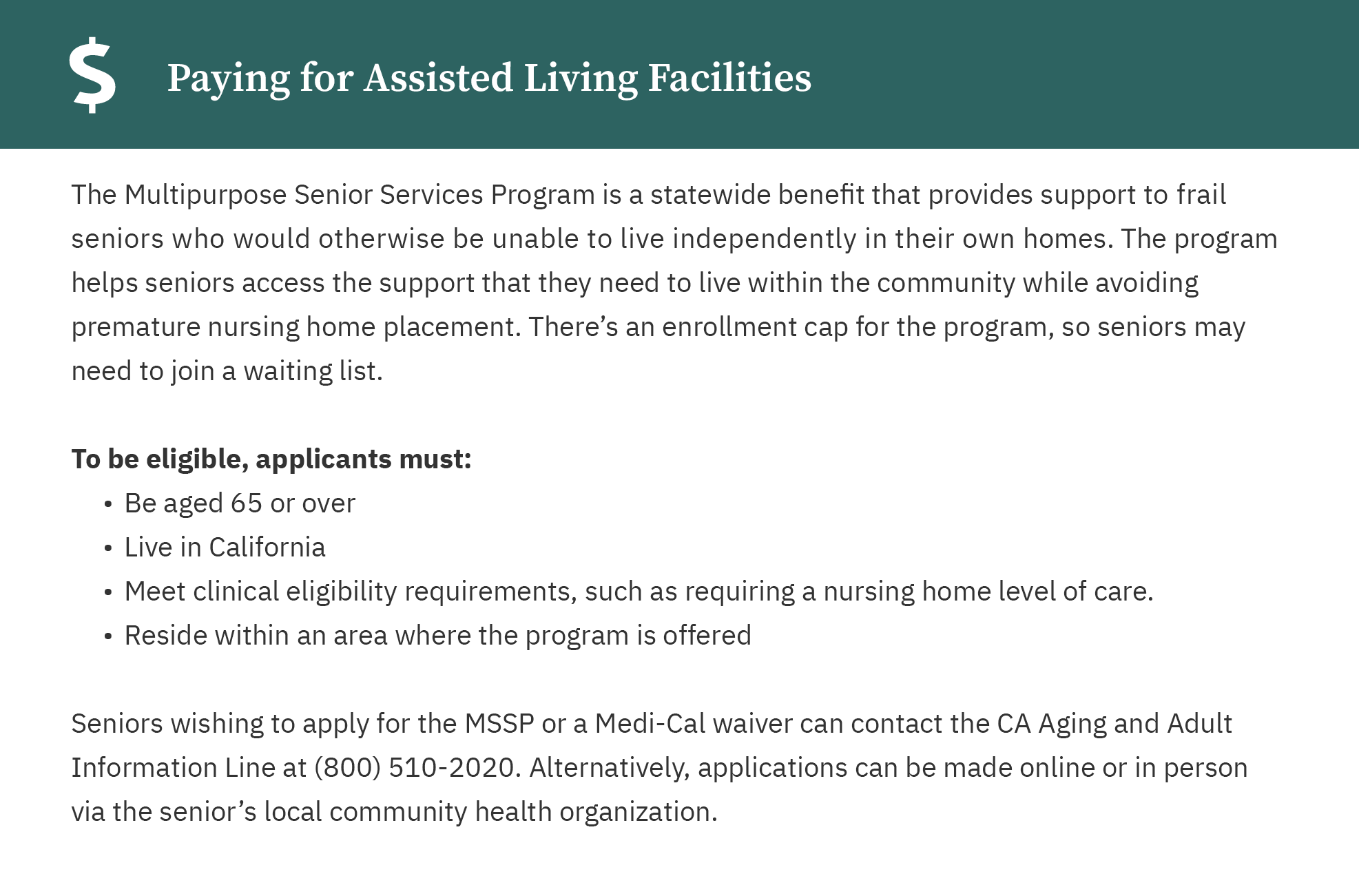 Other Ways to Pay for Assisted Living in Los Angeles, CA
Since not everyone can afford to pay for assisted living out-of-pocket, it's important to find alternative methods to help make assisted living more affordable. Some of these options include:
Veterans Benefits
Life Insurance Policy
Long-Term Care Insurance
Reverse Mortgage
For additional information and planning, read our comprehensive guide to paying for senior care in California.
Free Resources for Seniors in Los Angeles, CA
The Los Angeles region has a wide range of resources to help older adults obtain affordable long-term care. Through the following resources, seniors access options counseling, legal and financial advice and state-sponsored programs that help them make the most of their retirement income.
| | | |
| --- | --- | --- |
| Resource | Contact | Service |
| | (888) 211-0644 | WDACS is the Area Agency on Aging for Los Angeles and the surrounding region. It uses federal funding to provide a range of free and low-cost services for seniors to help them make informed decisions regarding their long-term care. Through the AAA, seniors can speak with benefits counselors who screen them for programs, such as Medi-Cal, Supplemental Security Income and Social Security Disability Insurance, which can help cover or offset assisted living expenses. |
| | (213) 383-4519 | The Center for Health Care Rights advocates for older adults and helps them access quality health insurance coverage. Seniors can receive Medicare options counseling from trained advisers who answer seniors' questions about Original Medicare benefits, cost-sharing obligations and private options, such as Medigap and Medicare Advantage Plans, which can help seniors save money on medical and long-term care expenses. This service is confidential and free of charge. |
| | (800) 399-4529 | The Legal Aid Foundation of Los Angeles is a nonprofit organization that serves qualifying individuals in Los Angeles County. It has licensed legal professionals who help older adults with issues such as accessing public and veterans' benefits, understanding assisted living contracts and payment obligations and resolving problems, such as Social Security overpayment and consumer debt issues. |
| | (800) 698-2411 | The VA's Los Angeles Regional Office specializes in helping veterans and their families access federal and state benefits, including those that may help cover long-term care such as Aid and Attendance and veterans' and survivors' pensions. The office can also help individuals determine whether they qualify for veterans' home placement, which may be more affordable than private assisted living services. |
| | (213) 482-7252 | The City of Los Angeles Department of Aging operates several senior centers and congregate dining sites throughout the region, as well as transportation services and wellness screenings, which may help older adults reduce living costs. |
Rules and Regulations for Assisted Living Facilities in Los Angeles, CA
Assisted Living Communities in Los Angeles are required to follow a set of rules and regulations that are determined by the state. For an overview of those rules and regulations, see the information below. For more specific information, talk with your local community or Area Agency on Aging.
The 10 Best Assisted Living Facilities in Los Angeles, CA