Get Pricing & Availability for Assisted Living in Sacramento, CA
Call (855) 481-6777 for immediate assistance and get more details
Page Reviewed / Updated – July 7, 2022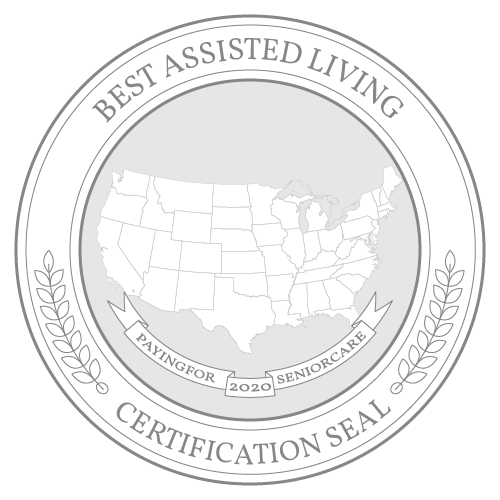 Sacramento is the capital of California and has a senior community that accounts for over 13% of its population, promoting access to community-based services and supports that help older adults maintain a high quality of life throughout their retirement years. While its overall cost of living is about 18% higher than the national median, it's 30% lower than the state median, which may make it a financially sound option for those seeking affordable long-term care options. On average, seniors in Sacramento pay $5,225 per month for assisted living, which is consistent with rates in the rest of the state.
This guide highlights information on assisted living in Sacramento, including details on how long-term residential care costs compare to other cities in California, as well as other care types within Sacramento. It also outlines financial assistance options and ways to pay for services, and it features contact information for the top resources for older adults in the region.
The Cost of Assisted Living in Sacramento, CA
Assisted living costs in Sacramento come in at $5,225 per month, according to data published in the 2021 Genworth Cost of Care Survey. This is several hundred dollars higher than the national rate of $4,500 but equal to the state median.
Older adults seeking affordable assisted living services in Central California may consider care in Madera, where rates are considerably lower than the state median at $3,828 per month. In Chico, care costs are higher but still lower than in Sacramento at $5,106. Fees in San Luis Obispo are a little higher at $5,300, and in Santa Rosa, rates average $7,048.
Sacramento: $5,225
California: $5,225
United States: $4,500
Madera: $3,828
San Luis Obispo: $5,300
Santa Rosa: $7,048
Chico: $5,106
The Cost of Other Types of Care in Sacramento, CA
Adult day health care is the most affordable long-term care option in Sacramento, with facilities charging $2,167 per month for daytime weekday services. Assisted living is about $3,000 more at $5,225 per month but includes living expenses such as housing and meals. Older adults pay $6,292 for in-home care or home health care. Nursing homes charge the highest monthly care costs, with seniors in shared rooms paying $10,646 for skilled nursing services and those in private rooms paying $14,129.
In-Home Care: $6,292
Home Health Care: $6,292
Adult Day Health Care: $2,167
Assisted Living Facility: $5,225
Nursing Home Facility (semiprivate room): $10,646
Nursing Home Facility (private room): $14,129
Financial Assistance for Assisted Living in Sacramento, CA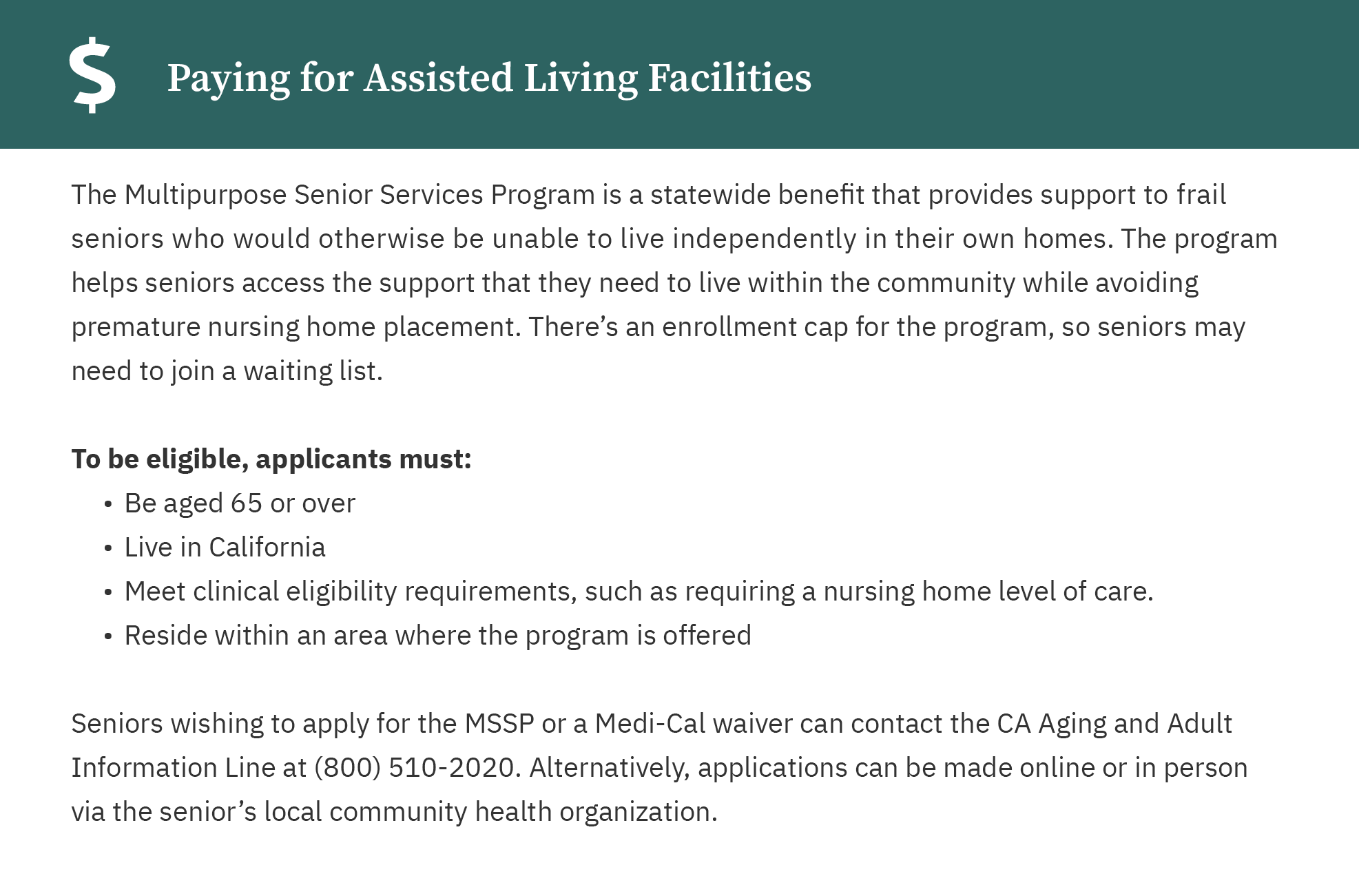 Other Ways To Pay for Assisted Living in Sacramento, CA
Since not everyone can afford to pay for assisted living out-of-pocket, it's important to find alternative methods to help make assisted living more affordable. Some of these options include:
Veterans Benefits
Life Insurance Policy
Long-Term Care Insurance
Reverse Mortgage
For additional information and planning, read our comprehensive guide to paying for senior care in California.
Free Resources for Seniors in Sacramento, CA
Numerous resources in the Sacramento region help current and prospective assisted living residents evaluate their needs and make decisions regarding current and future care. The following table highlights top agencies and programs in the community with specialized services for older adults.
| | | |
| --- | --- | --- |
| Resource | Contact | Service |
| Area Agency on Aging Area 4 | (916) 7486-1876 | Seniors in Sacramento obtain free and low-cost services through Agency on Aging Area 4, a regional nonprofit organization that administers services through funding from the Older Americans Act. This agency houses the long-term care ombudsman program for the region, which publishes information on assisted living residents' rights and works directly with older adults to ensure they obtain high-quality care. It also provides information and referral services to help older adults access community-based services, and it has health insurance options counseling that provides free advice and information on Original Medicare and private Medicare options. |
| Hart Senior Center | (916) 808-5462 | Hart Senior Center is operated by the City of Sacramento Older Adult Services division and provides lifelong learning classes, age-friendly fitness activities, social opportunities and information and referrals for community-based services. While membership is available, it's not required for attending the center or participating in classes and programs. |
| Legal Services of Northern California | (800) 434-0222 | Legal Services of Northern Carolina is a regional nonprofit organization that provides free legal assistance and advice to those aged 60 and over. Through its Sacramento office, older adults obtain public benefits counseling and application assistance, which can help them find options for covering assisted living. It also helps older adults research Medicare prescription drug coverage to find the best Part D plan for their needs. |
| Sacramento Vet Center | (916) 566-7430 | The Sacramento Vet Center provides free, confidential assistance to older veterans and their families. Its staff can help visitors connect with community-based services such as counseling, transportation and wellness services as well as assistance with applying for veterans' state and federal benefits that may help pay for long-term care costs. For those unable to attend the permanent office location, the center has a mobile vet center and satellite locations throughout the region. |
| Senior Volunteer Service | (916) 875-3631 | Seniors in Sacramento have access to an AmeriCorps Seniors program, the Foster Grandparent Program. Through this program, those aged 55 and over participate in volunteer opportunities that meet the needs of vulnerable residents in the community. In exchange, they may receive tax-free stipends, supplemental insurance and transportation reimbursement. |
Rules and Regulations for Assisted Living Facilities in Sacramento, CA
Assisted Living Communities in Sacramento are required to follow a set of rules and regulations that are determined by the state. For an overview of those rules and regulations, see the information below. For more specific information, talk with your local community or Area Agency on Aging.
The 10 Best Assisted Living Facilities in Sacramento, CA