Get Pricing & Availability for Assisted Living in Modesto, CA
Call (855) 481-6777 for immediate assistance and get more details
Page Reviewed / Updated – October 31, 2020
The 10 Best Assisted Living Facilities in Modesto, CA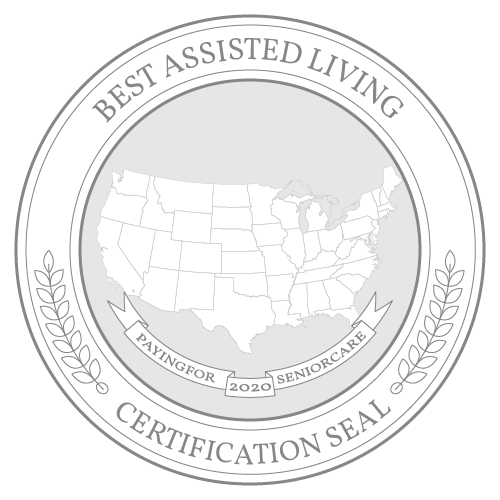 Modesto is conveniently located right in the heart of California's Central Valley. Despite its growing population, the city maintains a charming, small-town atmosphere. With its tree-lined streets, rich history and lively downtown area, Modesto is the perfect setting for seniors to enjoy a relaxing, yet vibrant retirement.
Seniors can expect warm year-round weather with about 260 days of sunshine. The area offers an abundance of outdoor recreation for active retirees, and nearby destinations such as the Stanislaus National Forest provide a perfect escape from the hustle and bustle of city life.
Seniors can enjoy a night on the town at the Modesto Symphony, Central West Ballet or Gallo Center for the Arts. The culturally rich city is full of vibrant street murals and hosts a variety of annual festivals, as well as monthly art shows featuring the work of local artists. It's also home to E&J Gallo Winery, the headquarters of the world's largest family-owned wine and spirit company.
At a cost of $4,250 per month, assisted living services are slightly more expensive in Modesto than they are in the average American city. However, it's a more affordable option than other communities in California, which cost an average of $4,500 per month. The city also has a much lower overall cost of living, which could benefit seniors on a budget.
Here's a look at the top 10 assisted living facilities in the Modesto area. Additionally, find out more about the cost of assisted living in Modesto and what financial assistance programs are available.
The Cost of Senior Living and Care in Modesto
The Genworth 2018 Cost of Care Survey shows senior care costs in Modesto at well below the state average in most categories. Compared to other metropolitan areas, assisted living is particularly affordable, at $700 less than the median. Only nursing home costs exceed the state average, and only by around $500, which is still well below the most expensive California cities.
How much does Assisted Living Cost in Modesto?
Assisted living facilities in Modesto charge an average of $3,200 per month, which is well below the state average of $4,500. Modesto is one of the least expensive areas statewide, with major cities like San Francisco and Santa Cruz topping $5,500, on average. Most cities fall between $3,500-5,500, making Modesto an affordable outlier.
How much does Home Care Cost in Modesto?
Average home health care costs are $4,957 in California, making Modesto an inexpensive option at $4,576 — nearly $400 less. While Merced is slightly less expensive at almost $100 less per month, most cities in the area average at least $200 more. Madera, Los Angeles and Sacramento all average $4,767. Santa Cruz and San Francisco are both upwards of $5,500, which makes Modesto a much more affordable option at approximately $1,000 less.
How much does Adult Day Care Cost in Modesto?
Modesto is one of the least expensive areas for adult day care services at an average of $1,517 — more than $150 lower than the state average and more affordable than neighboring cities like Stockton at $1,679 or Merced at $1,565. Some of the most expensive areas like Santa Maria and Santa Cruz are more costly per month by $541 and $292, respectively, than adult day care costs in Modesto.
How much does Nursing Home Costs in Modesto?
While Modesto is one of the most affordable areas in California for most senior care services, nursing home costs are $8,882 per month, about $500 above the California average.
In Los Angeles, nursing home care costs are $1,278 less per month than in Modesto, but Madera, a neighboring city, is even more affordable: $1,521 less per month. Santa Maria is nearly $2,000 more expensive than Modesto, but many cities in the region cost between $8,000-8,500 per month for nursing home care.
Financial Assistance Programs in Modesto
Medicaid Program in Modesto
In California, Medicaid is called Medi-Cal and includes both a full range of health services and some personal care and nursing home options. This program is designed for low-income seniors to help mitigate the rising costs of health care.
To qualify for Medicaid, seniors must meet specific income and asset guidelines. A single individual cannot have an income that exceeds $1,235. A married couple can earn as much as $1,664 per month. In addition to the income restrictions, individuals must also have $2,000 or less in countable assets, while married couples must have $3,000 or less. Some examples of exempt possessions include:
Household furnishings
Burial plots
Personal effects
Personal vehicle
House valued at equity not to exceed $858,000
These items are not included in the asset calculation.
Under Medi-Cal, the In-Home Supportive Services (IHSS) program may offer additional services for seniors. This program offers a variety of personal care options designed to allow seniors to age in place. Included are assistance with tasks like:
Bathing
Eating
Dressing
Grooming
Meal preparation
Housekeeping
Laundry
Shopping assistance
Transportation
Participants in IHSS may select a provider, allowing them to hire a family member, friend or even a spouse to fill this role. Typically, service providers are paid at a rate set by Medi-Cal which usually falls between $10.75-13.25 per hour. Total services cannot exceed $3,500 per month, though in practice benefits average $2,200 per month. Only services approved by a social worker are paid through IHSS. To qualify, seniors must have a determination regarding their Medi-Cal eligibility. They don't need to qualify for full Medi-Cal, but those that do not may have a share of the cost of services provided. To apply, contact the Stanislaus Community Services Agency through their website or call 209-558-2637.
Medicaid Waivers in Modesto
Assisted Living Waiver Program
The Assisted Living Waiver Program allows seniors who would prefer to delay nursing home admission the option to choose an assisted living facility instead. When a senior's care needs rise to the level of a nursing home but it is equally affordable to deliver those services in an assisted living facility, the ALWP may help with the cost. While this program is available to all California residents, there are no approved facilities in Stanislaus County, so seniors would need to move to Alameda, Contra Costa, Fresno, Kern, Los Angeles, Orange, Riverside, Sacramento, San Bernardino, San Diego, San Francisco, San Joaquin, San Mateo, Santa Clara, or Sonoma, where services are provided. This program does not cover room and board, which typically costs between $1,039-1,059.
To qualify, seniors must have a functional need for nursing home level assistance and meet full Medi-Cal financial eligibility requirements. Those who pay a share of the cost for services don't qualify. For more information about eligibility requirements, click here.
Multipurpose Senior Services Program
The Multipurpose Senior Services Program assists seniors who are nursing home eligible but would prefer to live at home. Under this program, seniors can receive assistance with:
Assistive technology
Adult day care
Home modifications (chair lifts, ramps, railings, etc.)
Meal delivery
Medication management
Minor home repairs
Money management
Personal care services
Personal Emergency Response System
In- and Out-of-home respite care
Transportation, both medical and non-medical
While this program is not available in all areas, Modesto residents are eligible though there may be a waiting list. The MSSP is not an entitlement program and is designed to offer services to 12,000 seniors throughout the state.
To qualify, seniors must demonstrate the functional need for these services and meet the income and asset guidelines for Medi-Cal participation. Share of cost participants can usually retain $600 per month in income for an individual and $934 for a married couple.
Home and Community-Based Alternatives Waiver
This broad program is designed to allow seniors to receive a variety of care services — including medical care — while living at home. The goal of the Home and Community-Based Alternatives Waiver is to help current nursing home or hospital residents with a transition back to their homes provided it is safe and sustainable as an option. Some of the services include:
Home health aide
Home modifications
Personal care
Medical equipment maintenance and expenses
Personal Emergency Response System installation and service fees
Respite care
Skilled nursing services
This waiver program is not an entitlement program and there may be waiting lists. Enrollment caps currently fall between 5,500-8,974.
To qualify, seniors must need a nursing home level of care, and those already in a residential facility receive priority placement on the waiting list. Seniors must also meet the Medi-Cal income and asset limits for enrollment. For more information about this program, click here.
Community-Based Adult Services
Seniors with severe cognitive impairment may qualify for the Community-Based Adult Services program. Under this program, seniors receive services at an approved facility each day. There are 250 licensed adult care centers available to choose from throughout the state. Some services may include skilled nursing care, meal assistance, social activities, therapy, and other services you might expect from an adult day care provider.Eligible participants must meet the income and asset guidelines for Medi-Cal and have a diagnosed and severe cognitive impairment. Those in the early stages of dementia or Alzheimer's may not immediately qualify for CBAS services. A senior must need help with at least two ADLs. For more information about CBAS, click here.
Other Financial Assistance Programs in Modesto
California Paid Family Leave Act
Caregivers in Modesto have some financial assistance available when they need to take unpaid time off from work to care for a family member. Under the California Paid Family Leave act, resident caregivers may take up to six weeks of paid time off per year, with a maximum benefit of $1,252 per month or up to 70% of paid wages, whichever is less. To obtain this benefit, the caregiver must work for an employer that participates in State Disability Insurance. The family member that needs care must be seriously ill or injured and must be an immediate family member. Recipients may be asked to provide medical documentation for the injury or illness. It is important to note that employers are not required to hold the position open if an employee needs substantial time off under the California Paid Family Leave Act. For more information, click here.
More Senior Living Resources in Modesto
Resource

Phone Number

Description

Downey Terrace
(209) 557-2000
This 11-unit senior community offers low-cost housing for seniors aged 62 and over. Rent is typically $520 per month and Section 8 is accepted.
Tower Park
(925) 924-7100
This 49-unit senior housing complex offers affordable housing to those who meet the income limits. Rent is typically between $265-586 with a maximum occupancy of two people per unit. There may be a waiting list for available units.
Relief for Energy Assistance through Community Help (REACH)
(800) 933-9677
The REACH program offers one-time assistance in paying past due energy bills. The total grant amount is not to exceed $300 and most applicants can only apply once every 18 months. This program is designed to assist with temporary emergencies that may impact a senior's ability to pay energy bills.
Low-Income Home Energy Assistance Program
(209) 338-0004
Low-income residents in Modesto may qualify for an annual payment made to utility providers. Payment amounts vary, and seniors must earn no more than 130% of the Federal Poverty Level to qualify. Water and trash bill discounts may also be available.
For additional information and planning, please read our comprehensive guide to paying for senior care in California.