Get Pricing & Availability for Assisted Living in Bakersfield, CA
Call (855) 481-6777 for immediate assistance and get more details
Page Reviewed / Updated – July 6 , 2022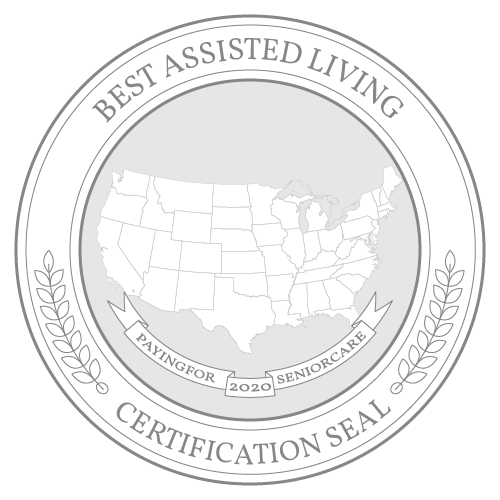 While the cost of living in Bakersfield is 2.6% higher than the U.S. average, it's 47.3% lower than California's state average. Seniors can expect to pay 3.6% less than other cities in the state for health care and 11.2% less than the national median. Assisted living costs approximately $3,750 per month, which is slightly less than the national average but considerably less than the state average.
Seniors may appreciate California's retiree-friendly tax policies. Although the Golden State has the highest income tax rate in the nation at 13.3%, this rate is reserved for millionaires. Rates for low- and middle-income Californians are much lower. Most forms of retirement income may be taxable, but Social Security income isn't. While sales taxes are high, property taxes are low. Overall California is a fairly tax-friendly state for retirees.
This guide contains information regarding the costs and how to pay for assisted living. It also lists available resources that help seniors.
The Cost of Assisted Living in Bakersfield, CA
According to the 2021 Genworth Cost of Care Survey, assisted living in Bakersfield costs an average of $3,750 per month. Bakersfield is $1,500 less than the state average of $5,250 per month and $750 below the national monthly median of $4,500. The average cost in Los Angeles is the same as California's monthly rate of $5,250. In Santa Maria, the average cost is $5,300 per month and in Santa Cruz, it's $5,550. San Francisco seniors can expect to pay around $6,319 monthly, making it one of the state's most expensive cities. Bakersfield is one of the most budget-friendly cities in California.
Bakersfield: $3,750
California: $5,250
United States: $4,500
Los Angeles: $5,250
Santa Maria: $5,300
Santa Cruz: $5,550
San Francisco: $6,319
The Cost of Other Types of Care in Bakersfield, CA
Seniors in Bakersfield have other long-term care options. In-home care services cost around $5,506 per month. Older adults who also require medical care have the option of home health care services, which also costs $5,506 monthly. The price for adult day health care is not available for Bakersfield. Seniors who need nursing care will pay approximately $9,155 per month for a semiprivate room and $10,433 monthly for a private room. Nursing home facilities are the most expensive option, while assisted facilities are the most affordable choice.
In-Home Care: $5,506
Home Health Care: $5,506
Adult Day Health Care: N/A
Assisted Living Facility: $3,750
Nursing Home Facility (semiprivate room): $9,155
Nursing Home Facility (private room): $10,433
Financial Assistance for Assisted Living in Bakersfield, CA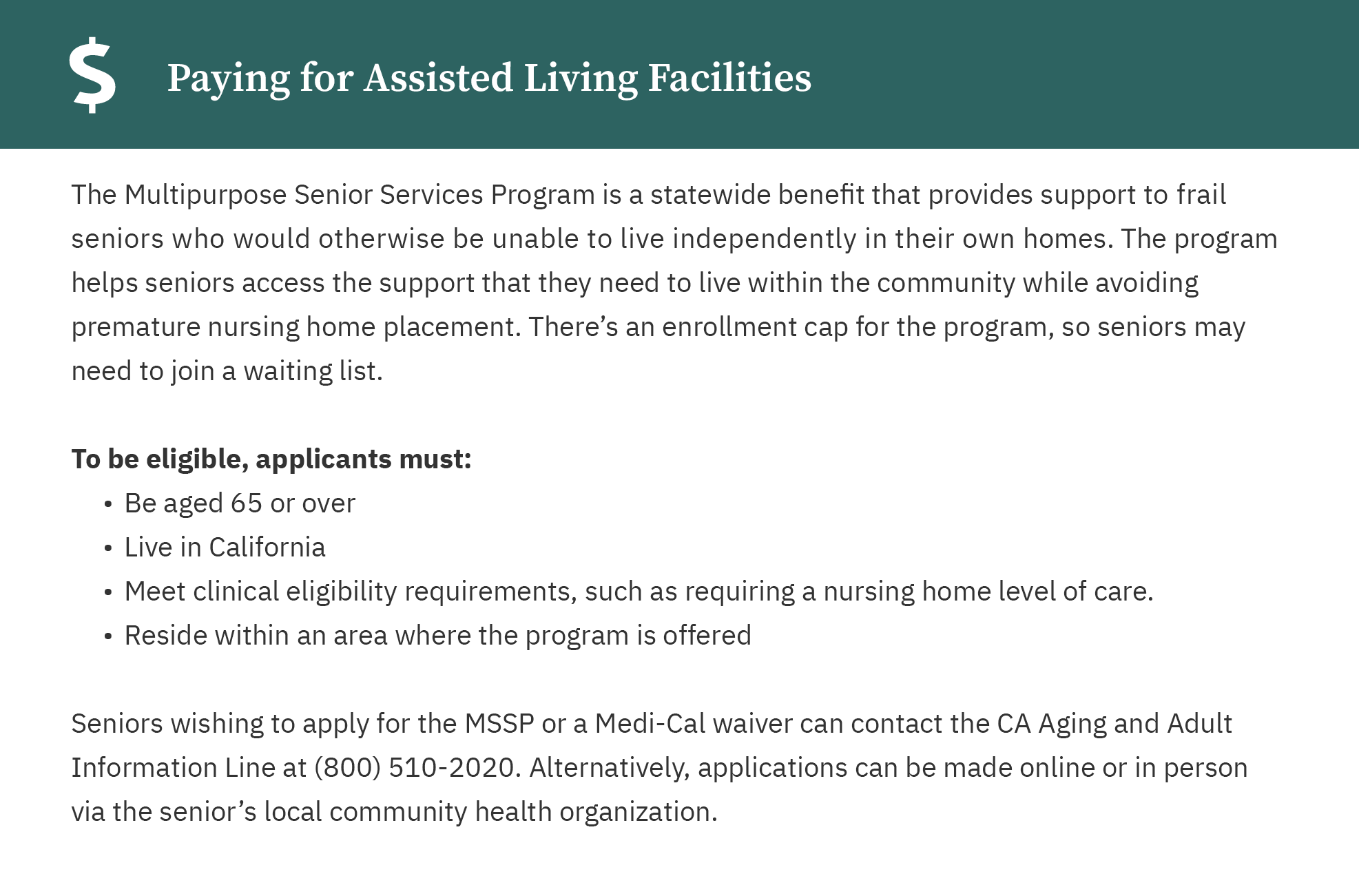 Other Ways To Pay for Assisted Living in Bakersfield, CA
Since not everyone can afford to pay for assisted living out-of-pocket, it's important to find alternative methods to help make assisted living more affordable. Some of these options include:
Veterans Benefits
Life Insurance Policy
Long-Term Care Insurance
Reverse Mortgage
For additional information and planning, read our comprehensive guide to paying for senior care in California.
Free Resources for Seniors in Bakersfield, CA
Bakersfield seniors living in or considering moving into an assisted living community have access to a variety of programs to help them save money. Local government agencies and nonprofit organizations offer free resources and financial assistance programs.
| | | |
| --- | --- | --- |
| Resource | Contact | Service |
| Area Agency on Aging | (800) 510-2020 | The California Department of Aging provides information and a variety of services to seniors 60 years of age and older. Services include access to free legal assistance, help with applying for Medi-Cal (California's Medicaid program), transportation to and from appointments and access to community-based services. Counselors can evaluate senior care needs and offer available options and referrals. They can also determine eligibility for public benefits that may help pay for long-term care costs. |
| Long-Term Care Ombudsman | (800) 231-4024 | The Long-Term Care Ombudsman advocates on behalf of seniors in long-term care facilities to enhance their quality of life. The program helps seniors understand their rights and ensures services are rendered according to their care plans. The ombudsman also reviews and investigates complaints of abuse, neglect or exploitation of seniors in assisted living facilities. |
| California Department of Veterans Affairs | (800) 952-5626 | The California Department of Veterans Affairs helps veterans access survivor pension programs and benefits, as well as the VA Aid and Attendance program. It can also help them access available state health care benefits and provide advocacy and assistance through the County Veteran Service Offices. |
| Greater Bakersfield Legal Assistance, Inc. | (661) 325-5943 | The Greater Bakersfield Legal Assistance, Inc. (GBLA), is a nonprofit legal services agency located in Bakersfield. GBLA provides free legal services to seniors in Kern County. Services include probate and estate planning, care planning and advance directives. |
Rules and Regulations for Assisted Living Facilities in Bakersfield, CA
Assisted Living Communities in Bakersfield are required to follow a set of rules and regulations that are determined by the state. For an overview of those rules and regulations, see the information below. For more specific information, talk with your local community or Area Agency on Aging.
The 10 Best Assisted Living Facilities in Bakersfield, CA