Get Pricing & Availability for Assisted Living in Palm Coast, FL
Call (855) 481-6777 for immediate assistance and get more details
Page Reviewed / Updated – October 26, 2020
The 10 Best Assisted Living Facilities in Palm Coast, FL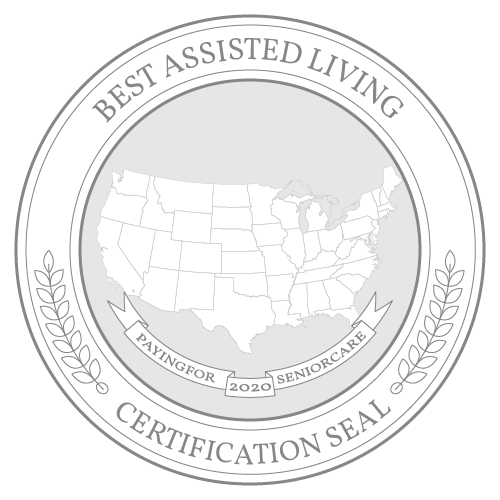 Palm Coast, Florida, is a nature enthusiast's dream, with its more than 70 miles of freshwater and saltwater canals and close proximity to the Intracoastal Waterway. It offers active seniors access to over 125 miles of trails and walking paths along with plenty of boating and fishing spots. In addition, the city is home to some of the best golf courses in the world.
Palm Coast is growing at a fast rate and currently has over 77,000 residents, 23% of whom are aged 65 and older. Current projections expect the population of the city to double by 2035 due to its low cost of living and amiable climate. In fact, the cost of living in the Palm Coast is 3.6% lower than the national average, making it an excellent choice for seniors on a budget.
Note: Information for Palm Coast wasn't available, so data for the nearest city, Deltona, was used instead.
Take a look at our top 10 list of assisted living facilities in Palm Coast to see if one is the perfect fit for you. Additionally, find out more about the cost of assisted living in Palm Coast and what financial assistance programs are available.
The Cost of Senior Living and Care in Palm Coast
In Palm Coast, senior care costs hover right around the Florida median. According to Genworth's 2018 Cost of Care Survey, monthly assisted living costs in Palm Coast are $350 more than the state average, whereas nursing home care costs are around $200 less than the Florida median. Adult day care, assisted living and home care costs are all less than the national median.
Note: Senior care cost data wasn't available for Palm Coast, so the data for the closest major area, Deltona, will be used throughout this guide.
How much does Assisted Living Cost in Palm Coast?
Seniors in Palm Coast pay an average of $3,850 per month for assisted living costs, or $350 more than the state median. Most Florida cities – such as Miami, Tampa and nearby Orlando – have assisted living costs that fall a few hundred dollars below the Florida average. Prices even drop to $2,808 per month in Lakeland.
The most expensive assisted living care costs in Florida can be found in Naples, where monthly fees accrue to over $5,400.

How much does Home Care Cost in Palm Coast?
Home care costs in Palm Coast average $3,909 per month, falling somewhere in the middle of average costs for large metropolitan areas within Florida. This number assumes a 44-hour work week of services.
The cheapest cities surveyed by the Genworth team include Lakeland and Miami, whereas nearby Orlando and Punta Gorda have prices above the $4,000 per month mark. Seniors who choose home care services in Tampa will pay around $100 more than the Florida median.

How much does Adult Day Care Cost in Palm Coast?
At $1,463 per month, Palm Coast's adult day care costs are exactly in line with the state median. Responses from the Genworth survey indicate that prices for adult day care fall below $1,300 in Tallahassee, but rise above $2,000 in Jacksonville.
Palm Coast's neighbor has cheaper prices for this type of senior care. With monthly fees of $1,300, Orlando has one most affordable price points in the state
How much does Nursing Home Costs in Palm Coast?
Palm Coast's nursing home care costs are one of the most economical in the state. Monthly services accumulate to $7,984 for a semi-private room, just under the $8,000 mark where most cities, such as neighboring Orlando and The Villages, throughout Florida fall.
If seniors are looking for an even more budget-friendly price for nursing home care, Panama City might be a good option, with fees at $7,452 per month. On the other end of the spectrum, the most costly nursing home services are in Naples. The prices in this area are more than $2,300 higher than in Palm Coast.

Financial Assistance Programs in Palm Coast
Medicaid Program in Palm Coast
Palm Coast seniors seeking care in Florida can apply to the state's Medicaid program, the Statewide Medicaid Managed Care program (SMMC). This system of care replaced all previous HCBS (Home and Community Based Services) Medicaid Waivers. There are three primary programs within SMMC:
The Managed Medical Assistance (MMA) program offers senior residents of Palm Coast services such as hospital care, prescribed drugs, mental health care and doctor visits with transportation.


The Long-term Care (LTC) program provides seniors with either home care or facility care, including assisted living or nursing home care programs.
The Dental Program regulates all Medicaid dental services available to seniors.
Palm Coast residents in need of long-term care should apply for the LTC program, especially those seeking to move into a nursing home. However, because there is limited funding for the LTC program, seniors residing in an assisted living facility or at home who apply for the LTC portion might be placed on a waitlist.
Qualifying applicants of the SMMC program must meet the following requirements:
Be a legal Florida resident
Be either a minimum of 65 years of age or at least 18 if designated as disabled or blind by the Social Security Administration
Be assessed as needing nursing facility level of care
Meet the financial requirements for Florida Medicaid – $2,313 per month for single citizens and $4,626 per month for couples, in addition to the respective asset limitations
Seniors in Palm Coast who do not live in a nursing home can find the application for the SMMC program by calling ElderSource, the agency responsible for SMMC applications in Northeast Florida. Another option for interested applicants is to call the Elder Helpline at (800) 262-2243 and request an interview for the home and community-based services provided by SMMC. This screening will assess the individual senior's needs based on basic demographic information, income and total assets. Our SMMC guide provides more detailed information on the SMMC program, its application process and its requirements.

Other Financial Assistance Programs in Palm Coast
Alzheimer's Disease Initiative (ADI)
Seniors residing in Palm Coast who have been diagnosed with Alzheimer's or another form of dementia may benefit from the Alzheimer's Disease Initiative (ADI) program. This program provides medical services to those with memory conditions through various Memory Disorder Clinics (MDCs) within Florida. Benefits and services may include:
Memory condition treatment
Physician referrals
Diagnostic testing
Disease screenings
Additionally, the ADI program provides funds to supplement research into memory disorders and create and update policy surrounding Alzheimer's. The ADI program funds also respite care to enable caretakers to have a break from caring for a Palm Coast senior with a memory disorder. The four types of care include:
In-home
Facility-based, such as adult day care center care
Emergency
Extended respite care for up to 30 days
Palm Coast seniors may wish to be aware that though there are no income limits to be eligible for ADI services, individual income can change an applicant's placement on the waitlist. For additional information about this program, see our ADI guide.
Community Care for the Elderly (CCE)
Florida's Department of Elder Affairs regulates the Community Care for the Elderly (CCE) program throughout the state and in Palm Coast. This program is designed to help seniors who require extra medical or personal assistance but do not qualify for Medicaid to access much-needed services and aid. The goal of the CCE program is to allow senior citizens of Palm Coast to continue living in their own home or community rather than be placed in institutionalized care. Some of the CCE benefits include:
Adult day care
Case management
Home-delivered meals
Personal care
Transportation
Medication management
Though there are no income restrictions for the CCE program, interested seniors must be at least 60 years old and necessitate assistance with Activities of Daily Living. Participants are required to pay a co-pay for services which is determined by a sliding scale fee model. Palm Coast residents can contact the local Area Agency on Aging (ElderSource) to apply. Other information about the CCE program can be found by reading our in-depth guide about this resource.
Home Care for the Elderly (HCE)
For Palm Coast seniors who choose to continue living at home or in a similar home-like setting, the Home Care for the Elderly (HCE) program can be beneficial. This program provides two types of subsidies to support seniors aged 60 and above or who remain living at home:
First, a basic subsidy which can be used to pay for the senior's clothing, food, housing and some medical costs
Second, a special subsidy which can be used to pay for necessary medical items or services
To qualify for HCE, Palm Coast seniors must be deemed at risk for nursing home placement and maintain a live-in adult caretaker who can both provide for the senior and make extra care arrangements if necessary. Financially, a senior must meet the Medicaid income restrictions for Florida: an income less than $2,313 per month with less than $2,000 in assets for single applicants, or, if married, less than $4,246 per month with less than $3,000.
Applications for this program are managed by the local Area Agency on Aging, ElderSource. Palm Coast seniors who qualify might wish to note that limited funding could result in being waitlisted. See our HCE guide for more about this program's benefits and application process.
Optional State Supplementation (OSS)
The Optional State Supplementation (OSS) program provides payments to supplement a Palm Coast senior's regular income. To qualify, an applicant must be at least 65 years of age or older and necessitate a nursing facility level of care.
The OSS payments vary and are determined by each senior's income and the current OSS standard cost of care in the facility where the individual lives:
A monthly income cap of $828.40 for individuals in family care homes or assisted living
A monthly income cap of $1,656.80 for couples in family care homes or assisted living
A monthly income cap of $935.00 for individuals in a mental health facility
A monthly income cap of $1,870.00 for couples in a mental health facility
Additional limits may apply for assets and other resources. The OSS payments are made directly to the approved applicant and can be used to pay for room and board.
Interested seniors can apply for the OSS program online at the Florida Department of Children and Families website or by visiting the local office. Those who choose to apply must fill out an application in the month seniors wish to obtain the payment; OSS payments cannot be used retroactively. Please read our OSS guide to address any further questions.

More Senior Living Resources in Palm Coast
| | | |
| --- | --- | --- |
| Resource | Phone Number | Description |
| Flagler County Housing Authority | (386) 437-3221 | The Flagler County Housing Authority regulates the Housing Choice Voucher Program (Section 8) to provide housing to low-income and disabled seniors. |
| Palm Coast Housing Authority | (386) 986-2360 | The Palm Coast Housing Authority provides various housing programs to aid low-income Palm Coast seniors in finding affordable housing. |
| Palm Coast Landing Apartments | (866) 683-6695 | Palm Coast Landing is an affordable, senior living community for residents aged 62 and older. This apartment building complex is located near the Flagler County Airport and Central Park. Seniors can choose from one-bedroom, two-bedroom and two-bedroom apartments with a den. |
| Flagler County Senior Services | (386) 586-2324 | The Flagler County Senior Services provides low-income seniors with utilities assistance through the Emergency Home Energy Assistance Program (EHEAP) program. To qualify, seniors aged 60 and up must have either a pending or actual shut-off and/or a notice of delinquent or past due bills. Additionally, the household should have other issues with lack of energy. Water shutoffs are not addressed through this program. |
| George Wickline Senior Center | (386) 517-2435 | The George Wickline Senior Center provides free noonday meals and transportation to and from the center for Palm Coast residents who are at least 60 years of age. Meal reservations must be made by at least 11:00 am the desired day. |
For additional information and planning, please read our comprehensive guide to paying for senior care in Florida.