Get Pricing & Availability for Assisted Living in Palm Bay, FL
Call (855) 481-6777 for immediate assistance and get more details
Page Reviewed / Updated – October 20, 2020
The 10 Best Assisted Living Facilities in Palm Bay, FL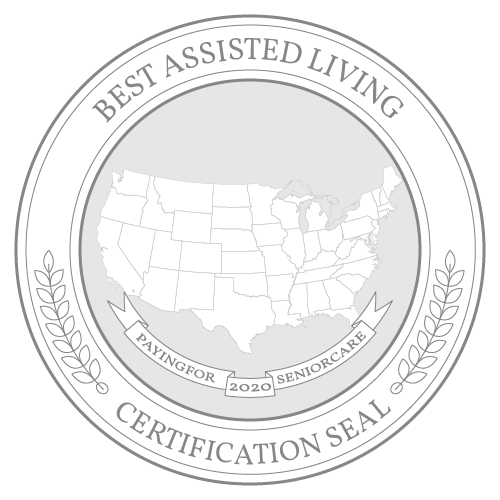 Palm Bay is a thriving retirement destination located in the heart of Florida's Space Coast. This midsize city is home to approximately 115,500 residents, and seniors represent more than 18% of the population, which is slightly higher than the national average. The community receives excellent marks for its idyllic climate, diversity, housing and family-friendly amenities. Residents also enjoy a moderate cost of living and plentiful outdoor activities.
With more than 30 parks and wildlife areas, this coastal community is a nature lover's paradise. Residents can get in touch with the city's wild side at the Turkey Creek Sanctuary, reel in a big one at Castaways Point Park or explore one of the city's hiking and biking trails. Other nearby attractions include Paradise Beach, the Arnold Palmer-designed Majors Golf Course and the 100-acre Hammock Landing shopping mall.
Residents who are considering assisted living will learn about 10 of the area's best communities in this guide. Additionally, find out more about the cost of assisted living in Palm Bay and what financial assistance programs are available.
The Cost of Senior Living and Care in Palm Bay
Senior living costs extend beyond just room and board with the inclusion of home health services, assisted living, adult day care or nursing home care. In Palm Bay, the costs for these services are near the state median, according to the 2018 Genworth Cost of Care Survey. Home health care is almost exactly the same with a monthly average of just $9 more. However, assisted living and nursing home care services both cost over $200 more per month than the state median.
How much does Assisted Living Cost in Palm Bay?
In Palm Bay, average monthly assisted living costs are $3,750, which is a bit higher than the state median. This puts Palm Bay solidly in the middle of the state's price range. Assisted living costs in Palm Bay are less expensive than they are in areas like Tallahassee, which averages $4,339 per month. Jacksonville is the most expensive area at $4,425 per month — $675 more per month than the average in Palm Bay.
Seniors looking for a middle-of-the-road option for assisted living can find areas where costs are lower than in Palm Bay. For example, in Tampa, assisted living averages $3,250 per month, $500 per month less than the Palm Bay average. In general, the range of prices for assisted living in Florida is between $3,200-$4,500.

How much does Home Care Cost in Palm Bay?
Home health care services, which may include skilled nursing care, cost an average of $3,804 statewide, which is nearly the same as in Palm Bay.
Orlando and Tallahassee have some of the most expensive areas for home health services at $4,004 each, about $200 more than the cost in Palm Bay. However, a drive to Miami might lower the cost for seniors since the average there is nearly $500 per month cheaper than in Palm Bay.

How much does Adult Day Care Cost in Palm Bay?
Adult day care costs vary dramatically based on region, though Palm Bay's monthly average of $1,408 is on the lower end, $55 less than the state average.
Cities like Tallahassee and Gainesville are more affordable than Palm Bay with average monthly rates that range from $1,246 to $1,387, but Jacksonville and Tampa average between $500 to $600 more than Palm Bay for adult day care services.

How much does Nursing Home Costs in Palm Bay?
Monthly nursing home care in the Palm Bay area is $8,365 per month, which is $213 more than the Florida average. Areas like Orlando and Tampa have costs similar to Palm Bay, ranging between $8,100 and $8,600 per month, while Miami's monthly nursing home costs average about $325 more than Palm Bay's.
Other cities in the state offer more affordable options, like in Jacksonville where the average is just $7,118 per month — more than $1,200 less than Palm Bay's monthly average.

Financial Assistance Programs in Palm Bay
Medicaid Program in Palm Bay
In Palm Bay, low-income seniors and disabled individuals may qualify for Medicaid, a state-run health insurance option that covers most out-of-pocket expenses related to health coverage. The program includes a wide variety of benefits, all designed to assist seniors with aging in place and avoiding nursing home placements.
Under Statewide Managed Medicaid Care Long Term Care (SMMC-LTC), seniors have access to an array of services including:
Personal care assistance
Prepared meal delivery
Respite care
Home modifications
Attendant nursing care
There are even self-directed care options that allow seniors to hire, train and manage their caregiver as a direct employee. This allows seniors to hire friends, adult children or even spouse as part of their support team.
To qualify, Palm Bay Medicaid looks at income and existing assets to determine eligibility. The maximum allowed income is 300% of the Federal Benefit Rate for the year. In 2019, that means an eligible applicant has a monthly income of no more than $2,313 per month, for an individual. Married couples may have an income of no more than $4,626. Assets, excluding a personal vehicle and home valued at up to $585,000, may be no more than $2,000 for a single applicant and $3,000 for a couple. If only one person needs Medicaid, a spouse may hold assets of as much as $126,420.
If a senior's income is over these limits, it may still be possible to qualify. Some financial accounts are not considered during financial eligibility calculations, and it may be possible to allocate some assets into financial trusts. Just be aware that Medicaid can institute a 5-year look back on all asset transfers to ensure that none were given away or sold at less than fair market value to meet the published limitations.
To qualify for the SMMC-LTC program, seniors must also have a demonstrated need for nursing home level care. Nursing home-level care does not mean that a senior requires round the clock skilled nursing. It does mean that an in-person assessment reveals the need for assistance with at least two activities of daily living. This could mean help getting dressed, mobility challenges, or inability to prepare a meal without help. For more information about this program, click here.

Other Financial Assistance Programs in Palm Bay
Optional State Supplement
The OSS benefit in Palm Bay is available to qualified applicants who live in a participating residential long-term care facility and meet the income restrictions. Many programs through Medicaid only pay for health-related services, and OSS is designed to help bridge the gap by offering financial grants to help pay for room and board. The maximum benefit under OSS is $78.33 per month.
Eligible seniors are already receiving Supplemental Security Income and possess no more than $2,000 in countable assets. For more information or to apply, seniors can visit the ACCESS Florida website or call 1-866-762-2237.
Project R.E.L.I.E.F.
Respite for Elders Living in Everyday Families is a program that offers free respite care. This care is provided in-home, which makes it particularly helpful for those seniors that have severe mobility challenges. It is specifically designed to allow caregivers a night off or time to run errands. Seniors not receiving other long-term care services who are at least 60 years old may qualify.
This program is intended to assist in situations where respite care is unaffordable and a senior may be at risk for nursing home placement. Each local Area Agency on Aging has regional eligibility requirements. To apply or get more information about Palm Bay options, contact the Senior Resource Alliance in Orlando on their website or call 407-514-1800.
Alzheimer's Disease Initiative
The Alzheimer's Disease Initiative offers a range of support services for patients and their caregivers that make it possible for them to stay in-home for as long as possible. This can include extended out-of-home respite care for up to 30 days. While there are no income limits for this program, waitlist position is determined by need, so lower-income families receive services first. For more information about this program, click here.
Community Care for the Elderly
Individuals who do not qualify for Medicaid but who are at risk for nursing home placement may qualify for assistance under the Community Care for the Elderly Program. This program offers financial assistance with adult day care services, personal care, medical supplies, non-medical transportation and other direct services that help with aging in place. While there are no upper income limits, those who qualify for Medicaid do not qualify for Community Care for the Elderly. Services are provided with a sliding scale co-pay that typically costs between 1-3% of a senior's income. For more information about this program, click here.
Home Care for the Elderly
Most senior services are designed to support the elderly, but Home Care for the Elderly is focused on supporting caregivers. This program offers financial assistance to caregivers to help pay for costs like food, clothing, housing, and medical services for the senior under their care. Seniors who receive benefits from Supplemental Security Income (SSI), Qualified Medicare Beneficiary (QMB) or Specified Low-income Medicare Beneficiary (SLMB) automatically qualify. Outside of these categories, all Medicaid eligible seniors may apply. To learn more about this program, click here.

More Senior Living Resources in Palm Bay
Resource
Phone Number
Description
Malabar Cove Apartments
(877) 203-2493
This apartment complex offers low-cost housing for seniors that qualify under the income guidelines. Maximum allowable household income is $27,720 per year for an individual. There may be waiting lists to qualify.
Southlake Towers Senior Apartments
(321) 725-2386
This 85-unit apartment complex offers seniors rent-controlled housing options for those who qualify. This is a HUD-housing complex where residents typically pay no more than 30% of their income in rental fees.
Housing Authority of Brevard County
(321) 775-1592
The Housing Authority of Brevard County administers programs like Section
8 vouchers and public housing options. Those who qualify for assistance may be placed on a waiting list pending availability of housing for reduced, low, or no-cost housing.
For additional information and planning, please read our comprehensive guide to paying for senior care in Florida.