Get Pricing & Availability for Assisted Living in Allen, TX
Call (855) 481-6777 for immediate assistance and get more details
Page Reviewed / Updated – July 6, 2022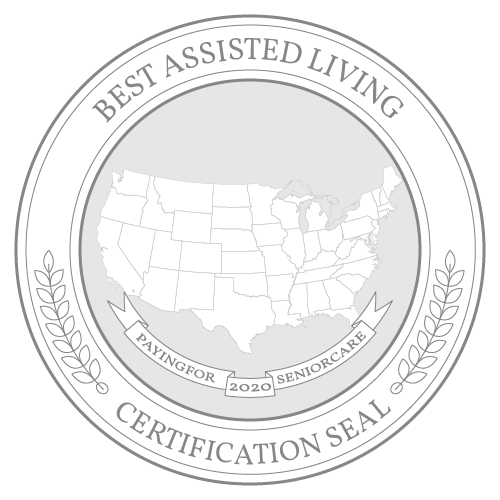 Allen is an affluent city in the Dallas metro conveniently located near major roadways and top medical centers such as Texas Health Presbyterian Hospital Allen. Health care costs come in about 3% below the national median, which can help those with chronic health conditions afford care. The city's overall cost of living is about 8% higher than the national median and 14% higher than that of the typical Texas city.
However, assisted living costs are several hundred dollars below the national median at $4,195 per month, and seniors have access to programs such as the STAR+PLUS Waiver to help them afford care.
In this guide, readers find more information on what assisted living residents in Allen pay for services, as well as an overview of the state-mandated rules facilities follow and a list of the top assisted living options in Allen. The guide also highlights free and low-cost resources that help older adults obtain affordable long-term care.
The Cost of Assisted Living in Allen, TX
Assisted living facilities in Allen charge $4,195 per month for services, according to the 2021 Genworth Cost of Care Survey. While this is a little higher than the state average of $3,998, local rates are competitive compared to the national median of $4,500.
Obtaining residential care in Allen is an affordable alternative to care in Killeen, where assisted living facilities charge $4,217 per month. In Midland, monthly rates are even higher at $4,789. El Paso's rates are competitive, coming in below Allen's median at $3,750. Texarkana is one of the cheapest cities in Texas to obtain care, with assisted living fees averaging $2,770 per month.
Allen: $4,195
Texas: $3,998
United States: $4,500
Killeen: $4,217
Texarkana: $2,770
Midland: $4,789
El Paso: $3,750
The Cost of Other Types of Care in Allen, TX
Allen seniors have a range of affordable care options, the cheapest of which is adult day health care at $1,517 per month. Assisted living is costlier at $4,195 but may be more economical for older adults who'd otherwise pay for housing and food. Seniors who obtain home-based care pay $4,862 for in-home care or home health care. Nursing homes in Allen charge $5,627 for semiprivate rooms and $8,460 for private accommodations.
In-Home Care: $4,862
Home Health Care: $4,862
Adult Day Health Care: $1,517
Assisted Living Facility: $4,195
Nursing Home Facility (semiprivate room): $5,627
Nursing Home Facility (private room): $8,460
Note: Data for Allen was unavailable, so data for the nearest city, Dallas, was used instead.
Financial Assistance for Assisted Living in San Antonio, TX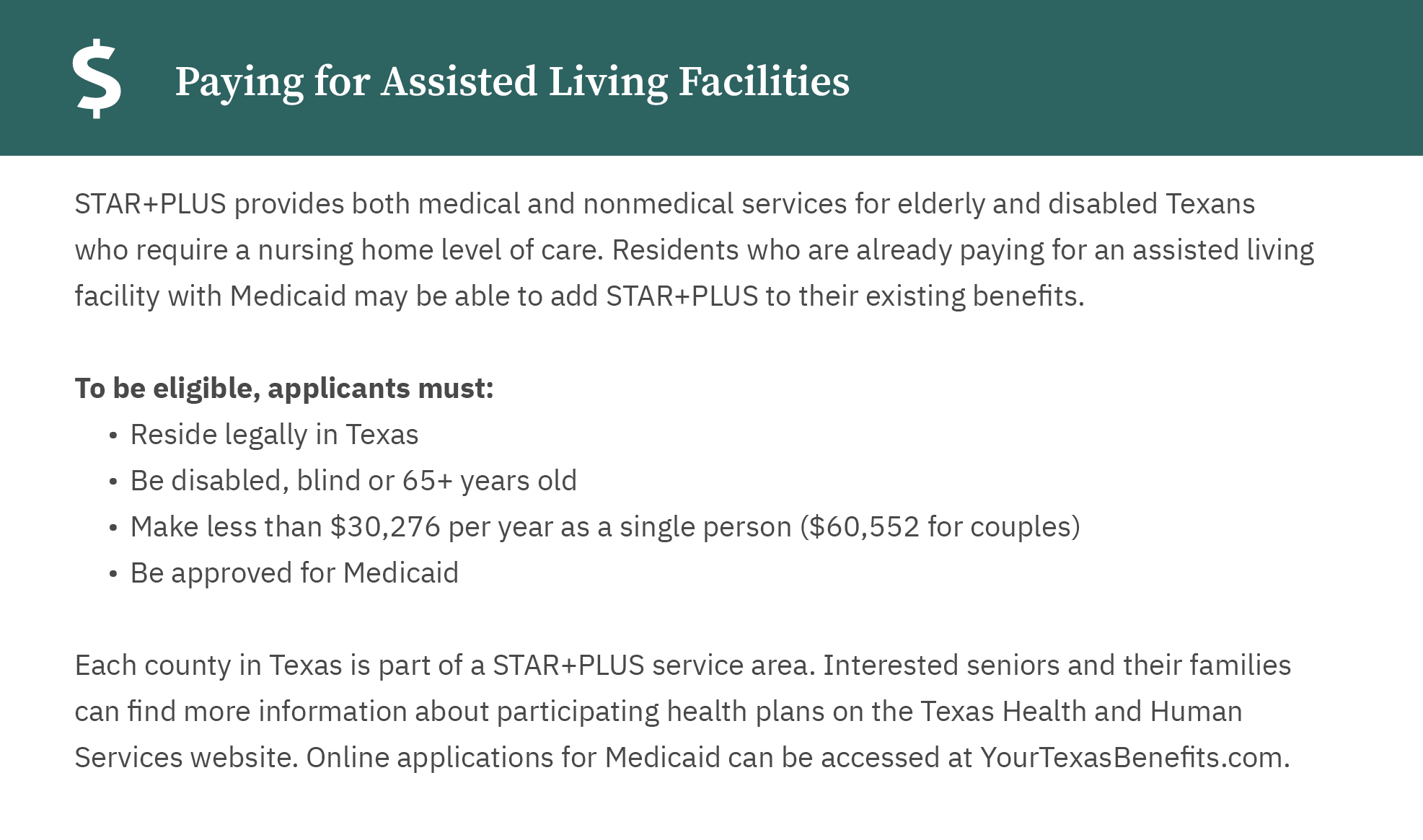 Other Ways To Pay for Assisted Living in Allen, TX
Since not everyone can afford to pay for assisted living out-of-pocket, it's important to find alternative methods to help make assisted living more affordable. Some of these options include:
Veterans Benefits
Life Insurance Policy
Long-Term Care Insurance
Reverse Mortgage
For additional information and planning, read our comprehensive guide to paying for senior care in Texas.
Free Resources for Seniors in San Antonio, TX
Seniors seeking assisted living in San Antonio get personalized advice and assistance from numerous nonprofit agencies and programs. This table provides details on local resources for older residents to help them find affordable community-based services, benefits screenings and options counseling.
| | | |
| --- | --- | --- |
| Resource | Contact | Service |
| North Central Texas Area Agency on Aging | (800) 272-3921 | The North Central Texas Area Agency on Aging has information and referral specialists who help older adults find low-cost and free services in the community such as transportation, congregate meals and wellness services. The agency also houses the region's long-term care ombudsman program, which helps older adults research local assisted living options and ways to pay for services and learn how to report substandard care. |
| Veteran Services | (972) 881-3060 | The local Veteran Services office has advisers who screen individuals for eligibility for veterans' home placement, which is generally more affordable than private assisted living services. The office can also connect veterans and their families with services in the community, such as options counseling, transportation and wellness services, and they can assist with applications for pension benefits, Aid and Attendance and disability compensation. |
| Allen Senior Recreation Center | (214) 509-4820 | The Allen Senior Recreation Center has free and low-cost programs, classes and activities for area residents aged 50 and over, as well as low-cost daily noontime meals on weekdays and transportation services to and from the center. The center also has amenities such as ping-pong tables, computers and a library. |
| Collin County Rides | (214) 828-6717 | Adults aged 65 and over obtain low-cost transportation through Collin County Rides. The program operates 7 days per week during normal business hours and has a large service area that encompasses all of Collin County. Fees are calculated when the trip is scheduled, and there's a $2 fee for each additional passenger or personal care attendant. |
| Legal Aid of NorthWest Texas | (214) 748-1234 | Legal Aid of NorthWest Texas serves residents in the Allen region through advocacy and civil legal assistance and advice. Its licensed legal professionals can help older adults apply for public benefits that may help cover assisted living services and resolve issues such as overpayment or denied claims. |
Rules and Regulations for Assisted Living Facilities in Allen, TX
Assisted Living Communities in Allen are required to follow a set of rules and regulations that are determined by the state. For an overview of those rules and regulations, see the information below. For more specific information, talk with your local community or Area Agency on Aging.
The 10 Best Assisted Living Facilities in Allen, TX