Get Pricing & Availability for Assisted Living in Katy, TX
Call (855) 481-6777 for immediate assistance and get more details
Page Reviewed / Updated – October 27, 2020
The 10 Best Assisted Living Facilities in Katy, TX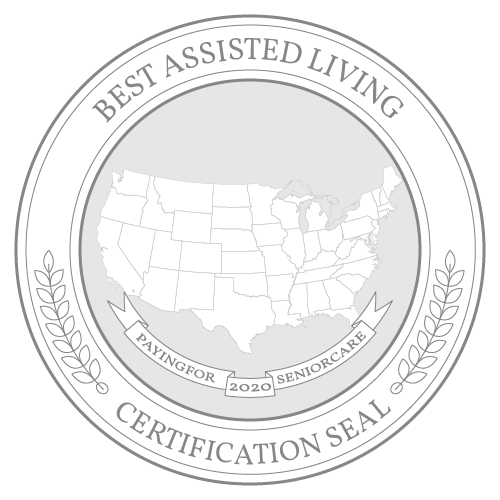 Located 30 miles west of Houston along the Interstate 10 corridor, Katy, Texas, is a historic railroad town and strategically positioned suburb that's poised for steady growth. Today, the community has more than 21,000 residents, and senior citizens represent about 13% of the population. As part of the greater Houston metropolitan area, residents enjoy convenient transportation access and a rich array of urban amenities.
The city is home to several large-scale recreation areas, including Mary Jo Peckham Park, which features a fishing pond, an indoor aquatic center and walking trails. According to SmartAsset, Katy is one of the state's top retirement destinations, and it ranks as one of the top 20 retirement-friendly cities in the United States since residents enjoy a good financial outlook and reasonable cost of living.
Note: Information for Katy was not available, so data from the nearest city, Houston, was used.
Seniors who want to learn more about their options will find information about 10 of Katy's best assisted living facilities in this guide. Additionally, find out more about the cost of assisted living in Katy and what financial assistance programs are available.
The Cost of Senior Living and Care in Katy
The cost of senior living in Katy tends to be somewhat higher than equivalent costs across the rest of Texas. According to the 2018 Genworth Cost of Care Survey, seniors in Katy pay an average of 10 to 40% more for each level of care than the state average.
How much does Assisted Living Cost in Katy?
Texas is a large state, one with a diverse mix of heavily urbanized and sparsely populated areas, and the cost of care varies a lot between the different population centers. Across all surveyed cities, the average cost for assisted living in Texas is $3,795 a month, while seniors in Katy can expect to pay $3,863. Among Texas cities, Abilene comes closest to this average, at $3,868 a month for the same level of care.
Assisted living in several Texas cities is somewhat more expensive than these prices. Arlington, for example, reports an average cost for assisted living of $4,350 a month, which is close to San Angelo's average cost of $4,450. Major outliers can be found here and there in Texas. Lubbock's costs average $3,200 a month, while the least expensive city surveyed in Texas is El Paso, where assisted living costs an average of just $2,250 a month, while Texarkana averages $2,265. At the other end of the spectrum, Austin leads the state for assisted living costs at $5,190 a month.

How much does Home Care Cost in Katy?
Home care in Texas averages $3,813 a month. Seniors who need a home care worker to help them live independently in Katy can expect to pay an average monthly cost of $3,909. Arlington and Austin report higher home care costs, at $4,004 and $4,099 a month, respectively.
Other Texas cities come in well below these prices for home care. Abilene's average cost, for example, is $3,504 a month, while San Angelo and Lubbock report monthly costs of $3,432 and $3,600 a month, respectively. Texarkana and El Paso have some of the most affordable home care costs in Texas. The former averages $3,022 a month, while the latter averages $3,041.

How much does Adult Day Care Cost in Katy?
Cities in Texas show a lot of variation in the cost of adult day care. While the Texas state average is $758, Katy averages $1,300 a month for adult day care. Other cities cluster toward one or the other end of the price spectrum. Arlington and Austin, for example, are close to Katy in cost, at $1,408 a month for both of them. Lubbock and Texarkana, on the other hand, are much closer to the average cost for Texas, at $704 and $888 a month for adult day care, respectively. Abilene and El Paso are even less expensive, with average prices of $618 and $628 a month.
How much does Nursing Home Costs in Katy?
Nursing home care can be a major expense for seniors in Texas, regardless of the city where the facility is located. The average cost of a semi-private room in the state of Texas is $4,798 a month, while the same level of care delivered in Katy costs an average of $5,095. Katy's average cost is close to Lubbock and Arlington, which report averages of $4,958 and $5,064, respectively. Austin is at the high end of the cost spectrum for nursing home care, with an average monthly rate of $5,323.
Some savings can be found in other Texas communities. Nursing home care in El Paso, for example, costs an average of $4,867, while Abilene reports average costs of $4,639. Texarkana costs less than these cities, at $4,410 a month, while the least expensive Texas city surveyed is San Angelo, at just $4,365 a month.

Financial Assistance Programs in Katy
Medicaid Program in Katy
Medicaid is a federal entitlement program that provides free and low-cost health insurance to low-income, disabled adults and seniors in Katy.
In Texas, Medicaid provides cost support for preventive care, urgent and emergency services and some necessary specialist care. The program also covers the cost of some medications and medical appliances, such as wheelchairs and orthopedic devices. Seniors in Katy can also get help paying for residential care from Medicaid since this is generally considered a form of medical care.
To qualify for the state Medicaid program, seniors in Katy have to meet certain eligibility requirements. The program is open to seniors who are citizens or legal residents of the United States, and who are residents of Texas. Seniors with less-than-secure housing can often sign up without immediately providing proof of state residency, though a local mailing address is extremely helpful during the intake process. In addition to residency, seniors in Katy who wish to access Medicaid benefits generally have to demonstrate a need for health insurance, though this can be as simple as stating a need at the time of application.
Texas Medicaid also holds applicants to certain income requirements, which are based on the federal guidelines for assessing need. The Federal Benefits Rate establishes the baseline Texas uses for income standards, though the state's qualifying thresholds tend to be a bit higher. These maximum standards are regularly adjusted upward to account for rising incomes and the cost of living, but in 2018 the state maximums for personal income are:
Single adult applying alone: $24,037
Two people in household: $32,591
Three people in household: $41,144
Four people in household: $49,698
Each additional adult in the household raises the maximum income Medicaid applicants are allowed to earn from all sources combined, whether the household members are seeking Medicaid benefits for themselves or not. For each adult in the home, seniors in Katy can add $8,554 to their annual income without sacrificing their eligibility for benefits.Texas Medicaid programs vary in what they will cover, as well as which of the state's private health insurers administer the benefits a senior receives. Because of the program's complexity, only a Medicaid intake worker or a certified senior consultant can provide definitive answers about benefits, the share of cost requirements and other eligibility questions for seniors in Katy. Applications for Medicaid can be submitted in person at a county benefits office, by mail or online.
Medicaid Waivers in Katy
Texas STAR+PLUS
STAR+PLUS helps seniors in Katy pay the monthly cost of assisted living. This program is open to seniors who have Medicaid benefits and are medically authorized to receive care in a nursing care facility. The waiver encourages seniors to opt instead for the less-costly option of assisted living by picking up some or all the cost of care.
Seniors who wish to use STAR+PLUS to pay for assisted living in Katy must be at least 65 years old and earn less than $2,250 a month from all sources of income combined, before taxes. They must also have less than $2,000 in countable assets, such as real estate and personal property. A single personal vehicle and the first $572,000 in home equity are exempt from being counted as assets, so seniors can still have a car and a personal home without sacrificing their eligibility for STAR+PLUS. Applications go through Medicaid workers, though benefits specialists at some assisted living facilities may also be able to apply with the residents' consent.
Some of the costs the STAR+PLUS waiver covers include:
In-home caregiver assistance
Minor home improvements to make seniors' houses safer and easier to get around in, such as wheelchair ramps and guard rails.
Adult day care, both in-home and at a community facility
Residential care in an assisted living community
Home and Community Based Services (HCBS)
The Texas HCBS program helps seniors in Katy get the community-based support they need to safely remain at home and live as independently as their conditions allow. The program pays for support with a series of vouchers, which gives the recipient as much control as possible over how care is delivered. Seniors can apply for HCBS benefits through their Medicaid worker or senior social worker.
Benefits covered by the HCBS program include:
Residential care in a group or family home
Respite care and adult day care, which may be delivered at a facility or in the senior's home
Home-based nursing services, such as wound care and skilled nursing from a visiting RN
Vouchers for low- and no-cost transportation, which includes public transit, dial-a-ride and disabled ride services in a limited area
Some minor, disability-related home improvements, such as ramps and rails
Texas Home Living (TxHmL)
The TxHmL program helps seniors in Katy who have specific mental or intellectual disabilities live as independently as possible. The program pays funds from the Texas Department of Aging and Disability Services to an array of local nonprofits and other community resources to provide, among other benefits:
Respite care
In-home nursing care
Free transportation in the Katy area
Some home modifications with prior approval
Some adaptive aids and durable medical supplies, such as braces, walkers and wheelchairs
Seniors in Katy can apply for TxHmL through their Medicaid worker or the staff at a residential care facility they're moving out of. Program requirements include the need for a diagnosis of an age-related intellectual impairment, such as Alzheimer's disease or another form of dementia.

Other Financial Assistance Programs in Katy
Texas Support Services
Texas Support Services helps Katy seniors live at home in their community by paying for caregiver services such as laundry, food preparation and personal care. Caregivers can also perform some work outside of the seniors' residence, such as shopping trips and other chores.
Seniors enrolled in the program can use funds to hire the caregiver of their choice, who may be a spouse, family member or personal friend. Seniors in Katy who wish to sign up for the program must have been diagnosed with some form of disability, physical or mental, which may include drug or alcohol dependency. Seniors can apply through a local Area Agency on Aging, or online at YourTexasBenefits.com.
Community Care for the Aged/Disabled (CCAD)
Community Care for the Aged/Disabled (CCAD). Community Care for Aged/Disabled (CCAD) helps seniors in Katy remain self-sufficient at home after an illness, accident or other health issue has reduced their ability to live alone. CCAD pays some of the cost for home care, and in some cases, it helps pay the cost of residential care in a facility. Applications can be made online. Seniors can also apply for CCAD through the Houston Aging and Disability Resource Center.
Community Attendant Services (CAS)
Community Attendant Services (CAS) pays the cost of hiring a non-medical caregiver who can help Katy seniors live in their own homes. Caregiver services can be delivered while the senior lives at home, with relatives or in an assisted living community. Seniors can hire friends and family members as their caregivers, who are then paid through the program's vouchers. Applications and more information about CAS are available here.

More Senior Living Resources in Katy
| | | |
| --- | --- | --- |
| Resource | Phone Number | Description |
| My Brother's Keeper Outreach | (281) 498-9933 | My Brother's Keeper is a Harris County nonprofit that helps Katy seniors find affordable housing, both on an emergency basis and for more long-term residency. Rent and mortgage payment assistance is provided on a first come-first served basis while funds are available. Applications can be made in person without an appointment, or by phone. |
| HAAM | (281) 446-3663 | Humble Area Assistance Ministries is a local interfaith program that delivers food, clothing and disaster assistance to Katy seniors. The ministry also helps local seniors of all faiths find help paying for healthcare and personal items, such as toothpaste and grooming supplies. |
| YWCA Katy | (281) 392-5055 | The Houston YWCA may be able to help Katy seniors with rent or mortgage assistance, as well as locate resources for seniors' rent stabilization. The YWCA gives application priority to seniors, adults with disabilities and the LGBTQ community in the Houston area. Applications for assistance can be made online, by phone or in person at a local YWCA center. |
| Northwest Assistance Ministries (NAM) | (281) 583-5600 | NAM may help Katy seniors with temporary financial emergencies cover the cost of food, rent, gasoline, some housewares, prescription medication and emergency medical/dental expenses. Applications for aid can be made by phone or online. |
| Covenant with Christ International | (281) 592-5001 | Covenant with Christ helps Katy seniors cover some of the costs of prescription medicine, rent and home weatherization. Call for more information. |
For additional information and planning, please read our comprehensive guide to paying for senior care in Texas.