Get Pricing & Availability for Assisted Living in Houston, TX
Call (855) 481-6777 for immediate assistance and get more details
Page Reviewed / Updated – July 7, 2022
Seniors living in Houston benefit from a number of comparatively affordable living costs. Residing in Houston costs inhabitants an average of 3.5% less than it does individuals in the rest of the country. Housing in the city is also more affordable as the average cost of buying a home is $220,000. Other Texans pay an average of $243,600, and the average U.S. citizen pays $291,700 to purchase a home. Assisted living in Houston costs an average of $4,245 per month, compared with the state average of $3,998 and the U.S. average of $4,500.
Houston has a median household income of $45,728 a year, a little less than the U.S. average of $53,482. While the city also has a higher unemployment rate of 8.0% compared with the U.S. average of 6.0%, job growth is on a positive trend and has shown an increase of 3.2% over the past year.
This guide covers average monthly care costs in Houston as well as resources that are available to seniors.
The Cost of Assisted Living in Houston, TX
According to Genworth's Cost of Care Survey for 2021, assisted living care in the city costs seniors $4,245 per month. Houston's monthly assisted living costs are $247 higher than the state's costs but $255 lower than national costs, with U.S. citizens paying an average of $4,500 for assisted living services. Austin is $1,100 higher at $5,345. Dallas has the region's third-highest median of $4,195, while El Paso on the state's far western border charges seniors $3,750 for assisted living care. San Antonio has the region's lowest assisted living cost of $3,413 monthly.
Houston: $4,245
Texas: $3,998
United States: $4,500
Dallas: $4,195
San Antonio: $3,413
Austin: $5,345
El Paso: $3,750
The Cost of Other Types of Care in Houston, TX
Assisted living is the second-most affordable type of care compared to other care types. In-home care services cost seniors $4,576 a month, $331 more than the cost of assisted living services. Home health care, which includes in-home care with some health services, averages the same cost of $4,576. Seniors requiring a lower level of nonresidential care such as adult day health care can expect to pay around $1,099 per month. Individuals in need of more intensive care will pay an average of $5,262 monthly for a semiprivate room in a nursing home and an additional $2,494 for a private room.
In-Home Care: $4,576
Home Health Care: $4,576
Adult Day Health Care: $1,099
Assisted Living Facility: $4,245
Nursing Home Facility (semiprivate room): $5,262
Nursing Home Facility (private room): $7,756
Financial Assistance for Assisted Living in Houston, TX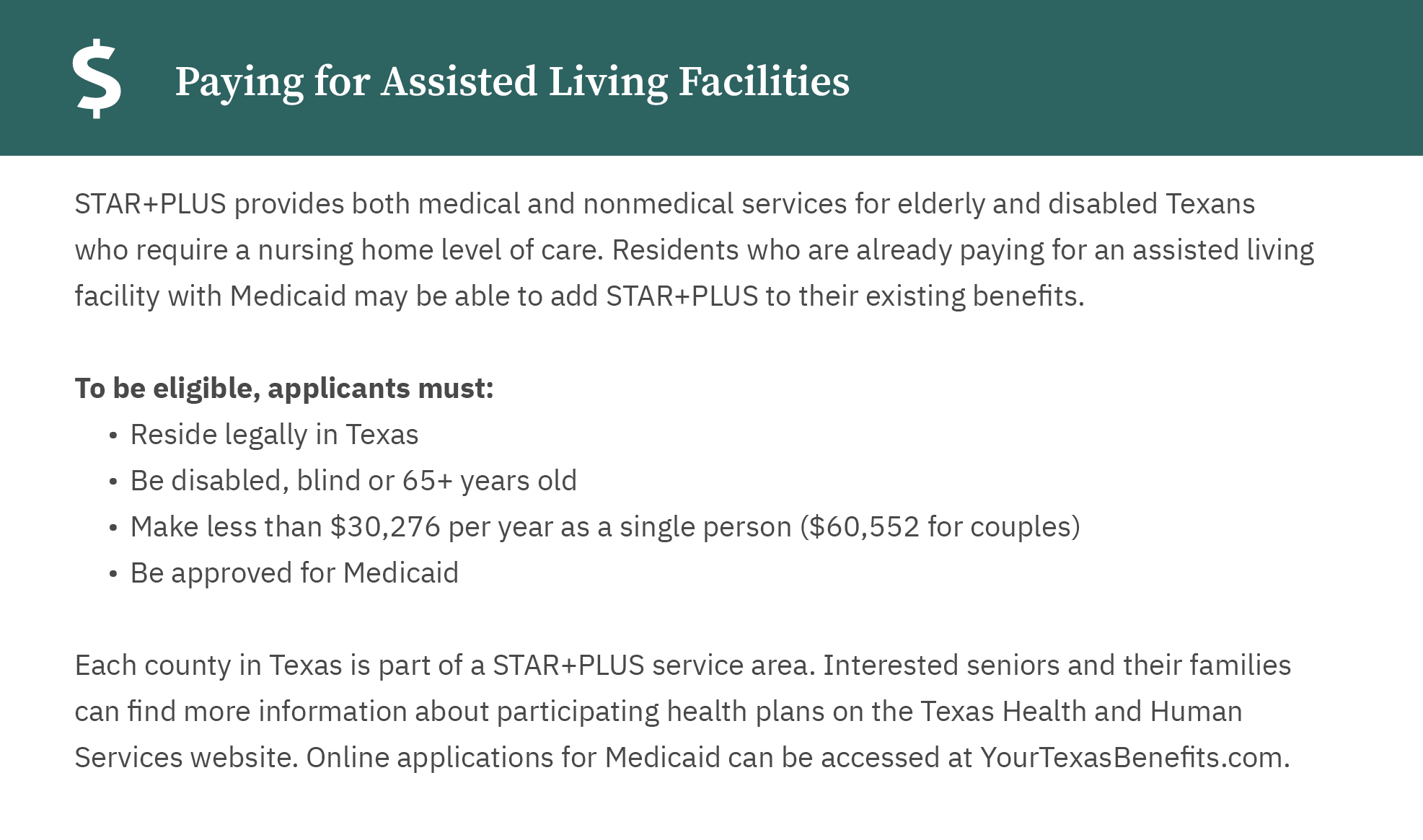 Other Ways to Pay for Assisted Living in Houston, TX
Since not everyone can afford to pay for assisted living out-of-pocket, it's important to find alternative methods to help make assisted living more affordable. Some of these options include:
Veterans Benefits
Life Insurance Policy
Long-Term Care Insurance
Reverse Mortgage
For additional information and planning, read our comprehensive guide to paying for senior care in Texas.
Free Resources for Seniors in Houston, TX
Seniors in Houston can access a wide variety of services to help them research local assisted living communities, find financial assistance and connect with community-based services.
| | | |
| --- | --- | --- |
| Resource | Contact | Service |
| Harris County Area Agency on Aging | (832) 393-4301 | The Harris County Area Agency on Aging offers social services to seniors, including its Long-Term Care Ombudsman program that advocates for a high level of care in long-term care facilities. The organization also provides benefits counseling made available through federal funding. |
| Texas Health and Human Services | (855) 937-2372 | Texas Health and Human Services has a range of services that assist seniors by ensuring their well-being. The organization assists seniors in accessing services that provide information on state benefits and legal rights. It also locates assisted living community care and nursing home care and advocates for those residing in assisted living facilities. |
| Harris County Vet Center | (281) 537-7812 | Senior U.S. military veterans are able to qualify for benefits that include pensions and health care. Two veterans' programs also provide monetary support to those who are eligible for VA pension benefits, including seniors who need assistance with activities of daily living and those residing in a nursing home. |
| Aging & Disability Resource Center | (855) 937-2372 | Older adults who have medical issues and disabilities and need assistance with the tasks of daily living can access long-term care services made available by this organization. These services are available to seniors in nursing homes and assisted living facilities. Transportation services for medical appointments are also available. |
| Texas Health Information, Counseling and Advocacy Program | (800) 252-9240 | This program provides health care for seniors across the state, assisting them in identifying funding for assisted living facility care. It also provides seniors with information on Medicare benefits and assisted living and nursing home insurance. |
Rules and Regulations for Assisted Living Facilities in Houston, TX
Assisted Living Communities in Houston are required to follow a set of rules and regulations that are determined by the state. For an overview of those rules and regulations, see the information below. For more specific information, talk with your local community or Area Agency on Aging.
The 10 Best Assisted Living Facilities in Houston, TX