Get Pricing & Availability for Assisted Living in Arlington, TX
Call (855) 481-6777 for immediate assistance and get more details
Page Reviewed / Updated – September 21, 2020
The 10 Best Assisted Living Facilities in Arlington, TX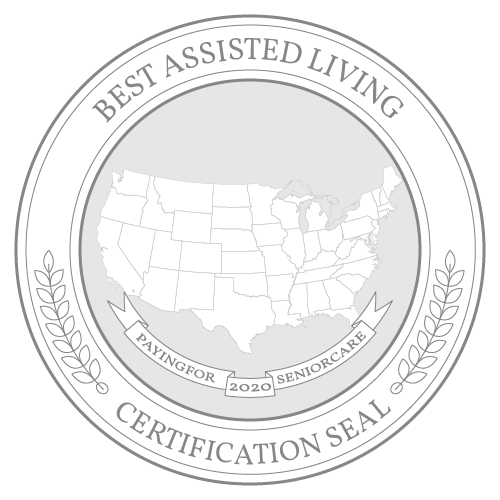 Arlington is a cozy bedroom community that sits between two of the largest cities in Texas: Dallas and Fort Worth. Situated just south of the main route between the two larger cities, Arlington itself has nearly 400,000 people, more than 10% of whom are seniors aged 65 and over.
Seniors in Arlington enjoy the same mild winters and warm summers that have made Dallas-Ft. Worth attractive for seniors to settle in. Multiple golf courses and hiking trails liven up the city's public spaces, as do the fishing lakes, bicycle trails and the senior recreation center on Craig Hanking Drive. The State of Texas does not tax seniors' Social Security income, or income of any kind, including annuities and payouts from IRAs and 401(k) accounts. Sales taxes can be high, as is the local average property tax, but seniors in Texas may be eligible for various property tax reduction programs.
Note: Price data for Arlington is not available, so prices for the nearest city, Dallas, are used instead.
Have a look through our list of the top 10 assisted living communities in Arlington to find one that's right for you. Additionally, find out more about the cost of assisted living in Arlington and what financial assistance programs are available.
The Cost of Senior Living and Care in Arlington
Arlington is in the middle of the range for the cost of seniors living in Texas, though costs in town tend to be higher than the overall state average, according to the 2018 Genworth Cost of Care Survey.
The cost for adult day care in Texas, for example, is $758 a month, while Arlington's cost is nearly twice as high, at $1,408. Some other Texas communities match Arlington in price, and in some categories the cost of senior living in Arlington is closer to the state average. Nursing home care in Arlington, for example, costs $5,064 a month, which is only around $200 a month higher than the state average of $4,798. Home care is similarly close in price between Arlington and the state of Texas. In Arlington, home care typically costs $4,350 a month, while the average statewide is $3,795.
How much does Assisted Living Cost in Arlington?
Assisted living in Arlington is close to the median cost in the state. Arlington's average monthly cost for assisted living of $4,350 is significantly higher than the same cost in Abilene, which is $3,868 a month; Houston, where the average cost is $3,863; and the two lowest in the state, El Paso and Texarkana, which cost an average of $2,250 and $2,265, respectively.
Assisted living costs higher than Arlington's can still be found in many major cities. San Angelo, for example, costs an average of $4,450 a month for seniors in assisted living, while Austin tops the list for cost at $5,190 a month for the average assisted living facility.
How much does Home Care Cost in Arlington?
Arlington is near the high end of home care costs among surveyed Texas cities. In-home support from a caregiver in Arlington costs an average of $4,004 monthly. This is second only to Austin, where the cost averages $4,099 a month for the same service. Some other communities are only slightly more affordable. Houston, for example, averages $3,909, or $95 less a month, than Arlington.
Some other Texas communities are considerably more affordable than Arlington. Abilene, San Angelo and Lubbock are all in the $3,400 to $3,600 a month range. The lowest cost among surveyed cities is El Paso, where home care expenses are as low as $3,041 a month.
How much does Adult Day Care Cost in Arlington?
Adult day care is generally very affordable in most Texas communities. Arlington is at the high end of the cost range at $1,408 a month for day care services. This ties Arlington with Austin, where the reported average cost is also $1,408. Houston is a close second with an average of $1,300 a month for adult day care.
Almost all of the other surveyed communities in Texas came in considerably less than Arlington at less than $1,000. Of these, Abilene and El Paso were the least expensive, at $618 and $628 a month, respectively. Lubbock is not far behind with an average monthly cost of $704. The central Texas city of San Angelo did not have surveyed cost information to compare in this category of senior care.
How much does Nursing Home Costs in Arlington?
The average monthly cost of a semi-private room in a skilled nursing facility in Arlington is $5,064. This is the third highest cost among surveyed cities in the state. Austin, the state capital, takes the highest position on the list, with an average cost for skilled nursing of $5,323 a month. Houston runs a very close second place, at $5,095, or just $31 a month more than Arlington's average cost.
Nursing home care is significantly less expensive in many other cities. Texarkana, for instance, has an average cost of $4,410 a month for skilled nursing, while San Angelo runs to $4,365 for the same kind of residential care in a semi-private room.
Financial Assistance Programs in Arlington
Medicaid Program in Arlington
In addition to the regular preventative and emergency care Medicaid covers, seniors who meet the income and asset requirements of the program can use it to cover some or all of the care-related costs of senior living. This includes many of the costs associated with living in residential care facilities, from skilled nursing and rehab to memory care and hospice services.
In Texas, most Medicaid services are delivered through various managed care plans administered on a state level. To qualify for one of these programs, you must be:
A U.S. citizen, permanent resident or legal alien who is legally present in the United States
In need of health insurance
Pregnant, disabled, blind, parent or guardian of a child under age 19, or a senior age 65 and over
In order to participate in the Texas Medicaid program, you must also meet low-income requirements. Qualifying thresholds occasionally change, but in 2018 your total household income before taxes had to be less than:
Single adult applying alone: $24,037
Two people in household: $32,591
Three people in household: $41,144
Four people in household: $49,698
Each additional individual in the household adds $8,554 to the allowable total pre-tax income. Medicaid is an entitlement program, however, so there are no enrollment caps. All individuals who meet the program's guidelines can enroll. Applications can be filled out online.
Medicaid Waivers in Arlington
Texas STAR+PLUS
STAR+PLUS is one of the most commonly used Medicaid waivers in Texas. This program is meant for seniors who are medically qualified for a higher level of care, such as skilled nursing, but prefer to remain at home or live in an assisted living facility instead. To qualify for the STAR+PLUS waiver, seniors age 65 and over must earn less than $2,250 a month, or $27,000 a year. Applicants must have countable assets of less than $2,000, going back at least 5 years from the date of application. Single vehicles are not countable assets, nor is the first $572,000 in home equity for seniors who live at home.
The STAR+PLUS waiver covers many of the costs associated with community-based senior living, such as:
In-home healthcare and assistance
Home improvements to make a residence safer or more livable for adults with disabilities, such as installing a ramp or guard rails
Home and Community Based Services (HCBS)
The Texas HCBS program is intended to help seniors and other adults with intellectual disabilities find the care they need without leaving their homes, families and the communities where they are comfortable. The program provides a long list of support services, all intended to be delivered as close to the recipient as possible and with as much choice and control over the home environment as the recipient's condition allows. Services wholly or partly paid for under the HCBS program include but are not limited to:
Residential services in a group or host home
Respite services, including adult day care
Nursing services, including home visits from an RN
Low- or no-cost transportation, including assisted ride services for mobility-impaired individuals
Minor home modifications for improved accessibility and safety
To qualify for the HCBS program, recipients must be eligible for Medicaid services and have mild to severe cognitive deficits. The program specifies an IQ range of less than 69, or less than 75 for recipients with certain specific conditions.
Texas Home Living (TxHmL)
The TxHmL program is a Medicaid waiver that supplies essential services to Texans with an intellectual disability or related condition. The program delivers community-based support (CBS), which lets the recipients choose their providers and exercise maximum personal control over how their services are delivered. These services are funded by the Texas Department of Aging and Disability Services (DADS), but delivered through a multitude of local contractors and nonprofits. To qualify, Arlington seniors must be eligible for Medicaid and have some form of intellectual disability, such as Alzheimer's disease, Huntington's chorea or another related condition. Benefits offered by TxHmL include:
Respite services for caregivers
In-home nursing assistance
Other Financial Assistance Programs
Texas Support Services
Support Services is a state-level program intended to help seniors live at home or in their chosen communities in a safe, healthy environment. The program provides assistance paying for a caregiver who helps with activities of daily living (ADLs), such as bathing, dressing, food service, shopping and laundry. Seniors can use the voucher this program provides to pay the caregiver of their choice, including friends and family members.
Support Services is available for seniors and adults living with a disability, and caregivers may also enroll in the program. People with mental disabilities and drug or alcohol dependency may be eligible for Support Services too. To apply, seniors or their loved ones can visit YourTexasBenefits.com, or call a local Area Agency on Aging.
Community Care for the Aged/Disabled (CCAD)
Community Care for Aged/Disabled (CCAD) helps Arlington seniors to achieve or maintain personal self-sufficiency and reduce or prevent dependency as a result of illness, accident, or normal aging by providing home-based and other levels of care. The program also pays for resources to identify and report adult neglect, abuse and exploitation for seniors in Arlington. Read more here. To apply, contact your local Aging and Disability Resource Center (ADRC).
Community Attendant Services (CAS)
Community Attendant Services (CAS) assists disabled seniors in Arlington by subsidizing their hiring of non-medical attendants and caregivers who can visit them at home or in a residential care setting. Caregivers who help eligible Arlington seniors with ADLs can be hired at the discretion of the senior and paid through the CAS system. Caregivers may be friends, family or spouses of the senior who qualifies for the program. To learn more, including application information, click here.
More Senior Living Resources in Arlington
| | | |
| --- | --- | --- |
| Resources | Phone Number | Description |
| | (817) 282-0531 | Mid-Cities Care Corps helps Arlington seniors with free transportation services for routine medical appointments and errands on the weekend. The Corps also provides minor home repairs, such as installing donated wheelchair ramps, lawn maintenance and various other projects. Seniors age 65 and over are eligible to participate in the program, as are disabled adults age 60 and over. |
| | (817) 469-1977 | Helping Restore Ability is an Arlington-based home caregiver program funded through the state Department of Health and Human Services. This program helps Arlington seniors get the attendant care they need in their homes, at work or in a residential care facility. Seniors qualify for the program, as do younger adults with disabilities. |
| | (817) 277-1165 | Seniors' Pet Assistance Network (SPAN) helps seniors in the Dallas area who are 67 years old and over find and pay for basic veterinary care and pet food. SPAN provides annual shots, preventive heartworm and flea medication and other veterinary services on a case by case basis. All services provided are contingent on available funds. Enrollment is via website only, with no public phone number. |
| | | This nonprofit organization helps to provide access to dental care for low-income residents of southeast Tarrant County. Services include pain relief and preventative care. All low-income residents, including seniors on fixed incomes, are eligible for help. |
For additional information and planning, please read our comprehensive guide to paying for senior care in Texas.