Get Pricing & Availability for Assisted Living in El Paso, TX
Call (855) 481-6777 for immediate assistance and get more details
Page Reviewed / Updated – July 18, 2022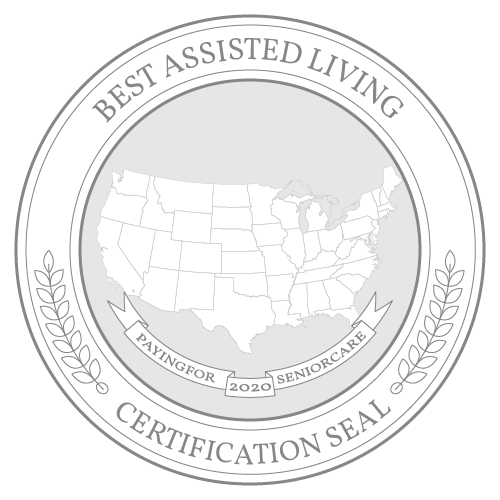 Located in the southwestern part of Texas near the Mexico border, the retirement-friendly city of El Paso is an attractive destination for seniors on a budget. The state doesn't tax income, including Social Security retirement benefits and pension income. This translates into more funds available for seniors' essential needs. Assisted living care, at $3,750 per month, is 6% lower than the state average and 17% lower than the national average, providing more cost savings for seniors in El Paso.
Compared to the state index of 93.9, the overall cost of living in El Paso is lower, at 81.4, which helps keep monthly expenses at more affordable levels than what seniors spend in most parts of the state and the country. Although much of the savings come from the housing category, seniors can enjoy considerable savings on lower grocery and health costs. While state-imposed sales tax rates are higher than the national average, grocery, prescription drugs and over-the-counter medicines are exempted from sales taxes.
This guide provides information on the cost of assisted living care, as well as other types of care, in the El Paso area. It also provides a list of resources seniors may find helpful.
The Cost of Assisted Living in El Paso, TX
The 2021 Genworth Cost of Care Survey lists the monthly average cost of assisted living in El Paso at $3,750. The city's cost is lower than both the state average of $3,998 and the national average of $4,500. Most of the top cities in the state cost more than El Paso. Austin, the state capital, is more expensive by $1,595, while in Houston, the largest city in the state, seniors have to pay $495 more. Even Odessa, a smaller city east of El Paso, is $648 more at $4,398. However, the larger city of San Antonio is listed at just $3,413, or $337 less than El Paso's average.
El Paso: $3,750
Texas: $3,998
United States: $4,500
Houston: $4,245
San Antonio: $3,413
Dallas: $4,195
Austin: $5,345
Odessa: $4,398
The Cost of Other Types of Care in El Paso, TX
Seniors may want to consider costs when deciding on what type of care suits their needs and budget. While assisted living costs $127 more than home-based care for $3,623, seniors may find the added expense justified by the conveniences offered in community-based residences. For those with specialized care needs, nursing home facilities are a more expensive option at $4,882 for semiprivate rooms and $7,323 for private rooms. The more independent seniors may opt to settle for adult day health care, costing just $628 per month.
In-Home Care: $3,623
Home Health Care: $3,623
Adult Day Health Care: $628
Assisted Living Facility: $3,750
Nursing Home Facility (semiprivate room): $4,882
Nursing Home Facility (private room): $7,323
Financial Assistance for Assisted Living in El Paso, TX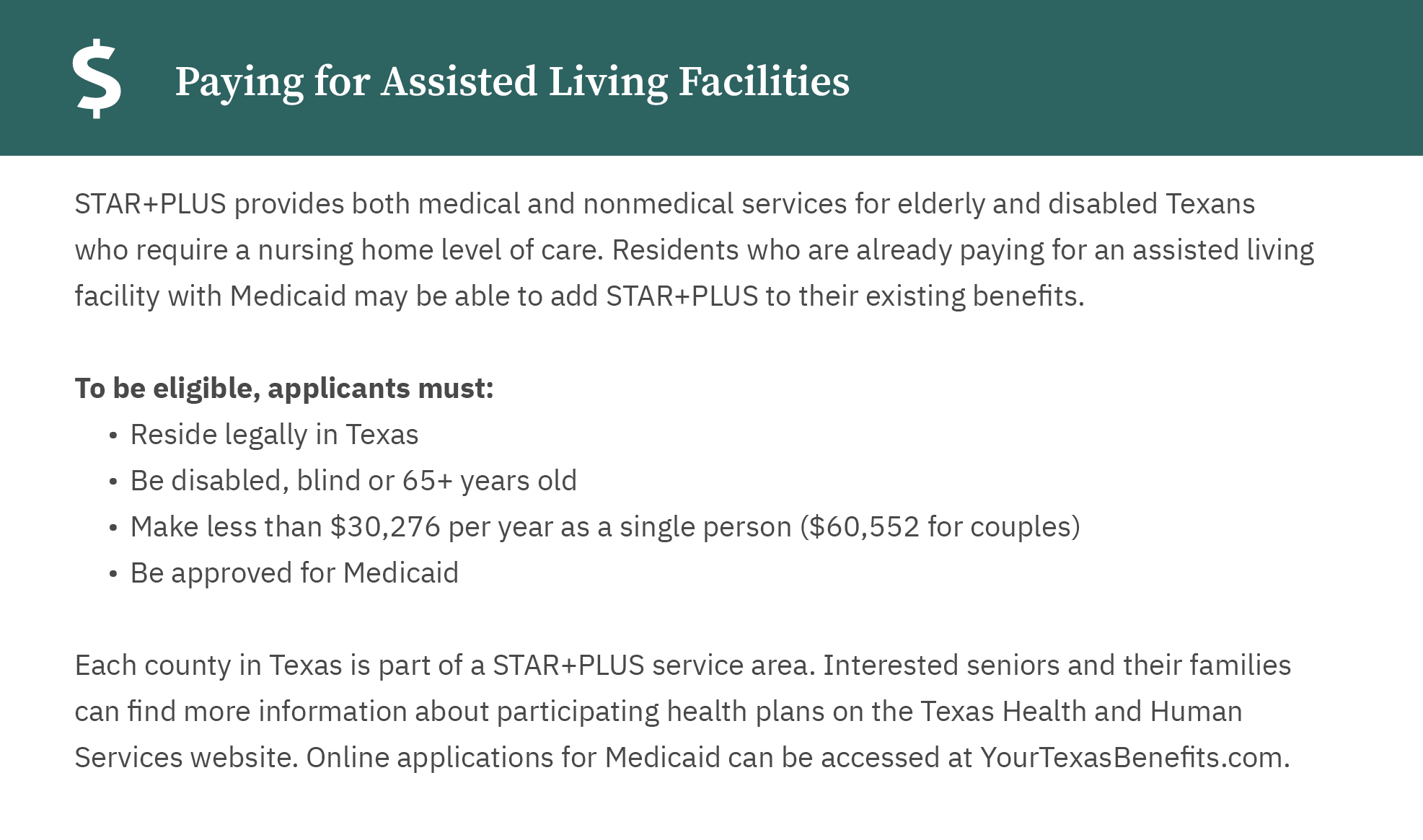 Other Ways to Pay for Assisted Living in El Paso, TX
Since not everyone can afford to pay for assisted living out-of-pocket, it's important to find alternative methods to help make assisted living more affordable. Some of these options include:
Veterans Benefits
Life Insurance Policy
Long-Term Care Insurance
Reverse Mortgage
For additional information and planning, read our comprehensive guide to paying for senior care in Texas.
Free Resources for Seniors in El Paso, TX
Several government agencies and nonprofit organizations operate in El Paso, providing a wide range of support services to seniors. The following local resources can help individuals gain access to free or low-cost programs that can support their assisted living needs.
| | | |
| --- | --- | --- |
| Resource | Contact | Service |
| Rio Grande Area Agency on Aging | (915) 533-0998 | The Rio Grande Area Agency on Aging supports El Paso residents 60 years and older through various services that help improve quality of life. The agency provides assistance with Social Security benefits, Medicare, long-term care, health insurance and legal issues. It also collaborates with the El Paso Times in running fundraising campaigns for the El Paso Senior Fund, a program that helps finance the special needs of seniors in El Paso County. |
| El Paso County Veterans Assistance Office | (915) 875-8570 | The El Paso County Veterans Assistance Office coordinates with veterans' organizations and helps administer veterans programs. It provides assistance and counseling to veterans, their surviving spouses and dependents on matters regarding disability claims, medical and educational benefits, home loans and other benefits. |
| 211 Texas Rio Grande Area Call Center | 211 | The 211 call center is a 24/7 free telephone service that connects residents to state agencies and local resources. It assists residents in gaining access to various services, including counseling, medical and mental health assistance, insurance, elder care and housing assistance. While it doesn't directly provide financial assistance, it directs callers to government agencies and local organizations that can provide the needed support. |
| Foster Grandparent Program | (915) 212-1677 | The Foster Grandparent Program is one of the programs run by El Paso Senior Volunteer Services. It connects low-income, healthy and motivated seniors 55 years and older to children with special needs. In return for their services, senior volunteers are given an hourly stipend, insurance and mileage reimbursement. They're also entitled to paid vacation and sick days leave. |
| Sun Metro | (915) 212-3333 | Sun Metro is a public transportation system serving residents and visitors of El Paso. Seniors 65 years and older are entitled to discounted fare rates. Discounts can be availed by presenting a valid ID, such as a driver's license or the Sun Metro Reduced Fare identification card. Sun Metro also operates the LIFT paratransit service for those with mobility limitations. |
Rules and Regulations for Assisted Living Facilities in El Paso, TX
Assisted Living Communities in El Paso are required to follow a set of rules and regulations that are determined by the state. For an overview of those rules and regulations, see the information below. For more specific information, talk with your local community or Area Agency on Aging.
The 10 Best Assisted Living Facilities in El Paso, TX