Get Pricing & Availability for Assisted Living in Plano, TX
Call (855) 481-6777 for immediate assistance and get more details
Page Reviewed / Updated – July 18, 2022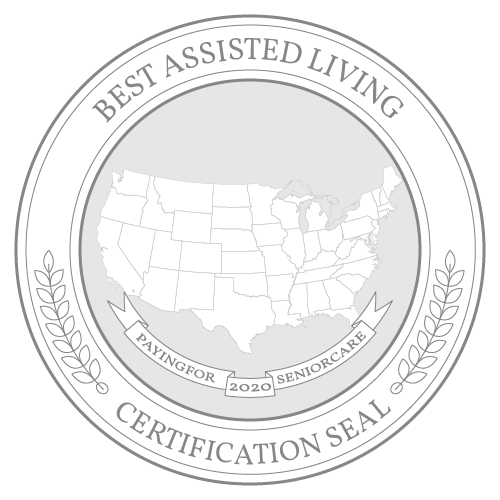 Plano is a suburb of Dallas that offers plenty of financial benefits for budget-conscious retirees. Although the city's cost of living is slightly higher than the national average, residents pay less than usual for health care, transportation and other miscellaneous expenses.
A lack of state income tax can also add up to big savings for the city's retirees. Texas doesn't charge tax on any kind of retirement income, including pensions, IRAs, 401(k) plans or Social Security benefits. Assisted living is cheaper than the national average, too, with seniors paying around $4,195 per month.
This guide covers prices for assisted living in cities nearby Plano, rates for other kinds of care and free resources that serve the city's older adults.
The Cost of Assisted Living in Plano, TX
According to Genworth's 2021 Cost of Care Survey, seniors pay an average of $4,195 per month for assisted living. Plano's prices are a little higher than the Texas average of $3,998 but less than the nationwide price of $4,500. Close to the Oklahoma state line in Sherman, costs dip to $3,500, or about $700 less. Moving west, Waco offers very inexpensive assisted living at only $2,800, which is $1,395 less than what Plano residents pay. Austin assisted living costs around $5,345, making it one of the more expensive cities in Texas for this kind of care. Further south in San Antonio, prices become more affordable, falling to an average of $3,413.
Plano: $4,195
Texas: $3,998
United States: $4,500
Sherman: $3,500
Waco: $2,800
Austin: $5,345
San Antonio: $3,413
The Cost of Other Types of Senior Care in Plano, TX
Plano has several other long-term care options to consider. Many seniors opt to get care in their own homes, which costs an average of $4,862, or $667 more than assisted living. Home health care allows people to get medical services in a safe and familiar environment; it shares the same rate as regular home care. Adult day care costs $1,517, and it may be a good choice for seniors who only need supervision during regular business hours. Nursing homes have the highest level of care and cost $5,627 for a semiprivate room or $8,460 for a private room.
In-Home Care: $4,862
Home Health Care: $4,862
Adult Day Health Care: $1,517
Assisted Living: $4,195
Nursing Home Care (semiprivate room): $5,627
Nursing Home Care (private room): $8,460
Note:Data for Plano was unavailable, so data for the nearest city, Dallas, was used instead.
Financial Assistance for Assisted Living in Plano, TX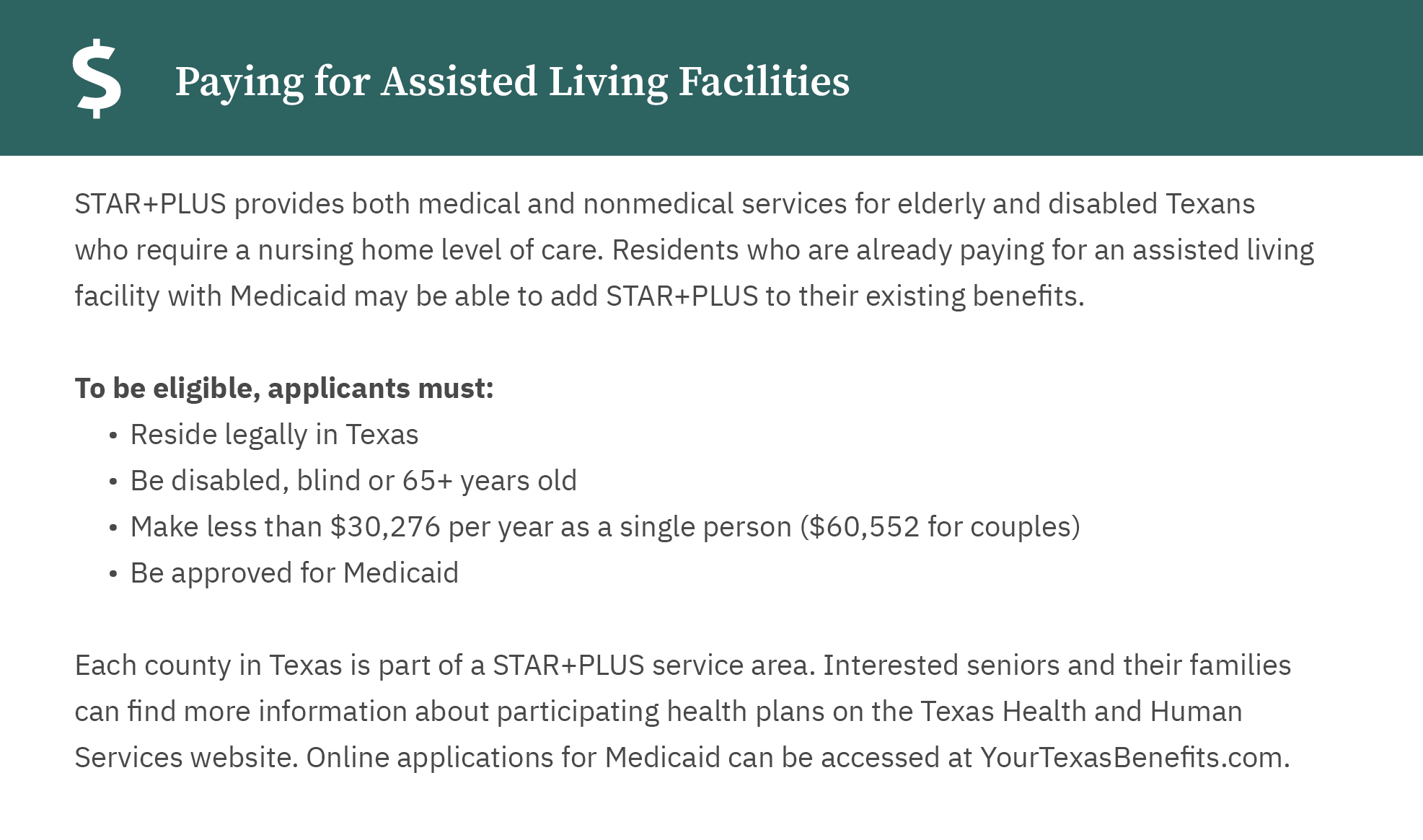 Other Ways to Pay for Assisted Living in Plano, TX
Since not everyone can afford to pay for assisted living out-of-pocket, it's important to find alternative methods to help make assisted living more affordable. Some of these options include:
Veterans Benefits
Life Insurance Policy
Long-Term Care Insurance
Reverse Mortgage
For additional information and planning, read our comprehensive guide to paying for senior care in Texas.
Free Resources for Seniors in Plano, TX
Seniors can find a wide range of social services and supports in Plano and throughout Collin County. The following agencies and organizations offer legal assistance, Medicare information, veterans services and activities to keep seniors active and socially engaged.
| | | |
| --- | --- | --- |
| Resource | Contact | Service |
| North Central Texas Area Agency on Aging | (800) 272-3921 | The North Central Texas AAA maintains a network of health and social services for seniors across 14 counties. Available services include care coordination, public benefits counseling, wellness education and financial fitness classes for older adults. It also provides information about how to report abuse, neglect, financial exploitation and other concerns to the local long-term care ombudsman. |
| Legal Aid of NorthWest Texas | (888) 529-5277 | This nonprofit organization offers free civil legal services for people who financially qualify. Issues seniors can get help with may include family law, bankruptcy, public benefits denials and future planning, such as writing wills and creating advance health directives. Seniors who have an urgent issue, including termination of benefits, eviction, family violence or wage garnishment may be able to get help right away. An applicant's income must be at or below 125% of the federal poverty level to qualify. |
| Veterans Center of North Texas | (214) 600-2966 | The Veterans Center of North Texas provides counseling on disability compensation and other benefits earned through service that could help seniors pay for their long-term care. Other services include help navigating the VA health care system, employment training, referrals to transportation options and emergency financial aid for low-income veterans. |
| Retired Senior Volunteer Program | (214) 823-5700 | RSVP offers seniors a chance to socialize and serve their communities through a variety of volunteer opportunities. Seniors can serve in any area that matches their interests or expertise. Opportunities could include helping nonprofit organizations with special events, tutoring youth, serving meals at senior centers and educating other older adults about Medicare benefits. The program is open to anyone 55 and up. |
| Sam Johnson Recreation Center for Adults 50+ | (972) 941-7155 | This recreation center features a fitness area and wellness room for 50+ residents, plus social activities, games and fun events that are held throughout the year. Recreational classes for seniors include dancing, painting, book readings and memory training, among others. It also offers workshops on long-term care options and estate planning, wills, Social Security and other topics important to older adults. |
Rules and Regulations for Assisted Living Facilities in Plano, TX
Assisted Living Communities in Plano are required to follow a set of rules and regulations that are determined by the state. For an overview of those rules and regulations, see the information below. For more specific information, talk with your local community or Area Agency on Aging.
The 10 Best Assisted Living Facilities in Plano, TX