Get Pricing & Availability for Assisted Living in Plano, TX
Call (855) 481-6777 for immediate assistance and get more details
Page Reviewed / Updated – September 17, 2020
The 10 Best Assisted Living Facilities in Plano, TX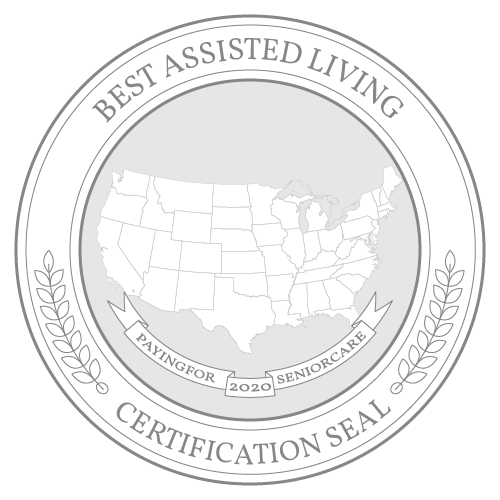 Located just 20 miles north of downtown Dallas, Plano is an upscale city of 287,677 known for its historic buildings, upscale shops and restaurants, and beautiful outdoor spaces. About 12.7% of the city's population are aged 65 and older, and active seniors will find there's plenty to do in the area.
The Arbor Hills Nature Preserve, a 200-acre city-owned park, is a popular place to enjoy an afternoon stroll, while the Heritage Farmstead Museum is a favorite among seniors with agricultural roots. The weather in Plano is relatively hot during the summer and mild in the winter, with summertime high temperatures average 94 degrees in July and annual snowfalls of 2 inches. The region is notably sunny, and Plano residents enjoy an average of 229 sunny days each year.
Note: Assisted living cost data wasn't available for Plano, so data from the nearest city, Dallas, was used. This guide highlights the 10 best assisted living facilities in Plano and the surrounding area.
Additionally, find out more about the cost of assisted living in Plano and what financial assistance programs are available.
The Cost of Senior Living and Care in Plano
Plano, an affluent suburb of Dallas, has an overall lower cost of senior care than the rest of Texas, but a higher cost of care than other smaller cities in the state. Beaumont, for instance, has nursing home and assisted living costs significantly lower than those in Plano, according to the Genworth 2018 Cost of Care Survey. In Houston and Austin, the state's other two large metro areas, assisted living, homemaker and nursing home costs are comparable to those in Plano. Homemaker services, billed at an hourly rate, is the lowest costing senior care both in Plano and across the state.
Note: Senior care cost data wasn't available for Plano, so the data for the closest city, Dallas, was used.
How much does Assisted Living Cost in Plano?
The cost of assisted living in Plano averages $4,530 per month, roughly $550 more than the Texas median. Austin, similar in size to the Plano metro area, has significantly higher costs, at $5,190, while smaller areas, such as Corpus Christi and Amarillo are notably lower at $2,975 and $3,700 per month, respectively.
How much does Home Care Cost in Plano?
Non-medical home health care services, assistance separate from a home health aide, average $21 per hour in Plano, compared to the Texas state average of $20 per hour.
Assuming an average of 44 hours per week, homemaker services in Plano are $4,004 per month. Nearby Tyler, to the east, is notably lower at $3,813. Larger cities in the state, including Houston and Austin, are within $150 per month of Plano's homemaker costs.
How much does Adult Day Care Cost in Plano?
Adult day care costs are the lowest senior care option for both Plano and Texas in general. Plano's average cost for adult day care services is $1,408, on par with larger cities like Houston and Austin, which average $1,300 and $1,408, respectively. San Antonio and Corpus Christi, however, have adult day care rates at slightly half those of Plano, at $867 and $693, respectively.
How much does Nursing Home Costs in Plano?
The cost of nursing home care in a semi-private room in Plano is $5,064, which is higher than the Texas average of $4,798 — but in line with larger metro areas, such as Austin at $5,323 and San Antonio at $4,715. Private rooms cost more for every city in Texas, and those, too, will cost more in larger cities. Smaller towns, although with fewer options for nursing home care, also have lower monthly costs for nursing home care than Plano. Amarillo and Tyler average $4,791 and $4,258, respectively.
Financial Assistance Programs in Plano
Medicaid Program in Plano
Medicaid for Plano residents, as in all of Texas, covers health insurance for low-income households, seniors over age 65, caretakers of disabled individuals and other related situations (per eligibility review). Eligibility is income-based and will determine whether the applicant receives completely free or low-cost services with small co-pays. Texas Medicaid is fairly inclusive with regards to benefits covered. Services include:
Medical equipment and supplies
Glasses (contact lenses on a limited basis)
Clinical tests and X-rays
Prescription medicines are also covered under both the free traditional Medicaid service and the Medicaid buy-in programs. Depending on the medication and your Medicaid program, you may or may not have a co-pay for medications; co-pays may be up to 20 percent of the medication cost.
Medicaid income limits in Texas for people 65 and older start at $771 per month for a single applicant and $1,057 for a married couple. Income considered when applying for Medicaid includes employment wages, alimony payments, pension payments, Social Security Disability income, Social Security income, IRA withdrawals and stock dividends.
Seniors in Plano may also be eligible for assisted living and long term care assistance through Texas Medicaid. Eligibility for institutional or nursing home Medicaid is also income capped. The income limit is $2,313 per month; married spouses applying jointly have a limit of $4,624. Both of these limits include an asset limit, as well; $2,000 per month for individuals and $3,000 per month for married couples.
Plano residents may apply for Medicaid in person at the Texas Health and Human Services office located at 550 East 15th Street, Suite 100, Plano, TX, 75074, or online here.
Medicaid Waivers in Plano
Community-Based Alternative (CBA)
The CBA waiver helps provide in-home care for those who would otherwise be in institutionalized housing, including those who are blind, aged 65 and older or have a qualifying disability. Caseworkers are assigned to each individual through the Texas Department of Health and Human Services and will determine the services included for each individual applicant's waiver. Those eligible for CBA in Plano are either enrolled in Medicaid through Social Security, have MAP protected status or meet the income and resource requirements for Medicaid benefits in nursing facilities.
CBA services include skilled nursing care, personal assistance service and physical, occupational and speech therapies. Other services include respite care for in-home caretakers and minor home modifications to improve mobility and independence. Adaptive aids, such as TTY equipment and personal alarms, as well as some medical supplies are also covered.
Eligibility is determined based on the individual's desire to live at home, the level of care they need and their eligibility for Medicaid or monthly income. CBA applicants must also meet the requirement for the same level of care provided in a nursing home facility. To read more about eligibility and to apply click here or call (855) 937-2372.
Star+Plus
The STAR+PLUS waiver covers managed care for Plano residents with a qualifying disability or those aged 65 and older. Persons enrolled in this entitlement program may receive healthcare and long-term services through the medical plan that they choose. In Collin County, those plans are Molina Healthcare of Texas and Superior HealthPlan.
Long-term services don't just cover doctor appointments and medications. The STAR+PLUS program also provides beneficiaries help in the home with basic daily activities and chores, caregiver respite and in-home modifications to increase independence and safe mobility.
A unique feature of the STAR+PLUS program is service coordination between the member receiving services, their family and/ or caregiver, the primary care physician and other specialist health care providers to give the member the personalized long-term services that suit their conditions. To read more about eligibility and to apply, click here or call (888) 887-9003.
Other Financial Assistance Programs
Program of All-Inclusive Care for the Elderly (PACE)
Plano residents may be eligible to participate in the Texas PACE program, which provides community-based services to those who are elderly and qualify for nursing home placement. This program provides a comprehensive care approach for an inclusive monthly fee that's less than the cost of institutionalized nursing home care.
Benefits for Plano PACE recipients include adult day care and caregiver respite services, social services and nursing home care when necessary. Hospital visits, medical care and all necessary prescription medications, as well as home health care and personal care, are also covered.
Community First Choice (CFC)
Plano residents enrolled in Medicaid may be eligible to receive services through the CFC program. This is designed for individuals who would otherwise require nursing home care to remain in their own homes and receive care and assistance. It is not designed for high-level medical needs but rather help with personal care, activities of daily living and meal planning and preparation.
Minor health-related assistance is also provided in this program. This includes administering medications and/or oxygen, tube feeding and ulcer or skin care. Those with bowel and bladder needs will receive assistance as well. Medical equipment and adaptive technology are also provided.
The CFC in Plano, as in all of Texas, is an entitlement program, with no waiting lists and no enrollment caps. Those participating also have a greater degree over selecting who provides them with assistance, including non-spousal family members or other qualified caregivers. These caregivers, in turn, receive payment through Medicaid for their services. This program will be facilitated through the Medicaid health plan service that the applicant is currently enrolled in. In Plano, those plans are Molina Healthcare of Texas and Superior HealthPlan. More information, including enrollment information, may be found here.
Texas Community Care for the Aged / Disabled (CCAD)
CCAD is a non-Medicaid program administered under Title XX Senior Services designed to allow those individuals who would otherwise need institutionalized nursing home care to receive services in their own homes. It is similar to Medicaid-funded programs in that it provides non-medical care services, such as chore assistance, meal planning and preparation and in-home modifications. Respite services for caregivers are covered, as are some medical supplies and assistive technology. Light medical care, such as bowel and bladder assistance, ulcer and skin care, and oxygen or medication administration are also included.
The program is for those in foster care, assisted living facilities, or their own homes. More information, including enrollment and application information, may be found here.
Community Attendant Services (CAS)
CAS is another non-Medicaid program similar to a Medicaid funded program that provides attendant services and/or non-medical personal care for seniors who would otherwise require institutionalized assisted living accommodations. This option, funded through the Title XX Program, allows those enrolled to determine their own non-spousal caregivers, within certain parameters, including family and friends.
Services are limited to assistance with daily living tasks, such as bathing, dressing and bathroom assistance, as well as meal preparation and planning. More information, including enrollment and eligibility, may be found here.
More Senior Living Resources in Plano
| | | |
| --- | --- | --- |
| Resource | Phone Number | Description |
| | (972) 423-4928 | The Plano Housing Authority offers reduced price senior apartments as well as vouchers for Section 8 properties. Applications are accepted once the waiting list is open and in January and July of each year. Once enrolled in the program, however, beneficiaries may retain their benefits as long as they are compliant with the rules and regulations of the program, including income limits and household size. Seniors aged 62 and older, as well as those with a qualifying disability, are the only parties qualified to apply for a single-family household. |
| | (903) 872-2401 | Community Services Inc. runs The Comprehensive Energy Assistance Program (CEAP), which offers financial assistance for low-income individuals and families paying heating and utility bills. Homeowners and renters are allowed to apply. Aid is determined based on income. |
| Community Services Block Grant/ Direct Services Support (CSBG) | (903) 872-2401 | Funds from the Community Services Block Grant/ Direct Services Support (CSBG) have been allocated towards helping individuals in Collin County with rent assistance and emergency food, as well as assistance where needed to help individuals out of poverty. Benefits are income-based This program is funded by the Texas Department of Housing and Community Affairs. |
For additional information and planning, please read our comprehensive guide to paying for senior care in Texas.