Get Pricing & Availability for Assisted Living in Fort Worth, TX
Call (855) 481-6777 for immediate assistance and get more details
Page Reviewed / Updated – July 7, 2022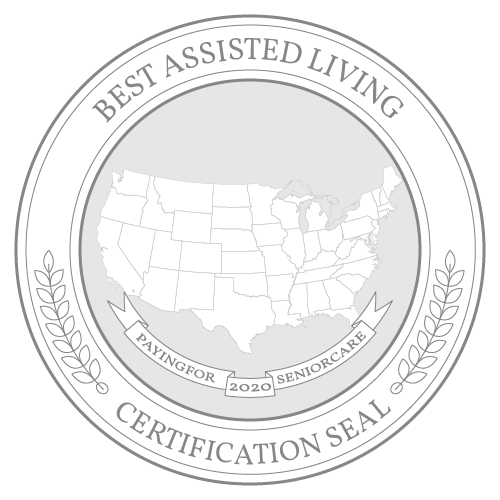 Fort Worth is among the fastest-growing cities in the United States and has over 900,000 residents, with almost 10% aged 65 and over. Comfortable weather year-round and high access to affordable health care make this city a popular retirement destination. It's one of 10 Texas cities listed on the AARP Age-Friendly Network, a distinction that indicates the city has implemented strategies and programs to make it a safe, comfortable place for older adults. While its overall cost of living is consistent with the national average, assisted living rates are several hundred dollars less than the national median at $4,195.
This guide includes information on how local assisted living costs compare with rates in other cities in Texas as well as with other long-term care options in Fort Worth. It also highlights some options for paying for services and some resources seniors can contact for options counseling and assistance with accessing public benefits.
The Cost of Assisted Living in Fort Worth, TX
According to the 2021 Genworth Cost of Care Survey, seniors in Fort Worth pay $4,195 per month for assisted living, making this city a relatively affordable option for care. While this rate is higher than the state median of $3,998, it's lower than the national average of $4,500.
Care costs in Houston exceed Fort Worth's median by $50, with average care costs coming in at $4,245. In Midland, fees exceed the national average at $4,789, and in Austin, assisted living residents pay $5,345. Texarkana is a budget-friendly alternative for those seeking affordable care, with monthly assisted living rates coming in at $2,770.
Fort Worth: $4,195
Texas: $3,998
United States: $4,500
Austin: $5,345
Houston: $4,245
Texarkana: $2,770
Midland: $4,789
The Cost of Other Types of Care in Fort Worth, TX
Seniors in Fort Worth have several long-term care options available, depending on their preferred setting and care needs. Those who want to live at home pay $1,517 per month for adult day health care or $4,862 per month for in-home care or specialized home health care. Assisted living is moderately priced at $4,195 and includes basic living expenses such as meals and housing. Nursing homes charge $5,627 for semiprivate rooms and $8,460 for private accommodations.
In-Home Care: $4,862
Home Health Care: $4,862
Adult Day Health Care: $1,517
Assisted Living Facility: $4,195
Nursing Home Facility (semiprivate room): $5,627
Nursing Home Facility (private room): $8,460
Note: Data for Fort Worth was unavailable, so data for the nearest city, Dallas, was used instead.
Financial Assistance for Assisted Living in Fort Worth, TX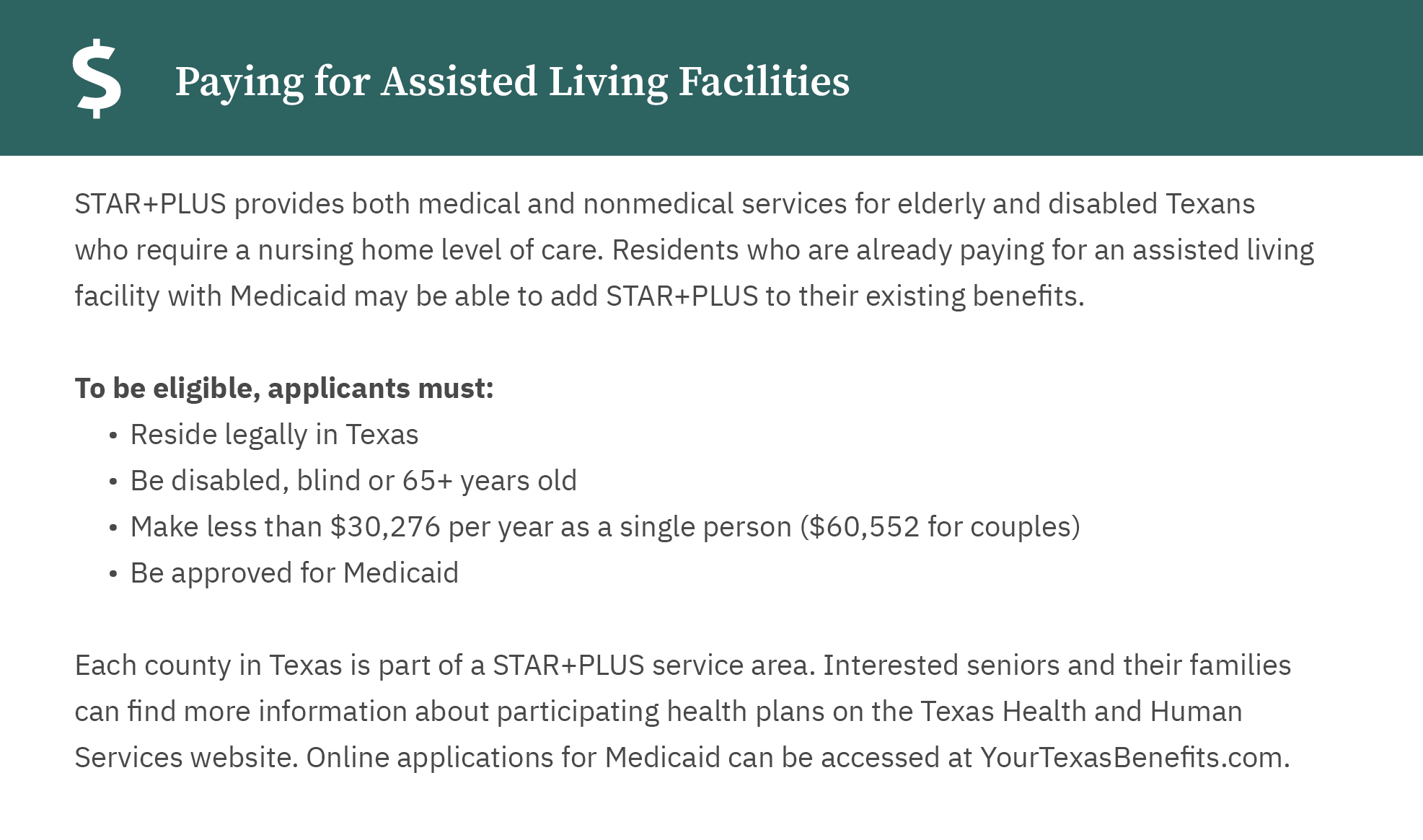 Other Ways to Pay for Assisted Living in Fort Worth, TX
Since not everyone can afford to pay for assisted living out-of-pocket, it's important to find alternative methods to help make assisted living more affordable. Some of these options include:
Veterans Benefits
Life Insurance Policy
Long-Term Care Insurance
Reverse Mortgage
For additional information and planning, read our comprehensive guide to paying for senior care in Texas.
Free Resources for Seniors in Fort Worth, TX
Fort Worth residents have access to numerous free and low-cost resources to help them navigate the system and make important decisions regarding their current and future care needs. The following table has information and referral specialists and options counselors who help them find long-term care options and ways to pay for services.
| | | |
| --- | --- | --- |
| Resource | Contact | Service |
| Sixty & Better | (817) 413-4949 | Sixty & Better seeks to improve the quality of life of those aged 60 and over in Fort Worth through social and recreational programs, age-friendly fitness classes and volunteer opportunities. It also provides referrals for community-based services, such as case management, transportation, health insurance counseling and tax preparation services. |
| Area Agency on Aging of Tarrant County | (888) 730-2372 | The Area Agency on Aging of Tarrant County has benefits counselors who provide free assistance and answers to questions regarding long-term care options, preparing advance directives, obtaining help with Medicare-related expenses, Medicaid eligibility and prescription drug insurance options. The agency also administers six evidence-based programs to meet various needs and prevent health problems. |
| Office of the Long-Term Care Ombudsman | (800) 252-2412 | The Office of the Long-Term Care Ombudsman advocates for those in assisted living facilities in Fort Worth and helps them research long-term care options in the region as well as ways to pay for services. The ombudsman can help residents understand their rights and can work with facilities to develop solutions to meet residents' needs. They can also investigate concerns regarding substandard care and involve the appropriate authorities when necessary. |
| Tarrant County Veteran Services | (817) 531-5645 | The Tarrant County Veteran Services office is located in Fort Worth, providing easy access to benefits assistance and counseling for veterans and their dependents or survivors. At this location, qualifying individuals apply for services, such as VA health insurance, medical services, pension programs and Aid and Attendance, that can reduce out-of-pocket long-term care costs. It can assist individuals with appealing denied applications or obtaining discharge upgrades, which may be necessary for obtaining certain benefits. The office also publishes information on service-related conditions. |
| The Senior Source | (214) 823-5700 | The Senior Source serves older adults in the Fort Worth region by helping them safeguard their financial security and make informed decisions regarding paying for assisted living. It operates the Elder Financial Safety Center and has up-to-date information on scams that target seniors. It also houses the Retired and Senior Volunteer Program for the Fort Worth region. |
Rules and Regulations for Assisted Living Facilities in Fort Worth, TX
Assisted Living Communities in Fort Worth are required to follow a set of rules and regulations that are determined by the state. For an overview of those rules and regulations, see the information below. For more specific information, talk with your local community or Area Agency on Aging.
The 10 Best Assisted Living Facilities in Fort Worth, TX