Get Pricing & Availability for Assisted Living in Frisco, TX
Call (855) 481-6777 for immediate assistance and get more details
Page Reviewed / Updated – November 18, 2020
The 10 Best Assisted Living Facilities in Frisco, TX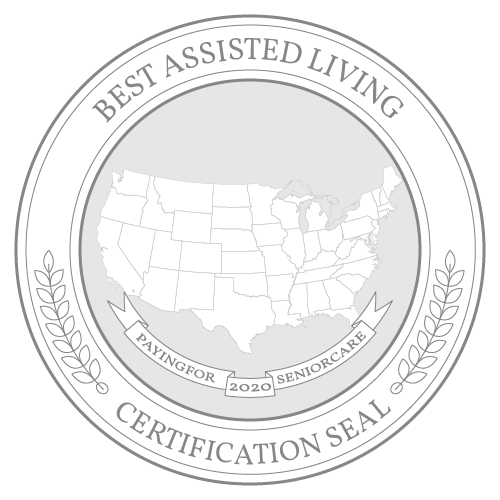 Situated just 25 miles outside of Dallas, Frisco is a vibrant city that offers everything from top-notch attractions to an array of public and private golf courses to over 90+ miles of paved trails that span 1,300 acres of parkland. Voted the #1 best place to live in America by MONEY magazine in 2018, the attractive urban, modern and affordable city of Frisco welcomes seniors who want to live in a safe and diverse city with plenty of natural outdoor activities.
With a population of just over 200,000, about 8% of the population is over the age of 65, so it is possible to find companionship in Frisco. Frisco has about 230 days of sun a year, which means that while the summers are hot, residents can spend their days outdoors enjoying the natural beauty of the area. In fact, in terms of climate, Frisco is considered more comfortable than many of the top cities in Texas.
Note: Information for Frisco, TX, was not available, so data from the closest area, Dallas, was used.
Keep reading to find out which assisted living facilities made our list of the top 10 assisted living facilities in Frisco, TX. Additionally, find out more about the cost of assisted living in Frisco and what financial assistance programs are available.
The Cost of Senior Living and Care in Frisco
Senior living costs in Frisco are generally somewhat higher than they are in the rest of Texas, according to the 2018 Genworth Cost of Care Survey. Assisted living in Frisco, for example, costs an average of $4,350 a month, while seniors in the rest of Texas pay an average monthly cost of $3,795. Adult day care costs are similarly divergent, with average costs in Frisco of $1,408 that are nearly double the Texas state average cost of $758.
How much does Assisted Living Cost in Frisco?
Assisted living in Frisco costs seniors an average of $4,350 a month. This is more than $500 a month more than the average seniors pay in the rest of Texas, which is $3,795 on average. Houston and Abilene are close to the state average, at $3,863 and $3,868 a month, respectively.
Arlington matches Frisco for monthly costs, at $4,350, while San Angelo rises slightly above these costs at $4,450 for assisted living. Austin seniors pay an average of $5,190 a month, the highest reported cost in the state, while Texarkana and El Paso report some of the lowest costs, at $2,265 and $2,250, respectively.
How much does Home Care Cost in Frisco?
Home care in Frisco costs an average of $4,004 a month, which is also the reported monthly cost seniors pay in Arlington. Home care costs average $3,813 across the rest of the state of Texas, which is somewhat lower than the average of $3,909 seniors pay in Houston.
Austin reports average monthly costs of $4,099, which is the highest among surveyed cities, while El Paso and Texarkana seniors pay some of the lowest costs reported, $3,041 and $3,022 a month, respectively.

How much does Adult Day Care Cost in Frisco?
Adult day care in Frisco costs an average of $1,408 a month. This is the same reported cost paid in Arlington and Austin. This is significantly more expensive than the $758 seniors pay on average across the state of Texas. El Paso and Abilene report some of the lowest costs in the state, at $628 and $618 a month. Among surveyed cities, only Houston approaches Frisco, Arlington and Austin in price, at $1,300 a month.

How much does Nursing Home Costs in Frisco?
Nursing home care in Frisco costs an average of $5,064 a month. This is more than $250 a month over the Texas state average of $4,798 a month for a semi-private room in nursing care. Frisco's cost is very close to what Houston seniors pay, $5,095 a month, and identical to the average cost paid in Arlington, $5,064.
Austin reports some of the highest costs in the state, at $5,323 a month for nursing care, while the lowest costs in the state are found in San Angelo, where seniors pay $4,365.

Financial Assistance Programs in Frisco
Medicaid Program in Frisco
Seniors in Frisco who meet the income and asset requirements can get help paying for the cost of senior care through the federal Medicaid program. Texas Medicaid pays for basic and urgent medical care, as well as many prescription drugs and some residential care options. Medicaid is an entitlement program that accepts all eligible applicants, without any waiting periods or enrollment caps for coverage.
To be approved for Medicaid in Texas, seniors in Frisco must be citizens or legal residents of the United States and reside in the state. Some proof of citizenship and residency may be required during the sign-up period.
Financially, seniors who apply for Medicaid must meet income standards based on the federal poverty line with an upward adjustment to account for the cost of living in Texas. Seniors who live alone and apply for themselves can earn up to $24,037 a year from all sources combined, including wages from work, interest from investments and pension benefits. Married couples can earn up to $32,591 a year. The Texas Medicaid income limit rises by an additional $8,554 a year for every extra adult who lives in the household, regardless of whether or not they also apply for benefits.
Seniors in Frisco have several options to apply for Medicaid. Applications may be submitted in person or by mail to a county Health and Human Services office. Seniors can also call for an application packet or apply online at the YourTexasBenefits website, where seniors can browse other free or low-cost health insurance plans.

Medicaid Waivers in Frisco
Texas STAR+PLUS
Seniors in Frisco who need help paying the costs associated with assisted living may be eligible for a STAR+PLUS waiver. This program pays the monthly cost of assisted living for seniors who have been approved for Medicaid and medically cleared for admission into a residential care facility, such as a skilled nursing home. Seniors who opt out of nursing home placement can get a STAR+PLUS waiver by applying directly through their Medicaid caseworker or through the benefits coordinator at a participating assisted living facility.
STAR+PLUS has eligibility requirements of its own, distinct from the more general Medicaid requirements. Seniors applying for STAR+PLUS must be aged 65 or over and earn less than $2,250 a month. Seniors must also report less than $2,000 in personal assets, not counting the first $572,000 in equity in a private home and the value of a single personal car. Intake workers consider assets owned over the course of a five-year look-back period, during which large gifts to friends and family must be counted as countable assets.
STAR+PLUS offers more services for seniors who meet the income and asset requirements of STAR+PLUS, but who opt out of residential placement and choose to remain at home. Stay-at-home benefits include:
Caregiver assistance in the senior's home
Approved home improvement work, including the installation of wheelchair ramps and guard rails
In-home supervision for seniors with dementia
Adult day care at home or in a local facility
Home and Community-Based Services (HCBS)
Seniors who stay at home in Frisco can get local support to remain as independent as possible through the Texas HCBS program. This program issues vouchers to help pay the costs associated with several necessary services seniors need to remain safe and comfortable in their own homes. Applications can go through a Medicaid worker or the discharge planner at the residential care facility the senior is transitioning out of. HCBS benefits include:
Group or family-based residential care services, including live-in services
Respite care, which may be administered in the senior's own home or at a Frisco-area facility
Nursing services, including wound care, from a visiting RN
Vouchers for public transportation, including city bus and rail service, disabled ride assistance and help booking non-emergency medical transportation in a wheelchair or gurney van
Home repairs related to a senior's limited mobility, including ramps and rails
Texas Home Living (TxHmL)
Seniors in Frisco who have been diagnosed with certain mental or cognitive conditions can get help living as independently as possible through the TxHmL program. This program, which is administered by the Texas Department of Aging and Disability Services but which distributes funds to a number of Frisco-area nonprofit organizations, picks up some of the cost of:
Nursing care in the home
Respite care at home or in a local facility
Transportation costs within a reasonable radius in the northern Dallas-Ft. Worth area
Approved home modifications
Durable medical equipment and some adaptive aids, such as leg and back braces, wheelchairs and other mobility devices
Applications for TxHmL can be submitted by the benefits or discharge coordinator at the post-acute facility a senior is transitioning out of, as well as directly through the Department of Aging and Disability Services. To qualify, seniors must meet the residency and financial requirements of Medicaid, as well as present documentation of their age-related disability, such as Alzheimer's disease or Huntington's chorea.

Other Financial Assistance Programs in Frisco
Texas Support Services
Frisco seniors can get help with some daily tasks from a caregiver through Texas Support Services. This program funds the hiring of an in-home caregiver to assist seniors with laundry, personal care, food preparation and other normal household activities. Caregivers can also help seniors with tasks outside of the home, such as shopping and other reasonable errands.
Eligible seniors must have some limiting physical or mental disability that makes normal household activities too difficult to do alone, including a diagnosed drug or alcohol dependency. Because program funds are distributed at the senior's discretion, caregivers may be anyone the recipient chooses, such as spouses, family members and friends who meet program requirements.
To sign up for the program, seniors can reach out by phone or mail to the Dallas-area Area Agency on Aging, or they can apply directly through their Medicaid caseworker.
Community Care for the Aged/Disabled (CCAD)
Seniors in Frisco can get help remaining independent, or with covering some costs of residential care, through Community Care for the Aged/Disabled (CCAD). CCAD helps cover some costs associated with home care, as well as boarding costs for some residential care in the senior's Frisco community. Seniors or their loved ones can apply for CCAD online or through the Dallas-area Aging and Disability Resource Center.
Community Attendant Services (CAS)
Frisco seniors who need assistance in their own homes, but who may not be able to afford the cost of an in-home caregiver, can apply for help through Community Attendant Services (CAS). CAS caregivers can assist Frisco seniors at home, in the home of a friend or relative or in an assisted living setting. Seniors can choose any trusted loved one to serve as their caregiver, including spouses and family members. Frisco seniors interested in CAS can request information about the program online.

More Senior Living Resources in Frisco
| | | |
| --- | --- | --- |
| Resource | Phone Number | Description |
| Housing Authority of the City of Frisco | (972) 377-3031 | The Frisco Housing Authority operates a number of low-income public housing units at a single location in town, Frisco Villas. Seniors can apply for more information and for a spot on the waiting list by calling the Authority's main phone line. The Frisco Housing Authority does not participate in the federal Section 8 housing voucher program. |
| Project Access | (800) 237-6500 | Project Access administers the federal Section 8 Housing Choice Voucher program for the Frisco area. Seniors who meet program income and asset requirements can request a spot on the low-income housing choice waiting list through the Texas Department of Housing and Community Affairs Section 8 office. |
| Comprehensive Energy Assistance Program | (903) 872-2401 | Community Services Inc. provides seniors in Collin County with direct assistance paying their home utility bills, including on an emergency basis to avoid disconnections. Seniors can request an application packet by phone. |
| Allen Community Outreach | (972) 727-9131 | Allen Community Outreach operates a non-profit public assistance program in the northern Dallas-Ft. Worth area that can help seniors in Frisco live on their own. Services offered include a food pantry, emergency shelter, donated clothing and vouchers or direct donations for personal care items. The project also offers direct assistance with overdue household bills and assistance with rent on a limited basis. Seniors in Frisco can call for information or visit the Outreach center in Collin County. |
For additional information and planning, please read our comprehensive guide to paying for senior care in Texas.