Get Pricing & Availability for Assisted Living in Dallas, TX
Call (855) 481-6777 for immediate assistance and get more details
Page Reviewed / Updated – July 6, 2022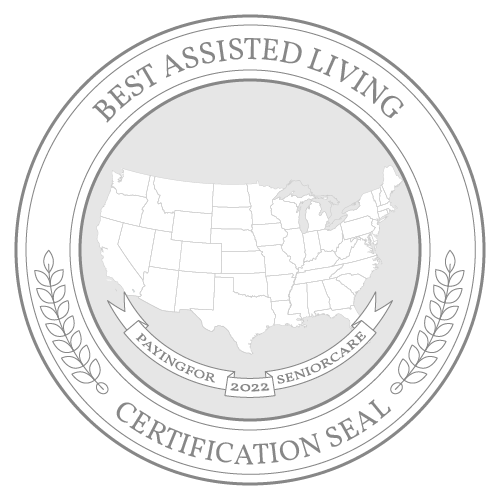 Dallas is a large city in Texas, with around 1.3 million residents as of the 2020 Census. The city has a relatively young population, with just 10.6% of its residents being aged 65 or over. However, it's a comparatively affordable place for seniors to live, since the cost of living is only slightly higher than the national average, and the state has no income tax, so any Social Security income or pensions seniors receive go straight into their pockets.
Assisted living care in Dallas is quite affordable compared to the national average, with seniors typically paying just $4,195 per month, according to the Genworth Cost of Care Survey 2021. Seniors who struggle to cover the cost of their care may be eligible for support from Medicaid waivers.
This guide looks at the cost of care in Dallas and the surrounding cities and lists useful resources to help seniors plan their care arrangements for their retirement years.
The Cost of Assisted Living in Dallas, TX
Seniors in Dallas typically pay $4,195 per month for assisted living care. This is slightly above the state average of $3,998 but compares favorably with the national average of $4,500. Seniors in El Paso and San Antonio pay far less, with typical fees averaging $3,750 and $3,413 per month, respectively. Austin, in the heart of the state, is much more expensive, with average fees of $5,345.
Dallas: $4,195
State: $3,998
United States: $4,500
Austin: $5,345
San Antonio: $3,413
El Paso: $3,750
The Cost of Other Types of Care in Dallas, TX
Assisted living facilities are just one senior care option. Seniors who want to remain in their own homes may prefer in-home care or home health services, which are both priced at around $4,862 per month. Another option for generally healthy and mobile seniors is adult day health care services, which are the most affordable option at $1,517 per month. Those who require more focused medical care or round-the-clock supervision may wish to consider a nursing home facility. Shared rooms cost $5,627, while private rooms cost around $8,460 per month.
In-Home Care: $4,862
Home Health Care: $4,862
Adult Day Health Care: $1,517
Assisted Living Facility: $4,195
Nursing Home Facility (semiprivate room): $5,627
Nursing Home Facility (private room): $8,460
Financial Assistance for Assisted Living in Dallas, TX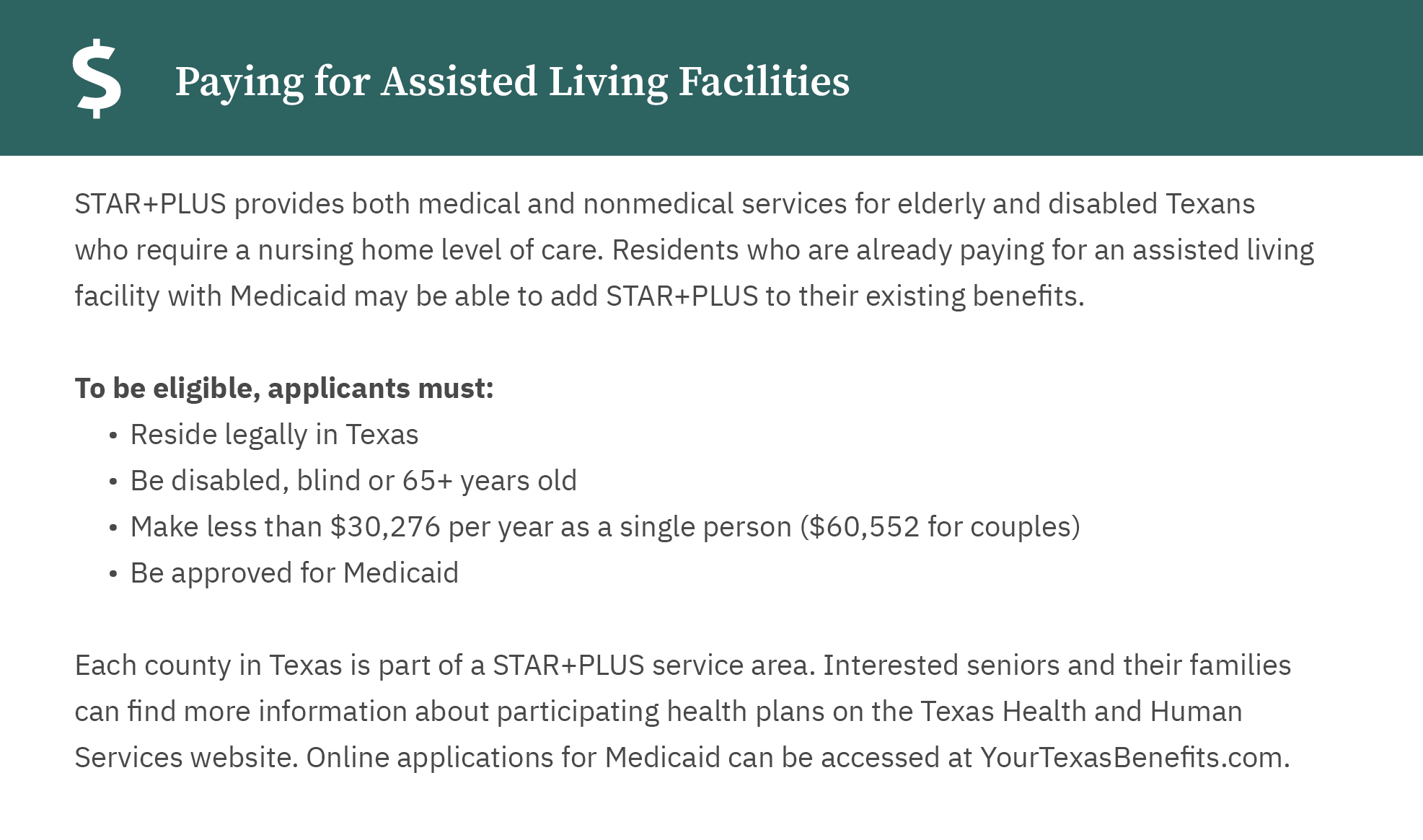 Other Ways to Pay for Assisted Living in Dallas, TX
Since not everyone can afford to pay for assisted living out-of-pocket, it's important to find alternative methods to help make assisted living more affordable. Some of these options include:
Veterans Benefits
Life Insurance Policy
Long-Term Care Insurance
Reverse Mortgage
For additional information and planning, read our comprehensive guide to paying for senior care in Texas.
Free Resources for Seniors in Dallas, TX
Seniors in Dallas can make use of a variety of organizations and service providers that offer support in the form of help with benefits applications, legal advice, help for veterans and free or low-cost programs and activities for older adults.
| | | |
| --- | --- | --- |
| Resource | Contact | Service |
| Dallas Area Agency on Aging | (214) 871-5065 | The DAAA's Benefits Counseling Program helps seniors navigate various public assistance programs. It can also aid seniors in identifying transportation solutions and securing legal services. Additionally, seniors facing problems with service denials and benefits payments may find assistance through the DAAA. Free help with government forms is available as well. |
| My Ride Dallas | (972) 855-8084 | My Ride Dallas counsels clients regarding transportation options and helps them apply for transportation assistance. The organization also helps seniors access transportation vouchers on a limited basis. Consultations with My Ride Dallas are free of charge. The organization works with seniors as well as friends and family members who want to ensure an older adult has transportation. |
| Dallas County Veterans Services | (972) 692-4939 | The Dallas County VSO aids older military veterans in accessing numerous financial benefits. Potentially available perks include service-connected benefits, property tax exemptions and pensions. The VSO helps veterans file initial claims and then provides support throughout the claims process. Assistance with appeals is available as well. Additionally, the VSO conducts presentations on benefits in long-term care facilities. |
| | (800) 252-2412 | The statewide LTC Ombudsman initiative supports residents of assisted living facilities and nursing homes. It does so by working to uphold residents' welfare and quality of life. The program's ombudsmen also listen to the concerns of residents and family members and help resolve problems. Additionally, ombudsmen help people learn about various options for long-term care. |
| The Senior Source | (214) 823-5700 | The Senior Source is a local point of contact for Dallas-area ombudsman services. It also runs an initiative that addresses seniors' financial concerns and provides guardianship. Caregiver support is another area of focus. In addition, The Senior Source runs multiple volunteer programs older adults can participate in. |
Rules and Regulations for Assisted Living Facilities in Dallas, TX
Assisted Living Communities in Dallas are required to follow a set of rules and regulations that are determined by the state. For an overview of those rules and regulations, see the information below. For more specific information, talk with your local community or Area Agency on Aging.
The 10 Best Assisted Living Facilities in Dallas, TX