Get Pricing & Availability for Assisted Living in Roswell, GA
Call (855) 481-6777 for immediate assistance and get more details
Page Reviewed / Updated – July 16, 2020
The 10 Best Assisted Living Facilities in Roswell, GA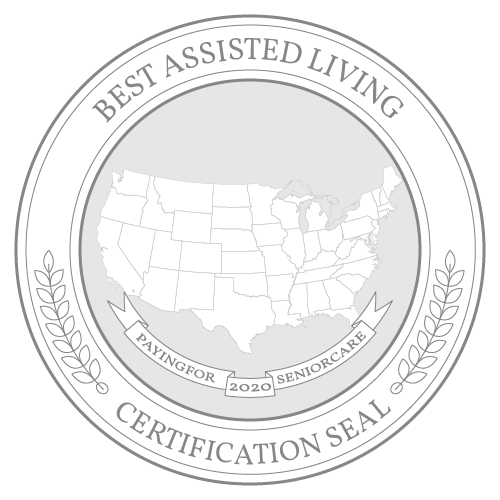 Roswell is an upscale city in Fulton County, 20 miles north of downtown Atlanta. Home to just under 95,000 residents, Roswell has a relatively low crime rate and affordable housing, which may make the area more appealing to seniors and their loved ones. The city is also home to a number of urgent care and outpatient clinics, and there are more than 20 world-class hospitals within a 25-mile radius.
Seniors seeking a retirement destination that offers plenty of entertainment and recreational opportunities might feel right at home in Roswell. The Chattahoochee Nature Center and Old Mill Park and Machine Shop have safe, level walking trails, and downtown Roswell is home to some of the best restaurants in Metro Atlanta. Summers in Roswell are hot and humid with temperatures reaching the low 90s, while winters are short, cool, and wet.
Note: Information for Roswell was not available, so data for the closest city, Atlanta, was used.
Take a look at our list of the top 10 assisted living facilities in Roswell. Additionally, find out more about the cost of assisted living in Roswell and what financial assistance programs are available.
The Cost of Senior Living and Care in Roswell
Roswell, a suburb north of Atlanta, is a relatively expensive area when it comes to senior care. Based on the Genworth 2018 Cost of Care Survey, the average cost of all four types of elderly care in Roswell are higher than the Georgia state averages. However, when compared to U.S. national averages, the average cost of assisted living, home care, and nursing home services in Roswell are considerably more affordable.
Adult day care in Roswell is more expensive than most areas in Georgia and the rest of the United States. It costs around $400 more per month than the state median of $1,300, and about $150 higher than the national average of $1,560.
While the cost of assisted living in Roswell is about $290 more costly than the state average of $3,100, it's $610 less expensive than the national median of $4,000. Roswell's average home care cost is $190 higher than the rest of Georgia where the state median is $3,623, but approximately $190 lower than the U.S. median of $4,004. Seniors opting for nursing home care in Roswell may spend approximately $410 more than the Georgia average of $6,342, yet it's nearly $690 more affordable than the nationwide average of $7,441.
Note: Senior care cost data wasn't available for Roswell, so the data for the closest city, Atlanta, was used.
How much does Assisted Living Cost in Roswell?
Roswell's average cost for assisted living leans toward the midrange side when compared with other areas in Georgia. Assisted living in Roswell is $3,390 per month on average, almost $650 more affordable than Dalton's average of $4,035, and about $760 cheaper than the most expensive area, which is Brunswick, at $4,145.
Warner Robins and Albany are the most affordable areas for assisted living with similar average costs at approximately $2,300 per month, saving seniors a significant average of $1,090 when compared to Roswell. Columbus is another affordable city at $2,750, and the less costly areas near Roswell include Rome at $3,200 and Athens at $3,350.
How much does Home Care Cost in Roswell?
With an average cost of $3,813 per month, in-home senior care in Roswell is more costly than in most areas in Georgia. Brunswick and Gainesville are the most expensive areas, averaging $4,004, and cost seniors about $190 more than Roswell. Savannah's monthly home care cost at $3,956 is around $140 more expensive when compared to Roswell's average.
The most affordable cities for home care in Georgia are Valdosta at $3,194 and Dalton at $3,241, lower than Roswell by approximately $620 and $570, respectively. For Augusta and other areas throughout Georgia, the cost of home care is close to the state average.
How much does Adult Day Care Cost in Roswell?
At $1,712 per month on average, Roswell is one of the most expensive areas in Georgia when it comes to adult day care. Brunswick, the cheapest area for adult day care at $542, saves seniors $1,170 per month. Hinesville is also affordable at $867, cheaper than Roswell by almost $850.
Other affordable areas for adult day care in Georgia are Savannah at $1,148 and Gainesville at $1,257, saving seniors approximately $560 and $460, respectively, compared to Roswell. Seniors considering adult day care in Columbus may pay $1,327 per month, which is close to the state median.
How much does Nursing Home Costs in Roswell?
Skilled nursing care in Roswell at $6,753 per month is one of the most expensive in Georgia. The areas with the highest monthly average costs for nursing home care in the state are Dalton at $7,270 and Valdosta at $7,178, which are more expensive than Roswell by almost $520 and $430, respectively.
Hinesville's average is the most affordable area for nursing home care at $5,779 per month, saving seniors almost $970 as compared to Roswell. Brunswick is another affordable city at $5,931, cheaper than Roswell by around $820. Other areas are with lower costs include Savannah, Brunswick, and nearby Rome, all under $6,000 per month on average and more affordable than the state average.
Financial Assistance Programs in Roswell
Medicaid Program in Roswell
The Medicaid programs of Georgia allow low-income residents in Roswell to enjoy access to quality health care, and eligible seniors may be granted financial assistance to cover the costs of long-term care in their homes, as well as in licensed assisted living facilities and nursing homes. The regular Medicaid program for the Aged, Blind or Disabled (ABD) is an entitlement program, enabling all qualified low-income Roswell senior citizens aged 65 and older to receive applicable services and benefits.
To qualify for Medicaid, single elderly individuals who are Supplemental Security Income (SSI) recipients must have a maximum income of $771 per month and own up to $2,000 of countable assets. For senior couples, they must earn at most $1,517 monthly, and their asset limit is $3,000. Non-SSI senior beneficiaries requiring nursing home and community care services have the same asset limits, while the monthly maximum income is $2,313.
The following options allow qualified seniors in Roswell to apply for Medicaid programs:
Online application via Georgia Gateway
Visit or phone call with the Fulton North County Division of Family and Children's Services (DFCS) office:
8215 Roswell Road, Suite 1100, Sandy Springs, GA 30082
Telephone: (770) 551-3049 and (770) 551-3056
Visit the nearest Social Security Administration office from Roswell:
415 Franklin Gateway SE, Marietta, GA 30067
Phone calls through the following numbers for certain Medicaid-related concerns:
Application request: (877) 423-4746
Eligibility: (404) 651-9982
Long-term care: (404) 232-1411
Seniors with long-term care insurance policies under the Georgia Long-Term Care (LTC) Partnership program receive comprehensive financial coverage from Medicaid and partner private insurers when applying for home and community-based services.
Medicaid Waivers in Roswell
Community Care Services Program (CCSP)
The Community Care Services Program waiver allows seniors in Roswell who are qualified to receive nursing home care to continue residing in their homes or stay in licensed assisted living facilities. Some of the covered non-medical services are in-home supportive care, adult day care, respite, home-delivered meals, and emergency response. Read further information on the program's covered services, eligibility requirements, and application process on our CCSP guide.
Service Options Using Resources in a Community Environment (SOURCE)
The SOURCE waiver program benefits elderly Medicaid beneficiaries in Roswell who require comprehensive long-term care and medical services. Aside from all the personal care services covered under the CCSP, the SOURCE program's coverage also includes 24-hour access to medical monitoring and assistance services. Specific benefits are determined under an individual care plan and are subject to assessment by case managers and primary care physicians. Find out more information about this program's services, eligibility criteria, and application requirements in our SOURCE guide.
Other Financial Assistance Programs in Roswell
Money Follows the Person (MFP) Project
The Money Follows the Person (MFP) project of Georgia is a long-term care program that helps Medicaid-eligible seniors transition from nursing homes and other institutional facilities to community-based settings. Qualified Georgians in Roswell may receive financial assistance from MFP through home and community-based services waivers to cover various transition expenses, such as moving costs, security and utility deposits, basic home furnishings, home safety enhancements, and resources for community support. For further details on eligibility requirements and application procedures, inquire at the Georgia MFP office at [email protected] or (404) 651-9961.
Non-Medicaid Home and Community Based Services (HCBS)
Through the non-Medicaid HCBS program by the Division of Aging Services (DAS) and local Area Agencies on Aging (AAA), Roswell seniors 60 and older may receive caregiver, in-home care, and wellness services for free or at discounted costs. This program is on a waiting list basis, where priority is given to elderly residents who are frail, earning below the poverty level, living alone, or at risk of needing institutional care. See this guide for more information on this program's benefits and services, eligibility, and application guidelines.
Medicare Financial Assistance Programs
GeorgiaCares, the State Health Insurance Assistance Program (SHIP) of Georgia, offers free counseling services to Medicare beneficiaries in Roswell and assists them in applying for available financial assistance programs that help reduce out-of-pocket expenses on medical services and prescription drugs. Call 1-866-552-4464 (Option 4) to schedule a free counseling session.
More Senior Living Resources in Roswell
| | | |
| --- | --- | --- |
| Resource | Phone Number | Description |
| Housing Authority of the City of Roswell | (770) 993-6226 | The Roswell Housing Authority (RHA) owns and operates 95 affordable housing units in Roswell, including 52 units for the elderly and disabled. RHA only offers public housing programs, and currently doesn't administer the Section 8 Housing Choice Voucher program. |
| Housing Authority of Fulton County | (404) 588-4950 | The Housing Authority of Fulton County administers public housing and Section 8 Housing Choice Voucher programs on a waiting list basis for low-income seniors, families, and persons with disabilities. |
| The Veranda at Groveway | (770) 993-9501 | The 101-unit Veranda at Groveway is the first low-income independent senior housing development in Roswell for elderly singles and couples 62 or older. |
| City of Roswell Homestead Exemption Program | (770) 641-3759 | Seniors 65 and older who live in their own residential properties are qualified for $2,000 in homestead exemptions. An additional exemption of $20,000 may be granted to elderly residents with an adjusted gross income below $40,000. |
| Fulton County Low Income Home Energy Assistance Program (LIHEAP) | (404)-612-7188 | LIHEAP offers energy bill assistance to elderly residents in Fulton County to help pay for higher heating costs during cold weather months. Seniors in Roswell aged 60 or older are eligible to apply for Fulton County's LIHEAP services. |
| Habitat for Humanity North Central Georgia Home Repair Program | (770) 587-9679 | Habitat for Humanity North Central Georgia is based in Roswell and offers home preservation, weatherization, and critical home repair services for qualified low-income homeowners aged 55 and above. |
For additional information and planning, please read our comprehensive guide to paying for senior care in Georgia.