Get Pricing & Availability for Assisted Living in Tucker, GA
Call (855) 481-6777 for immediate assistance and get more details
Page Reviewed / Updated – June 26, 2020
The 10 Best Assisted Living Facilities in Tucker, GA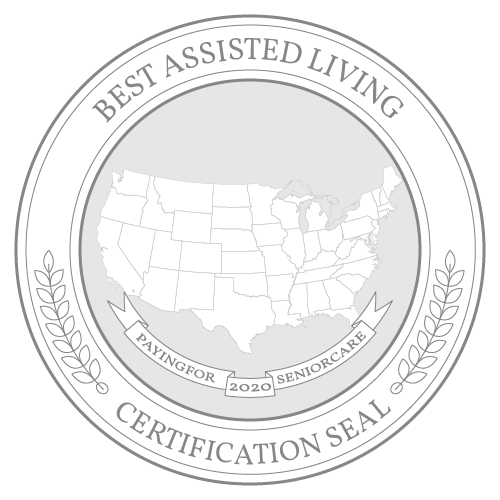 Retirees seeking Southern comfort and a relaxed lifestyle are sure to find it in Tucker, GA. This friendly city of about 36,000 is one of the oldest communities in DeKalb County, and its location just 15 miles northeast of downtown Atlanta offers residents easy access to big-city amenities via Interstates 285 and 85.
With its abundance of sunny days, mild winters and balmy temperatures, Tucker is a mecca for retirees, who make up 17.2% of the population. Seniors also benefit from area health care costs that are 10% below the U.S. average and are near the state's top-ranked health care facility.
Downtown Tucker has a lot to offer, including intriguing shops and eateries, a bountiful three-season farmers market, and the nine-acre Tucker Nature Preserve. There's the Main Street Theater for cultural aficionados and fun events for all to enjoy, including Tucker Day and Taste of Tucker.
Seniors can expect to pay $3,750 per month for assisted living, which is about $300 less than the national median of $4,051. It's also considerably lower than the $4,474 average monthly price paid in nearby Gainesville, and rates in adjacent Tennessee and Virginia, which average $3,900 and $4,800, respectively.
Note: Cost data for Tucker wasn't available, so information for nearby Atlanta was used.
Here's a look at the top 10 assisted living facilities in the Tucker area. Additionally, find out more about the cost of assisted living in Tucker and what financial assistance programs are available.
The Cost of Senior Living and Care in Tucker
According to the Genworth 2018 Cost of Care Survey, senior care in Tucker is priced higher than the average U.S. city. The cost of assisted living is just $290 higher than the state average; however, both nursing home care and adult day care are more than $400 higher than the average U.S. city. Home care is priced closest to the state average at just $190 more than the average U.S. city.
Note: Senior care cost data wasn't available for Tucker, so the data for the closest city, Atlanta, was used.
How much does Assisted Living Cost in Tucker?
Seniors in Tucker who receive residential assisted living care pay an average of $3,390 per month. Athens' average assisted living cost is about the same, while Dalton's cost is $645 more at an average of $4,035 per month. Seniors in Brunswick pay an average of $4,145 per month, which is the highest cost in the state. Seniors looking for a more economical choice can find less expensive assisted living in cities such as Valdosta, where the average cost is only $3,000 per month, as well as Albany and Warner Robins, where assisted living is priced the lowest in the state at $2,320 and $2,300 per month, respectively.
How much does Home Care Cost in Tucker
In Tucker, the average cost of home care is $3,813 per month. That's nearly $200 less than in Brunswick, where home care has the highest price tag in the state. The cost of home care in Tucker is the same as in Hinesville and is only slightly higher than in Albany and Athens, where costs are $3,527 and $3,623. Warner Robins is slightly less at $3,432 per month and in Dalton, the cost is $3,241, which is just slightly higher than in Valdosta where the average cost is $3,194 per month, the lowest in Georgia.
How much does Adult Day Care Cost in Tucker?
Tucker's senior citizens pay more for adult day care than those living in any other city in Georgia. At $1,712 per month, adult day care in Tucker is priced $1,170 higher than in Brunswick, where the average cost is the lowest in Georgia at $542 per month. Seniors in Hinesville pay an average of $867, which is slightly more than those in Brunswick, while in Valdosta and Athens the price is about mid-range when compared with the rest of the state.
How much does Nursing Home Costs in Tucker?
The average cost of nursing home care in Tucker is $6,753 per month, which is $517 less than in Dalton, where nursing home care is priced the highest in the state at $7,270 per month. Valdosta comes in just behind Dalton at $7,178 per month. On the opposite end of the spectrum, Hinesville has the least expensive average cost at $5,779 per month, while cities including Athens and Warner Robins are priced just a bit higher at $6,083 and $6,296 per month.
Financial Assistance Programs in Tucker
Medicaid Program in Tucker
Georgia's Medicaid program helps senior citizens and other financially vulnerable persons living in Georgia to access free health care services at no cost. It covers the cost of primary care as well as a variety of other costs including dental care, mental health services and prescription medications. The program also covers some long-term care costs including nursing home care and limited personal care services. Additionally, the state has several waiver programs in place that allow Medicaid to cover other long-term care options such as assisted living and home care for those who are eligible for Medicaid coverage.
To qualify for Medicaid as a senior citizen, applicants need to be at least 65 years old and meet the following financial requirements:
Maximum income of $2,313 per month
No more than $2,000 in countable assets
There may be some instances where only one person in a married couple needs to apply for Medicaid coverage. In these cases, the spouse who is applying may transfer up to $3,160.50 per month to the non-applying spouse in order to meet the above requirements.
Medicaid is an entitlement program, which means that any applicant who is approved for coverage may access benefits immediately. To apply for Medicaid, seniors who live in Tucker and surrounding areas can call (877) 423-4746.
Medicaid Waivers in Tucker
Service Options Using Resources in a Community Environment (SOURCE)
The SOURCE waiver is available to elderly and disabled persons who require a nursing level of care. It allows them to access services within the community, outside of nursing care facilities. It covers the cost of services that beneficiaries receive at home or in assisted living facilities, including personal care, skilled nurse visits, case management services and adult day care.
To be eligible for the SOURCE waiver on the basis of age, applicants must be 65 or older and fully eligible for Georgia's state Medicaid plan. The program only accepts 19,000 participants at a single time, which means even after approval, some applicants may be placed on a waiting list.
Seniors in Tucker can apply for this waiver by calling (866) 552-4464.
More information can be found here.
Community Care Services Program (CCSP)
The CCSP waiver helps functionally impaired senior citizens to access nursing care and personal care. It covers a similar range of services as the SOURCE waiver; however, it's open to those who only require an intermediate level of nursing level of care. The CCSP waiver pays for costs such as assisted living and in-home personal support services.
To be eligible for the CCSP waiver, applicants must be eligible for the state Medicaid plan and be functionally impaired. They must also be able to reside safely within the community despite their needs. This program is limited and approved participants may be placed on a waiting list.
Seniors who wish to apply for the CCSP may call (866) 552-4464. More information can be found here.
Other Financial Assistance Programs in Tucker
Home and Community-Based Services
In Georgia, home and community-based services (HCBS) are state-administered programs that aren't associated with Medicaid. Their services are provided by Georgia's Area Agencies on Aging (AAA). Seniors in the Tucker area can access services such as in-home personal care, meal delivery and case management.
Seniors who wish to participate in these programs must be at least 60 years old and submit to an assessment which is performed by AAA case workers. These programs don't have any financial restrictions.
Seniors who live in Tucker can apply for assistance by contacting the Atlanta Regional Area Agency on Aging at (866) 552-4464. More information can be found here.
More Senior Living Resources in Tucker
| | | |
| --- | --- | --- |
| Resource | Phone Number | Description |
| Housing Choice Vouchers | (404) 270-2500 | Residents of Tucker and Dekalb County can access safe and sanitary housing via the Housing Choice Voucher program, which allows low-income families and individuals to rent the housing of their choice while subsidizing the cost. |
| Low Income Home Energy Assistance Program (LIHEAP) | (800) 436-7442 | LIHEAP helps low-income Georgia residents pay for utility bills when they're unable to do so on their own. It also helps to pay for home weatherization that helps to decrease energy costs. |
| Decatur Area Emergency Assistance Ministry (DEAM) | (404) 373-2300 | DEAM helps Dekalb County families and individuals in times of crisis by offering free food up to six times per year, as well as rent and mortgage payment assistance, funds for utility bills and prescription medication vouchers. |
| Decatur Cooperative Ministry, Inc. | (404) 284-4411 | This organization helps residents of Dekalb County who are facing homelessness by providing emergency shelter, hotel vouchers, rent and mortgage assistance, rehousing services and utility bill payments. |
For additional information and planning, please read our comprehensive guide to paying for senior care in Georgia.