Get Pricing & Availability for Assisted Living in Decatur, GA
Call (855) 481-6777 for immediate assistance and get more details
Page Reviewed / Updated – November 11, 2020
The 10 Best Assisted Living Facilities in Decatur, GA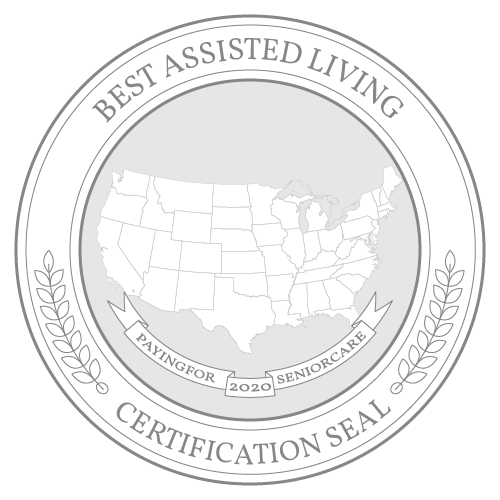 Located northeast of Atlanta, Decatur is a suburb that spans 4.4 square miles and offers plenty of top dining spots, more than 57 acres of park space and a vibrant downtown. The city is composed of the historic Old Depot District and the lively West Ponce District and offers something for everyone with the warm spirit of hospitality that the south is known for.
Seniors enjoy the lively spirit of Decatur, which encourages them to stay active and receive help with meals from the Dekalb County Office of Aging. The cost of living is low in Decatur compared to the rest of the United States, and it has a favorable climate with warm summers and mild winters, making it a great city or seniors to retire in.
Note: Information for Decatur was not available, so data from the nearest city, Atlanta, was used.
If you live near or in Decatur and are considering assisted living take a look at our top 10 list of assisted living facilities to see if a perfect match exists for you. Additionally, find out more about the cost of assisted living in Decatur and what financial assistance programs are available.
The Cost of Senior Living and Care in Decatur
Decatur, as part of the Atlanta metropolitan area, has relatively higher average costs on all four types of senior care than the Georgia median, as assessed by the Genworth 2018 Cost of Care Survey. However, Decatur's average costs for assisted living, home care, and nursing home services are more affordable than the U.S. national averages.
Assisted living in Decatur costs $290 higher than the state median, but is much lower than the national average of $4,000. Decatur's average home care cost is about $190 more expensive than the rest of Georgia, and $191 cheaper than the U.S. median of $4,004. Although nursing home care in Decatur costs approximately $400 more than some other areas in the state, it's more affordable by nearly $690 than the nationwide median of $7,441.
Seniors considering adult day care in Decatur may spend around $400 more on monthly average as compared with other cities and Georgia, or about $150 more than the national average of $1,560.
Note: Senior care cost data wasn't available for Decatur, so the data for the closest city, Atlanta, was used.
How much does Assisted Living Cost in Decatur?
Decatur is midrange when it comes to assisted living costs as compared with other cities in Georgia. At $3,390 on a monthly average, assisted living in Decatur is more affordable by around $650-$760 than the most expensive areas—Dalton at $4,035 and Brunswick at $4,145. The cheapest cities are Warner Robins and Albany at approximately $2,300 monthly, which is significantly more affordable than Decatur by around $1,090. Other affordable assisted living options include Columbus at $2,750 and nearer areas such as Rome at $3,200 and Athens at $3,350.

How much does Home Care Cost in Decatur?
Averaging $3,813 per month, home care costs in Decatur are relatively more expensive than in most of the other areas in Georgia. The most expensive cities are Brunswick and nearby Gainesville both at $4,004, followed by Savannah at $3,956, having home care costs around $150-$190 more than in Decatur. Valdosta and Dalton are the most affordable cities in the state at $3,194 and $3,241, respectively, saving seniors around $570 to $620 monthly when compared with Decatur. Seniors considering home care in other areas throughout Georgia may expect to spend close to the state average of $3,623.
How much does Adult Day Care Cost in Decatur?
Adult day care in Decatur costs $1,712 a month on average and is one of the most expensive in Georgia. Seniors can save a significant amount, approximately $850-$1,170, when opting for adult day care in Brunswick at only $542 per month or in Hinesville at $867. Savannah is also more affordable at $1,148, which is $560 cheaper than Decatur. Adult day care in Columbus averages $1,327 monthly and is close to the state median of $1,300, while nearby Gainesville at $1,257 costs seniors around $450 less than in Decatur.
How much does Nursing Home Costs in Decatur?
The average cost of skilled nursing care in Decatur is $6,753 per month, and this figure is one of the highest in Georgia. Dalton and Valdosta have the most expensive nursing home services in the state, with monthly averages of $7,270 and $7,178, respectively, higher than Decatur by $520 and $420, respectively. The most affordable cities are Hinesville at $5,779 and Brunswick at $5,931, where seniors can save around $820 to $970 as compared to Decatur. Less costly areas include Savannah, Brunswick, and nearby Rome which all cost approximately $6,000 a month, lower than the state average of $6,342.

Financial Assistance Programs in Decatur
Medicaid Program in Decatur
Through Georgia's Medicaid programs, which enable healthcare access to low-income residents, eligible seniors may receive financial coverage for the costs of long-term care in a nursing home, an assisted living facility, or at home. Individuals who took advantage of the Georgia Long-Term Care (LTC) Partnership program through long-term care insurance policies may benefit from comprehensive coverage by Medicaid and partner private insurers for certain home and community-based services.
Regular Medicaid for the Aged, Blind or Disabled (ABD) category is an entitlement program that qualifies all eligible low-income senior citizens in Decatur who are 65 and older to receive benefits.
The income and asset limits for single elderly individuals who are Supplemental Security Income (SSI) recipients are $771 per month and $2,000, respectively, while senior couples can earn a maximum of $1,517 a month and possess up to $3,000 worth of assets. The same asset limits apply for non-SSI elderly beneficiaries seeking nursing home and community care services, while the monthly income limit is $2,313.
Qualified seniors in Decatur may apply for Medicaid programs through the following options:
Apply online via Georgia Gateway
Visit or call the DeKalb County Division Of Family And Children Services (DFCS) office: 178 Sams St, Decatur, GA 30030, tel. no. (404) 370-5076
Visit the local Social Security Administration office: 3554 Covington Hwy, Decatur, GA 30032
Call the following numbers for certain Medicaid-related concerns:

Application request: (877) 423-4746
Eligibility: (404) 651-9982
Long-term care: (404) 232-1411
Medicaid Waivers in Decatur
The Medicaid Home and Community Based Services in Decatur and the rest of Georgia are also called Long Term Services and Supports. They are available through waiver programs that enable seniors to receive care in their homes or in community settings that are alternatives to nursing facilities. Enrollment for the below Elderly and Disabled waiver programs may be subject to waiting lists, based on the applicants' required types of services.
Community Care Services Program (CCSP)
The Community Care Services Program waiver helps seniors in Decatur and the rest of Georgia who are qualified for nursing home care to stay in their homes or in licensed assisted living facilities instead. Covered non-medical care services include adult day care, respite, emergency response, in-home supportive care, and home-delivered meals. See detailed information about the covered services, eligibility criteria, and application procedures on our CCSP guide.
Service Options Using Resources in a Community Environment (SOURCE)
For Medicaid-eligible seniors in Decatur who need long-term care with medical services, the SOURCE waiver program provides comprehensive coverage. It covers the same personal care services under CCSP, plus 24-hour access to medical monitoring and assistance services, as determined by case managers and primary care physicians through an individual care plan. Read more about this program's service, eligibility, and application information on our SOURCE guide.
Other Financial Assistance Programs in Decatur
Money Follows the Person (MFP) Project
The Money Follows the Person (MFP) project of Georgia is a program that assists Medicaid-eligible seniors requiring a continued nursing home level of care to transition from institutional facilities to community settings. MFP provides financial assistance to qualified beneficiaries in Decatur through home and community-based services waivers. It covers transition expenses, including moving costs, security and utility deposits, basic furnishings, environmental and safety home improvements, and access to community support resources. For more information on eligibility and application requirements, contact the Georgia MFP office at [email protected] or (404) 651-9961.
Non-Medicaid Home and Community Based Services (HCBS)
The non-Medicaid HCBS program by the Division of Aging Services (DAS) and local Area Agencies on Aging (AAA) lets seniors aged 60 or older receive caregiver, in-home care, and wellness services for free or at reduced costs. The waiting list system for these services prioritizes elderly residents who are frail, below poverty level, living alone, or at risk of becoming institutionalized. Read more for further information regarding the benefits and services, eligibility, and application requirements for this program.
Medicare Financial Assistance Programs
GeorgiaCares is the State Health Insurance Assistance Program (SHIP) of Georgia, providing free counseling services to Medicare beneficiaries in Decatur and helping them apply for various financial assistance programs to reduce out-of-pocket expenses on medical services and prescription medicines. To schedule a free counseling session, call 1-866-552-4464 (Option 4).

More Senior Living Resources in Decatur
| | | |
| --- | --- | --- |
| Resource | Phone Number | Description |
| Housing Authority of the City of Decatur, Georgia | (404) 270-2100 | The Decatur Housing Authority offers affordable housing options for qualified renters, aspiring homeowners, and other beneficiaries through various development projects. It also administers the Section 8 Housing Choice Voucher Program (HCVP) for low-income residents on a waiting-list basis. |
| City of Decatur Housing Developments | (404) 371-8386 | The Community & Economic Development Department of the City of Decatur advertises several affordable senior housing properties including Clairmont Oaks, Park Trace, and the Philips Tower. |
| Martin Luther King, Jr. Service Project | (678) 553-6548 | Decatur's MLK, Jr. Service Project provides free home repair and yard work services to low-income senior homeowners 62 and older, helping them stay safe and comfortable in their homes. These volunteer services occur for three consecutive days a year, in observance of the Martin Luther King, Jr. Day. |
| City of Decatur Tax Payment Assistance | (404) 370-4100 | Low-income seniors are eligible for homestead tax exemptions and property tax deferrals. The amount of homestead tax exemptions vary depending on the age (62, 65, 70, 80 and up) and household income of senior homeowners in Decatur. Tax deferrals apply to seniors 62 and older, and with a maximum household income of $20,000. |
| Georgia Senior Citizen Discounts on Utilities | (404) 656-4501 | The Georgia Public Service Commission, through the Lifeline Assistance Program and Link-Up Georgia, qualifies low-income Decatur seniors 65 and above for telephone bill discounts. The PSC also regulates Georgia Power and Atlanta Gas Light, benefiting eligible seniors through discounted electric and natural gas bills. |
For additional information and planning, please read our comprehensive guide to paying for senior care in Georgia.