Get Pricing & Availability for Assisted Living in Alpharetta, GA
Call (855) 481-6777 for immediate assistance and get more details
Page Reviewed / Updated – November 06, 2020
The 10 Best Assisted Living Facilities in Alpharetta, GA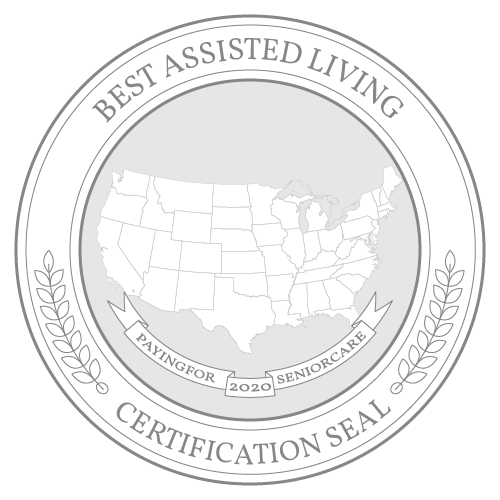 Half an hour north of downtown Atlanta, GA, is the vibrant suburb of Alpharetta. This community of 67,213 inhabitants is nestled between the bustling state capital and the scenic North Georgia Mountains, perfect for seniors looking for plenty to keep them occupied in their retirement. In 2009, Forbes Magazine recognized Alpharetta as the number one place to move to in the United States.
Seniors don't need to head into Atlanta for shopping and dining as Alpharetta's charming downtown area is home to more than 50 boutiques and restaurants. From May to October, the pleasant weather makes it the ideal time to explore the city's many parks and the beautiful greenway system along Big Creek, with picturesque pathways for cycling and walking.
Seniors can join the Alpharetta Adult Activity Center at North Park, which arranges a variety of clubs, classes, parties and excursions for adults over 50. Alpharetta also hosts a variety of family-friendly events and festivals throughout the year, including the Wire & Wood Music Festival and the Scarecrow Harvest.
Note: Information for Alpharetta wasn't available, so data from the Atlanta Area, GA, was used.
Check out our list of the top 10 assisted living facilities in Alpharetta, GA. Additionally, find out more about the cost of assisted living in Alpharetta and what financial assistance programs are available.
The Cost of Senior Living and Care in Alpharetta
Senior living costs in Alpharetta are consistently higher at all levels than the average for the state of Georgia, according to the 2018 Genworth Cost of Care Survey. The difference can be relatively small, as it is with home care costs, which run to $3,813 a month in Alpharetta and $3,623 in Georgia. In some areas, however, the difference is much greater, as it is for nursing home care, which costs an average of $6,753 a month in Alpharetta and $6,342 a month in Georgia, a $411 difference.
Note: Senior care cost data wasn't available for Alpharetta, so the data for the closest city, Atlanta, was used.
How much does Assisted Living Cost in Alpharetta?
Assisted living costs an average of $3,390 a month in Alpharetta, which is $290 a month more than the $3,100 seniors generally pay in the state of Georgia. Both of these prices are close to the middle range for surveyed cities in the state.
Among the major outliers are Savannah and Columbus, where assisted living costs an average of $2,800 and $2,750 a month, respectively. The lowest cost among surveyed cities is in Albany, where seniors pay an average of $2,320 a month for assisted living, while Dalton seniors pay the highest reported cost, at $4,035 a month.
How much does Home Care Cost in Alpharetta?
Home care in Alpharetta costs seniors an average of $3,813 a month. This is somewhat higher than Georgia's average cost of $3,623. Rome and Athens seniors pay an average cost in line with the state, $3,623 a month, while seniors in Savannah pay $3,956, somewhat more than in Alpharetta. Among Georgia cities, Gainesville reports some of the highest monthly costs for home care, at $4,004 a month, while seniors pay the least in Dalton, where the cost of home care averages $3,241 a month.
How much does Adult Day Care Cost in Alpharetta?
Adult day care costs an average of $1,712 a month in Alpharetta. The average cost in Georgia is significantly lower, at just $1,300 for similar care. Athens and Macon also both report costs of $1,300 a month. Some of the lowest costs in the state are found in Savannah, where adult day care averages $1,148 a month. Alpharetta seniors pay the highest price for adult day care among the surveyed cities, narrowly edging out Albany, where such care costs an average of $1,668 a month.
How much does Nursing Home Costs in Alpharetta?
Seniors in Alpharetta pay an average monthly cost of $6,753 for a semi-private room in a nursing care facility. This is a few hundred dollars more than the Georgia average of $6,342, but it's not the highest price in the state. Seniors in Macon and Albany pay somewhat more than they would in Alpharetta, at $6,874 and $6,813 a month, respectively.
Dalton has the highest average cost among surveyed cities, at $7,270 a month. Rome and Savannah report some of the lowest average costs in the state. Nursing home care in Rome costs an average of $6,000 a month, while Savannah seniors pay just $5,977.
Financial Assistance Programs in Alpharetta
Medicaid Program in Alpharetta
Seniors in Alpharetta who meet the necessary residency and financial guidelines may be able to get help paying for long-term care through the state's Medicaid program. Georgia Medicaid is an entitlement program that accepts all qualified applicants, with no waiting periods or enrollment caps, and delivers basic health insurance to seniors in Alpharetta. The program covers many of the costs associated with residential care through a sub-program known as Long Term Care Medicaid.
Eligibility for Long Term Care Medicaid is determined via an assessment of the applicant's income and assets over a five-year look-back period. To ensure accurate information, seniors must report any significant gifts they have given during this window. At the time of application, seniors in Georgia must earn no more than $2,313 a month from all sources combined. Married applicants who apply just for themselves can transfer up to $3,160.50 a month to their non-applicant spouse to meet income guidelines.
Applicants are also allowed to own homes worth up to $572,000 that cannot be counted against the $2,000 maximum asset cap. A single personal vehicle is also exempt from counting as an asset. Though personal homes are not counted as assets when determining eligibility, seniors should be aware that the state may seek repayment for Medicaid costs from any probate or sale of the home later on.
Seniors who would like to apply for Georgia Medicaid may do so online, or by mail at a Fulton County Health and Human Services office. Seniors can also apply for Medicaid at any Social Security office in the state, or via a benefits specialist at most hospitals, nursing homes and health departments in Georgia.
Medicaid Waivers in Alpharetta
Community Care Services Program (CCSP)
Georgia's CCSP waiver covers many costs seniors in Alpharetta can struggle with when they live on their own. Neither of Georgia's Medicaid waivers are structured as entitlements, so eligible seniors may be subject to a waiting period if the year's enrollment cap has been reached at the time of application. Seniors can apply for a CCSP waiver through their Medicaid caseworker, at a Right from the Start Medicaid (RSM) office in Fulton County, or through a Social Security office. Benefits covered by the program include:
Assisted living and other diversionary residential senior living facilities
Emergency response hardware and two-way monitoring
Meal service to the home
Nursing services at home, including wound care and wellness checks, with some physical therapy covered under Medicaid
Respite care at a local Fulton County facility
Personal care, meal preparation and other caregiver services
Service Options Using Resources in a Community Environment (SOURCE)
Seniors in Alpharetta can get help paying for medical residential care through the SOURCE waiver. This program offers recipient-directed funds to help seniors choose their own nursing home or post-acute rehab facility. Seniors who live independently can get access through the program to 24-hour nursing care and other medical assistance in their homes. To apply, seniors in Alpharetta can call the Home and Community Based Services office at (866) 552-4464.

Other Financial Assistance Programs in Alpharetta
Home and Community-Based Services (HCBS)
In most states, Home and Community Based (HCBS) services are organized as a Medicaid waiver. In Georgia, HCBS operates as an alternative to Medicaid. This program pays many of the costs seniors in Alpharetta face when living at home. Benefits covered by the Georgia HCBS program include:
Group meals at local senior centers
Meals delivered to the home
Nutrition and wellness education that's focused on seniors' specific needs
Senior physical fitness classes
Senior recreation services with groups of local seniors
Personal emergency response services (PERS) hardware for emergency calls
Some minor home modification and repair work
Home management and budget training for seniors
Respite care in the home or at a local facility
Personal visits from program volunteers and telephone reassurance when needed
Homemaker and limited chore services
Personal care
Education and support groups for seniors' caregivers
Adult day care services, including mobile daycare and kinship care
Seniors in Alpharetta who would like to apply for the program can do so through the Fulton County Area Agency on Aging.
GeorgiaCares
GeorgiaCares is a joint public-private partnership that offers seniors help to deal with the cost of prescription drugs. Some financial assistance is available, as is advice from benefits experts who can help seniors find cheaper alternatives and reduce their monthly cost of care. To apply, seniors in Alpharetta can get in touch with the local Area Agency on Aging or contact the Georgia Legal Services Program (GLSP) in Atlanta. Seniors can also call (866) 552-4464 for information about the program.

More Senior Living Resources in Alpharetta
| | | |
| --- | --- | --- |
| Resource | Phone Number | Description |
| Housing Authority of Fulton County | (404) 588-4950 | The Housing Authority of Fulton County administers the federal Section 8 housing voucher program for Alpharetta's seniors. The division also maintains a registry of both public housing developments and privately owned low-income housing in the region north of Atlanta, and it can make referrals for seniors who need help with their applications. Seniors can call the office's main telephone line for information. |
| Mobility Options for Senior Transport (MOST) | (404) 613-6000 | Alpharetta seniors over 60 can get transportation assistance with on-demand service from MOST. MOST provides ADA-compliant dial-a-ride services throughout the North Atlanta region, as well as customizable medical transportation for seniors with specific mobility issues. Seniors can enroll in MOST by phone. |
| Low Income Home Energy Assistance Program (LIHEAP) | (404) 657-3427 | LIHEAP offers Alpharetta seniors assistance with lowering home energy bills, preventing disconnects and some weatherization services if they live on their own. Applications can be made through a local Community Action Agency, such as the Salvation Army, or by calling the program's toll-free phone number. |
| Alpharetta Adult Activity Center at North Park | (678) 297-6140 | Alpharetta residents over age 50 can access state-of-the-art fitness equipment and get expert fitness advice at no cost through the Alpharetta Golden Age Club in the Adult Activity Center at North Park. New members must complete a health screening before using fitness equipment. Applications to join can be made in person or by phone. |
For additional information and planning, please read our comprehensive guide to paying for senior care in Georgia.