Get Pricing & Availability for Assisted Living in Greensboro, NC
Call (855) 481-6777 for immediate assistance and get more details
Page Reviewed / Updated – October 08, 2020
The 10 Best Assisted Living Facilities in Greensboro, NC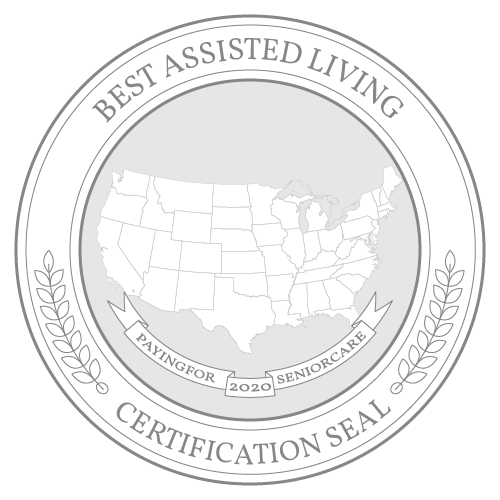 Greensboro is a mid-sized city that's part of the Greensboro/Winston-Salem/High Point triad and home to a branch of the University of North Carolina where seniors aged 65 and over can attend classes tuition-free. Although Greensboro has the shopping, dining and entertainment options of a typical city its size, it has a suburban feel with lots of trees and local parks. The nearby Piedmont Triad International Airport provides nonstop flights to several U.S. cities, for easy travel to and from Greensboro.
The overall cost of living in the area is just 84% of the national average, and transportation is an exceptionally good value at 73%. Greensboro has one of the most diverse populations in South Carolina, and it's home to art galleries, antique stores and many specialty gardens. Downtown highlights include the International Civil Rights Center and Museum and the circa 1927 Carolina Theatre. Because it's next to the sheltering foothills of the Blue Ridge Mountains, Greensboro has mild summers with highs in the 80s and only light snowfall each winter.
See if one of these top 10 assisted living residences in Greensboro is a good match for your needs. Additionally, find out more about the cost of assisted living in Greensboro and what financial assistance programs are available.
The Cost of Senior Living and Care in Greensboro
According to the Genworth 2018 Cost of Care Survey, the cost of senior living in Greensboro is around average for major metropolitan areas across the state but assisted living and nursing home care costs are approximately $1,000 more than the state median. However, the area does have the lowest home care costs throughout North Carolina, with prices 14 percent lower than the national median.
How much does Assisted Living Cost in Greensboro?
With a monthly fee of $4,883, Greensboro's assisted living costs are the second-highest in the state, falling just behind the area's most expensive neighbor, Raleigh, where prices are $5,750 per month. The majority of cities fall around the North Carolina average of $3,693, but cities, such as Durham and Burlington, offer a much cheaper alternative for assisted living — as low as $2,800 monthly.
How much does Home Care Cost in Greensboro?
Home care in Greensboro is around $100 less than the North Carolina median, with monthly costs coming to $3,432. This affordable price point makes the area the most reasonable for home care costs inside the state.
In contrast, the city's nearby neighbors, Burlington and Durham, have fees around $4,000 per month. Other large metropolitan areas, such as Charlotte and Raleigh, have monthly home care costs that are a few hundred dollars less than that, but they are also a few hundred dollars higher than the state median.

How much does Adult Day Care Cost in Greensboro?
Adult day care in Greensboro costs $1,278, making it one of North Carolina's more economical choices for this type of senior care. Though this price is only around $100 more than the state median, most areas throughout the state have costs that are higher than the North Carolina average, including Durham, Burlington and Charlotte.
Data from the Genworth survey suggest that though prices for adult day care in Greensboro are budget-friendly, the cheapest option throughout the state is in Fayetteville, with monthly costs 32 percent cheaper than Greensboro's prices.

How much does Nursing Home Costs in Greensboro?
Greensboro is the most expensive city in North Carolina for nursing home care, as prices for a semi-private room are $7,893 monthly. This monthly cost is almost $1,000 more than the state median, and private rooms in the area will cost even more. Greensboro's nearby neighbors of Burlington and Durham are only slightly more affordable, with costs between $7,200-$7,500.
For those looking for nursing home care on a budget, Fayetteville might be a more suitable option. Prices per month only amount to $6,144, approximately 22 percent cheaper than in Greensboro.

Financial Assistance Programs in Greensboro
Medicaid Program in Greensboro
Medicaid is available throughout North Carolina to pay for either part or all of the health care costs for Greensboro seniors aged 65 or older (or younger if considered legally blind or disabled). Seniors who receive Supplemental Security Income (SSI), Work First Cash Assistance or State/County Special Assistance for the Aged or Disabled automatically qualify to receive Medicaid. In addition to the functional requirements, interested applicants must meet the financial requirements:
A monthly income cap of $1,041 for a single senior, with assets not exceeding $2,000
A monthly income cap of $1,410 for married seniors, with assets not exceeding $3,000
Nursing home care costs can be partially covered through Medicaid, though assisted living or home health care is hardly ever funded through Medicaid. The amount of health care costs covered through Medicaid depend on each senior's circumstances, reviewed by a caseworker at the county Department of Social Services. Additionally, many services can be financed through Medicaid, including, but not limited to:
Medical appointments
Mental health care
Hospital visits and care
Medical equipment, such as wheelchairs
To apply, Greensboro residents can fill out the online application or call (800) 662-7030. All applicants who qualify will receive benefits.
The statewide Medicaid program also includes two additional programs with other eligibility requirements:
Personal Care Services (PCS)
The Personal Care Services program provides assistance with activities of daily living (ADLs) to senior citizens of Greensboro who currently receive Medicaid and require assistance such ADLs. ADLs are defined by the state as:
Eating
Toileting
Mobility
Bathing
Dressing
Depending on the circumstances, qualifying seniors must need help with either three of the five above mentioned activities or two of the five, with one requiring extensive aid or full dependence on another to be completed.
To receive services, a Greensboro senior can either reside in a private home or residential facility — as long as it is not a nursing home. Additionally, applicants must have documented proof of disability or illness that impedes them from completing ADLs on their own.
The costs of the PCS program are fully covered by Medicaid for qualifying seniors. Interested Greensboro residents can fill out an online application or call (919) 855-4360 and should visit the PCS program website to find out more.
Money Follows the Person
The goal of the Medicaid project Money Follows the Person program is to increase seniors' use of home and community-based services (HCBS) and aid residents in their transition to long-term care outside of a hospital, skilled nursing facility or intermediate care facility to a home setting. Participants in this program must already be receiving Medicaid benefits to be eligible.
The benefits of this program are two-fold:
First, to receive up to $3,000 for transition expenses such as furniture, deposits or accessibility modifications
Second, to be granted priority access to the Community Alternatives for Disabled Adults (CAP/DA) Medicaid waiver program or Program of All-Inclusive Care for the Elderly (PACE) program. This is significant because Medicaid waiver programs are not entitlements, meaning not everyone who qualifies receives services, and there are often waiting lists. Receiving priority access means a higher guarantee of funds or services.
To qualify for the Money Follows the Person program, Greensboro seniors must be living in some sort of institution (designated above) and be willing to move to a home. Other eligibility limits might exist. Seniors can apply online or call (855) 761-9030 for more information.

Other Financial Assistance Programs in Greensboro
Community Alternatives for Disabled Adults (CAP/DA)
This Medicaid waiver program is North Carolina's HCBS waiver program. The CAP/DA program is intended to delay nursing home placement for seniors who reside at home but need additional care. Services inside this program are based on a case-by-case basis and can include, but are not limited to:
Medical equipment
In-home aides
Meal delivery
Respite care
Assistive technology
Additionally, this program allows Greensboro seniors to select their own caregiver and use Medicaid funds to pay for their services. This caregiver can be an adult child or another family member. The hourly rate paid to the caregiver is set by Medicaid.
To qualify, an elderly resident of Greensboro must:
Be at least 65 years of age or older
Reside in a private residence or return to one
Meet Medicaid financial and functional requirements
Interested seniors can apply through the local lead agency, a list of which is available here. To learn more about this Medicaid waiver program, please see our more detailed guide. Seniors might wish to be aware that because this waiver program, a waiting list might be a barrier to immediate entry.
Program of All-Inclusive Care for the Elderly (PACE)
The Program of All-Inclusive Care for the Elderly program is an alternative to Medicaid that offers personal care services and health care, often through the local PACE center. For residents of Greensboro, the nearest PACE center is the PACE of the Triad Center. This center provides services such as therapy, meals and medical clinics. In addition to these services, the PACE program works by utilizing an interdisciplinary team of caregivers to provide a more comprehensive care plan.
To be eligible to participate in the PACE program, a senior must:
Be 55 years of age or older
Need a nursing home level of care
Live in a PACE-serviced area (Greensboro is located in a PACE-serviced area)
Be able to safely live in a community setting
To apply for these services, residents of Greensboro should contact the local PACE center at (336) 550-4040. Following the initial phone call, a member of their staff will schedule an in-home visit to assess the needs of each senior. To find out more about the application process and eligibility, visit the local PACE center's website.
State/County Special Assistance In-Home Program for Adults (SA/IH)
The State/County Special Assistance In-Home Program for Adults (SA/IH) provides low-income Greensboro seniors with a cash supplement to help residents remain in their home. Payments are made monthly and typically range from $340-$408 per month depending on the senior's need. These funds can be used towards food, rent, transportation, utilities and much more.
Interested seniors must meet the following eligibility requirements to qualify:
Be at least 65 years old or otherwise legally disabled or blind
Need adult home care (verified by a doctor)
Be Medicaid eligible
Meet financial requirements
Applications can be made at the Guilford County Department of Social Services. Interested seniors might wish to check out our more detailed guide for information about eligibility and other guidelines.

More Senior Living Resources in Greensboro
| | | |
| --- | --- | --- |
| Resource | Phone Number | Description |
| Greensboro Housing Authority | (336) 275-8501 | The Greensboro Housing Authority provides affordable housing to low-income seniors through the Public Housing and Housing Choice Voucher Programs. To be eligible for these programs, a senior's (or their family's) income must not exceed the limits established by HUD. An application can be made online. |
| Gateway Plaza Apartment Complex | (336) 275-8501 | The Gateway Plaza apartment complex is one of three low-income senior-specific housing complexes in Greensboro. This facility offers an on-site meal program, a weekly wellness clinic and a convenience store within the vicinity. |
| Hall Tower Apartment Complex | (336) 275-8501 | The Hall Tower apartment complex is the second of two low-income senior-specific housing complexes in Greensboro. These apartments have a full kitchen and secured entrance. |
| Stoneridge Apartments | (336) 275-8501 | Stonebridge apartments are the third of three low-income senior-specific housing complexes in Greensboro. These apartments are two-bedroom and have chairlifts for extra accessibility. |
| Restaurant Voucher Program | (336) 884-4816 | The Senior Resources of Guilford County provides seniors aged 60 or older with restaurant vouchers to receive meals at participating restaurants. Seniors who participate in this program must attend a nutrition workshop held quarterly to maintain eligibility. |
| Shepherd's Center of Greensboro | (336) 378-0766 | The Shepherd's Center of Greensboro offers a variety of services free of charge to help Greensboro seniors aged 60 and older remain living in their homes. Two of their outreaches include the Handy Hands program, which provides minor home repairs, plumbing and electrical help, and the Transportation program, which provides volunteer drivers to help transport seniors. |
For additional information and planning, please read our comprehensive guide to paying for senior care in North Carolina.