Get Pricing & Availability for Assisted Living in Alexandria, VA
Call (855) 481-6777 for immediate assistance and get more details
Page Reviewed / Updated – June 05, 2020
The 10 Best Assisted Living Facilities in Alexandria, VA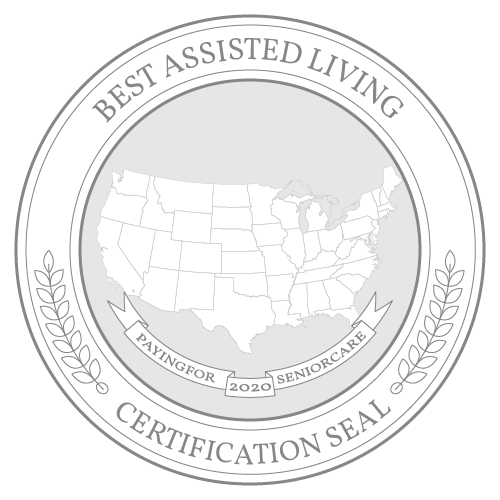 Located on the west bank of the Potomac River, Alexandria is a dynamic city known for its rich history, beautiful architecture and vibrant culture. Its small-town atmosphere is complemented by the convenience of big-city amenities.
Alexandria is a wonderful retirement destination for active seniors who can take advantage of the city's more than 900 acres of parks and trails. One of the city's most distinctive features is its Old Town District, which is home to a number of historic landmarks, restaurants, local boutiques and cultural attractions. It's also very walkable, so seniors without their own transportation can get around easily. Low crime rates and access to some of the area's top medical facilities allow seniors to enjoy a safe and healthy retirement, and the state of Virginia doesn't levy a tax on Social Security income.
Alexandria's high cost of living and steep housing prices are reflected in the cost of assisted living services. Seniors in the area can expect to pay an average of $5,100 per month, which is higher than both the state median of $4,800 per month and the national average of $4,051.
Note: Information for Alexandria was not available, so data from the nearest city, Washington, DC, was used.
Take a look at our list of the top 10 assisted living facilities in Alexandria to find a community that's right for you. Additionally, find out more about the cost of assisted living in Antioch and what financial assistance programs are available.
The Cost of Senior Living and Care in Alexandria
Senior living expenses in Alexandria can be very high, relative to the prices paid for residential care elsewhere in the state of Virginia, according to the 2018 Genworth Cost of Care Survey. Nursing home care, for example, costs seniors in the area nearly $700 a month more in Alexandria than is typical for most Virginia seniors, while assisted living costs in the city are more than double the state average.
Note: Senior care cost data wasn't available for Alexandria, so the data for the closest city, Washington, D.C., was used.
How much does Assisted Living Cost in Alexandria?
Assisted living in Alexandria costs seniors an average of $9,266 a month. This is the highest monthly cost reported for the state by far. It is more than twice the average $4,451 a month that seniors pay in Virginia as an average. Even Blacksburg, the second most expensive city for assisted living surveyed, averages only $4,695 a month. Some areas in the state are far less expensive, such as Lynchburg, where assisted living costs seniors an average of $3,695 a month, the lowest rate reported among surveyed Virginia cities.
How much does Home Care Cost in Alexandria?
Home care costs in Alexandria are not included in the survey of local senior living expenses, and so cannot be easily compared with other cities in the state, or with the $3,813 a month seniors in Virginia generally pay. Prices for home care vary by a wide margin around the state, from as little as $3,384 a month in Roanoke to as high as $4,385 in Charlottesville. Seniors in Staunton and Blacksburg pay something close to the middle of this range, at $4,004 a month for home care.
How much does Adult Day Care Cost in Alexandria?
Adult day care costs in Alexandria are not available, and so are not directly comparable to other Virginia cities. Across the entire state, seniors in Virginia pay an average of $1,517 a month for adult day care services. This is well below the maximum reported costs of $1,733, which is the average in both Charlottesville and Staunton. Seniors in Winchester pay as little as $1,322 a month for similar care, while the two lowest prices reported for Virginia seniors are in Harrisonburg and Blacksburg, which report monthly average costs of $1,224 and $1,203, respectively.
How much does Nursing Home Costs in Alexandria?
Nursing home care in Alexandria costs seniors an average of $9,125 a month. This is significantly higher than the statewide reported cost of a semi-private room in Virginia, which is $7,452 a month. Some Virginia cities report significantly lower monthly costs than either of these rates, such as the $6,385 seniors pay in Lynchburg. Winchester reports an average monthly cost of $10,129 for nursing home care, putting it $104 a month higher than Alexandria and making it the most expensive city to be surveyed.
Financial Assistance Programs in Alexandria
Medicaid Program in Alexandria
Seniors in Alexandria who need help with the cost of healthcare can apply for assistance through the federal Medicaid program. Virginia Medicaid pays many of the expenses related to basic and urgent medical care, as well as some prescription drug coverage and residential care for eligible seniors. To qualify, seniors in Alexandria must be citizens or legal residents of the United States and reside permanently in the Commonwealth of Virginia. Proof of residency and citizenship may be requested at the time of application.
In addition to these eligibility criteria, seniors must meet Medicaid's income and asset limits to qualify for coverage. During the intake process, Virginia Medicaid examines applicants' income and assets over the last 60 months to gain an accurate picture of the seniors' financial status.
Alexandria seniors applying for themselves must earn less than 300% of the Federal Benefit Rate, which is $2,313 a month for individuals; married couples may earn $4,626 a month. Seniors' countable assets are limited to a maximum of $2,000. Non-applying spouses may own up to $126,420 in assets for themselves. Virginia Medicaid allows seniors to retain personal possessions and a personal vehicle as non-countable assets while applying for coverage. Equity in a home the qualifying senior's spouse still lives in is exempt from the asset limits up to the first $585,000.To apply for Medicaid in the Commonwealth, seniors in Alexandria can call the Cover Virginia call center at (855) 242-8282 for an application packet. Seniors can also apply online at the state's Common Help website or by mail through the Department of Social Services.
Medicaid Waivers in Alexandria
Commonwealth Coordinated Care Plus (CCC+)
Seniors in Alexandria can get help with the cost of assisted living and home care through the consolidated Commonwealth Coordinated Care Plus (CCC+) waiver program. CCC+ pays many of the costs seniors face when opting out of Medicaid placement in a nursing care home. New applications for CCC+ are subject to an annual enrollment cap that was 36,195 in 2016. Financially, seniors must meet Medicaid income and asset limits to participate.
Many benefits are covered by the CCC+ program. Most services offered under the waiver are oriented toward safety improvements for independent or assisted living. Among the covered benefits are:
Personal Emergency Response System (PERS) equipment installation and service
Consumer-directed respite care service
Adult day care at home or a local facility
Assistive technology for the home
Limited environmental modifications, such as wheelchair ramps and guard rail installation for safety and accessibility
Some personal care services
Home nursing services from either an RN or LPN
Transportation and facility assistance for seniors with limited mobility, such as non-emergency medical transportation
Translation and interpreter services
Seniors who enroll in CCC+ face certain limits to the care they receive. Respite care, for example, is limited to 480 hours a year and nursing services are limited to 112 hours a year. Seniors can get up to $5,000 for environmental modifications per fiscal year, and the same limit applies to assistive technology, though not to PERS equipment. Seniors in Alexandria can also get help with transition services, which are capped at a lifetime maximum of $5,000 per individual.
Other Financial Assistance Programs in Alexandria
Adult Services Program (AS)
Seniors in Alexandria with a physical or mental disability, who meet the income and asset limits of Medicaid, can get help staying in their homes through Companion Care, Virginia's Adult Services program. Companion Care provides no-cost homemaker and companion services and assistance with many household chores. Seniors enrolled in the program through a Medicaid worker can also receive the following benefits:
Adult foster care at home or in a facility
Adult day care at home or in a facility
Placement services and advice on program eligibility from an AS case manager
Nutrition assistance and at-home meal delivery service
Pre-admission screenings for assisted living facility placement
Screening services for placement in a nursing home or for other Medicaid waiver programs
Auxiliary Grant (AG)
Some Alexandria seniors can get direct cash assistance through Virginia's Auxiliary Grant (AG) program. AG pays seniors who receive SSI and have a physical disability a cash stipend each month to help with the cost of living in an adult foster care home. There is also a cash benefit to provide seniors with spending money for personal use during the month.
Applications for AG generally go through the staff of a participating residential or community care home. Seniors may also apply for AG on their own prior to admission. Applications are accepted by the Virginia Department of Social Services in the senior's home county, defined as the last place of residence prior to entering residential care. Processing of new claims may take up to 45 days.
More Senior Living Resources in Alexandria
| | | |
| --- | --- | --- |
| Resource | Phone Number | Description |
| Alexandria Office of Housing | (703) 746-4990 | The Office of Housing operates multiple conventional public housing units in the Alexandria area, to which seniors can apply if they meet the income and asset guidelines. Public housing in Alexandria typically has a waiting list, which seniors can apply to join by phone or through the mail with an application packet and proof of residency and income. |
| Virginia Department of Housing and Community Development (DHCD) | (804) 371-7000 | The DHCD helps Alexandria's seniors by keeping a current list of affordable housing throughout the state. Some seniors, such as HIV-positive and homeowners who need accessibility upgrades for their own homes, have special programs set aside for them. Applications may be submitted online. |
| Common Help | (855) 635-4370 | Seniors in Alexandria can apply for multiple independent living programs through Common Help. The program offers assistance with home improvement and weatherization services for seniors who own their own homes and helps seniors apply for the Low-Income Home Energy Assistance Program (LIHEAP) in Northern Virginia. Applications can be made by phone, mail or online. |
For additional information and planning, please read our comprehensive guide to paying for senior care in Virginia.