Get Pricing & Availability for Assisted Living in Green Bay, WI
Call (855) 481-6777 for immediate assistance and get more details
Page Reviewed / Updated – November 04, 2020
The 10 Best Assisted Living Facilities in Green Bay, WI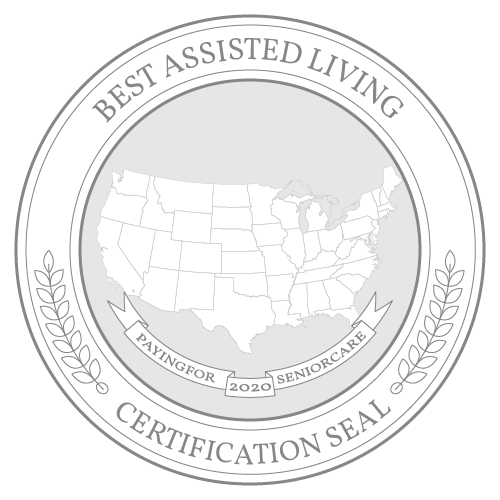 When most people think of Green Bay, the first thing that comes to mind is the Green Bay Packers. However, there is more to the industrial and agriculturally rich city than just its football team. The city sits along the picturesque Lake Michigan and offers plenty of senior-friendly activities including fishing, wineries, shopping and great food. In the summertime, active seniors can check out the many hiking trails or visit the local farmer markets to sample the best the area has to offer.
Green Bay has a very seasonal climate and averages 45 inches of snowfall, which makes it the perfect place to tuck in close to a fireplace and chat with friends over cards or a puzzle. Green Bay is also an affordable place to live, landing at 82.3 on the cost of living index making it a good choice for seniors on a fixed income. In addition to the Packers, the city boasts a lively arts scene and is home to several great hospital systems including Bellin Health and HSHS St. Vincent Hospital.
Take a look at our list of the top 10 assisted living facilities in Green Bay to see if any meet your needs. Additionally, find out more about the cost of assisted living in Green Bay and what financial assistance programs are available.
The Cost of Senior Living and Care in Green Bay
In Green Bay, the costs of senior care are some of the most affordable in the state in most categories, with the notable exception of adult day care. According to the 2018 Genworth Cost of Care Survey, adult day care in Green Bay is approximately $1,000 more per month than the state average. Nursing home costs are particularly affordable in Green Bay with almost the lowest cost in the state.
How much does Assisted Living Cost in Green Bay?
The average cost of assisted living in Green Bay is $4,075, which is $225 less than the state average. In other major cities, costs tend to range between $4,000-5,000.
Oshkosh is the most expensive area for assisted living, with an average monthly cost of $925 more than Green Bay. Areas like Janesville are comparable at $4,068 — just a few dollars less.
How much does Home Care Cost in Green Bay?
Home care costs in Green Bay fall on the low end for Wisconsin at $4,147. The state average is more than $300 higher, while the most expensive areas, like Milwaukee and Janesville, are approximately $600 more per month. The only city with a cost that comes in lower than Green Bay is Madison, where the average is just $4,004.
How much does Adult Day Care Cost in Green Bay?
Green Bay is the most expensive area for adult day care services in the state. The state average is a very moderate $1,408, but costs in Green Bay are more than $1,000 higher at $2,427. This is substantially higher than any other city. Eau Claire averages $1,885 and is otherwise the highest.
Low-cost areas like Racine and Appleton are approximately $1,100 less per month, while Milwaukee lines up with the state average.
How much does Nursing Home Costs in Green Bay?
For skilled nursing care, Green Bay is one of the most affordable areas. Costs in this city are about $500 less than the state average of $8,334. At $7,711, Green Bay is among the cheapest. Only Eau Claire is less expensive at $7,422.
In other major cities, costs can be nearly $2,000 more — like in Milwaukee where the average is $9,555 or Racine at $9,368.
Financial Assistance Programs in Green Bay
Medicaid Program in Green Bay
In Wisconsin, Medicaid offers health care and nursing home care to eligible seniors throughout the state. In addition, under Medicaid is the Medical Assistance Personal Care Program which offers a variety of additional seniors services. These are entitlement programs, and all eligible applicants receive access to covered services. While Medicaid only offers financial assistance with nursing home care, MAPC offers assistance designed to allow seniors to live at home with some help.
Participants in MAPC may receive assistance with:
Dressing
Grooming
Meal preparation
Non-medical transportation
Laundry
Light housekeeping
Some of the costs associated with assisted living
Foster care
This is just a brief overview of some of the more common options. Additional services may be available based on functional need.
To qualify for Medicaid or MAPC, a senior must meet certain income guidelines. For general Medicaid, seniors must earn no more than 300% of the Federal Benefit Rate, which works out to $2,313 in 2019. At the upper end of the income guidelines, there may be co-pays and other cost-sharing for services.
To qualify for MAPC, seniors must be either Categorically Needy or Medically Needy. A single, categorically needy applicant may have a maximum income of $597.78 and up to $257 in shelter costs. In addition, applicants must have countable assets of $2,000 or less. The limits are higher for married couples when both apply.
Those approved as categorically needy pay no fees or copayments for covered services. Medically needy participants must first spend down their own income to reach the set limit for this program. In 2019, that means spending monthly income down to $591.67 for health care costs. After that limit is reached, Medicaid covers any additional health expenses.
MAPC also has functional requirements. To participate in this program, a senior must demonstrate the need for assistance with ADLs, in addition to financial constraints that limit their ability to pay for these services. For more information about this program, click here.
Medicaid Waivers in Green Bay
Family Care and Family Care Partnership Programs
The Family Care and Family Care Partnership Programs are Medicaid Waiver options that support seniors who wish to live at home. This helps delay nursing home placements for those who need assistance with the activities of daily living, but may not need round the clock access to skilled nursing care. One major benefit to these programs is the ability to self-direct care. This means seniors can choose care providers, including family members or friends. In addition to direct help with ADLs, these programs may also offer:
Adult day care
Installation and maintenance fees associated with a Personal Emergency Response System
Costs associated with durable medical equipment
Home modification
Physical therapy
Respite care
Vehicle adaptive aids
This is just a brief overview of some of the most commonly used services. Additional options are available for those that need them. The Family Care Program focuses on non-medical personal care. Participants in this program may receive financial help to pay for a home health aide. The Family Care Partnership program also offers financial help with medical costs like prescription medications.
To qualify, seniors must meet all geographic, functional and financial eligibility requirements. Brown County participates in both the Family Care and Family Care Partnership programs so Green Bay residents may apply. To meet the functional guidelines, a senior must be considered frail and require assistance with ADLs to continue living at home. The income guidelines match Medicaid, so an individual applicant can earn no more than $2,313 per month for 2019. Assets are limited to $2,000. When only one spouse is applying, the non-applicant spouse's income is not part of the calculation. For more information about the program, click here.
IRIS (Include, Respect, I Self-Direct) Program
The IRIS waiver offers long-term care options that help delay nursing home placements. It functions under the Cash & Counseling model, allowing participants to self-direct care under the direction of a case manager. Working with the case manager, seniors work out a budget and care plan to empower seniors and make in-home living a reality. Some of the covered services include:
Adaptive aids like toilet risers or shower chairs
Adult day care up to a maximum of 8 hours per day
Assistive technology
Meal delivery
Home modifications
Live-in caregiver
Skilled nursing care
Respite care
Transportation
This program is designed to offer many of the services that would be found in a nursing home environment but on an interim basis. Seniors do not need to reside at home. Some assisted living or foster care homes may also participate. To qualify for this waiver, seniors aged 65 and older must be Wisconsin residents who have a demonstrated need for help with ADLs. In addition, seniors must meet the same income limits as Medicaid. For more information about the program, click here.
Other Financial Assistance Programs in Green Bay
Wisconsin Supplemental Security Income Exceptional Expense Supplement
For low-income seniors that need at least 40 hours of monthly supportive services, the Exceptional Expense Supplement may be an option. Seniors don't need to receive 40 hours of services, but they do need to be assessed as needing that much assistance. Seniors may qualify if living at home or in a residential care facility like a foster home or assisted living facility. Those who qualify may receive up to $95.99 per month in additional income. To qualify, seniors must have an individual monthly income of no more than $750 per month or $1,125 for couples. Asset restrictions mirror the state Medicaid program. For additional information click here.
Alzheimer's Family & Caregiver Support Program
For seniors with a diagnosis of Alzheimer's, dementia or other memory disorder, the Alzheimer's Family & Caregiver Support Program offers financial assistance to care providers. This program covers cost like:
Attendant/personal care
Adult day care
Durable medical equipment
Home modifications (walk-in tubs, ramps, lifts, etc.)
Meal delivery
Incontinence supplies
Personal emergency response services to prevent wandering
Respite care
Transportation assistance
While the cost of these services can be significant, per person spending is capped at $4,000, though it can be as low as $500 in some areas.
Eligibility is not based on the senior's income, but rather the household income. To qualify, the household must have a maximum of $48,000 per year in countable income. Medical expenses related to senior care may be deducted from the total. For more information about eligibility, click here.
SeniorCare Pharmaceutical Assistance Program
The SeniorCare Pharmaceutical Assistance Program allows income-eligible seniors to enroll in a state-run program that helps with the cost of prescription drugs. Unlike other similar programs, there is no Medicare Part D enrollment requirement. All participants pay a $30 annual enrollment fee and fall into one of four benefit categories. Those that earn less than 160% of the current Federal Poverty Level have no deductible and pay between $5-15 for prescription medications. For those between 160-200% of the FPL, there is a $500 deductible before the reduced co-payments of $5-15 kick in. At 200-240% of the FPL, participants have an $850 deductible. Any senior earning 240% of the FPL or more must spend down to below 240% before becoming eligible for the $850 deductible plan. In 2019, the FPL is $12,490 for an individual per year. For additional information, click here.
More Senior Living Resources in Green Bay
Resource

Phone Number

Description

Maple Leaf Townhomes
(920) 499-8311
Maple Leaf Townhomes has 36 low-income units. Both two and three bedroom units are available to qualified applicants. This community does have rent and income restrictions based on the area median income.
Brown County Public Housing
(920)448-3400
The City of Green Bay in Brown County offers housing assistance through low-rent public housing and the housing choice voucher program. Eligibility is income-based and there may be a waiting list to receive services.
Villa West I
(920) 499-8342
Villa West I offers senior, low-income housing under the HUD program. Rent subsidies keep rental rates affordable for seniors, though there may be a waiting list for a vacancy.
Green Bay Properties
(920) 432-7577
Green Bay Properties offers two and three bedroom apartments to low-income individuals. There is no age requirement, but there are income restrictions. Those eligible will usually pay no more than 30% of gross income toward rent.
Badger Terrace
(920) 432-7577
Badger Terrace offers low-income senior housing through HUD programs that apply to the complex, not the voucher choice program. Income limits apply, and there may be a waiting list for future vacancies.
Meadows North
(414) 433-0888
Meadows North is a HUD-subsidized senior living community. Seniors that meet the income guidelines may be eligible for a rental rate that doesn't exceed 30% of their monthly income.
For additional information and planning, please read our comprehensive guide to paying for senior care in Wisconsin.