Get Pricing & Availability for Assisted Living in Mesa, AZ
Call (855) 481-6777 for immediate assistance and get more details
Page Reviewed / Updated – August 08, 2020
The 10 Best Assisted Living Facilities in Mesa, AZ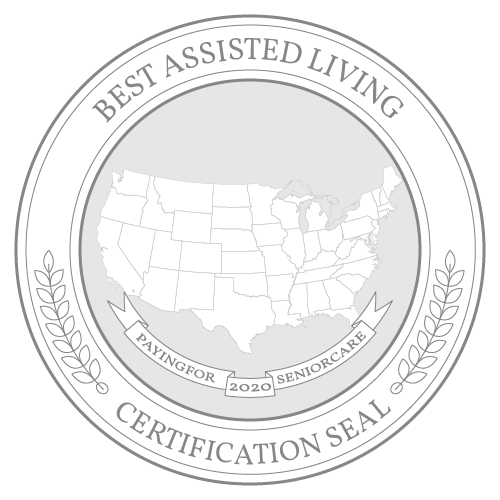 Located just 20 miles east of Phoenix in Maricopa County, Mesa is a popular retirement destination among seniors seeking a hot, dry climate that's free from frigid weather and humidity. Of the approximately 439,000 full-time residents in Mesa, 16% are aged 65 or older, which means there are plenty of social groups and activities geared towards seniors.
Mesa is home to a number of world-class hospitals and medical facilities including the Banner Heart Hospital and the Mountain Vista Medical Center. There is a vibrant arts and cultural scene here, and the Mesa Arts Center hosts a variety of musicians, performers and theatre productions each year.
Note: Cost of care information was not available for Mesa, so data from the nearest city, Phoenix, was used.
In this guide, you'll find information on the top 10 assisted living facilities in Mesa, AZ. Additionally, find out more about the cost of assisted living in Mesa and what financial assistance programs are available.
The Cost of Senior Living and Care in Mesa
The cost of senior living in Mesa, AZ, is broadly similar to the average in most categories of expense across the rest of the state, though the specific monthly prices for most kinds of care are slightly higher in Mesa in all categories than elsewhere in Arizona. Some parts of the state, such as Tucson and Flagstaff, can be more expensive than Mesa and the surrounding Phoenix area, though this is not consistently the case and both of these areas offer more affordable service for some levels of senior care, according to the 2018 Genworth Cost of Care Survey.
Note: Senior care cost data wasn't available for Mesa, so the data for the closest city, Phoenix, was used.
How much does Assisted Living Cost in Mesa?
Assisted living in Mesa costs an average of $3,850 a month. This is near the high end of the average cost across six other Arizona cities for which prices are available. Exceptions to the generally lower cost for assisted living in other cities are Tucson and Flagstaff, where assisted living runs $4,044 and $5,098 a month, respectively.
How much does Home Care Cost in Mesa?
Mesa is one of the more expensive places in Arizona for home care costs. Home care in Mesa costs an average of $4,767 a month. This is significantly higher than the next highest major city in the state, Tucson, where costs for home care average of $4,576 a month, nearly $200 less. The least expensive major cities in Arizona for in-home senior care are Yuma and Sierra Vista, which each average $3,718 a month.
How much does Adult Day Care Cost in Mesa?
Adult day care costs an average of $2,167 a month in Mesa, which is the highest price among the cities surveyed. Two other cities in the survey, Prescott and Tucson, both cost an average of $1,733 a month. The most affordable city in Arizona for which numbers are available is Yuma, and it costs just $1,625 a month, $542 less than Mesa.
How much does Nursing Home Costs in Mesa?
Skilled nursing in Mesa costs an average of $6,540 a month for a semi-private room. Similar accommodations in Flagstaff can cost as much as $7,832 a month, the highest average for any surveyed Arizona city. Lake Havasu City is the most affordable city in the Arizona survey, at just $6,083 a month for a semi-private room in a skilled nursing facility. This is close to Mesa's cost, but still $457 less per month.
Financial Assistance Programs in Mesa
Medicaid Program in Mesa
In Arizona, the program is known as the Arizona Health Care Cost Containment System (AHCCCS). This is structured as a managed care plan that operates in the same way as a private HMO.
Long-term senior care is one of the benefits Medicaid covers for its recipients. In Arizona, seniors and adults with disabilities may get all or some of the costs of residential care covered through the Arizona Long Term Care System (ALTCS). This program, which operates apart from the main AHCCCS system and has a separate application, helps manage the cost of several types of care, including:
Home nursing
Meal delivery
Durable medical equipment
ALTCS services are for seniors in adult day care, living at home or in a nursing care facility. The program allows self-directed attendant care and offers help paying for residential and in-home care, as well as covering some of the costs of care, such as disposable medical items and other recurring costs. The program also offers eldercare classes for caregivers and referrals for respite care as needed. To apply, call (602) 542-0419.
To be eligible for Arizona's Medicaid benefits, seniors in Mesa must have assets valued at no more than $2,000 for individuals or $3,000 for married couples. A single car is allowed and does not count toward this limit, along with a primary home worth up to $572,000. Any value in the house above that is counted against the applicant's asset maximum. Medicaid recipients in Mesa are allowed to earn some money each month, and the maximum limit varies based on the recipient's living conditions and needs, but the general rule is that some benefits are available for most applicants making less than 300 percent of the federal poverty line, or $2,250 in 2018.
Other Financial Assistance Programs
National Family Caregiver Support Program (NFCSP)
This national program is administered in Arizona collaboratively by the U.S. Department of Health & Human Services and the Area Agencies on Aging. It is designed to provide respite services to caregivers so they can rest and take care of their own needs. The program gives caregivers several respite options from which to choose, including Adult Day Care or in-home care provided by an agency or someone the caregiver knows well, such as a neighbor, friend or family member. Caregiver support groups are also included in this program. To learn more about NFCSP, access our caregiver support guide.To sign up, call (888) 264-2258, the Area Agency on Aging, Region One.
Home and Community-Based Services (HCBS)
In Maricopa County, the Senior Adult Independent Living Program (SAIL) is part of the Home and Community-Based Services (HCBS)Program and is designed to help adults aged 60 and over and adults of all ages who have a disability to live independently in their own home. A case manager from SAIL will visit a senior's home to determine the type of services needed and then coordinate those services through various agencies. Services include home-delivered meals, personal care, nursing care, home repairs, and adult day health care. The Area Agency on Aging, Region One, has set up a 24-hour Senior Help Line for all referrals to SAIL: (602) 264-4357.
More Senior Living Resources in Mesa
| | | |
| --- | --- | --- |
| | Phone Number | Description |
| | (480) 644-3536 | The City of Mesa Housing Authority operates under the direction of the federal Department of Housing and Urban Development, and it connects seniors and other Mesa residents in need with low-cost public housing. Assistance is through rental and private property vouchers, along with inspection and referral services to find safe, affordable residences for area seniors. |
| | (480) 782-3200 | The Chandler Housing and Redevelopment Division is a federally funded local housing services agency that develops and helps pay for the cost of safe, comfortable low-income housing in the south metro Phoenix area, which includes the communities of Chandler and Mesa. In addition to public housing vouchers, the division keeps a current listing of low-cost local housing and refers interested applicants to property management and rental homeowners in the area. |
| | (602) 553-0988 | The Salvation Army operates multiple centers in Maricopa County, including branches in Mesa and Tempe, as well as several other locations in and around the southern edge of the Phoenix metro area where Mesa is located. Seniors in Mesa can get help from the Salvation Army for several financial needs, including free food, emergency rent payment assistance, utility bill assistance, transportation vouchers for low-cost travel services and holiday gifts for loved ones. |
| | (480) 312-2323 | CCCH is a Scottsdale-based nonprofit that provides rent assistance and help with utility bills. |
| | (480) 644-3536 | The Homelessness Prevention and Rapid Rehousing Program is a federally funded program administered by the city of Mesa that helps prevent evictions and may provide rental assistance to seniors who live independently. The program also operates homeless shelters and helps rapidly rehouse seniors who need a place to stay. |
| | (602) 506-3011 | Maricopa County operates the Community Action Plan for seniors whose housing is at risk or who face high barriers to moving into a new home. This program offers help with emergency rent payments to prevent evictions, some mortgage assistance to prevent foreclosure or evictions from private homes and cash benefits to make utility deposits. |
| | (480) 422-8922 | Tempe Community Action Agency provides emergency assistance to Mesa seniors who need help with their housing and living expenses. The agency offers qualified seniors rent assistance, utility bill assistance, gasoline vouchers, vouchers for medical care and discount or free prescriptions, telephone bill assistance to prevent disconnections and weatherization assistance to help keep utility bills low. |
For additional information and planning, please read our comprehensive guide to paying for senior care in Arizona.