Get Pricing & Availability for Assisted Living in Lorado Springs, CO
Call (855) 481-6777 for immediate assistance and get more details
Page Reviewed / Updated – September 17, 2020
The 10 Best Assisted Living Facilities in Colorado Springs, CO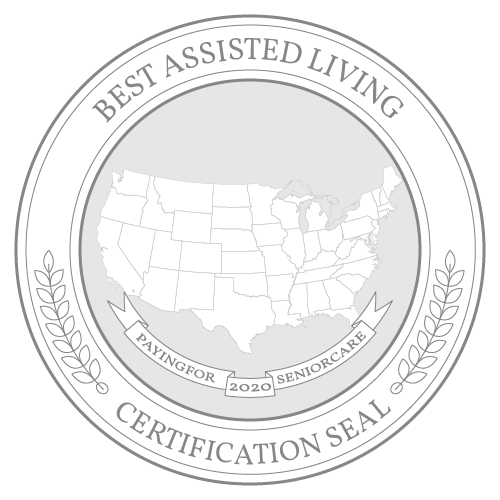 Colorado Springs, CO, is surrounded by thousands of acres of parkland and home to a thriving downtown area. The city offers seniors sweeping mountain views and a host of outdoor recreational activities, historic monuments and a growing arts and culture scene to explore. Dubbed Olympic City USA, its attraction for tourists ensures that there are numerous places for family members and friends to lodge during visits.
Although temperatures regularly drop below freezing during the winter months in Colorado Springs, it features a mild summer climate with low humidity levels. Over 62,000 individuals over the age of 65 live in the city, which is home to several state-of-the-art hospitals and medical facilities.
Over 50 senior living communities are available here in the second largest city in Colorado. Here are our picks for the top ten assisted living facilities in Colorado Springs. Additionally, find out more about the cost of assisted living in Colorado Springs and what financial assistance programs are available.
The Cost of Senior Living and Care in Colorado Springs
For the most part, the cost of senior care in Colorado Springs is very close to the state's average. While homemaker services are 5 percent lower than the state median, assisted living services are 20 percent higher than the state average according to Genworth's 2018 Cost of Care Survey.
How much does Assisted Living Cost in Colorado Springs?
Assisted living services are noticeably more expensive in Colorado Springs when compared to the state as a whole. At $4,875 per month, local rates are 15 percent higher than the state average. Although costs are similar to Denver and Boulder, they're substantially more expensive than Fort Collins, Greeley and Grand Junction.
How much does Home Care Cost in Colorado Springs?
In Colorado Springs, home care is relatively affordable. The cost of full-time assistance, including 44 hours of weekly care, is about 5 percent cheaper than the state median and 14 percent cheaper than Boulder, which was the most expensive area surveyed.
How much does Adult Day Care Cost in Colorado Springs?
Although adult day care tends to be one of the most affordable options for seniors, local rates are slightly higher than the rest of the state. Compared to Boulder, Grand Junction and Fort Collins, services in Colorado Springs are 20 percent more costly. On the other hand, they're also 10 percent cheaper than Pueblo, which is one of the most expensive regions.
How much does Nursing Home Costs in Colorado Springs?
The cost of nursing home care in Colorado Springs is slightly lower than the state average. With rates similar to Pueblo and Grand Junction, it was one of the more affordable metropolitan areas included in the survey. Compared to Boulder, seniors in Colorado Springs spend approximately 20 percent less on nursing care. The area's also more affordable than Denver, Fort Collins and Greely.
Financial Assistance Programs in Colorado Springs
Medicaid Program in Colorado Springs
Health First is Colorado's Medicaid program. It's open to low-income adults who are blind, disabled or aged 65 or older. Individuals who have received at least 30 days of skilled care in a medical facility or at home are also eligible. To qualify, individuals must earn less than 300 percent of the Supplemental Security Income rate or about $2,300 per month. The state also has a hard cap that limits cash resources to $2,000 for individuals and $3,000 for couples.
Adults who meet these requirements receive full medical coverage through Health First. Members are also eligible for numerous waiver programs that can pay for the cost of in-home assistance, structural modifications and related services that are provided within the community rather than in a healthcare facility. If you're interested in applying for Medicaid, you can complete the process online, by phone or by mail. You may also visit the El Paso County Department of Human Services in Colorado Springs to apply in person.
Medicaid Waivers in Colorado Springs
Elderly, Blind, and Disabled (EBD) Waiver
The Elderly, Blind and Disabled waiver is one of the most important entitlement programs for seniors in Colorado Springs. This Medicaid waiver provides functionally impaired adults with an alternative to institutional nursing care by covering the cost of home-based services. You may use the EBD waiver to pay for adult day care, homemaker services, consumer-directed attendants, respite care, medical equipment and home modifications.
If you are currently enrolled in Medicaid, you can apply for the waiver by calling Rocky Mountain Options for Long-Term Care at (719) 457-0660. This is the local single entry point for residents of Colorado Springs and El Paso County.
This waiver gives seniors access to the following secondary support services. You can learn more about these benefits in our EBD guide.
Consumer-Directed Attendant Support Services (CDASS)
This comprehensive home health program is an optional extension to the EBD Waiver. It provides Medicaid funds that each beneficiary can use to pay for personal care aides, homemaking assistance and medical care provided by RNs and other professionals. It allows you to decide what services you need and who provides them. This program is open to existing Medicaid members. If you already have First Health and would like to receive CDASS, contact The Resource Exchange at (719) 380-1100 or Rocky Mountain Options for Long-Term Care at (719) 457-0660.
In-Home Support Services (IHSS)
This is another optional Home and Community Based Services add-on that's available through the Elderly, Blind and Disabled waiver. It allows beneficiaries who receive in-home personal care or homemaker services to hire, train and manage their own attendants. You can learn more about waivers for IHSS by calling Rocky Mountain Options for Long-Term Care at (719) 457-0660.
Other Financial Assistance Programs
Home Health Benefits
This comprehensive program allows Medicaid beneficiaries to receive a variety of skilled health care services at home. It covers acute and long-term care related to an illness, injury or disability. Treatments must be medically necessary and the beneficiary must be unable to travel to an outpatient medical facility or clinic to receive the services. Health First members can apply and learn more about the Home Health Benefits program online or by calling (303) 866-3447.
Old Age Pension Health and Medical Care Program (OAP)
This modified Medicaid plan is available to seniors who receive safety-net income through Colorado's Old Age Pension but don't qualify for Health First. It covers the cost of home health care and most medical services covered by traditional Medicaid. To qualify for OAP benefits, seniors must earn less than the federal Supplemental Security Income limit of $771 per month. Applications are handled by the County Department of Social Services. See our OAP guide for more information about this program.
Community First Choice (CFC)
Community First Choice is a federally regulated 1915(k) program that's open to Medicaid-eligible adults and current members of Health First Colorado. It provides attendant care services for beneficiaries who need assistance with activities of daily living and health-related tasks, including medication monitoring. Applicants must be eligible for Medicaid to quality for CFC options. You can find additional information, including application information, online or by calling the program coordinator at (303) 866-4738.
Program of All-Inclusive Care for the Elderly (PACE)
PACE is an integrated health care system that allows beneficiaries to receive all of their Medicaid services from one provider. PACE is a federally regulated program that's available to residents of Colorado Springs and certain areas nationwide. You must be 55 or over and require nursing-level care to qualify. If you are eligible for Medicaid, there's no cost for these services. Additionally, discounted private-pay options are available for patients who are on Medicare or are ineligible for both programs. In El Paso County, these services are provided by Rocky Mountain PACE. For more information or to apply, call (719) 314-2327.
Colorado Choice Transitions (CCT)
This innovative trial program helps Medicaid-eligible adults who have been in a health care facility for at least 90 days to transition to a home-based setting. Over the course of one year, CCT offers Medicaid benefits, waivers for Home and Community Based Services and enhanced supports that help individuals return to their community. Colorado Choice Transitions requires a referral through the Pikes Peak Aging and Disability Resource Center, which can be reached at (719) 471-8181.
More Senior Living Resources in Colorado Springs
| | | |
| --- | --- | --- |
| | Phone Number | Description |
| | (719) 387-6700 | This public housing agency manages several senior-friendly apartment buildings in Colorado Springs. The housing authority is also responsible for distributing rental vouchers and managing the annual Section 8 application lottery. |
| | (719) 578-1629 | This organization offers affordable housing, including apartments and single-family homes, to residents who earn less than 50 percent of the area median income. |
| | (303) 866-2441 | If you're 65 or older, the Colorado Department of the Treasury offers a homestead exemption that covers up to 50 percent of your property tax bill. |
| | (719) 385-5912 | Operated in partnership with the U.S. Department of Housing and Urban Development, this agency assists with emergency repairs and owner-occupant rehabilitation to ensure that low-income residents have adequate housing. |
| | (303) 825-8750 | This statewide organization provides utility bill assistance and energy-efficient home improvements. It also helps qualifying homeowners with the cost of heating repairs and furnace replacements. |
| | (719) 448-4800 | Operated by Colorado Springs Utilities, this organization provides utility assistance to low-income customers through a network of community partners. Its primary role is providing financial assistance once funds from the federal Low-Income Energy Assistance Program are exhausted. |
| | (719) 591-0772 | Seniors and low-income families may qualify for free energy efficiency evaluations and weatherization services through this organization. |
| | (303) 866-4030 | The Home Modification Benefit is available through the HCBS waiver for the Elderly, Blind and Disabled. It provides up to $14,000 in lifetime funding for handicap-accessible home improvements that allow beneficiaries to remain in their own home. Covered modifications include ramps, grab-bars, door widening and specializing plumbing or electrical systems. |
For additional information and planning, please read our comprehensive guide to paying for senior care in Colorado.