Get Pricing & Availability for Assisted Living in Aurora, CO
Call (855) 481-6777 for immediate assistance and get more details
Page Reviewed / Updated – November 18, 2020
The 10 Best Assisted Living Facilities in Aurora, CO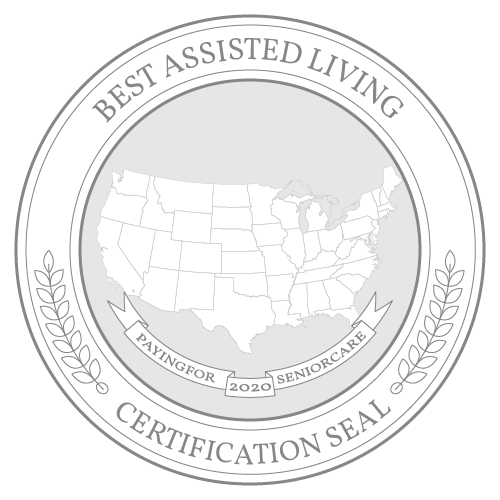 Aurora is a large suburb situated east of Denver and the state of Colorado's third-largest city. It's known for its stunning natural beauty, eclectic art, culture and culinary scene and abundant opportunities for outdoor recreation. Residents of Aurora experience a classic Colorado four-season climate, with warm midsummer temperatures in the high 80s and average winter lows in the high teens. Although Aurora gets far less rain than the national average, it receives significantly more snow, making it an ideal retirement destination for active seniors who enjoy snow sports or who simply like sitting by the fire with a good book or a circle of friends while falling snow turns their view from the window into a winter wonderland. Summer activities include golfing, hiking, birdwatching or simply relaxing under the trees in a gorgeous outdoor setting.
Note: Information for Aurora was not available, so data from the nearest city, Denver, was used.
Please check out our list of top 10 assisted living facilities in Aurora to see if any are a good match for your personal needs and preferences. Additionally, find out more about the cost of assisted living in Aurora and what financial assistance programs are available.
The Cost of Senior Living and Care in Aurora
Aurora, a Denver suburb, has higher costs associated with assisted living and nursing home care facilities than the state average, according to the Genworth 2018 Cost of Care Survey. Aurora seniors can expect to pay $700 more than the state average for assisted living and $473 more for nursing home care. Home health services and adult day care both match the state average to the dollar at $4,767 and $1,625, respectively.
Note: Senior care cost data wasn't available for Aurora, so the data for the closest city, Denver, was used.
How much does Assisted Living Cost in Aurora?
Aurora seniors can expect to pay $4,700 per month for assisted living which is among the most expensive options and $700 more than the state average. Aurora assisted living costs are comparable to other major cities like Boulder and Colorado Springs, where costs average $5,000 and $4,875, respectively.
Smaller Colorado towns tend to have significantly lower costs, with Grand Junction offering the most affordable option for assisted living with an average of $3,350. In general, costs average between $3,350-$4,000 in less populated areas like Greeley and Pueblo.
How much does Home Care Cost in Aurora?
Home health and homemaker services in Aurora are right in line with the state average at $4,676 per month. Boulder seniors can expect to pay $572 more per month than Aurora with an average of $5,339. For Collins and Greeley are comparable at $4,887 and $4,624 respectively. Both fall within $150 of Aurora averages.
Colorado Springs is the most affordable major city in Colorado with average costs of $4,576, $100 less than the state average, though Pueblo takes the top spot for most affordable at $4,195.
How much does Adult Day Care Cost in Aurora?
Adult day care costs in Aurora are $1,625, which is fairly standard for the state as a whole. Most areas fall between $1,400 and $1,750, with the notable exception of Pueblo. While Pueblo may be significantly less expensive for other types of seniors services, adult day care costs average $1,950 — $325 more than in Aurora.
How much does Nursing Home Costs in Aurora?
Round-the-clock skilled nursing care is the most expensive type of senior care, and Aurora seniors can expect bills to average $8,365 per month during a nursing home stay. While Boulder is almost $1,000 more at $9,343, Aurora is one of the more expensive areas for nursing home care. Grand Junction, Colorado Springs and Pueblo all average between $7,600 and $7,800.
Financial Assistance Programs in Aurora
Medicaid Program in Aurora
As an entitlement program, Colorado's state Medicaid program, Health First Colorado, is available to all applicants that meet the income requirements and eligibility guidelines. Under Aurora Medicaid, seniors gain access to a variety of services, including:
Mental and behavioral health
Dental care
Emergency services
Hospitalization
Laboratory tests
Outpatient care and preventive care services
Rehabilitative services
Primary care visits
Prescription drug coverage
Aurora seniors may also qualify for financial assistance with nursing home stays, in-home health services or personal care assistance. Home-bound seniors may access care via telemedicine to minimize their need to leave their primary residence. Vision care is also part of the package, including corrective eyewear. In general, home health services are limited to 60 days, as are some covered mental health options.
In certain circumstances, Medicaid may even help pay for assisted living costs, provided the facility is Medicaid certified by the state. Not all registered facilities accept Medicaid reimbursement levels, and those that do usually have a limited number of Medicaid beds saved for Aurora seniors. It is often best to contact a facility directly to determine their Medicaid availability.
Aurora residents applying for Medicaid fall into one of two categories: institutional or at-home care. Some seniors already residing in a nursing home may receive free services in an institutional setting. As part of regular Medicaid, this financial assistance is an entitlement program and there are no caps or waiting lists before benefits activate. However, free institutional/nursing home Medicaid services are only available in a nursing home setting.
Regular Medicaid offered to those who live in their own home provides many of the same services but may also include adult day care services. All eligible Aurora residents receive financial assistance with covered services.
Qualifying for Health First Colorado means meeting both income and asset guidelines. All income, including payments from wages, alimony, pensions, Social Security and Social Security Disability Income, along with IRA withdrawals or stock dividends, count toward the maximum earning limits imposed by the state for Medicaid eligibility.
For married couples where only one spouse is applying, their individual income is the only amount considered. The income cap for an individual is $771 per month, the current Federal Benefit Rate. For a married couple where both parties apply the income cap is $1,157. Institutional/Nursing Home Medicaid imposes an income cap of $2,231 or $4,626 for a married couple applying jointly.
Asset limits apply to both cash and investment resources with a few exceptions. An individual must have no more than $2,000 in assets, while a married couple caps out at $3,000. A primary residence, a personal vehicle, household furnishings and personal belongings are excluded from asset calculations.
Aurora residents can apply at their local Department of Human Services office, online, through the mail or by phone at 1-800-221-3943.
Other Financial Assistance Programs in Aurora
Home and Community-Based Services (HCBS) Medicaid Waiver
The Home and Community-Based Services (HCBS) Medicaid Waiver is the only Medicaid-funded waiver available to Aurora residents. It's designed to assist those who don't qualify for the regular Health First Colorado Medicaid insurance and is sometimes referred to as the Elderly, Blind and Disabled (EBD) waiver. The services offered under this program are intended to help seniors remain in their homes for as long as possible and may cover assistance services like:
Personal care and help with activities of daily living
Homemaker services including housekeeping and meal preparation
Adult day care
Transportation, both medical and non-medical
Respite care offered in-home or at an offsite facility
Home modifications like wheelchair ramps or handrails
Assisted living facility costs
Like Medicaid, this program has an income cap. Seniors must earn no more than 300% of the Federal Poverty Level, which works out to $3,122.50 per month for an individual. Nursing home residents are ineligible unless the individual plans to transition back to independent living in the community. All services under HCBS are designed to be delivered in-home. Self-directed care is an option under the HCBS waiver, and non-spousal family members may be designated as the primary caregiver. However, to employ a family member, that person must gain employment and agree to supervision from a home health agency. For more information about eligibility and how to apply, click here.
Old Age Pension (OAP)
Aurora residents aged 60 years and older may apply for the Old-Age Pension program. It is funded through the state and offers supplemental income to those who earn less than $771 per month. This program brings a senior's income up to $758 per month. Those considering the OAP program may want to first apply for Social Security if eligible. A determination of SS benefits may be part of the application process for OAP. More information about the OAP can be found here.
Program of All-Inclusive Care for the Elderly (PACE)
PACE takes a holistic approach to senior care that delivers all services through a single provider. This is a federally regulated program available to some Aurora residents. Currently, PACE is available in Arapahoe and Adams Counties through Innovage Greater Colorado PACE. For all Medicaid participants, PACE services are supplied at no cost, though discounted private-pay options may be available to Medicare-enrolled seniors. Applicants must be at least 55 and require an institutional level of care. For more information or to apply, call 888-992-4464.
Colorado Adult Foster Care
Seniors who need the services offered at an assisted living facility but would prefer a more home-like setting might consider the Colorado Adult Foster Care program. This program offers low-income seniors the opportunity to live in an Elderly Group Home in a communal environment that allows some independence. Typical services offered in an Elderly Group Home include some basic healthcare services, accessible living spaces, meal preparation and assistance with ADLs. For information about enrollment opportunities, click here.
Home Care Allowance (HCA) Program
Aurora seniors who wish to continue aging at home may opt to apply for the Home Care Allowance Program as an alternative to transferring to a nursing home. Under this program, seniors can self-direct care from a non-spousal caretaker. Chore services and home modifications may be available, but the HCA program is not an entitlement, and waiting lists may apply. More information can be found here.
More Senior Living Resources in Aurora
| | | |
| --- | --- | --- |
| Resource | Phone Number | Description |
| Peoria Crossing | (720) 251-2100 | This private new development offers affordable housing options in a centrally located building near rail lines and Sand Creek Park. Income limits apply, with applicants required to earn no more than 60% of the area median income, which is $39,000 per year for an individual. |
| Village at Westerly Creek III | (720) 251-2069 | This affordable housing option serves seniors aged 62 and older who earn no more than 60% of the Aurora AMI. There are 24 one-bedroom units in the development, and new applicants may be waitlisted pending a vacancy. |
| Colorado Property Tax/Rent/Heat Rebate | (303) 333-3482 | Seniors who paid property taxes, rent or a heating bill may be eligible for a rebate up to a maximum of $792 per year. To qualify, seniors must present documentation of the paid bill and break out specific expenses like heating costs from a general utility bill. |
For additional information and planning, please read our comprehensive guide to paying for senior care in Colorado.