Get Pricing & Availability for Assisted Living in Arvada, CO
Call (855) 481-6777 for immediate assistance and get more details
Page Reviewed / Updated – August 27, 2020
The 10 Best Assisted Living Facilities in Arvada, CO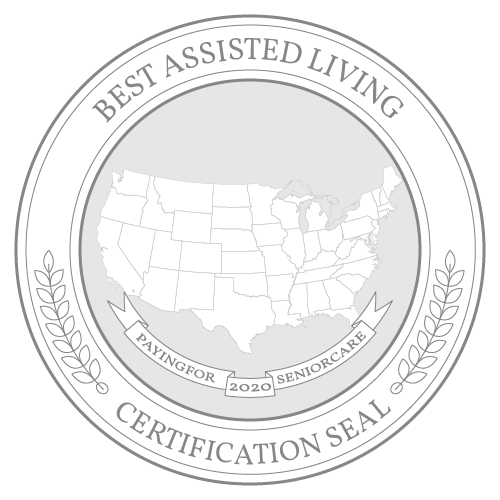 Situated in the northwestern part of the Denver metro area, Arvada is close to state parks, mountain ranges and the capitol's attractions and conveniences. Approximately 121,000 people call the city home, around 16.9% of whom are aged 65 and older. Recently, the Denver metro area was rated as the third best place in the United States for a healthy retirement.
Regardless of which side seniors take in the debate about the state's sunshine claims, Colorado's natural wonders tempt its residents outdoors during every season of the year. With winter snowshoeing and cross-country skiing and enough hiking trails to satisfy both novice and expert mountaineers, there's outdoor activity for everyone. In addition to having better water and air quality than the majority of the U.S., Arvada's violent crime rate is less than half the national average.
Note: Information for Arvada was not available, so data for the nearest city, Denver, was used.
Check out our list of Arvada's top 10 assisted living communities to find one that's right for you or your loved one. Additionally, find out more about the cost of assisted living in Arvada and what financial assistance programs are available.
The Cost of Senior Living and Care in Arvada
Using the Genworth 2018 Cost of Care Survey as a guide, Arvada's monthly senior care costs match or are slightly higher than state medians, but still more affordable for assisted living, nursing home care and adult day care than in other large metropolitan areas, such as Boulder or Colorado Springs. However, Arvada's prices are all-around more expensive than the national averages for each specific type of senior care.
Note: Senior care cost data wasn't available for Arvada, so the data for the closest metropolitan area, Denver, was used.
How much does Assisted Living Cost in Arvada?
Monthly assisted living costs in Arvada are around $4,700 per month, which is $700 more than the state median. Though seniors in Arvada may be paying more than average, seniors in other large metropolitan areas such as Colorado Springs and Boulder can pay up to $5,000 each month.
On the other end of the spectrum for assisted living in Colorado are Fort Collins and Grand Junction. Fort Collins' monthly assisted living costs are only $3,950, and Grand Junction's costs are even lower at $3,350.
How much does Home Care Cost in Arvada?
Home care costs in Arvada are equal to the Colorado state average at $4,764 per month according to the Genworth team. Assuming a 44-hour work week, this price is right in the middle of home care costs across the state, with costs in areas such as Colorado Springs, Fort Collins and Grand Junction ranging within $100-$250 of Arvada's monthly amount.
Seniors on a budget will find the most affordable home care costs throughout the state are in Pueblo, where prices fall 12% below Arvada's monthly fees. The most expensive home care costs are instead found in nearby Boulder, with prices that are 12% higher than in Arvada.
How much does Adult Day Care Cost in Arvada?
At $1,625, Arvada's monthly adult day care costs are comparatively affordable for a densely populated area in Colorado. According to the Genworth survey, other Colorado cities, such as Colorado Springs and Fort Collins, have prices that fluctuate within $100 of Arvada's monthly charges.
For those looking for more economical adult day care, Grand Junction's costs are more affordable, at only $1,408 per month. Pueblo has the highest adult day care cost, with fees accumulating to just about $2,000 each month.
How much does Nursing Home Costs in Arvada?
With a monthly fee of $8,365, Arvada's monthly nursing home care costs are the second-highest in the state. However, this number is still nearly $1,000 less than Boulder, the area's most expensive city for nursing home care. Other cities, such as Colorado Springs and Grand Junction, have prices that differ only slightly from the state median of $7,892. The cheapest nursing home costs are in Pueblo, with monthly charges accumulating to $7,604.
Financial Assistance Programs in Arvada
Medicaid Program in Arvada
Health First Colorado is the official name for Medicaid in Arvada and throughout the rest of Colorado. Similar to other areas of the United States, Medicaid in Colorado offers free health insurance to senior citizens who are either 65 years of age or older or younger if legally blind or disabled. Health First Colorado exists to pay for many different senior healthcare needs, including:
Behavioral and mental health assistance
Dental care
Prescription medications
Physician's visits
Nursing home care, in some instances
Laboratory services
Emergency service and transportation
Physical, speech and occupational therapy
In addition to meeting functional requirements, such as age or disability, interested Arvada seniors must meet the financial restrictions for Health First Colorado. Monthly income and asset limitations are listed as follows:
For single applicants, a monthly income restriction of $2,313 or less, with assets not exceeding $2,000
For married applicants who are jointly applying, a monthly income restriction of $4,626 or less, with countable assets not exceeding $3,000. The asset limit increases to $4,000 if the couple is applying to stay at the same nursing home together.
Items included in "countable assets" are articles such as investments, cash, stocks, savings and checking accounts. Excluded assets for Health First Colorado include personal belongings, a car, furniture, a senior's primary home and household items.
Married seniors applying for Medicaid without their spouse aren't required to reveal their spouse's income. Arvada applicants whose financial circumstances exceed Health First Colorado's limitations include seniors who "transfer" part of their income or countable assets to their spouse to become financially eligible. The non-applicant partner can retain up to $126,420 of joint assets.
Like all other Medicaid programs throughout the country, Health First Colorado is an entitlement program, which means all eligible applicants will receive services. The Health First Colorado website addresses further questions about the application process and potential benefits.
Applications for Health First Colorado can be made online, in person at the Jefferson County Department of Human Services, by calling (800) 659-3656 or by mail.
Medicaid Waivers in Arvada
Elderly, Blind and Disabled Waiver
Previously referred to as the Home and Community Based Services Waiver, the Elderly, Blind and Disabled Waiver (EBD) is the only Medicaid-funded waiver in Arvada or the state as a whole. The EBD waiver exists to keep more Colorado seniors living in their own private residences or communities, rather than nursing homes. Services funded through the EBD waiver program include, but are not limited to:
Respite care
Community transition services
Home modifications for accessibility purposes
Adult day care
Homemaker services
Transportation for non-medical errands
Respite care for caregivers
Personal care services to help with activities of daily living
Assisted living facility accommodations for accessibility purposes
To qualify for the EBD waiver, Arvada seniors must be either aged 65 or older or younger if legally blind, disabled or diagnosed with HIV or AIDS. Additionally, the applicant must be assessed as needing a "nursing home level of care" but must not currently be living in a nursing home.
The financial restrictions for the EBD waiver program are the same as Health First Colorado. Again, supplemental financial rules allow the non-applicant spouse to keep more income or assets so the applying spouse can qualify.
Arvada seniors can contact the Jefferson County Department of Human Services or call (800) 659-3656. Seniors can visit our detailed EBD waiver guide for additional information about eligibility and benefits.
Other Financial Assistance Programs in Arvada
Adult Foster Care (AFC) Program
Similarly to the EBD waiver program, the Adult Foster Care program is designed to help Arvada seniors avoid nursing home placement. The AFC program provides financial assistance for adult foster care for qualifying applicants, as well as other services:
Personal care services for activities of daily living
Meals
Room and board
Recreational activities
Medication assistance
24-hour supervision
Transportation
General housekeeping
Interested applicants for the AFC program must meet both the functional and financial requirements. These requirements are as follows:
Receive either Old Age Pension (discussed below) or Supplemental Security Income if younger than age 60
Have a monthly income not exceeding $809 for Old Age Pension recipients or not exceeding $771 for Supplemental Security Income recipients
Have assets that are less than $2,000 for individual seniors or less than $3,000 for married couples, when both spouses are applying
Require 24-hour non-medical supervision
Like Health First Colorado, the AFC program is an entitlement program. All qualifying Arvada seniors will receive benefits. However, seniors enrolled in the EBD Medicaid waiver program or the Home Care Allowance program are not eligible for AFC services.
To apply, Arvada residents can reach out to the Jefferson County Department of Human Services. More information about this program can be found by reading our AFC web guide.
Old Age Pension (OAP) Program
Arvada senior citizen in need of additional funding for senior care costs or other living expenses might benefit from the Old Age Pension program. The OAP program provides supplemental payments to elderly residents of Arvada who are below the minimum acceptable level of income each year. Moreover, the OAP program provides health and dental care to seniors who do not qualify for Health First Colorado.
The first half of the OAP program, where seniors receive stipends, is known as OAP-A. The maximum monthly allotment is $809 (or $9,708 per year). The second portion of the OAP program, or the health and dental benefits, is known as OAP-B. In order to be eligible for these health care services, applicants must be concurrently receiving payments from OAP-A.
Because there are two separate sections to the OAP program, qualifications are more complex than other types of financial aid. Eligibility restrictions vary depending on which section seniors are applying for, but current financial and function limits for both OAP-A and OAP-B can be found here.
Arvada residents can apply for both portions of OAP by visiting the Jefferson County Department of Human Services or calling (800) 659-3656.
Home Care Allowance (HCA) Program
Like OAP and other financial aid programs, Colorado's Home Care Allowance program provides a monetary supplement to Arvada residents at risk of nursing home placement. These payments are used to pay any caretaker or service provider that the senior chooses. The caretaker can be anyone, including family members who are over the age of 18. The caregiver is paid to complete the following services:
Assistance with activities of daily living, including dressing, grooming and bathing
Respite care
Chore services
Household tasks and yard work
Assistance with basic mobility
Applicants will need to be assessed for their ability to complete the Activities of Daily Living in order to qualify for the HCA program. Additionally, interested Arvada seniors must either receive Supplemental Social Security Income or be enrolled in the Colorado Aid to the Needy Disabled program.
Financially, seniors must not have a monthly income greater than $750 or more than $2,000 in countable assets. The financial restrictions change if the applicant is married.
Unlike other programs discussed on this webpage, the HCA program is not an entitlement program. This means applicants may encounter waiting lists or limited funding and thus be unable to receive benefits. Seniors might also wish to be aware that if they are receiving concurrent services from the EDA waiver program or AFC program, they aren't eligible for HCA.
Applications can be made through the Jefferson County Department of Human Services by calling (800) 659-3656. Arvada residents and their families can learn more about the HCA program through our detailed HCA guide.
More Senior Living Resources in Arvada
| | | |
| --- | --- | --- |
| Resource | Phone Number | Description |
| | (720) 898-7494 | The Arvada Housing Authority is in charge of managing the Section 8 Housing Choice Voucher Program throughout the city. This program provides housing subsidies for low-income seniors in Colorado. |
| | (303) 425-5086 | Marcella Apartments is a low-income housing complex for seniors in Arvada. Residents can choose from a variety of one- or two-bedroom apartment floor plans. This apartment complex is located near various stores, boutiques and galleries. |
| | (303) 235-6972 | The Senior Resource Center Transportation Program provides free transportation to seniors in Arvada. Rides must be reserved at least two days in advance. Transportation is offered Monday through Friday, 8:00 a.m. to 4:00 pm. Seniors can use this system for up to three round-trip rides each week, but more if medically necessary. |
| | (303) 235-6952 | The Senior Resource Center offers free chore services up to three times a year. Services include deep cleaning bathrooms, kitchens or floors, assistance with transitioning from a community or home, including packing or unpacking, home organization, window washing, and yard clean up, such as weed pulling or leaf raking. |
For additional information and planning, please read our comprehensive guide to paying for senior care in Colorado.