Get Pricing & Availability for Assisted Living in Greenville, SC
Call (855) 481-6777 for immediate assistance and get more details
Page Reviewed / Updated – September 17, 2020
The 10 Best Assisted Living Facilities in Greenville, SC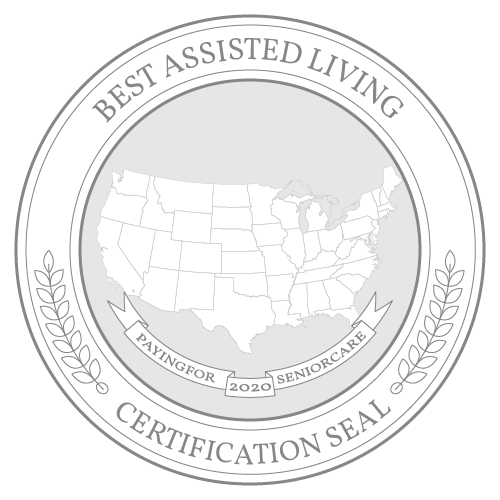 Greenville, South Carolina, is a rising star in the Southeast. This energetic community of 70,000 is known for its diverse restaurants, abundant coffee shops and expanding arts scene. While senior citizens only represent 13% of the population, Greenville is an appealing destination for retirees.
This Upstate community has direct access to Charlotte and Atlanta via Interstate 85, and the Appalachian Mountains are within easy reach for an exciting day trip or a leisurely drive. Residents don't have to travel far to experience the city's industrial and agricultural history or discover its many natural attractions. Notable destinations include the Greenville Zoo, the 130-store Haywood Mall and the Falls Park on the Reedy, which spans 32 acres in the heart of town.
Seniors may also appreciate Greenville's mild Southern climate and reasonable cost of living, which is 11% below the national average. The community's excellent health care facilities include the high-performing Bon Secours St. Francis Health System-Greenville, and the nationally ranked Prisma Health Greenville Memorial Hospital.
Additionally, find out more about the cost of assisted living in Greenville and what financial assistance programs are available.
The Cost of Senior Living and Care in Greenville
In Greenville, senior care costs may be higher than other, smaller cities in the state or those in popular tourist destinations. According to the Genworth 2018 Cost of Care Survey, assisted living facilities and nursing homes, in particular, are more expensive in Greenville than many other South Carolina cities. Home care services, typically billed at an hourly rate, are among the lowest senior care options in Greenville.
How much does Assisted Living Cost in Greenville?
Greenville's monthly assisted living fees are on par with many other large metro areas in South Carolina. For instance, costs in Greenville for a private one-bedroom apartment in an assisted living community are $3,843 compared to nearby Columbia's $3,804. Smaller metro areas such as Spartanburg and Sumnter, despite fewer assisted living selections, average less, at $2,310 and $3,000 respectively.
How much does Home Care Cost in Greenville?
Homemaker services averaging 44 hours per week cost $3,766 per month in Greenville, compared to the state average of $3,623. Home health care costs in tourist areas, such as Hilton Head, are notably higher than Greenville, averaging $4,099 per month while smaller communities like Spartanburg are lower, at $3,432 per month.
How much does Adult Day Care Cost in Greenville?
Adult day health care costs are the lowest senior care option for Greenville residents. These are senior care services outside the home, and generally provide respite for caregivers. The average for these is $1,343, compared to the state average of $1,300. Similarly sized metro areas such as Charleston, Columbia and Spartanburg have adult day health care costs close to Greenville, averaging between $1,200 and $1,400.
How much does Nursing Home Costs in Greenville?
Nursing home care for a semi-private room in Greenville is noticeably higher than the state average, at $6,935 compared to $6,418 for South Carolina in general. Private rooms cost more, but overall, nursing home fees for semi-private rooms are fairly consistent across South Carolina's major urban areas. The smaller town of Florence is notably lower than Greenville, at $5,749, while the coastal tourist destinations of Hilton Head and Sumnter are higher than Greenville, averaging between $7,750 and $6,900 and per month, respectively.
Financial Assistance Programs in Greenville
Medicaid Program in Greenville
Medicaid in Greenville, as in all of South Carolina, covers health insurance costs for low-income individuals. The program is free for all who qualify, with no entitlement caps. The South Carolina Department of Health and Human Services determines eligibility, which is based on income and several special classifications:
South Carolina is an income cap state, meaning that there is a hard income limit for Medicaid eligibility: $2,205 per month for individuals. Income sources include wages, Social Security benefits, pensions, veteran's benefits, annuities, SSI payments and IRAs.
To be eligible for long-term care assistance from South Carolina's Medicaid program, individuals must meet certain income requirements and use their income toward the cost of their care. As an income cap state, South Carolina requires that the Medicaid long-term care benefit amount be no higher than the long-term care fees at the time of application. Greenville residents may apply for Medicaid in person at 301 University Ridge, Suite 6700, Greenville, SC, 29601, online or over the phone by calling (888) 549-0820.
Medicaid Waivers in Greenville
Community Long-Term Care (CLTC)
The CLTC waiver is for Greenville residents who are eligible for nursing home care but wish to receive services in the community instead. Case management determines eligibility and develops an individualized service package to meet each applicant's unique needs. The intent is to help clients successfully remain at home, avoiding unnecessary nursing home placement.
Benefits of this program can include personal care for daily living tasks, household chores and observing health signs. Recipients may also receive companion services, which are respite services for caregivers. Meal delivery, environmental modification, and pest control and elimination are also included. Other services may include transportation to medical appointments, limited skilled nursing procedures and a personal emergency response system (PERS).
Eligibility is determined based on an individual's desire to live at home, the level of care they need and their eligibility for Medicaid. Individuals must also meet the requirement for the same level of care provided in a nursing home facility. To read more about eligibility and to apply click here or call (864) 242-2211.
Community Supports Waiver
The Community Supports waiver offers many of the same benefits as the CLTC and is intended as an alternative to institutionalized care and nursing. This particular Medicaid waiver is for individuals who have a memory care condition or intellectual disability. The level of care is on same as that provided at an Intermediate Care Facility for Individuals with Intellectual Disability.
Caregiver respite, home modifications, adult day care services and limited home care are provided. Call (888) 549-0820 or read here for more information about the waiver and to apply.
Other Financial Assistance Programs
Healthy Connections
Healthy Connections is an income-capped program that supplements payment for long-term care for individuals housed in licensed, certified nursing homes. Those who participate in HCBS and PACE may also be eligible for benefits. Eligibility requirements are the same for all programs, with income caps of $2,313 for individuals and spousal allocation of $3,160, or 300 percent of the current SSI Federal Benefit Rate.
Eligibility is limited to those who qualify financially and those who fall into one of three classifications:
disabled (using the Supplemental Security Income guidelines)
receives assistance through the Parent/Caretaker Relative program
To apply for Healthy Connections in Greenville, call (877) 552-4642.
Program of All-inclusive Care for the Elderly
PACE is available to Greenville County residents in all ZIP codes. It is a Medicaid program designed to help individuals meet their health care needs in the community instead of going into institutionalized care. PACE members have a small team of healthcare professionals who work with the family for coordinated care. Care plans are determined by a PACE-approved physician and customized for each individual's current and future needs.
PACE members may receive services at the PACE clinic and in the home, including specialist care as recommended. Services include physical and occupational therapies, nursing and health care, and hospital care when needed. PACE members may also receive meals and nutrition counseling, dental treatment and prescription drug services. Transportation to dental and medical appointments may also be available.
Upon enrollment in PACE, Greenville Health System Senior Care becomes the individual's primary health care provider, covering all health services. Those participating in Medicare or Medicaid may receive additional services at no extra cost if they meet certain income guidelines. Only those services approved by GHS Senior Care are covered; all other services are paid out of pocket.
To apply for service through the PACE program, call (864) 522-1950.
More Senior Living Resources in Greenville
| | | |
| --- | --- | --- |
| Resource | Phone Number | Description |
| | (864) 467-4250 | TGHA is a publicly funded housing agency that provides affordable housing to veterans and those aged 65 and older in the Greenville community, including Greenville County but not Greer County. |
| | (864) 235-4803 | This community organization provides emergency cash grants to those in dire need, including seniors, to help pay rent, utility bills or medical bills. Other benefits include food aid, prescription medication and drug costs, and clothing. Eligibility is based on extreme financial need, such as a utility bill disconnection notice or a documented drop in income or job loss. |
| | (803) 734-9903 | This Fund supports nonprofit organizations that help Greenville seniors age in place. Programs include helping seniors lead productive lives and avoid institutionalized care. Benefits cover home modifications to promote mobility and independence. |
For additional information and planning, please read our comprehensive guide to paying for senior care in South Carolina.