Get Pricing & Availability for Assisted Living in Vancouver, WA
Call (855) 481-6777 for immediate assistance and get more details
Page Reviewed / Updated – July 19, 2022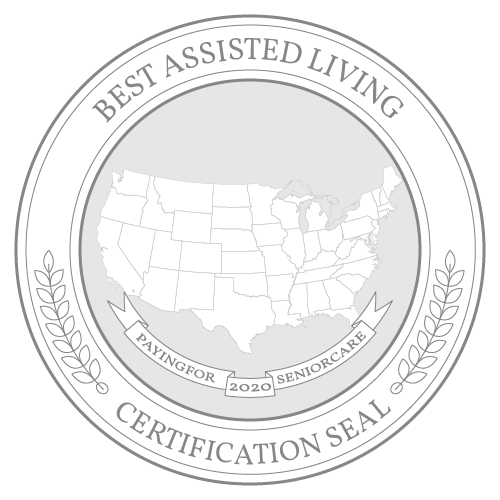 Vancouver is situated in the southernmost region of Washington and is among the most cost-effective options for those seeking assisted living services. While its overall cost of living is 14% higher than the national median, it's low compared to other cities in Washington. Housing and transportation costs are particularly high, but older adults may save money by opting for residential care. Vancouver also has some of the lowest health care costs in the nation, with fees coming in over 20% below costs in other U.S. communities, and the lack of state income tax may help retirement income cover care expenses. Local assisted living expenses are well below the state median at $4,975 per month.
This guide provides more information on assisted living rates in Vancouver and common ways seniors pay for monthly services when retirement income isn't sufficient. It also lists some state-mandated rules facilities follow and free resources that help older adults make decisions regarding their care.
The Cost of Assisted Living in Vancouver, WA
Data in the 2021 Genworth Cost of Care Survey shows assisted living facilities in Vancouver charge $4,975 per month for services.
Local assisted living rates in Vancouver are several hundred dollars more than the national average of $4,500 but over $1,000 lower than the state median of $6,000, indicating that it may be a good option for those seeking affordable care. In Walla Walla, care costs are the lowest surveyed in the state at $3,211. In Olympia, rates are closer to Vancouver's average at $4,805. Seniors in Kennewick pay $5,225 for services, and in Seattle, assisted living rates exceed state and national averages at $6,750.
Vancouver: $4,975
Washington: $6,000
United States: $4,500
Kennewick: $5,225
Walla Walla: $3,211
Olympia: $4,805
Seattle: $6,750
The Cost of Other Types of Senior Care in Vancouver, WA
Vancouver seniors have a range of long-term care options to choose from, the cheapest of which is adult day health care at $2,708 per month. Assisted living rates are over $2,000 higher at $4,975 but include most living expenses. In-home care and home health care each cost $7,146 per month, and seniors in nursing homes pay $10,661 for shared accommodations and $11,777 for private rooms.
In-Home Care: $7,146
Home Health Care: $7,146
Adult Day Health Care: $2,708
Assisted Living Facility: $4,975
Nursing Home Facility (semiprivate room): $10,661
Nursing Home Facility (private room): $11,777
Note: Data for Vancouver was unavailable, so data for the nearest city, Portland, OR, was used instead.
Financial Assistance for Assisted Living in Vancouver, WA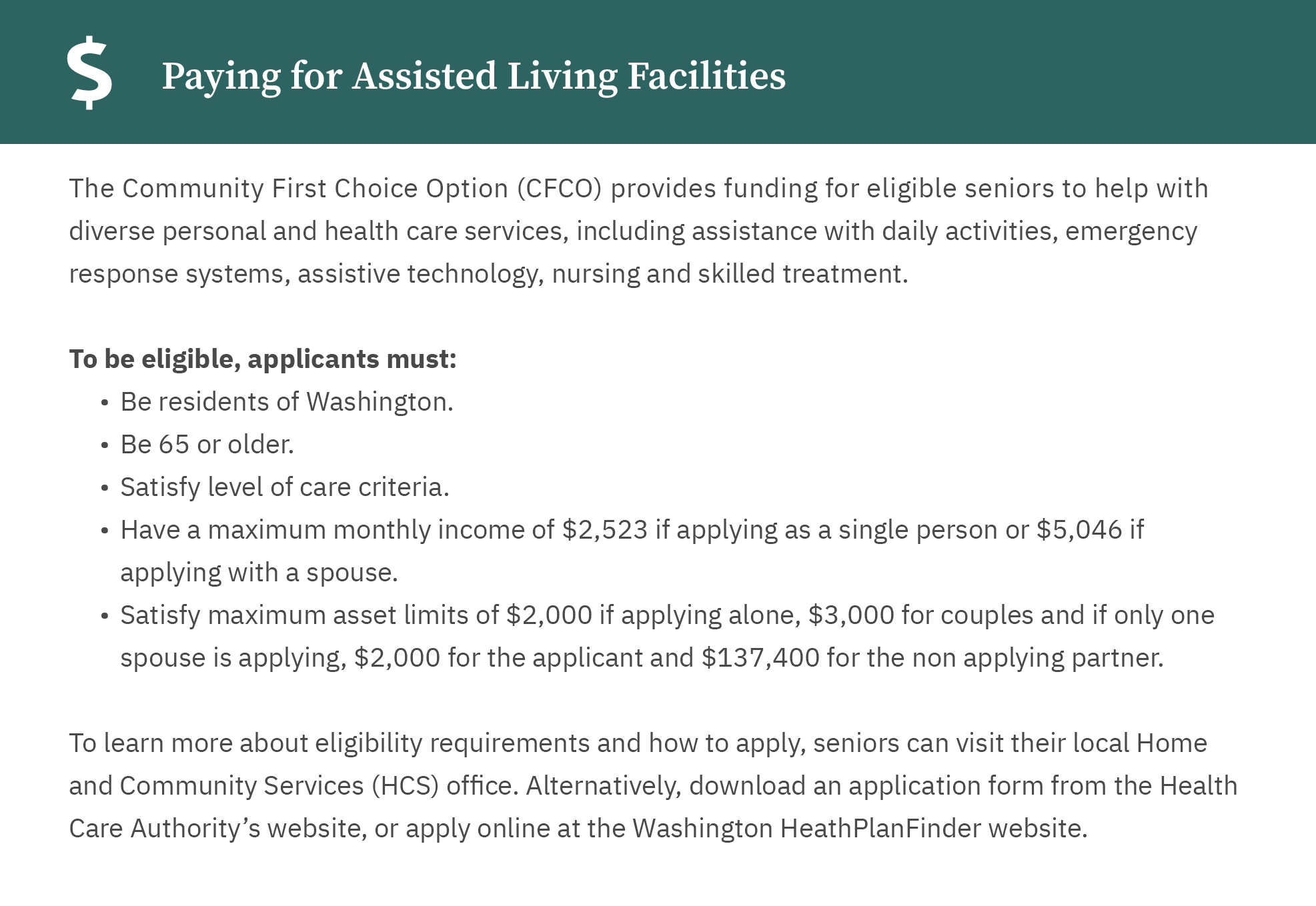 Other Ways To Pay for Assisted Living in Vancouver, WA
Since not everyone can afford to pay for assisted living out-of-pocket, it's important to find alternative methods to help make assisted living more affordable. Some of these options include:
Veterans Benefits
Life Insurance Policy
Long-Term Care Insurance
Reverse Mortgage
For additional information and planning, read our comprehensive guide to paying for senior care in Washington.
Free Resources for Seniors in Vancouver, WA
Numerous nonprofit resources and government agencies help older adults in Vancouver access the information and services they need to obtain affordable assisted living services. The following table highlights top resources in the region for seniors.
| | | |
| --- | --- | --- |
| Resource | Contact | Service |
| City of Vancouver Senior Programs | (360) 487-8600 | Vancouver is home to two senior centers where those aged 50 and over participate in games and puzzles, congregate meals and discussion groups and access amenities such as public computers and fitness centers. The city also provides residents with the opportunity to participate in the SilverSneakers Fitness Program, which can help them maintain a healthy lifestyle throughout their retirement years. |
| Area Agency on Aging and Disabilities of Southwest Washington | (360) 735-5720 | The local Area Agency on Aging serves those aged 60 and over through a range of programs to help them maintain their independence and financial security throughout their retirement years. Through the AAA, Vancouver seniors can connect with community-based services, such as transportation, congregate meals and options counseling. The agency also operates health and wellness education programs, which include local educational workshops, virtual resources and fitness classes. |
| Long-Term Care Ombudsman Program | (360) 992-4076 | The Long-Term Care Ombudsman Program helps seniors in Vancouver find affordable assisted living options and provides information on ways they may pay for services. The ombudsman can help residents understand their rights, field reports of substandard care and ensure the proper authorities are involved when necessary. |
| Clark County Veterans Assistance Center | (360) 693-7030 | The Clark County Veterans Assistance Center is a nonprofit organization with information specialists who help older veterans in Vancouver access community-based services, as well as state and federal programs that help them access affordable health care and assisted living. |
| Clark County Volunteer Lawyers Program | (360) 334-4007 | The Clark County Volunteer Lawyers Program provides free civil legal assistance to those aged 60 and over with limited means. Through this program, older adults get one-on-one assistance with applying for public benefits that may help them pay for medical and assisted living services, including Supplemental Security Income, Medicaid and the Community Options Program Entry System. |
Rules and Regulations for Assisted Living Facilities in Vancouver, WA
Assisted Living Communities in Vancouver are required to follow a set of rules and regulations that are determined by the state. For an overview of those rules and regulations, see the information below. For more specific information, talk with your local community or Area Agency on Aging.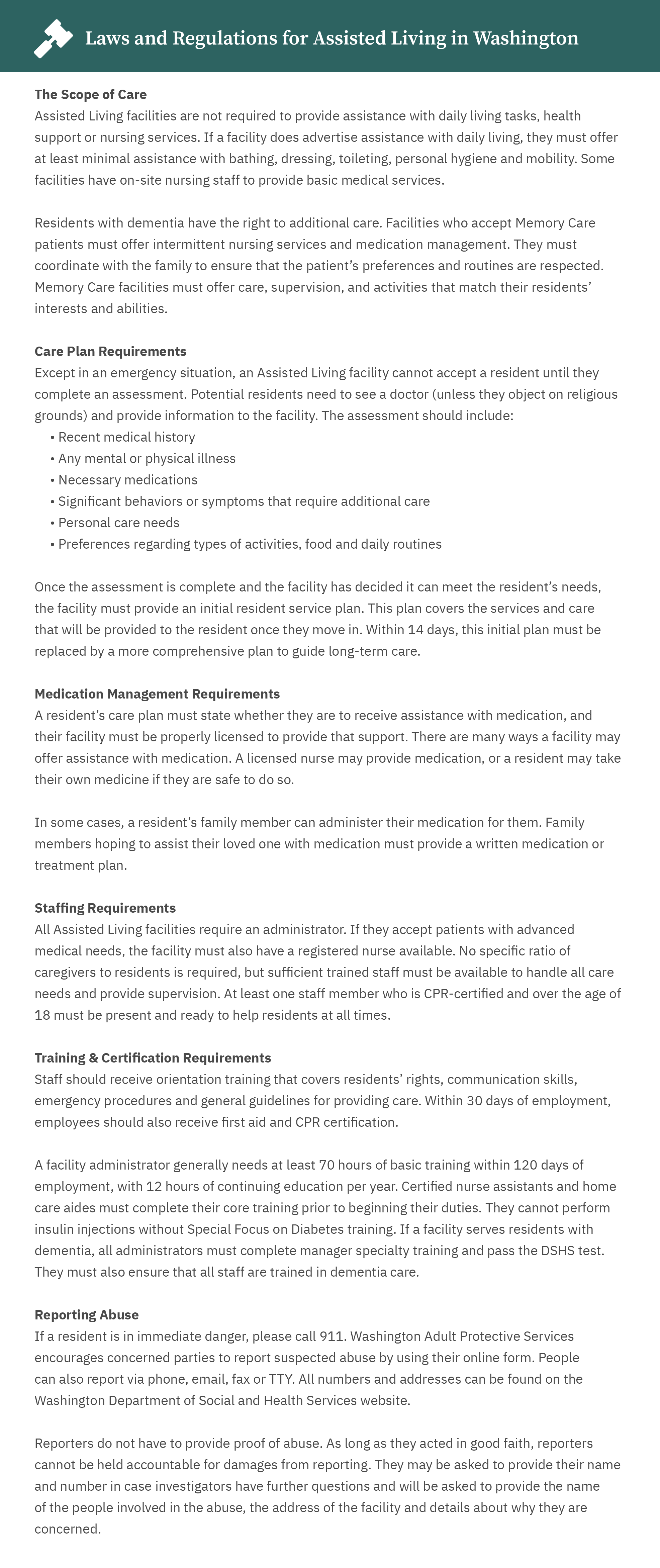 The 10 Best Assisted Living Facilities in Vancouver, WA