Get Pricing & Availability for Assisted Living in Tacoma, WA
Call (855) 481-6777 for immediate assistance and get more details
Page Reviewed / Updated – July 6, 2022
Abundant natural beauty, easy proximity to the urban amenities found in Seattle and a classic, mild Pacific Northwest climate combine to make Tacoma an attractive retirement destination for those who prefer medium-sized cities to large metros, small towns or rural locations. Approximately 13.6% of Tacoma's overall population of slightly under 220,000 is aged 65 and over.
Although the overall cost of living in Tacoma is higher than the national average, Washington has no personal income tax, so Social Security payments and other retirement income aren't taxed. Seniors can also save money on health care in Washington. At $5,750 per month, the cost of assisted living in Tacoma is higher than the national average, but it's lower than the overall average for the state of Washington.
This guide covers the average monthly costs of assisted living in Tacoma and local resources designed to promote a good quality of life among older people.
The Cost of Assisted Living in Tacoma, WA
According to the 2021 Genworth Cost of Care Survey , the average cost of assisted living in Tacoma is $5,750 per month.

The monthly cost of assisted living in Tacoma is $250 less than the Washington average of $6,000 and $1,250 more than the U.S. average of $4,500. Assisted living facilities are $1,000 higher in Washington's largest metro, Seattle, where residents pay the highest costs in the state at $6,750. Those in the Eastern Washington wine country hub of Walla Walla pay the lowest cost at $3,211 per month. Assisted living facilities in Bellingham cost an average of $4,600 per month, while those in Spokane and the Central Washington community of Yakima pay an average of $4,888 and $4,975, respectively.
Tacoma: $5,750
Washington: $6,000
United States: $4,500
Walla Walla: $3,211
Bellingham: $4,600
Spokane: $4,888
Yakima: $4,975
The Cost of Other Types of Care in Tacoma, WA
Assisted living costs in Tacoma are slightly less than the average costs of home care. In-home care services in Tacoma cost an average of $6,673 per month, which is $923 more than assisted living facilities. Those who need home health care services pay around $7,007 per month, which is $1,257 more than assisted living. Nursing homes cost more, with a monthly average of $10,479 for a semiprivate room and $12,243 for a private room. Adult day health care is usually the cheapest option for seniors in need of daytime supervision and medical services.
In-Home Care: $6,673
Home Health Care: $7,007
Adult Day Health Care: N/A
Assisted Living Facility: $5,750
Nursing Home Facility (semiprivate room): $10,479
Nursing Home Facility (private room): $12,243
Note: Data for Tacoma was unavailable, so data for the nearest city, Bremerton, was used instead.
Financial Assistance for Assisted Living in Tacoma, WA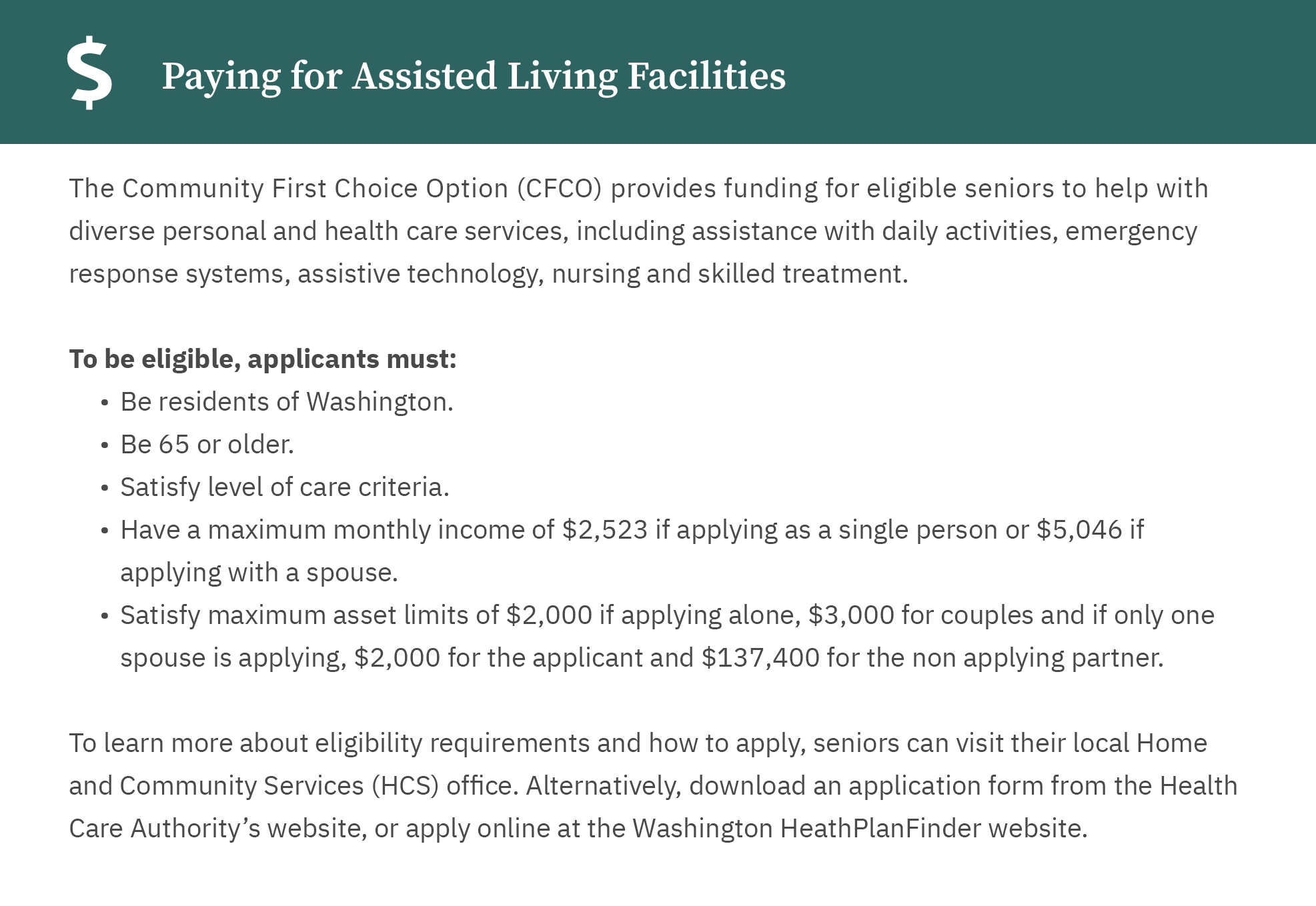 Other Ways To Pay for Assisted Living in Tacoma, WA
Since not everyone can afford to pay for assisted living out-of-pocket, it's important to find alternative methods to help make assisted living more affordable. Some of these options include:
Veterans Benefits
Life Insurance Policy
Long-Term Care Insurance
Reverse Mortgage
For additional information and planning, read our comprehensive guide to paying for senior care in Washington.
Free Resources for Seniors in Tacoma, WA
A variety of services are available to Tacoma seniors designed to help them remain as independent as possible and enjoy a good quality of life.
Resource

Contact

Service

Aging & Disability Resource Center

(253) 798-4600

Toll-free: (800) 562-0332

As the Area Agency on Aging for Tacoma and other Pierce County residents, the Aging & Disability Resource Center provides seniors aged 60 and over and those with disabilities with assistance accessing relevant programs and services, person-centered case management and unbiased information on health care options and public benefits. The agency also offers health and wellness classes, administers the local Senior Nutrition Program and sponsors an annual Aging Expo.

Stay Active and Independent for Life (SAIL) classes

(360) 236-4501

Administered by the Washington State Department of Health, SAIL classes are designed for seniors aged 65 and over to help them maintain good balance and improve their strength and fitness levels to minimize falls. These classes are held at various locations. Some are free of charge, while other host sites charge a small fee that's still more affordable than a gym membership

The Pierce County Long-Term Care Ombudsman Program

(253) 798-3789

Toll-free: (800) 642-5769

Residents of long-term care facilities — including assisted living communities — who have complaints or questions about care, accommodations or other relevant issues can contact the Long-Term Ombudsman Program for assistance. Trained volunteers and professional staff provide investigative and advocacy services designed to ensure the legal rights of those in long-term care facilities aren't violated. All services provided by this program are completely confidential and free of charge.
Rules and Regulations for Assisted Living Facilities in Tacoma, WA
Assisted Living Communities in Tacoma are required to follow a set of rules and regulations that are determined by the state. For an overview of those rules and regulations, see the information below. For more specific information, talk with your local community or Area Agency on Aging.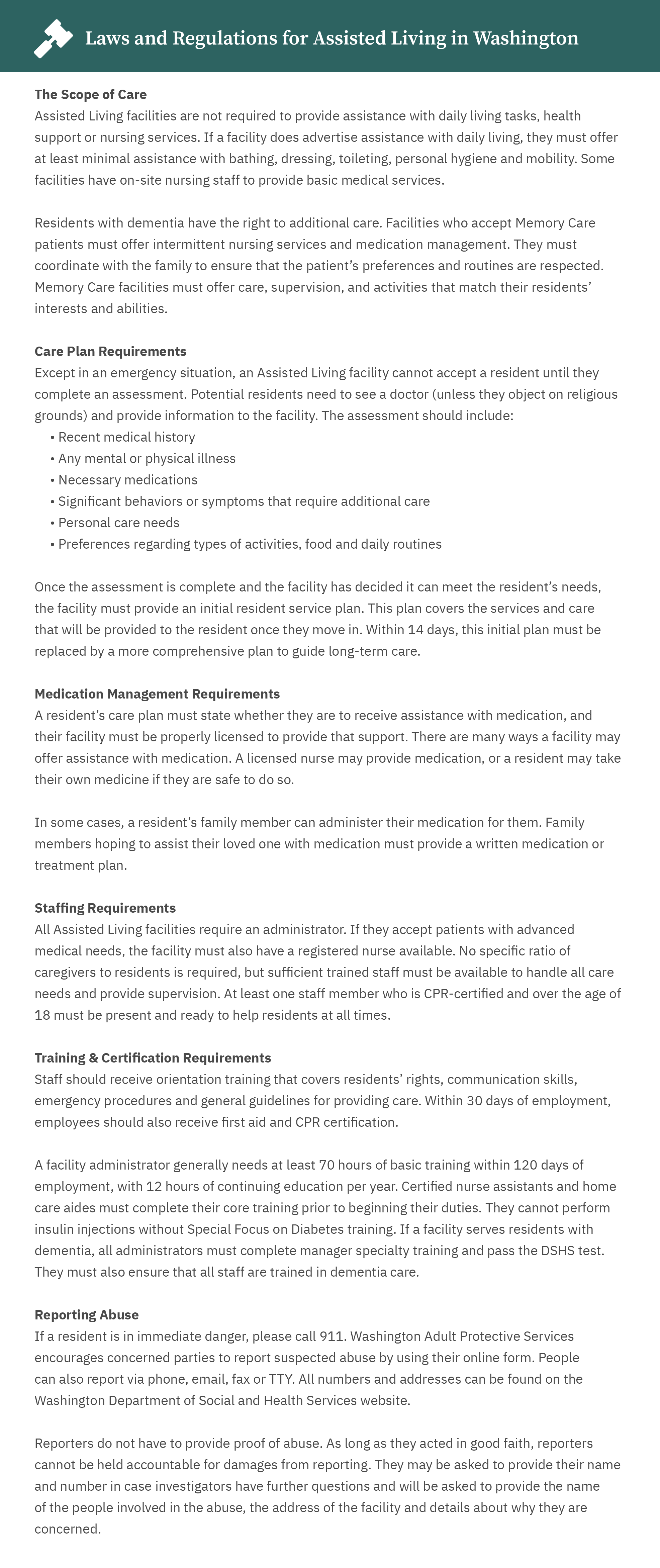 The 10 Best Assisted Living Facilities in Tacoma, WA