Get Pricing & Availability for Assisted Living in Spokane, WA
Call (855) 481-6777 for immediate assistance and get more details
Page Reviewed / Updated – July 19, 2022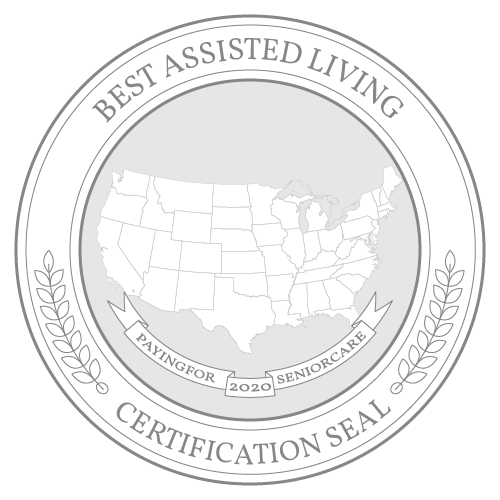 Situated on the eastern side of Washington's Cascade Mountain Range, Spokane features a four-season climate, abundant opportunities for outdoor recreation, an international airport and a tax-friendly environment for senior citizens. Thanks to no personal income tax Spokane seniors don't pay tax on their retirement income, including Social Security payments. Spokane offers the cultural amenities that can be expected in a mid-sized city of approximately 300,000 citizens, with a good arts scene, live theater and museums.
Roughly 15.7% of Spokane's population is aged 65 and over. The average monthly cost of assisted living in Spokane is $4,888, which is only a little more than the national average of $4,500. However, it's significantly less than the Washington average of $6,000, which makes Spokane a good choice for seniors seeking a Pacific Northwest lifestyle without the area's often hefty price tag.
This guide covers the average costs of care in Spokane and provides a detailed list of community resources for seniors.
The Cost of Assisted Living in Spokane, WA
According to the 2021 Genworth Cost of Care Survey, residents of assisted living facilities in Spokane pay a monthly average of $4,888.
Assisted living costs $1,112 less than the overall Washington average of $6,000, but it's $388 higher than the national average of $4,500. The cost of assisted living within Washington ranges from a high of $6,750 per month in the state's largest city, Seattle, to a low of $3,211 in the rural Eastern Washington community of Walla Walla. Bellingham residents pay a monthly average of $4,600 for assisted living, while their counterparts at the southern end of the state in Longview pay an average of $5,300.
Spokane: $4,888
Washington: $6,000
National: $4,500
Seattle: $6,750
Walla Walla: $3,211
Bellingham: $4,600
Longview: $5,300
The Costs of Other Types of Care in Spokane, WA
Assisted living in Spokane is a more cost-effective option than most other types of care. In-home care typically runs $6,387 for in-home care services and $6,483 for home health aide services. The costs of adult day health care are significantly less at an average of $1,625 per month, while costs rise substantially in nursing homes to an average of $9,429 for a semiprivate room and $10,038 for private accommodations.
In-Home Care: $6,387
Home Health Aide: $6,483
Adult Day Health Care: $1,625
Assisted Living: $4,888
Nursing Home (semiprivate room): $9,429
Nursing Home (private room): $10,038
Financial Assistance for Assisted Living in Spokane, WA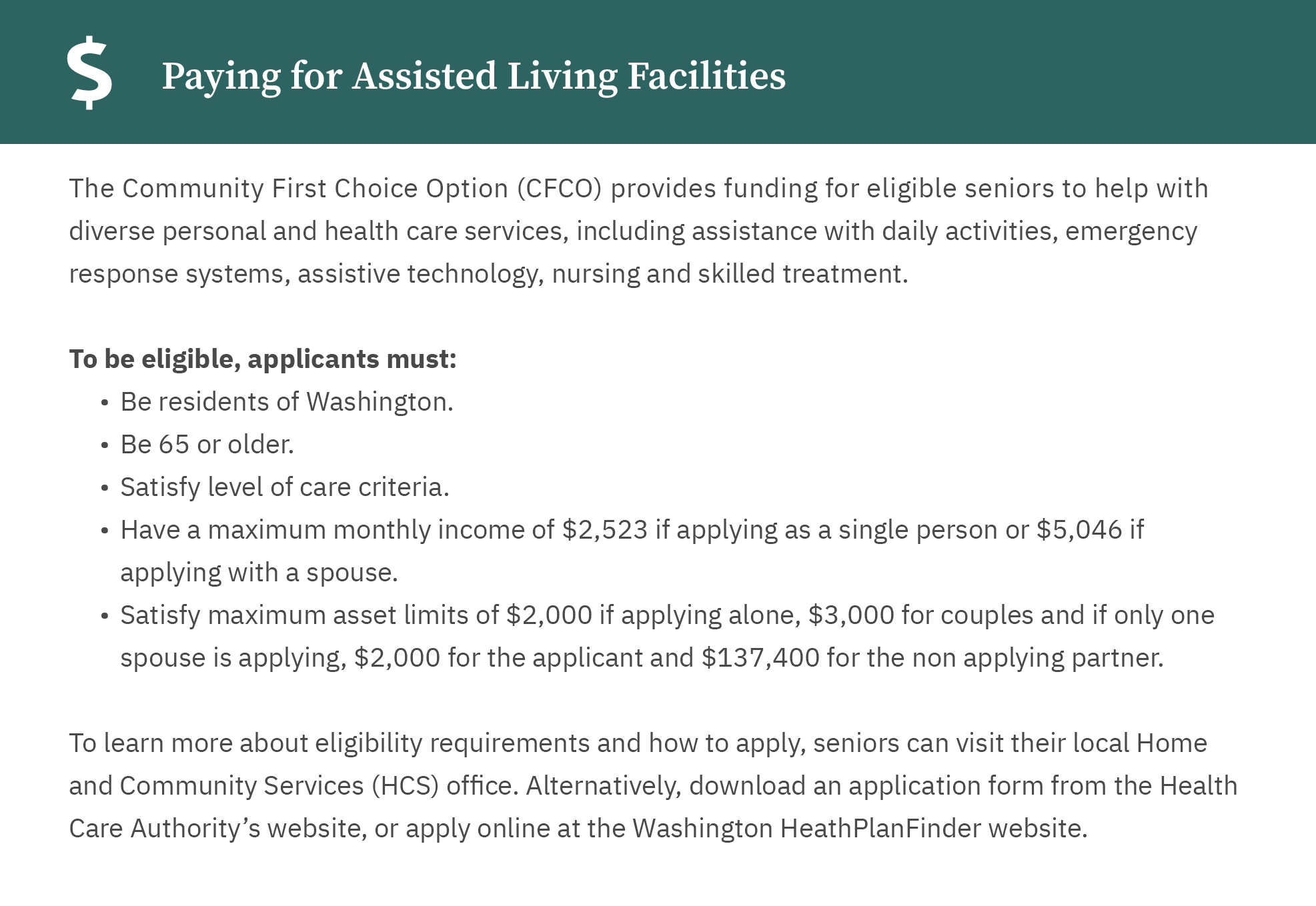 Other Ways To Pay for Assisted Living in Spokane, WA
Since not everyone can afford to pay for assisted living out-of-pocket, it's important to find alternative methods to help make assisted living more affordable. Some of these options include:
Veterans Benefits
Life Insurance Policy
Long-Term Care Insurance
Reverse Mortgage
For additional information and planning, read our comprehensive guide to paying for senior care in Washington.
Free Resources for Seniors in Spokane, WA
Spokane seniors have a variety of resources available to help them find a good assisted living facility, connect with relevant programs and services, engage with their communities, stay fit and get around town.
| | | |
| --- | --- | --- |
| Resource | Contact | Service |
| Corbin Senior Activity Center | (509) 327-1584 | Seniors can access a wide range of activities and services at Corbin Senior Activity Center. Along with social activities such as the Tuesday Soup $ Social Hour and Monday night dances, seniors can participate in Tai chi, pickleball, group outings, arts and crafts projects, card games and billiards. There is a group for senior singles as well as one for bereaved seniors who have recently lost their partners. |
| Aging & Long Term Care of Eastern Washington | (509) 458-2509 | Aging & Long Term Care of Eastern Washington provides programs and services for seniors, including Medicare and Medicaid workshops, health and wellness screenings, fall prevention classes and referrals to local, state and federal programs designed specifically for seniors. As the Area Agency on Aging for Spokane and surrounding communities, the agency also administers the Long Term Care Ombudsman Program, which investigates claims of abuse and neglect in long-term care facilities and advocates for their residents. |
| Retired and Senior Volunteer Program of Spokane County | (509) 344-7787 | Those aged 55 and over seeking community-based volunteer opportunities can find plenty to keep them busy at the Retired and Senior Volunteer Program of Spokane County. Along with the chance to make a positive difference in their community, volunteers receive transportation reimbursements, supplementary insurance and are invited to social events designed to recognize their contributions to their community. |
| Spokane County Veterans Services | (509) 477-3690 | U.S. Veterans who have received an honorable discharge, their families and qualifying survivors can access assistance navigating the red tape involved in applying for service-based benefits and entitlements. Qualifying veterans may also be eligible for emergency financial assistance from this agency. |
| Spokane Transit Authority Reduced Fare Pass | (509) 456-7277 | Spokane seniors aged 65 and over can receive a Reduced Fare Photo ID Card from Spokane Transit Authority. To receive the card, the applicant must present proof of age. The card is available for those under the age of 65 who have qualifying disabilities. They must provide documentation from their physician or from Medicare or Social Security. |
Rules and Regulations for Assisted Living Facilities in Spokane, WA
Assisted Living Communities in Spokane are required to follow a set of rules and regulations that are determined by the state. For an overview of those rules and regulations, see the information below. For more specific information, talk with your local community or Area Agency on Aging.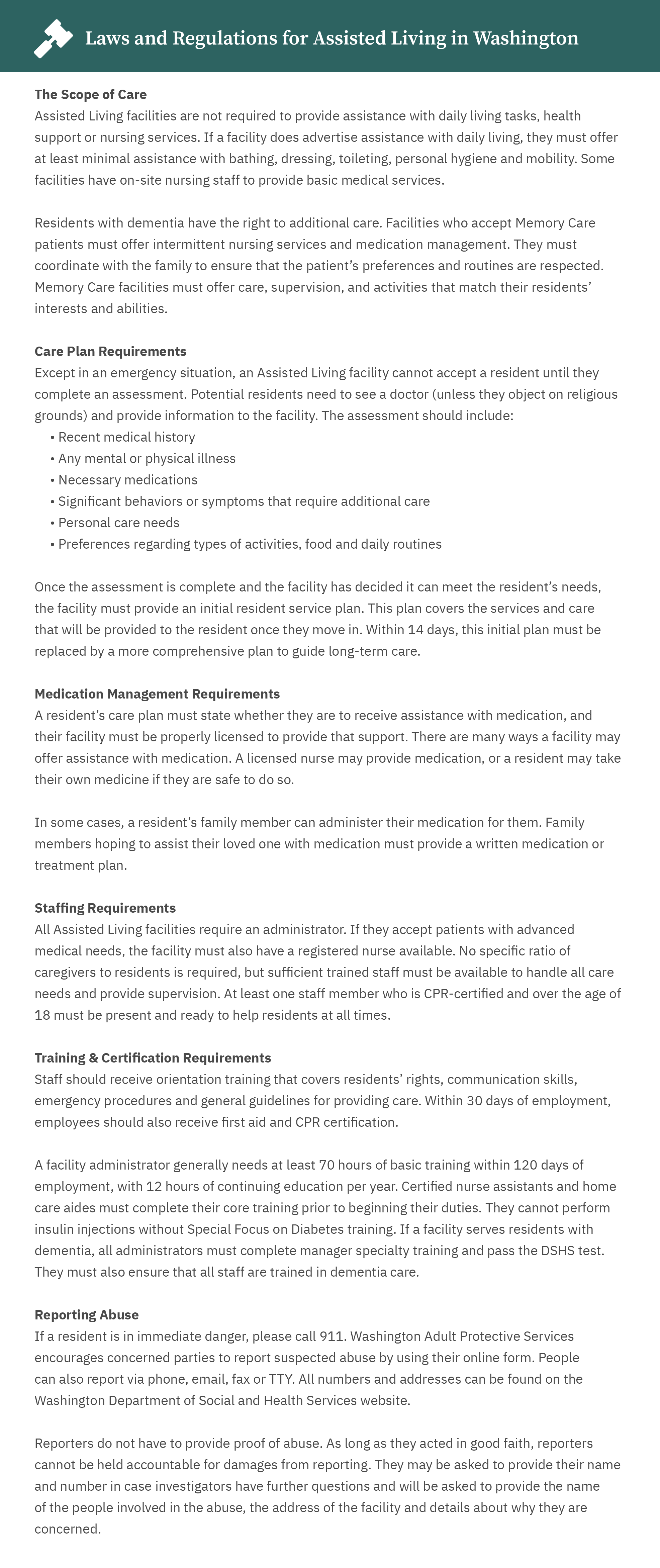 The 10 Best Assisted Living Facilities in Spokane, WA