Get Pricing & Availability for Assisted Living in Edmond, OK
Call (855) 481-6777 for immediate assistance and get more details
Page Reviewed / Updated – November 21, 2020
The 10 Best Assisted Living Facilities in Edmond, OK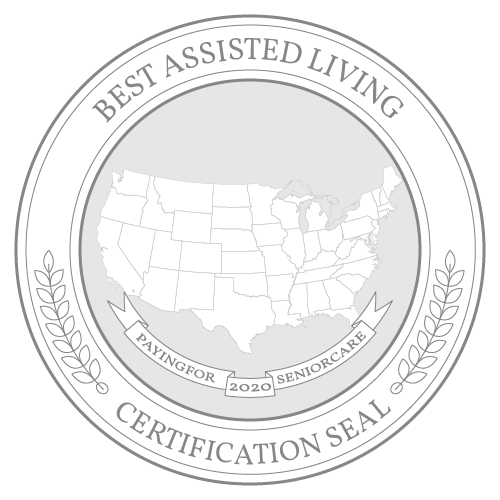 With a population of 94,000, Edmond is Oklahoma's fifth-largest city. The community's 13,600 seniors enjoy a convenient location in the capital region, just 15 miles north of Oklahoma City. Edmond is known for its excellent school system, family-friendly amenities and beautiful surroundings.
Arcadia Lake is a popular spot for fishing, and the town has a number of neighborhood parks as well as a free museum focusing on the area's railroad history. The lively downtown features a diverse assortment of eateries, as well as a farmers market and busy library that loans more than 1 million items annually. Thanks to these amenities, Edmond was named the state's most livable city by Niche.
Note: Information for Edmond was not available, so estimated costs are based on data from Oklahoma City.
Seniors who are ready to plan for the future will find information about 10 of Edmond's best assisted living facilities in this guide, including helpful details about amenities, activities and accommodations.
Additionally, find out more about the cost of assisted living in Edmond and what financial assistance programs are available.
The Cost of Senior Living and Care in Edmond
In Edmond, a city that's part of the Oklahoma City metropolitan area, the cost of senior care can be relatively affordable or expensive, according to the type of care and when compared to other areas in Oklahoma. Based on the Genworth 2018 Cost of Care Survey, assisted living and nursing home care are relatively costly in Edmond, while home care is considerably more affordable. As for adult day care, the average monthly cost in Edmond is on par with the state average of $1,300, and less expensive by $260 than the U.S. median of $1,560.
Although assisted living in Edmond is more costly than the state average with a minimal difference of $14, it's about $60 less costly than the U.S. median of $4,000. And while nursing home care in Edmond is almost $320 more expensive than the state median of $4,639, it's approximately $2,480 more affordable than the nationwide average of $7,441.
Despite costing approximately $90 higher than the average cost of assisted living, home care in Edmond is relatively affordable. It's around $380 cheaper than the Oklahoma average, and about $570 less expensive than the U.S. median of $4,004
How much does Assisted Living Cost in Edmond?
The Edmond area has one of the highest costs of assisted living at $3,339 per month, which is slightly more expensive than the state average of $3,325. Tulsa is the most expensive city for assisted living at $3,488, which is about $150 higher than in Edmond.
The most affordable area is Enid at $2,860 on a monthly average, approximately $480 cheaper than Edmond. Assisted living is also affordable in Lawton at $3,238, which is around $100 cheaper than in the Edmond area.
How much does Home Care Cost in Edmond?
Assuming 44 hours of care per week at $25 per hour, Lexington comes in near the higher end of home care costs at an average of $4,004 a month. That's nearly $200 more per month than the state median.
Compared to other areas in the state, Edmond is one of the most affordable cities for in-home care at $3,432 on a monthly average. It's cheaper by about $380 than the Oklahoma statewide average of $3,813, and also $810 lower than Tulsa, the most expensive area for home care at $4,242.
How much does Adult Day Care Cost in Edmond?
Adult day care costs in Edmond are relatively on the average side at $1,300 per month, which is the same as the Oklahoma state median. The cheapest area is Lawton at $975, saving seniors $325 as compared to Edmond. Tulsa is the most expensive area for adult day care at $1,560 per month, which costs greater than Edmond by $260.

How much does Nursing Home Costs in Edmond?
Edmond is one of the most expensive cities in Oklahoma when it comes to nursing home care. At $4,958, Edmond's average nursing home cost per month is almost $320 higher than the state median of $4,639. It's also about $240 more costly than in Tulsa and Enid, both areas having average monthly costs of $4,715. Lawton, the most affordable area for nursing home care at $4,502, saves seniors by almost $460 as compared to Edmond.
Financial Assistance Programs in Edmond
Medicaid Program in Edmond
In Edmond as in the rest of the Sooner State, the Medicaid program is locally referred to as SoonerCare. Seniors who are SoonerCare members may be qualified to receive necessary personal care services in their homes or in assisted living facilities, adult day care centers, and nursing homes through the State Plan Personal Care program of Oklahoma Department of Human Services (OKDHS).
For seniors in Edmond to qualify for regular SoonerCare benefits under the Aged, Blind and Disabled category, the maximum eligible monthly income for individuals is $1,041, while the asset limit is $2,000. For elderly couples, the combined income limit must be no more than $1,409 per month, their countable assets should not exceed $3,000. This is an entitlement program that benefits all eligible Oklahoman seniors 65 and older.
The following are several ways for seniors to apply for SoonerCare services:
Apply online via the SoonerCare online enrollment page
Visit a local OKDHS county office (for Edmond, see list of Oklahoma County DHS offices here)
Obtain an online application form for mailing to a local OKDHS county office, and call the SoonerCare Helpline at 1 (800) 987-7767 for assistance in filling out the form
Medicaid Waivers in Edmond
ADvantage Program
The ADvantage Program is a Medicaid waiver for low-income seniors in Edmond who are qualified to receive an institutional level of care in their homes and other community-based settings as an alternative to nursing homes.
ADvantage members who have the capability to hire their preferred personal service assistants (PSAs), manage their health, and make sound decisions on their own personal needs may opt for the Consumer Directed Personal Assistance Services and Supports (CD-PASS) service option. For ADvantage member seniors who prefer to reside in qualified assisted living facilities, they may request to avail of the Assisted Living service option (ALSO).
For further information on the covered services, limitations, eligibility details, and application information read more about the ADvantage Program and its service options here.
Medically Fragile Waiver Program
The Medically Fragile waiver program allows SoonerCare members in Edmond to receive medical and personal care services in their homes and other community-based settings, providing an alternative option to nursing home placement and hospitalization. Eligible recipients must be qualified for an institutional level of care, and they may also be provided with home-delivered meals, prescription drugs, and environment modifications to be able to safely remain home.
Other Financial Assistance Programs in Edmond
Living Choice Program
The Living Choice project is Oklahoma's name for the Money Follows the Person federal program, which assists SoonerCare beneficiaries in Edmond to transition from institutional facilities to community-based residential establishments. Aside from being provided one-time transitional funds, qualified seniors may continue receiving long-term care services, including skilled nursing care, adult day services, case management, home-delivered meals, and transportation.
Program of All-Inclusive Care for the Elderly (PACE)
The Program of All-Inclusive Care for the Elderly provides health care and long-term care services to medically eligible seniors in a community-based setting instead of an institutional facility. Payment for these services may be provided through a combination of Medicaid, Medicare, and private funds. Services covered by PACE include skilled nursing care, adult day services, laboratory procedures, therapy, prescription drugs, and meals. Qualified beneficiaries in Edmond residents are served by the Valir PACE organization, which is based in Oklahoma City.
Adult Day Services
The OKDHS offers adult day services to Edmond seniors 60 and older through an individualized plan of care in licensed adult day health centers. These centers offer a community-based environment for seniors in need of personal care and companionship, and they may also provide support and respite for family members and caregivers. See further information on the coverage and eligibility requirements of the Oklahoma adult day services for the elderly on this page.
In-Home Assistance for the Elderly
Free in-home assistance services for seniors living in their homes include housekeeping, personal care, and home repairs. The funding for these services are administered by the Area Agencies on Aging, and Edmond is covered by the Areawide Agency on Aging as authorized by the Older Americans Act. Read more about the benefits and eligibility information on the Oklahoma in-home assistance for the elderly here.
More Senior Living Resources in Edmond
Resource

Phone Number

Description

(405) 844-1550

Senior Residences of Edmond offers affordable housing to low-income seniors 62 and older, and is near OU Medical Center Edmond and the University of Central Oklahoma.

(405) 848-1144

The Oklahoma Housing Finance Agency offers Section 8 Housing Choice Vouchers to low-income seniors, families, and persons with disabilities for a rent subsidy and mortgage payment assistance. OHFA also provides homebuyer down payment assistance, affordable housing tax credits, and other specialized housing programs for those in need.

Oklahoma Christian Apartments and Oklahoma Disciple Apartments

(405) 340-0311

The Oklahoma Christian Apartments on Enz Drive and Oklahoma Disciple Apartments on Fretz Avenue are subsidized senior housing residential buildings and welcomes Section 8 beneficiaries.

(405) 359-4694

The City of Edmond has several housing and neighborhood programs funded through the Community Development Block Grant.

The CDBG Homebuyer Assistance Program grants up to $5,000 to qualified applicants to pay for property down payments and closing costs.

The Owner-Occupied Housing Rehabilitation (OOHR), Neighborwoods Tree and Code Compliance Assistance programs provide CDBG-funded home improvement services that help low-income residents, including seniors, stay safe in their homes.

(405) 272-9741

The OG&E Silver Energy Program provides free weatherization services worth up to $3,000 to Edmond resident seniors 60 and older, helping them live comfortably in their homes and reduce heating and cooling costs.
For additional information and planning, please read our comprehensive guide to paying for senior care in Oklahoma.