Get Pricing & Availability for Assisted Living in Voorhees, NJ
Call (855) 481-6777 for immediate assistance and get more details
Page Reviewed / Updated – October 02, 2020
The 10 Best Assisted Living Facilities in Voorhees, NJ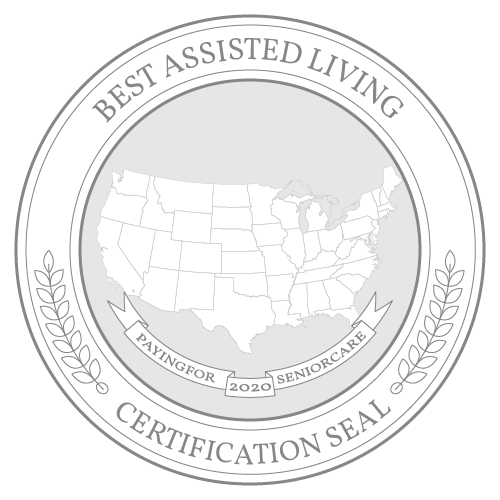 Voorhees is situated in Camden County, New Jersey, which is a short drive away from downtown Philadelphia. Approximately 20.3% of the city's 29,175 residents are aged 65 and older.
Voorhees outperforms the majority of the country on multiple fronts when it comes to health and safety. Its violent and property crime rates are lower than the national average, and the city has more physicians per capita than the majority of the country. Voorhees residents also pay less for their health care. The summer months are the most pleasant of the year. During the summer, seniors experience near-perfect temperatures, ideal for exploring the variety of nearby forests and nature parks.
Seniors here are minutes away from Philadelphia's seemingly endless array of entertainment and cultural attractions, and they can take advantage of the city's senior citizen program, which hosts regular social events and provides free local transportation.
Note: Information for Voorhees was not available so data from the nearest metropolitan area, Philadelphia, was used.
Read through our list of the top 10 assisted living facilities in Voorhees to find one that meets your needs. Additionally, find out more about the cost of assisted living in Voorhees and what financial assistance programs are available.
The Cost of Senior Living and Care in Voorhees
Voorhees senior care is some of the most affordable in the state in all categories. As part of the Philadelphia Metropolitan Area, this region enjoys rates closer to the Pennsylvania average than the higher costs associated with New Jersey, according to the Genworth 2018 Cost of Care Survey. The average cost of assisted living is particularly low compared to the rest of New Jersey.
Note: Senior care cost data wasn't available for Voorhees, so the data for the closest city, Philadelphia, was used.

How much does Assisted Living Cost in Voorhees?
Assisted living in the Voorhees area is on the low end for the state with an average cost of $5,318 per month. That is almost $750 less than the state average and nearly $2,000 less than the most expensive area, Trenton. Other affordable areas include large cities like Atlantic City and Ocean City, which are slightly less expensive, with an average of $5,100 and $4,800 per month. Ocean City is the least expensive area, though Voorhees is only about $500 more monthly.
How much does Home Care Cost in Voorhees?
Aging at home allows seniors to maintain independence for as long as possible, making homemaker services an affordable option when available. In Voorhees, these services cost an average of $4,576 per month, an exact match for the state average. Most major metropolitan areas in New Jersey offer homemaker services for substantially less, with Vineland topping the list for affordability at only $3,813. Atlantic City is just below the average at $4,433, while Trenton is another city where costs are average.
How much does Adult Day Care Cost in Voorhees?
For seniors who need supervision, adult day care is a convenient option when seniors live with a loved one. In Voorhees, these services cost $1,668, which is well below the state average of $1,950. Other major cities in the state cost more than $2,000 per month, like Atlantic City, Ocean City and Vineland. Voorhees is the least expensive region, with Trenton holding the second place spot at a price point of $1,842.
How much does Nursing Home Costs in Voorhees?
Round the clock skilled nursing care comes with a premium price tag. The national average for these services is $7,441 in a semi-private room, but New Jersey costs are substantially higher with a state average of $10,646. The cost in Voorhees is just below that figure at $10,372, making it comparable to most other cities in the region. Atlantic City stands out as a lower cost option with an average cost of $8,745, which is much closer to the national average.
Financial Assistance Programs in Voorhees
Medicaid Program in Voorhees
The state's Medicaid Managed Long Term Services and Supports (MLTSS) is a Medicaid entitlement program that includes services for elderly residents with specific needs:
Home or vehicle modifications
Home health services
Adult foster care or daycare
Assisted living
Meal delivery
Personal emergency response systems
Mental health/addiction services
Behavioral management services
To qualify for this program, Voorhees residents must be at least 65 years old or considered disabled by the Social Security Administration, demonstrate need by requiring assistance with any three activities of daily living and have a monthly income of no more than $2,313 if single or $4,626 for married couples. For more information or to find out how to apply, visit this site.
Other Financial Assistance Programs in Voorhees
Personal Preference Program
In addition to the MLTSS program, Voorhees residents may also be eligible for the Personal Preference Program (PPP), a self-directed option that allows seniors to direct when and how money is spent on their care. A service allowance is made available, with seniors empowered to spend that money on one of the following categories:
Personal Assistance Services – services designed to help with ADLs like bathing, grooming, toileting, eating, housekeeping and meal preparation
Assistive Technology – remote controls, motion-sensitive devices and specially designed appliances
Home Modifications – chair lifts, wheelchair ramps, walk-in tubs, dual railings or doorway alterations
In order to qualify for this entitlement program, seniors must demonstrate a functional need for assistance with daily living tasks and meet the income guidelines for Medicaid. Visit here to find out how to apply.
Home-Based Supportive Care (HBSC)
HBSC covers assistance with tasks like shopping, housekeeping, chores and non-medical transportation services. While the MLTSS system imposes strict limits on the available providers for many services, HBSC allows participants to make their own selections and does not require the use of trained professionals. The Personal Employer Provider (PEP) option even allows seniors to hire family members as service providers at the program determined rate. For more information, contact your MLTSS Care Manager or click here.
Program of All-inclusive Care for the Elderly (PACE)
In 10 New Jersey counties, including Camden, the Program of All-inclusive Care for the Elderly (PACE / LIFE) is an alternative to MLTSS managed care. It is available for eligible residents who are at least 55 years old and need skilled nursing care, like what is typically provided in a nursing home setting. This program does not provide direct cash payments, but it offers comprehensive services under the direction of a team of providers. It is designed for seniors who live with family members that provide some of the required assistance. For more information or to learn about the application process, click here.
New Jersey Assistance for Community Caregiving
New Jersey Assistance for Community Caregiving provides home support services that are not medical. The purpose of this support is to assist the elderly with independent living activities and extend their stay at home. Benefits may include everything from adult day care to home modifications. This program offers the option of self-directed care, letting seniors hire directly for needed assistance. Eligibility requirements limit this program to seniors who:
Are at least 60 years old
Live independently in an unlicensed home or apartment alone or with family members
Have no other means of securing services
Have clinical eligibility for skilled nursing care
Are United States citizens
Medicaid recipients do not qualify for this program, and income restrictions are more relaxed with a maximum of $3,799 for individuals. The maximum benefit amount is $600 per month or $7,200 per year. To apply, call the Aging & Disability Resource Connection (ADRC) agency at 1-877-222-3737.
Congregate Housing Services Program (CHSP)
For those considering assisted living, CHSP may be a reasonable alternative. State-run housing offers many of the same services, and costs are assessed on a sliding scale based on income. To learn more or apply, read more here.

More Senior Living Resources in Voorhees
| | | |
| --- | --- | --- |
| Resource | Phone Number | Description |
| Statewide Respite Care Program | (877) 222-3737 | This program provides unpaid caregivers assistance and respite care, extending their ability to keep seniors in-home. Private duty nursing and homemaker services may be available through the Statewide Respite Care Program. Out-of-home care can allow families to plan vacations or handle home repairs that might endanger an elderly loved one. |
| Alzheimer's Adult Day Care Services Program (AADSP) | (877) 222-3737 | AADSP pays for as much as 75% of the cost of adult day care several days a week. In total, coverage extends to approximately $730 per month or $8,784 annually. |
| Senior Gold and Pharmaceutical Assistance to the Aged and Disabled | (877) 222-3737 | These two programs both help reduce the costs associated with prescription medications. These options are available to those enrolled in a Medicare Part D program that meet specific income guidelines. |
| Catholic Charities Family Service and Community Center | (856) 342-4100 | This private religious charitable organization provides emergency relief and services for low-income households. Rental, utility and fuel assistance are all available on a limited basis. |
| NJ Shares | (866) 657-4273 | The New Jersey Statewide Heating Assistance and Referral for Energy Services program offers cash grants to help pay for heating fuel or utility bills. It is available to those who may not qualify for federally funded energy assistance programs. |
| Housing First | (856) 964-1990 x143 | This program provides emergency assistance for seniors facing eviction or the possibility of homelessness. |
| Voorhees Township Senior Citizen Program | (609) 313-6650 | Free bus transportation is available to seniors for non-medical trips like shopping. |
For additional information and planning, please read our comprehensive guide to paying for senior care in New Jersey.