Get Pricing & Availability for Assisted Living in Las Vegas, NV
Call (855) 481-6777 for immediate assistance and get more details
Page Reviewed / Updated – July 7, 2022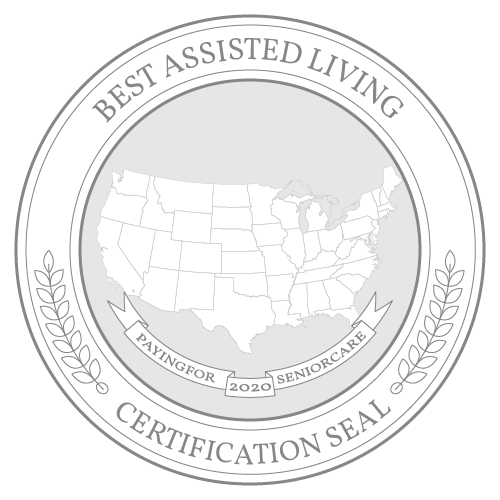 The desert city of Las Vegas provides plenty of financial benefits for adults considering a move in their later years. While the city's overall cost of living is slightly higher than the U.S. average, its reported costs for health care are approximately 8% lower. What's more, Nevada is one of nine U.S. states with no income tax requirement, which can help retired seniors save more of their pensions. Sales taxes are only 1% higher than the national average of 7.3%.
In Las Vegas, the average cost for a month of residency in an assisted living facility is $3,650, which is nearly $1,000 cheaper than the national average. All of these senior-friendly factors combine to make Nevada one of the most popular states in the nation for retirement.
This guide examines the cost of assisted living in Las Vegas as it compares to other nearby cities. It also provides a guide to some low-cost resources serving seniors in the area.
The Cost of Assisted Living in Las Vegas, NV
The annual Genworth Financial Cost of Care Survey reports the average monthly cost of assisted living in Las Vegas to be $3,650. That figure is $100 lower than the Nevada state average of $3,750 and $850 lower than the U.S. average of $4,500. Las Vegas' assisted living prices are cheaper than both of the other Nevada cities tracked by Genworth, Reno ($4,250) and Carson City ($3,820). To the west in California, the city of Riverside reports monthly assisted living costs of $4,000. The price jumps yet higher to the south in Flagstaff, Arizona, where seniors see an average price of $5,000 monthly.
Las Vegas: $3,650
Nevada: $3,750
United States: $4,500
Reno: $4,250
Carson City: $3,820
Flagstaff, AZ: $5,000
Riverside, CA: $4,000
The Cost of Other Types of Care in Las Vegas, NV
In many cities, assisted living costs are higher than those of home-based care, but the dynamic is different in Las Vegas: both in-home care and home health care cost an average of $4,767 a month, roughly $1,100 more than assisted living care. Nursing home care is quite a bit more expensive, with a semiprivate room averaging $8,273 a month, and the price for a private room hitting five digits at $10,646. Adult day care is easily the least expensive care option at $1,820 a month.
In-Home Care: $4,767
Home Health Care: $4,767
Adult Day Health Care: $1,820
Assisted Living Facility: $3,650
Nursing Home Facility (semiprivate room): $8,273
Nursing Home Facility (private room): $10,646
Financial Assistance for Assisted Living in Las Vegas, NV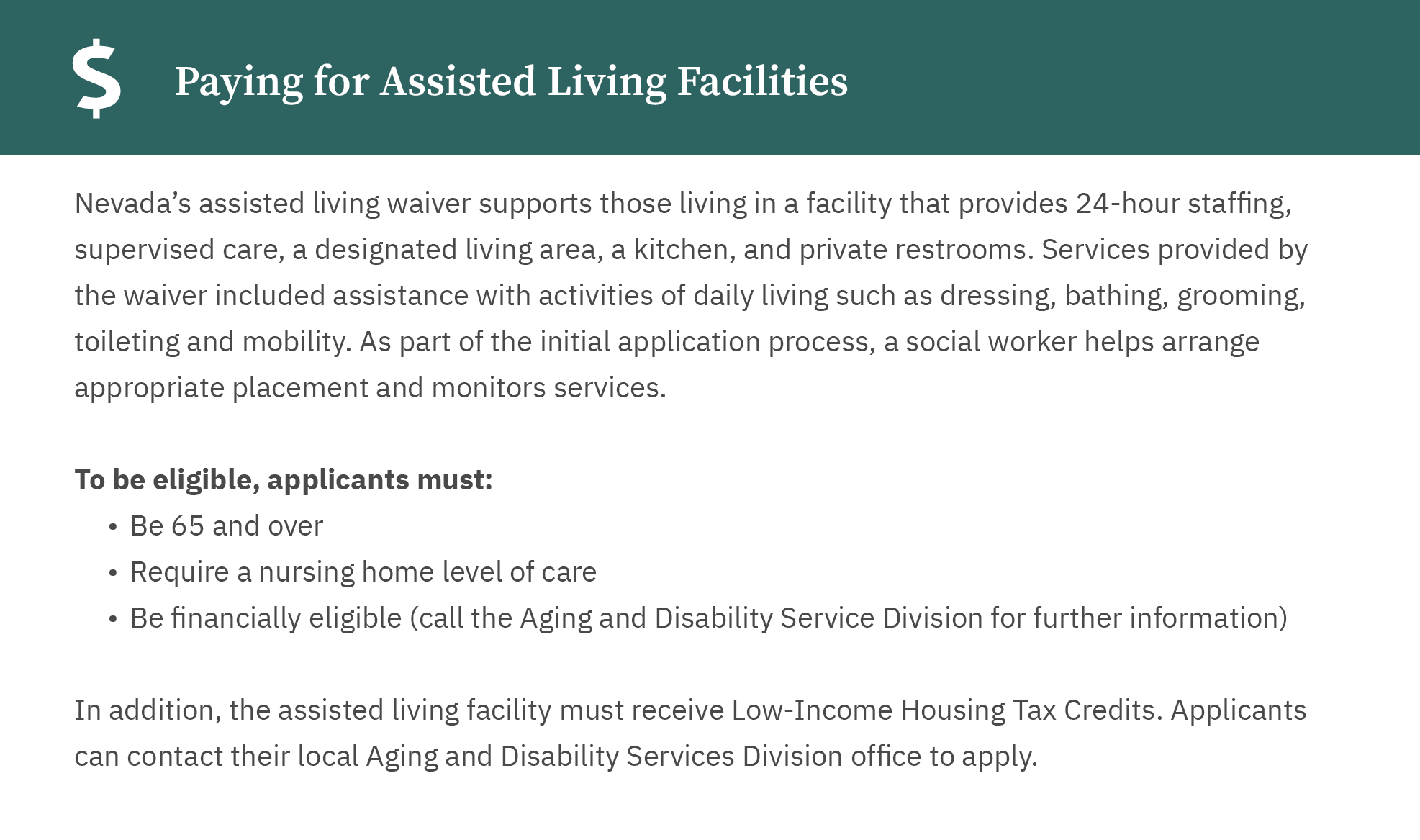 Other Ways To Pay for Assisted Living in Las Vegas, NV
Since not everyone can afford to pay for assisted living out-of-pocket, it's important to find alternative methods to help make assisted living more affordable. Some of these options include:
Veterans Benefits
Life Insurance Policy
Long-Term Care Insurance
Reverse Mortgage
For additional information and planning, read our comprehensive guide to paying for senior care in Nevada.
Free Resources for Seniors in Las Vegas, NV
The following programs can help Las Vegas retirees access low-cost services for continuing education, social connection, physical fitness and legal advice.
| | | |
| --- | --- | --- |
| Resource | Contact | Service |
| Doolittle Community Center | (702) 229-6125 | Located right next to Kianga Isoke Palacio Park, this community gathering spot includes plenty of options for physically active seniors, including a dance studio, an outdoor pool with a zero-depth entrance for safety and two separate indoor gyms. Seniors who prefer more sedentary exploits can use the DCC's computer lab, play cards in its game room or participate in creative pursuits such as ceramics and knitting. |
| Long Term Care Assistance Program | (702) 455-4270 | This program can help Clark County seniors pay for some types of care in adult day care, group care, assisted living and nursing home environments. Seniors must meet certain income criteria and have exhausted all other potential options for paying for long-term care before using this program. |
| Osher Lifelong Learning Institute at UNLV | (702) 774-6554 | OLLI offers seniors the option to take non-credit continuing education classes by paying a low registration fee rather than a full semester's tuition. Seniors may take up to two classes for free. OLLI members can also participate in senior-focused interest groups, access UNLV resources such as libraries and computer labs and receive many of the same student discounts enjoyed by credit-seeking learners. |
| Legal Aid Center of Southern Nevada | (702) 386-1070 | The free advice provided by this nonprofit organization can help seniors get a handle on legal issues regarding divorce, foreclosure, guardianship and other topics that often surface in later years. LACSN also can help seniors recognize and avoid predatory loan companies and similar scammers that commonly target older populations. |
Rules and Regulations for Assisted Living Facilities in Las Vegas, NV
Assisted Living Communities in Las Vegas are required to follow a set of rules and regulations that are determined by the state. For an overview of those rules and regulations, see the information below. For more specific information, talk with your local community or Area Agency on Aging.
The 10 Best Assisted Living Facilities in Las Vegas, NV